Blog TWHS Visits
Five Dzongs of Bhutan
The Dzongs of Bhutan are on our Top 50 Missing List, and also on Bhutan's Tentative list under the cumbersome name "
Dzongs: the centre of temporal and religious authorities (Punakha Dzong, Wangdue Phodrang Dzong, Paro Dzong, Trongsa Dzong and Dagana Dzong)
". Maybe an
Epic Subtitle
like "The Birth of unified Bhutan" or the Mongolian-style "Great Sacred Dzongs of Bhutan" could help the Bhutanese on their way. The country has no WHS till date. This cluster of five dzongs is the
most likely candidate
for inscription.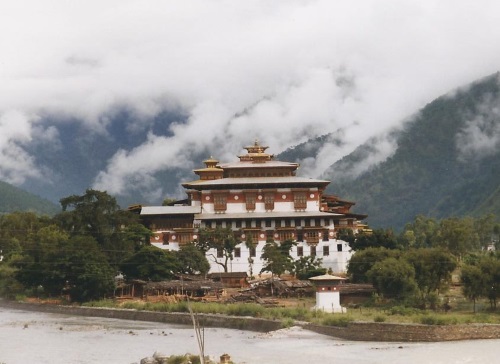 Majestic Punakha Dzong
These 5 fortified religious and administrative complexes are lumped together as they played a significant role in the unification of the country "by the charismatic leader
Zhabdrung Ngawang Namgyel
". The dzongs were built between 1637 and 1651 to defend Bhutan against Tibetan raids. Their wooden architecture makes them vulnerable to fires, and earthquakes and flash floods too have lead to many reconstruction activities. I visited the country in 1998, as part of a 3 week tour around Sikkim & Bhutan focusing on Tibetan Buddhism. The trip wasn't as great as I had thought it would be. Unfortunately we had rain almost every day. Also, Bhutan is no carefree paradise. Would you let your President / King / Queen prescribe what you wear everyday? Let him decide if you can have a TV or mobile phone? And let's not forget the
human right violations against the ethnic Nepalese
. I always get a bit annoyed when I read the common uncritical use of the so-called Bhutanese "Happiness" in stories about the country.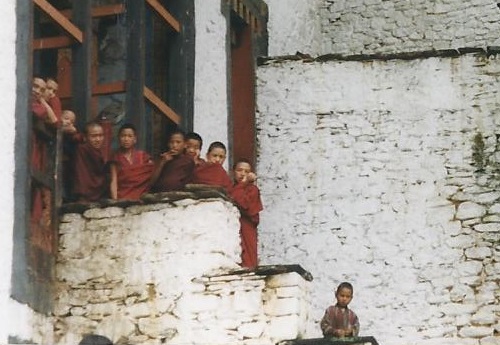 Young monks all over the place
The Dzongs are the most memorable constructions you will encounter travelling around Bhutan. Only fully organized group travel is possible (for 200-250 US dollar a day), both in 1998 and now. In the process of writing this blog post, I have been comparing my untitled photos of that trip to web images of the five dzongs. That way, and with a little help from my diary notes, I have been able to reconstruct which ones I have visited: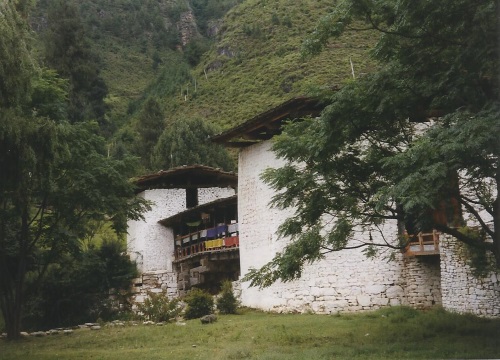 Covered bridge to Paro Dzong
"Every country its WHS" is the WHC mission nowadays, and Bhutan in the end surely will get one too. I have not found any reports on when they will submit a nomination. Maybe they will wait until 2018 when Wangdue Phodrang Dzong has been restored.
Els - 14 March 2015