Blog WHS Visits
WHS #565: Vézelay
Vézelay, Church and Hill
was the last destination of my short trip to the Champagne and Burgundy regions of France. Vézelay lies about an hour and ten minutes drive west from the
Cistercian Abbey of Fontenay
; both WHS can easily be combined into one day trip from Dijon or even Reims. The hill with the church on top is a landmark visible from afar.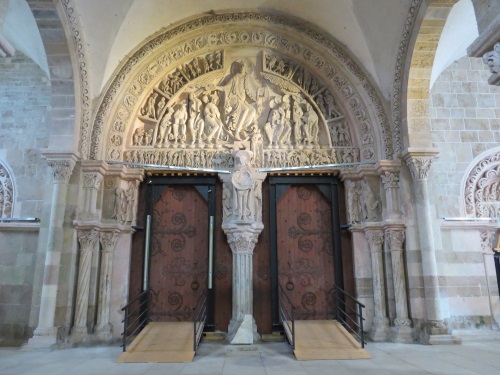 Sculpted portal of Vézelay Church
The site has been an important place of pilgrimage since relics of St. Mary Magdalene were brought here in the 10th century. So it comes as no surprise that the same location is also part of the
French Route to Santiago de Compostela
WHS. It is actually the starting point of one of the four main pilgrimage routes to Santiago. The steady flow of pilgrims brought considerable wealth to the town in the Middle Ages. On my drive up there I saw a couple of long distance hikers too (the pilgrims of the modern age). The
Abbaye Sainte-Marie-Madeleine de Vézelay
is the main feature of this WHS. The Abbey church is undergoing major restorations at the moment, especially near the choir which is closed to visitors. Probably the most interesting part is the variety of sculpted capitals on top of the columns in the interior. The decoration scheme with the polychrome ribs and these capitals is an architecture buff's dream: "it gives a delicacy and refinement to the interior"
1
. I guess this is also why Vézelay Church is considered as "one of the outstanding masterpieces of Burgundian Romanesque art and architecture." Entrance to the church is free, and there are nice views on the surrounding countryside from its grounds.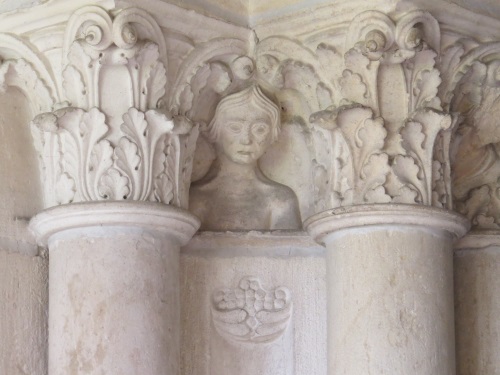 Inside Vézelay Church
To be honest about this site's values: I found Vézelay a bit of a tourist trap. The small town sees over one million visitors a year, and is totally geared to it. There's a main street that leads up to the church, lined with souvenir shops and restaurants. The side streets are more quiet, but nothing special. I had seen it all in an hour. I followed a sign to the 'Porte Neuve', hoping to stumble upon something historic, but enjoying this former city gate is hindered by reconstruction too. When I look now at
photos of it on the internet
, it seems that 'the other side' (which I could not get to) is much more interesting. The city walls were erected in the 14th century to keep out the "armed gangs" that were attracted to the flourishing pilgrims trade.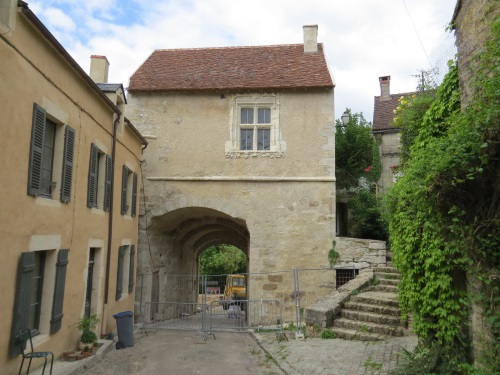 Porte Neuve, wrong side
Although I wasn't satisfied by the site itself, I take two good memories with me from my visit: I ate a great lunch at
Restaurant du Cheval Blanc
. Tasty lamb and a chocolate dessert to die for (it seemed that all female customers choose that one from the menu). And I met up for a short chat with fellow WHS traveller
Adrian
, who was visiting from Luxemburg. He was doing the Fontenay – Vézelay double WHS day the other way around than I did.
Els - 20 May 2015