Historic Cairo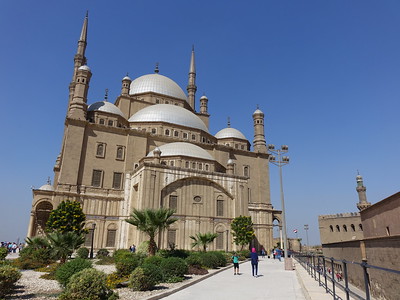 Historic Cairo encompasses the historic centre on the eastern bank of the Nile, which includes over 600 classified monuments dating from the 7th to 20th centuries.
Cairo was the dominant political, cultural and religious center of the Islamic world from the 7th to the 14th century. Its monuments include necropolises, the Citadel, bazaars, mosques, and palaces, some considered masterpieces of Islamic architecture such as the mosque Ibn-Tulm and the mosque of Qait Bey. The historic centre also comprises Coptic Cairo and its many old churches, and the ruins of Roman fortifications.
Community Perspective: it doesn't attract as many tourists as Egypt's classic sites, and it feeling "incredibly crowded, dirty, smoggy" doesn't help. You can spend one day in the Islamic section and one day in the Coptic one, as described by Jay, Frederik (who visited during Ramadan), Els (who details the Islamic monuments) and GabLabCebu.
Community Reviews
---
4.00 Philippines - 02-Jan-20 -
WHS#62
Everyone who hears Cairo probably thinks of the Pyramids, and for good reason. The Pyramids of Giza are the biggest draw for tourists in Cairo, but Ancient Egyptian the heart of the city is not. It's a living Arab metropolis, and its heart is one of the most chronologically extensive and impressive Islamic cities in the world. The first mosque in Africa, Masjid Amr ibn al-As, was built here, and the Fatimids, Ayyubids, and Mamluks all ruled great Islamic empires from here. This is not a city that died with the pharaohs, but instead, one that thrived after them. It's the city of a thousand minarets, and that doesn't even seem to be an exaggeration! It's even a center of the Coptic Orthodox Church. And it's the bustling, crowded, polluted capital of the modern Egypt. Yes, Cairo is a crazy city with just as crazy a past, as I learned on my family trip to the Middle East in May 2018. The sad thing is that I almost didn't get to explore Islamic Cairo at all, as I had planned for the day to be taken up by Wadi al-Hitan, which I considered a greater priority. In a twist of fate, the police barred us from entry as it was low season and they couldn't assure our safety, but I wasn't discouraged. I realized that I could now explore 2 places that I had originally thought I couldn't due to the time constraints: Saqqara and Cairo itself. After touring Saqqara and Memphis in the morning, I went on to visit 3 mosques in the Historic Cairo WHS, and having never been inside a mosque beforehand, I must say I enjoyed the visits a lot.
First, I visited the Muhammad Ali Mosque in Cairo's Citadel. It's probably the most famous mosque in Cairo, but I wasn't too excited for it as it was an Ottoman mosque, which isn't what I'd be looking for in Egypt. Nevertheless, I was pleasantly surprised by how pretty the interior was. Yes, there are probably much better examples of the style in Turkey, but I haven't been there, so let me enjoy my moment here. The size of the dome was actually really impressive to see from directly below, and the walls and windows weren't as bare and colorless as I had imagined the Alabaster Mosque to be. Continuing on to Sultan Hassan Mosque, my favorite mosque out of any I've ever entered, it was interesting to note the adjacent Al-Rifai Mosque mirroring it. Sultan Hassan is the original Mamluk-age mosque in the area, and it's probably the best example of Mamluk religious architecture out there. The entrance portal by itself is worth going for, covered in the iconic honeycomb embellishments and intricate tilework. As you take off your shoes and enter the building, you'll see the whole structure is just that decorated. But it's not a just an artistic and architectural masterpiece, but a madrasa too, so there are living, cooking, and studying quarters here. The best part is definitely the central courtyard, though. A big open square with a beautiful cleansing fountain in the middle and huge vaulted chambers, with countless lanterns hanging from the ceiling, on each of its four sides awaits you. It's an amazing sight, and you can even see the towering minaret of the mosque on some angles. Finally, we were let into the mausoleum of Sultan Hassan's sons, which is lavishly and colorfully embellished. The man who let us in demonstrated the acoustics of the dome, and his 'Allahu Akbar's indeed echoed loudly throughout the chamber. Without any other tourists around, it was a surreal experience to see the history and the genius in the making of this mosque first-hand and uninterrupted. Definitely check Sultan Hassan Mosque out if you're in Cairo, it's one of the most beautiful, impressive, and unique mosques in the world, if I have anything to say about it. Lastly, I visited the Al-Rifai Mosque across the alley, which was made to complement the older mosque. It's fairly recent, just over a century old, and it shows. It was cool to see the grave of Mohammed Reza Pahlavi, though. A little piece of Iran in my tour of Egypt. I would've really loved to see Al-Azhar and Ibn Tulun for their unique Fatimid and Abbasid architectures, respectively, but that short afternoon was all I had with the mosques of Cairo. I was happy with what I saw, though.
The next day, we went on to visit Coptic Cairo. While the OUV of this WHS doesn't even mention the city's Coptic heritage, the area is still part of the core zone, as the site of Fustat, the first Islamic capital of Egypt. I think Coptic Cairo deserves it's own designation, but that'll be a story for another day. I will say the Hanging Church was a really cool juxtaposition of its clearly Arabic style and Christian use. Either way, Cairo has definitely grown on me as a city. It's a place I wouldn't mind going back to for another exploration, despite the dirt and (possible) danger. Actually, the city, and the country as a whole outside of Northern Sinai, feels pretty secure, and there's a strong police presence everywhere you might want to and are allowed to go to. Cairo is just so rich in history, and it preserves masterpieces of every period it's gone through. The traffic is absolutely legendary too. As a Filipino, I never thought I'd be intimidated by another country's traffic until I got here!
---
3.50 The Netherlands - 27-Oct-18 -
A lot can be said about Historic Cairo and Cairo in general, but I will focus my review on the mosques of Islamic Cairo. I was in the mood for it: just before this trip I bought the book Mosques. Splendors of Islam and I recently re-visited Istanbul – famous for its exquisite Ottoman mosques - as well. Cairo, however, might be the best place in the world to see the architectural development of mosques: from the Samarran style to the designs favoured by the Fatimids, the Mamluks and the Ottomans.
Beforehand I had made a list of mosques from the different periods that I wanted to see: Ibn Tulun Mosque (Samarran) + Al Hakim & Al Azhar Mosque (Fatimid) + Sultan Hassan & Aqsunqur Mosques (Mamluk) + Muhammad Ali Pasha (Ottoman). Due to the considerable walking distances between them, I ended up only visiting the ones that I have underlined.
The first of these was the oldest: the Mosque of Ibn Tulun (879). It exemplifies the early tradition of the Arab-plan or hypostyle ("many columns") mosque, with a spacious courtyard ("to accommodate the large number of worshippers during Friday prayers .. in the warm Middle Eastern and Mediterranean climates") and a flat roof dominated by a single minaret.
From downtown, I first rode 2 stops southwards by metro to Saad Zaghloul station and then - with a map in hand – looked out for this mosque. I immediately walked in the right direction, but it still took me 20 minutes to find it. Nothing is signposted here in Cairo and the mosque is too low to stand out among the surrounding buildings (you can see it very well though from the Citadel looking down).
The Ibn Tulun mosque is known for its spiral-shaped minaret, which has been designed following the example of the minaret of the Samarra Mosque in Iraq. The mosque does not look very much in use anymore: much of it is covered in pigeon droppings. At the entrance you get protective covers for your shoes - probably intended not to contaminate the holy ground with street dirt, but here also very welcome as a hygiene measure. Nevertheless, I was very impressed by its simple but strong architecture.
From the 10th century on, the Fatimid Dynasty came into power in Cairo and the city started rivalling Istanbul. The change the Fatimids brought with them was the veneration of their caliph. This led to public appearances in the form of holy processions and in mosque architecture the innovation of the mosque façade as an important backdrop for sacred rituals.
The Al Azhar mosque is one of the buildings left of the Fatimid heritage in Cairo. It was still built as a hypostyle mosque: I found many students praying and reading under the shaded corridor, while the marble of the open courtyard was being polished and cleaned to perfection. I arrived during prayer time, but that did not matter: I was welcome anywhere on the premises (after they had given me a robe to wear). This was also the most actively religious of the mosques that I entered on this day. I encountered many Muslims from other countries such as Malaysia / Indonesia and Central Asia praying and probably studying here (it is said to be the oldest still operating university in the world).
In the 13th century, the Mamluks took over Cairo. They were equally ambitious builders as the Fatimids. Their innovations included the integration of charitable institutions and mausoleums into their mosque designs. They are also known for their intricate stone masonry. And they replaced the hypostyle structure of the prayer hall with the Persian iwan (with 4 open spaces, 1 on each side of the courtyard).
From this period I visited the Sultan Hassan mosque. This huge mosque lies at the foot of the Citadel. Its portal and courtyard, in the textbook Persian iwan style, are just beautiful. Behind the pulpit lies another room, intended for the tomb of Sultan Hassan himself (but that never happened). Here too, one gets the feeling of being in Persia. The corners of the burial room are covered with muqarnas.
Finally, the Muhammad Ali Pasha mosque at the Citadel is a pure Ottoman creation. It was modelled after the Yeni Valide Mosque in Istanbul (according to wikipedia its model was the Sultan Ahmed Mosque – but I think it looks more like the Yeni, as suggested by the Mosques. Splendors of Islam book). This is the most visited mosque in Cairo and just like the rest of the Citadel a bit too touristy for my taste.
There are many beautiful, really old buildings to see here in Historic Cairo: you just have to look through the mess. Cairo does not have the grandeur of Istanbul, but it has much more variety in building styles. A full day is necessary already for Islamic Cairo alone: I walked around from half past 8 to half past 4. And then you still have Coptic Cairo left which is also part of this WHS and worth half a day.
Read more from Els Slots here.
---
4.00 Netherlands - 16-Jun-18 -
When my boss told me that I have to go to Cairo for short business trip during the Ramadan, while I felt really happy to visit Egypt, I had load of questions and concerns, not only from my assignments, but I had no idea what is do and don't during the Islam fasting month, do I have to eat breakfast before sunrise? Or can I drink water in the meeting room, etc. etc. and as a World Heritage Traveler, do I have time to visit Historic Cairo and the Pyramids! I really interested to visit old Cairo, because this city is a treasure trove of Islam architectures. With a bit of luck, I managed to have half day city tour to visit Old Cairo in the afternoon. Bad news was most of attraction will be closed early around 3 PM because of Ramadan, so instead of focus on single monument complex like the Citadel, I decided to visit the historic Al Moez Ldin Allah Al Fatimi Street or shortly Al-Muizz which according to Wikipedia this street have the greatest concentration of medieval architectural treasures in the Islamic world.
I started my visit at the iconic Bab Zuwaila, the old south city gate, its thick wall and beautiful twin high towers were just great introduction of Cairo's incredible art. With my great regret all the entrance to every attraction were already closed even before 3 PM, so I had no chance to see the interior courtyard of all those grand mosques along the street. After I reached Al Azhar Mosque, the oldest mosque of Cairo, its tall minarets were just amazing breathtaking with each constructed in different styles representing its long history. Then I walked passed the famous bazaar of Khan el-Khalili, the whole market was full with locals who came out to buy fresh products to prepare dinner. While this was not my first experience with the Islamic world's souk or bazaar, Cairo one was pretty amazing for its size and gave me authentic locals market feeling than the one I saw in Persian countries. Then I walked back to see Qalawan Complex along the Al Muizz, a Mumluk masterpiece. The complex exterior was incredible mix of styles with Greek Roman columns and Gothic door. Its stucco minaret was just a beauty to see. Beshtak Palace area was the next significant landmark I saw; this area has many well preserved wooden lattice box windows called Mashrabiya. These beautiful wooden windows reminded me those impressive similar wooden box windows in Lima. There were so many incredible pieces of art along the street from wooden decoration door to intricated minarets. Walking along the Al Muizz was really made me understand why Cairo is World Heritage Site. Not Only architecture, with many small shops along the street gave this historical zone to be very lively with both sight and sound. I ended my walk at Bab Al-Fatuh, another city gate in the north. After that I went to beautiful landscape Al-Azhar park. From here I could see the beautiful citadel and its nearby mosque, many domes of tombs in the area that called city of death, but the most impressive one was the skyline of Old Cairo of countless minarets which made Caro earned it the nickname 'the city of a thousand minarets.
Not only because of its stunning arts, I found that this Cairo visit was beyond my expectation because of the Ramadan. First, the traffic was light, I could go to everywhere I wants within less than 40 minutes even the place was located in the opposite side of this metropolis. Second, Egyptians were extremely friendly and tolerated non-fasting visitors, eating and drinking on the street was no problem. Third, the late afternoon to evening Ramadan festivities were just incredible with great food and local's kindness. I spend only 6 hours in Old Cairo and felt that I love Cairo and want to come back to see this incredible city and those magnificent sights again.
---
The winding streets of historic Cairo were a welcome change from the traffic congestion of downtown Cairo. When I visited in fall 2012, I spent one day visiting the Coptic section of the city and one day in the historic Islamic section. Nestled within the walls of an old Roman fortress in the southern part of Cairo are several Coptic churches, including the unique Hanging Church (suspended over a gatehouse of the fortress) and the St. Barbara Church, as well as the Greek Orthodox Church of St. George with its monastery; the enclave was quite a sight to see. The historic Islamic section of Cairo was a bit more spread out, and I started at the Citadel, with its impressive Mosque of Muhammad Ali and the older Al-Nasir Muhammad Mosque, before working my way north through narrow streets to the twin minarets of the Bab Zuweila (Zuweila Gate). The Khan el-Khalili market was a wonder to explore, as were the surrounding neighborhoods. Although I was unsuccessful in finding the childhood home of the writer Naguib Mahfouz, I really enjoyed the variety of Islamic architecture I passed along the way.
Logistics: Coptic Cairo may best be reached by taxi or by Metro (Mar Gargis station), while historic Islamic Cairo--the Citadel in particular--may be easier to reach by taxi before walking through the neighborhoods
---
Chris
When I was in Cairo in February 2015 I visited the Historical Cairo. Both the Islamic and Coptic part. The Islamic takes a day to see all for sure, the Coptic you not need a full day. It for sure was quiet everywhere, not many tourist. I like both places. Different religions mixed in a city does work as you can see here. Everything was in good state and easy to visit. We did have a guide to keep the touts away but on general we had no problems with touts. Did not get ripped off, did not get food "problems". I can recommend really everyone to visit Cairo, also now, it's perfectly safe to go! I used a guide from Egyptian Sidekicks; they are students and do not ask for tips and extra money. All fair and perfect service!
Read more from Chris here.
---
Anthony M. Fischer
United States of America - 24-Oct-12 -
I visited this part of Cairo during my time in the US Army. It was 1998 and my fourth deployment to the Middle East. Cairo was almost overwhelming in its variety of impressions, sights, and just the sheer number of people. New Mexico, where I live, has roughly 10 people per square mile, or some other ridiculously low number. Cairo has about 170,000 (based on the figures I read). WHAT A DIFFERENCE!
Having said that, the historic section of Cairo is just beautiful, even though it is showing the wear and tear of the ages. Minarets, markets, mosques, tilework, colors, smells, people...I still get dizzy thinking about it.
I only wish I had done more research prior to my visit. It sometimes becomes a little difficult to determine the age of a building...which might cause you to miss something truly remarkable.
I can only say "GO!" if the opportunity comes your way.
---
I visited this WHS in March 2010. It is one of the world's oldest Islamic cities with several mosques, madrasas, hammams and fountains. The highlight of my visit was the Alabaster Mosque and its marble courtyard.
---
Historic Cairo with it's medieval layout , impressive mosques, and huge traditional market is fascinating. It's quite a large area and goes to show how important cairo was in the past. The mosques were imposing and unadorned. Worth a quick look.
---
I was still finishing some work when I - first time in my life - arrived in Cairo late one Dember evening. Following day, after having switched off the western world, I headed for the area named as "medieval Cairo". Accompanied by the shop-keepers early morning routines of setting up their stands, filled with colourful fruits, raw meat and vegetables, I entered this "Arabian Nights"-look-a-like place through its northern gates and found myself suddenly in a world of its own filled with strange smells of spices, food, dirt and live animals. After having wondered around, visited a couple of mosques and fighting my way passed eager salesmen and beggars, I ended up in the Khan el Khalili bazaar for a touristy cup of coffee at the famous Fishawi Café. Though I could have easily bought myself dozens of carpets and other goods on my way, I continued down the Sharia El Muizz-street to the Tentmakers bazaar and later the gigantic Mamluk-mosques of Sultan Hassan & Ar-Rifai. A lunch at the Citadel ended a long promenade through a place where times seem to have stood still. It's an almost magic place that you must not miss when visiting Cairo.
---
Egypt is famous for its ancient history, the age of pharaohs and pyramids up to Cleopatra and the Roman Conquest. What came later, after the rule of Rome and Byzantium, is less well known in our minds, but of course no less important for Egypt today. Arabs conquered the country in the mid-7th century, and ruled for a time from Alexandria. In the 10th century, they built a new city on the banks of the Nile that they called al-Qahirah, the Victorious. Today it is the largest city of both Africa and the Arab Countries, but it doesn´t figure prominently in most peoples´ travel plans. That´s partly understandable, since the place is incredibly crowded, dirty, smoggy, and an insult to your senses in general. However, you can get used to that (really!) and the place has at least two things to offer that have to be seen by everybody - the Pyramids, which are not that far outside Cairo, and the Egyptian Museum, one of the greatest museums I have ever seen. Other sights like the Khan al-Khalili Bazaar and the Ottoman Fortress are interesting as well, but similar to other places in different Arab cities. Hotels and restaurants are usually very good, so if you can hold your breath for a while, there is no reason not to go to Cairo.
---
My visit here was in 1995-long before the attacks of 9/11 that spooked Americans from traveling to the Middle East. Though not a Muslim myself, I was entranced by the exotic atmosphere that Cairo exuded. Perched in my hotel on an island amid the mighty Nile, it wasn't hard to picture the history that made this place what it is.
---
Site Info
Full Name

Historic Cairo

Unesco ID

Country

Inscribed

Type

Cultural

Criteria

1

5

6

Categories

Link
Site History
2007

Name change

From "Islamic Cairo" to "Historic Cairo"
Site Links
Unesco Website
Official Website
In the News
Visitors
464 Community Members have visited.