San Marino and Mount Titano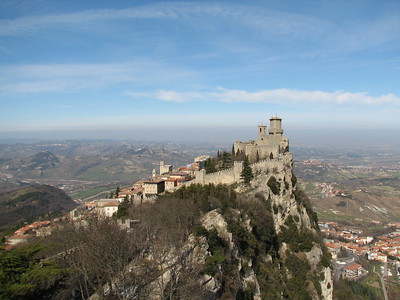 San Marino Historic Centre and Mount Titano are inscribed as a testimony to the continuity of a independent city-state since the 13th century.
San Marino, an enclave surrounded by Italy, is a full member of the UN and is the last of 200 city-states that existed in medieval Italy. It is located at a strategic position on top of Mount Titano in the Apennines.
The designated area includes:
- Mount Titano and its slopes
- San Marino historic centre, with public buildings and institutions of the city-state
- 3 defence towers: Guaita, Cesta and Montale
- market town of Borgo Maggiore
Extensive restoration and reconstruction works have been carried out on the city centre in the first half of the 20th century. The local engineer Gino Zani was responsible for carrying this out.
Map of San Marino and Mount Titano
Legend
Visit February 2009
Although San Marino welcomes 2 to 3 million visitors a year, I am the first one on this website to give my review. Where do all these millions come from, one wonders? Probably they were on a daytrip from the nearby seaside resort of Rimini. My visit was during a weekday in February and there surely weren't many people around at that time.
I started my visit with a hike along the ridge of Mount Titano. This path, starting from parking lot P3, takes about one hour and passes all three towers that San Marino is famous for. A fine but steep walk. There even still was some snow on the ground!
I went to the interior of the middle of the three towers, Castello della Cesta. It has a weaponry museum (as castles all over the world so often have). The views however from the top of the castle are splendid: on San Marino town and on the surrounding snowcovered Apennine Mountains.
The track ends at one of the city gates of the historical centre of San Marino. The centre is full of souvenir stalls and restaurants. It has a distinctive layout, all streets running east-west above each other. I walked around for a bit, and rested awhile at San Marino City's major landmark, the Palazzo Publico.
That's about all there is to see here, in this very debatable WHS. ICOMOS praises its link between tangible and intangible heritage (freedom, representative democracy, republican government). In the Advisory Body evaluation San Marino however is compared to about a dozen other places, varying from Assisi to Singapore. Personally it reminded me a lot of Bellinzone (which also has 3 castles in a mountain setting).
Community Reviews
---
---
---
---
---
---
---
---
---
Community Rating
Community Rating 3.19. Based on 24 votes.
Site Info
Full name: San Marino Historic Centre and Mount Titano
Unesco ID: 1245
Inscribed: 2008
Type: Cultural
Criteria: 3
Site History
2008 - Advisory Body overruled

ICOMOS advised Referral because of issues with the Management Plan

2008 - Revision

Formerly on T List as mixed site Republic of San Marino (Cultural and Natural property) (2004)

2008 - Inscribed
Site Links
Unesco Website
Official Website
Related
Connections
The site has 18 connections. Show all
Visitors
222 community members have visited San Marino and Mount Titano. Show all