Ancient Kyoto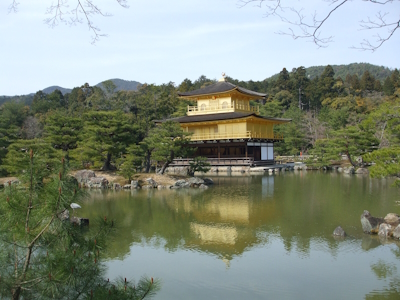 The Historic Monuments of Ancient Kyoto (Kyoto, Uji and Otsu Cities) represent the imperial capital of Japan and formed the center of Japanese culture for thousand years (from 794).
This still can be seen in the religious wooden architecture, and the landscape gardens.
The following 17 buildings were recognized by the Unesco:
Kamigamo Shrine
Shimogamo Shrine
Toji Temple
Kiyomizu Temple
Hieizan Enryakuji Temple
Daigoji Temple
Ninnaji Temple
Byodoin Temple
Ujigami Shrine
Kozanji Temple
Kokedera/Moss Temple
Tenryuji Temple
Kinkakuji Temple/Golden Pavilion
Ginkakuji Temple/Silver Pavilion
Ryoanji Temple
Nishi-Hongwanji Temple
Nijo Castle
Visit May 2000, April 2003
4.0
After two visits I still only have seen a fraction of all the temples in Kyoto. Most remarkable are the big differences between them (probably caused by the fact that they were built during several periods within the long heydays of Kyoto).
For a first-time visitor I would recommend Ginkaku-ji (the Silver Pavillion), Ryoan-ji (to sample a fine Zen garden) and Daitoku-ji (no worldheritage status, but a lovely complex to walk around).
Community Reviews
---
WHS#3
Kyoto is the first WHS that I've had the chance to visit in 2 different trips. I first visited this amazing city on a day trip from Tokyo in May 2012, visiting just 2 out of the 17 WHS component sites, namely Kinkakuji and Kiyomizu-dera, probably the 2 most popular to visit. When I came back to Japan in December 2019, I knew I had to refresh my Kyoto experience, so I ended up coming back to Kyoto on a day trip from Osaka and visited 3 more sites in Kozanji, Ninnaji, and Nijo-jo. Kyoto as a WHS is a bit disconnected, as it's a predominantly modern city, but no one can deny how remarkable and evident its historic heritage is. The city is home to over a thousand temples, and out of those, only 13 are recognized as part of the WHS, which does sometimes raise the question of why this, why not that? Well, the best answer I can give to that is just this: Each component site has it's own individual OUV that makes it a good representation of the diversity of heritage in Kyoto. Of course, that's not to say that none of the other temples don't have individual value, but this just seems to be a defining characteristic for each of the inscribed sites. Now, without further ado, let's dive into each one.
Kinkakuji and Kiyomizu-dera are definitely highlights of the Kyoto WHS, at least for the touristic perspective. Kinkakuji's Golden Pavilion and Kiyomizu's wooden balcony view are definitely the 2 most iconic views of Kyoto, and for a reason. They're absolutely stunning sites. Kinkakuji is a great example of Japanese landscaping, providing the perfect view of the towering pavilion behind the peaceful lake, backed by a lush forest. The gold leaf shining in the sunlight is just a majestic sight that shows the richness of the culture that built this masterpiece. One minor fault to note, though, is that this great golden centerpiece was actually rebuilt in 1955. This is no Horyuji, but the structure, at least, seems to have been rebuilt authentically enough, and it's visual appeal is unaffected. Kiyomizu-dera is probably the most important monument in the Kyoto. Completely built from wood, this multistory temple on a mountainside is legendary for its beauty, scale, and innovation. I'll admit I don't remember as much as I wish I did about my 2012 trip, and I'm missing a lot of details, but those iconic views are vivid as ever.
For my recent trip, I was armed with the JR Pass. I quickly realized that to make the most of it, I had to find a site that I'd be unlikely to get to without the pass, and that was Kozanji. Only the JR bus goes all the way to Toganoo, just past Takao about an hour's drive from Kyoto Station, so I took the chance to visit this relatively unknown temple. Kozanji is not a grand monument. For a steep price of 800 yen, you get to walk in a single bare 800-year-old wooden building and its small garden. I know that doesn't sound like much, but this is actually one of the coolest little corners in Kyoto. The building itself isn't impressive or particularly beautiful, but it's entirely authentic. It's also home to the first manga. In case you didn't know, manga are the comic strips made in Japan that have a very distinct style of art. Here, you can see a collection of scrolls that are said to be the comic's predecessor, and they're really cool artistic works. There are also a few statues and figures to see. The best part of visiting is really just the atmosphere, though. It's so tranquil, surrounded by beautiful pine-covered mountains, and the garden, though tiny, is just so subtly beautiful. And with all the moss around, it just feels straight out of a fairy tale. Kozanji is also the first place in Japan where tea was grown, so that's another big fact that attests to the huge significance of this site.
My next stop was Ninnaji, whose gate towered over the road that the JR bus passes on the way to and from Takao. I had originally considered skipping Ninnaji due to the time constraints I had on the day, but seeing the gate was too tempting to skip. Unfortunately, winter isn't the best time to explore a prime cherry blossom viewing spot. The famous Omuro Cherries, the late-blooming pygmy blossoms, weren't just lifeless, but off limits. I also skipped the 500 yen entry to the Goten to explore the free area for the same time constraints and winter circumstances. The temple buildings are all separated and arranged in a pattern ascending the hillside, and observing the different halls and pagodas was definitely enjoyable. While all the interiors were off-limits at the time, there was one hall with window openings wide enough that I could stick my phone through for a picture, and it was impressive. The Buddhist art here is exquisite. The 5-story pagoda here is also a highlight, and I wondered how high the one at Toji could be for it to be taller than this one. Overall, Ninnaji is a really interesting, rich, and underrated temple of Kyoto.
After having lunch, I found that I had to skip Ryoanji instead, so I went straight to the highlight of the day, Nijo-jo. The Karamon is probably the most beautiful gate in Kyoto for the intricacy in its colorful carvings. Ninomaru Palace, with its golden sliding doors, colorful ceilings, and nightingale floors, is a sight and sound to behold. Seriously, it didn't matter how softly and slowly I stepped, the floor just kept chirping. I find that the no picture policy works well in the palace, as crowds don't get too congested in the wooden hallways. The garden here is one of the best out there as it's impossible to see a bad view. Honmaru Palace was unfortunately under renovation and was completely covered. The inner moat, though, did not disappoint, especially from the Donjon. Nijo-jo is, to me, the artistic peak of Kyoto, and it's the true symbol of the imperial capital that defines so much of its history.
After this, I went to Arashiyama to see the illuminations of the Hanatouro Festival. The Bamboo Grove and Togetsukyo Bridge were lighted up in a dazzling array of colors, but Tenryuji, a component site of the WHS, was closed. Unfortunately, due to the circumstances of the time, as well as my bad planning of the day, I don't think I truly got the proper experience for any of the WHS sites in Kyoto that I visited, except Kozanji. Kyoto is a place that I know I've missed a lot of, and it's a place I know I'll come back for someday. To come back for further insights on Kinkakuji and Kiyomizu-dera, the Goten and Omuro Cherries of Ninnaji, the Honmaru of Nijo-jo, and all the other amazing sites, WHS and not, is definitely a goal for me. It would be especially great to see the magnificence of Byodoin, the beauty of Enryakuji, the mystery of Kokedera, and the pagoda at Toji. And of course, I'd love to hike the full Fushimi Inari trail. It's probably not a part of the WHS because of its nature as a shrine constantly contributed to by donors, but it's not any less significant than any other great site. Temples like Sanjusangendo, Nanzenji, Jingoji, and Daitokuji also seem to be on par with the WHS temples. There's just so much to see in Kyoto that it will never be finished, and it's so hard to sum it up. It truly represents the height of Japanese culture, and no matter the strange technicalities, it's an undeniably wondrous city that takes lifetimes to understand and explore.
---
Even staying for 2 weeks in Kyoto, I still didn't manage to visit all of the city's temples, but for those that I did visit, they each present different, unique landscapes and buildings to wander through - and that is the way I found myself, wandering slowly in a sort of otherworldly revelry, admiring every little detail which had been created, from the ponds to the pagodas.
Obviously, as possibly the most famous temple in Kyoto, Kinkaku-ji (The Golden Pavilion) is especially busy, so expect to wait about 10 minutes to get the pond edge for that perfect photograph. You can expect a decent number of people around each major temple in the city, even if it isn't UNESCO listed.
Though not as impressive as Kinkaku-ji, Ginkaku-ji (The Silver Pavilion), is a place I highly recommend visiting. The complex sits at the foot of the mountains and so feels more secluded than many of the other sites, and it is an exemplary display of the Japanese landscape design which is famous across the city.
Enryaku-ji, though harder to access (one must drive or take the train to Sakamoto, then take the Funicular up the mountain) is perhaps the most surreal place I have ever visited. There is very little sound except for the periodic ringing of the peace bell, and the clouds often settle around the height of the temple, creating a misty aura, as if you've stepped into another world. Most people will only visit the main temple complex by the entrance, however, I highly recommend visiting the second area, where you can see Shaka-do, an isolated temple surrounded by trees which can make even the most atheistic feel a sort of spiritual presence.
---
No single description or image can encapsulate the sheer beauty of Kyoto's ancient temples. On the one hand, it's a large and fast-paced modern city and that surprised me. I was taken aback when walking through shiny metal buildings and city blocks to find my guesthouse. But once you realize that Kyoto is a modern city with an ancient history preserved within several districts of the city, it's easier to find the fascinating areas and the deep history.
I spent four full days exploring the city and about 10 hours per day of that was spent just walking and navigating to the many things on offer. And while that may seem like a lot, the temples and gardens are diverse and unique, meaning you don't reach temple fatigue quite as much as you might in other areas. Since the city was founded 794 AD, the temples range through a large span of history, meaning the styles, architecture, and aesthetics are all very different.
I walked the vast majority of the Northern and Southern Higashiyama Districts, as well as the Arashiyama district, Fushimi Inari Shrine, and the Gion District, too. Out of all of that, my favorite temples were:
Kiyomizu-dera Temple
Kinkakuji (Golden Pavilion)
Shoren-in Temple
Chion-in Temple
Honen-in Temple
Hiking behind the Fushimi Inari Taisha shrine
And Nara is an easy day trip from the city, so it's worth heading there for one of your Kyoto days as well!
Read more from Shannon O'Donnell here.
---
I visited this site in 2007.
Like many of the European world heritage sites which encompass an entire city (Paris, Rome, etc) Kyoto is probably the grandest and most encompassing world heritage site in Japan.
Kyoto was specifically spared bombing in WWII by the allies because of its history. Unfortunately, many of the buildings did not survive the post-WWII modernization fervor in Japan.
Nonetheless, there is plenty to see in Kyoto and you can easily spend several days in the city viewing historic shrines and temples.
This is a must see for any tour of Japan.
Read more about the Historic Monuments of Ancient Kyoto on my website.
---
Within the city, there are 17 specific places that have been designated as part of the official Kyoto listing on the UNESCO World Heritage List. It's impossible to see them all in a day. I think you'd be hard pressed to see them all in three days even. If you're the kind of person who likes to explore things in depth then you'll need to leave yourself enough time to properly understand a city as culturally-rich as Kyoto.
I gave myself just one day in Kyoto, which I now regret. It's easy to get templed-out in this region of Japan and I fear that was beginning to happen to me. But I still managed to see some of the most important temples and shrines… and finished the day, as the sun set, at the most beautiful of all the sights, Kiyomizu-dera.
Read more from Michael Turtle here.
---
I went to Kyoto in February 2016. Of the 4 WHSs I took in on my Japan trip, Kyoto captured the essence of Japanese heritage the best for me. A good point to get your bearing and view many of the temples is the rather expensive Kyoto Observation Tower. Also note that the famous Fushimi Inari shrine is NOT inscribed, though is still fun to visit.
Byodo-in: We took the Nara line 30 minutes out of Kyoto to Uji station, where it seemed that every other shop was a specialist in matcha. Byodo-in temple is surrounded by a tranquil pool of water. This was the first time on our trip that we were required to take off our shoes, which is something you will find very often when visiting Japanese cultural sites. The museum includes 52 wooden bodhisattvas, which seem vaguely similar to angels in Christianity.
Ujigami-jinja: across the wide Uji river from Byodo-in is this small guardian shrine. It was the lowest-key and the quietest of the sites we visited in the Greater Kyoto area. So quiet, in fact, that it joined the select list of World Heritage Sites at which we have found ourselves to be the only visitors.
Kyo-o-gokoku-ji (To-ji): a short distance from Kyoto's main railway station in the centre of town, Toji temple is home to the tallest pagoda in Japan. The site features a couple of single-storey buildings too: the Kodo (lecture hall) and Kondo (main hall). Each of these contains a selection of fabulous gilded statues positioned as a physical representation of the cosmology of Buddhism.
Hongan-ji: A brisk walk north took us to another temple close to Kyoto station. Free to enter, at Hongan-ji we saw two large decorated halls into which ordinary Japanese would come to pray. The floors are covered with tatami mats, so again one must take off shoes to enter. It was very peaceful inside these buildings, and it almost felt as if we shouldn't have been in there, being the non-Buddhists that we are.
Tenryu-ji: after a morning at Himeji Castle we darted back to Kyoto in order to visit another shrine. This time we picked Tenryu-ji, which is on the western outskirts of Kyoto, close to the hills that have halted the city's almost inexorable sprawl. This temple was everything a tourist would want one to be: pretty, peaceful, garden, pond, raked gravel, bamboo, tatami mats, paper walls and quiet.
Nijo-ji: unlike some of the other temples in Kyoto, Nijo Castle is not a small and indoorsy one! Surrounded by a moat, it is a formidable block in the heart of the city. We walked around the maze of corridors inside the Ninomaru Palace, squeaking over the nightingale flooring. The surface was deliberately designed to 'chirp' when walked on, in order that intruders would not be able to sneak up on the emperor unannounced.
---
I visited this WHS in November 2009. The highlight of my visit was surely the Golden Pavilion and the surrounding Japanese gardens. It was the centre of Japanese culture for more than 1000 years and the imperial capital of Japan. Surely, one of Japan's top WHS.
---
Kyoto has been the capital of Japan for almost 1000 years and still remains the cultural center of the country.
I have spent 4 days visiting Kyoto amazing world heritage listed buildings. I have visited 11 sites out of 17. Among them, those that really astonished me are Nijo jo castle with its imperial palace, full of decorated rooms, Kinkaku ji with the Golden Pavilion and To ji with its 5 story pagoda which is the tallest one in Japan. Kyoto is the heart of Japan and houses some of the finest testimonies of ancient Asian architecture with its shrines, temples, palaces and zen gardens. The place is amazing and full of splendorous treasures.
The image shows Nijo Jo castle (exterior white fortifications and interior buildings), Kiyomizu Dera entrance gate, To Ji pagoda, Byodo In temple and Kinkaku Ji Golden Pavillon.
---
Bicycles are a convenient transportation alternative. Nearly all sites except Kiyomizu-dera have free bicycle parking. With a mountain bike it is possible to visit all interesting sites east of the river in one day. Use the paths parallel to the river to avoid traffic. You can even reach Fushimi Inari Taisha in 20 minutes or so from Gion.
Ginkaku-ji was undergoing some small renovation but was still one of my favorites. I also loved Byôdô-in Uji.
I experienced the people of Kyoto to be overwhelmingly friendly – from curious passengers in city buses to the staff of the excellent tourist information in Kyoto station.
Kyoto is a truly unique place. Don't miss places like Sanjûsangen-dô and Fushimi Inari Taisha (although those are not WHS).
---
Val Nelson
I visited Kyoto in April at cherry blossom time - husband was an invited guest and we were taken around the city by Japanese people. This is a rare time to see the city because all the streets and shrines are surrounded by cherry blossoms. One shrine we visited had 2,000 cherry trees in bloom and it is a tradition for the Japanese to spread blankets under them and get drunk and sing--their version of tailgating! The grounds of the Golden Shrine sits over the water and is 1,500 years old. The landscaping there is beautiful and one can see the shrine from many angles. One bonsai tree was over 800 years old and shaped like a ship.
---
jaxon nobori
I managed to see all except on the list of 17. Missed the Saiho-ji (moss temple)and Enryaku-ji on Mount Hiei. Otherwise, everything was memorable, but some places more than others. The ones in Kyoto I'd recommend are: Ginkaku-ji, Nijo-jo, Daigo-ji (Sampo-in), Nanzen-ji, Kiyomizu-dera, To-ji (especially for the flea market on the 21st of every month), Kitano Tenman-gu (also has a flea market on the 25th of the month), Ryoan-ji (if you can tolerate crowds), and the Kamigamo & Shimgamo Shrines along the Kamo River. In Uji City: Byodo-in and the Ujigama Shrines. That only leaves three you could pass over, and another two I didn't get to visit.
---
C H Ho
The bus inside Kyoto is convenience but their speed are slow. I suggest to go to Higashiyama region. Visit Kiyomizu Temple and follow the route of philosophy until Ginkakuji Temple. The best time is in April and the cherry blossom on the route of philosophy.
---
I have spent a great deal of time in Kyoto and it never ceases to break my heart.
The city itself is an utter monstrosity, a nightmare mess of urban planning.
There are some wonderful spots in the city, but these are marred by the city itself. Many of the temples, gardens and shrines are almost ruined by tacky souvenir stalls that seem to dog this country's tourist sites.
I have visited virtually all of the temples and sites inscribed on the list and would recommend the following:- (1)Byodo-In, one of the few remaing Heian period buildings left in Japan. It is a real gem. (2) Enryaku-Ji. A wonderful mountain-top temple that has beautiful views over Lake Biwa. (3) Nijo-Jo. One of the most outstanding palaces remaining in Japan.
The most visited temple is Kinkaku-Ji - the Gold Pavillion. I find this place rather gaudy and overdone. It is a relatively recent creation, built in 1955 after the original was burnt down.
Nishi-Hongan-Ji is currently undergoing a massive face-lift and rebuilding project. The Kondo Hall will be off limits for several years.
Ginkaku-Ji (The Silver Pavillion) is looking a bit worse for wear these days and could use a lick of paint.
Re-building is something that always has to be born in mind with Japanese temples - what you are looking at may be advertised as being 700 years old, but it could easily be a modern re-construction.
---
Rebecca Burger
I went to Kyoto 2 summers ago as a 3 week study abroad program for my University. it was one of the most experiences of my life. Here I saw things that I had previously only seen in the textbooks of my Arts of Japan class. Kinkakuji Temple stands out in my mind due to the fact that even if you are a terrible photographer, you just can't take a bad photo of this site. It is gorgeous! One note for the inexperienced traveller, be prepared to see some of the most incredible gardens. Every temple has a spectacular garden that deserves some film space. One thing I remember is that hydrangea bushes are common and the Japanese red maple is a staple. Also be prepared for Japanese high school students. Nearly every major temple I went to had a huge group of high school or elementary school kids. Especially if you are an American male, these kids will take interest and often ask help on an English assignment. They are very cute and sometimes if they gather the courage, they will ask for a picture. Also take off your shoes before entering some of the temples. Also don't worry about rude Japanese because for the most part they are very polite towards foriegners so don't worry about how bad your Japanese is because they are fairly understanding.
---
Site Info
Full Name

Historic Monuments of Ancient Kyoto (Kyoto, Uji and Otsu Cities)

Unesco ID

Country

Inscribed

Type

Cultural

Criteria

2

4

Categories

Link
Visitors
398 Community Members have visited.