Regensburg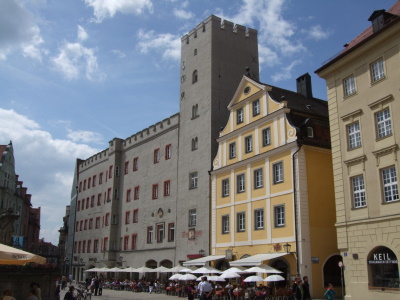 The Old town of Regensburg with Stadtamhof has an almost intact medieval city center with many romanesque and gothic buildings.
Regensburg was an important trading centre along the Danube. It was also home of the assemblies of the Holy Roman Empire in the High Middle Ages. Its roots lie in the Roman town of Castra Regina.
Community Reviews
---
Regensburg is evaluated lukewarmly in our community. Maybe Regensburg really is a collection of monuments without OUV, but it belongs to few well-preserved German towns after WWII destruction. Well, I would not call it intact, because there are several modern constructions and re-constructions in the core, but still the town looks nice, the river with islands is very valuable addition to its appearance, and from the stone bridge, one can observe most of vertical monuments of the town including Cathedral and medieval tower-houses.
My evaluation is fairly positive for Regensburg. Maybe I am positively biased, because for Czechia, Regensburg, which is located not far from Czechia, is a fine example of features, which we do not have (Roman monuments) or which are already gone or almost disappeared (Tower houses, gothic houses facades, large early-medieval complexes). Furthermore, Regensburg has quite prominent place in the history of Czechia as the source of Western/Southern culture and religion.
I have visited the site already 3 times. Last time, I did a day trip from Prague by train (one way - 4 hours) in November 2021. Regensburg is a small version of Prague: it has river with an old stone bridge, a gothic cathedral, and picturesque squares. The stone bridge has been reconstructed a couple of years ago, but it looks quite sterile to me. Cathedral is pretty nice, but nothing exceptional taking into account that it is a result of extensive reconstructions to gothic style. I like St. Emmeram with its history and St. Jacob with its superb Romanesque portal with dragons and creatures much more. In general, what I enjoyed during my visits the most is that, if you are careful enough, you can recognize hundreds or even thousand years old stones and construction in almost every single church and house in the center. Even Cathedral contains its Romanesque Eselsturm. Thus I could find quite a lot of medieval houses with preserved facades, which almost did not survived in the rest of Central Europe. The number of tower houses is exceptional - PHOTO (we have only very few of them in Prague, and there are more typical for Italy).
However, it was very disappointing and I cannot give Regensburg more stars that one of the prominent structure, which is praised in its OUV justifications, has been declared as the part of crazy Danube limes WHS: Porta Praetoria! Thus the OUV of Regensburg has been diluted by this "epochal" act.
All in all, Regensburg is quite nice historical town with hidden and also obvious treasures such as small sausages with sauerkraut. However, one-two days are enough to explore all of them.
---
March 2010 - on a trainride to Vienna, we made a few hours stopover in Regensburg. We walked through the charming streets entered a few churches and got a bite of good sausages. Finally we sat next to the Donau in the historic Spital Brauerei and had a refreshing Helles. All in all, it is a nice town, but other Bavarians towns are as well. Perfect stopover before continuing to Vienna.
---
To get the most out of a visit to Regensburg, the best thing to do is just walk through its streets. Even the buildings of no particular note that line the alleyways all come together to create the sense of medieval city.
The particular highlights of the city are all within a very easy walking distance of each other. From the Roman Bridge, walk up into the centre of town to see the cathedral, cut across to the old town hall, through the Haidplatz square and over to St James's Scottish Church.
The various public squares are nice places to stop for a rest. The fountains or statues in the centre of many of them are little homages to the city's past and the buildings surrounding them have authentic and artistic facades.
Regensburg is popular with tour groups that move in large mobs but they tend to stick to the main streets. Getting away from the obvious paths and exploring the alleyways will not just give you a bit more peace, it will also show you how small businesses and residences of today have been incorporated into the original buildings.
Read more from Michael Turtle here.
---
Ah, such a familiar feeling: 2 hours of strolling in the drizzle feeling slightly underwhelmed by another variation of a European Town, a few hours later I'm rushing for the train feeling like I want to relocate to the city after something intangible suddenly wins me over. Yep, I ended up smitten with yet another small/medium sized European city.
Initially I wasn't really swept away by the main sights. The cathedral was large and grand, but nothing really exceptional for me (though maybe I am just getting a little too blasé about these as I have visited so many). The remains of the roman walls were rather underwhelming and then I was shooed away from sheltering under an awning whilst trying to eat some sausages and order a beer at the famous Wurstkuschl, I was feeling damp and discouraged.
Things picked up in the excellent world heritage museum next to the bridge, which like many other such museums did a great job of explaining the Outstanding Universal Value of the site as well as the history and personalities associated with it. As the rain abated I went for a stroll to Stadtamhof on the other side of the river the crossing was very reminiscent of the Charles Bridge in Prague, just missing the statues and the looming castle. Stadtamhof was pleasant with a few nice cafes and a different feel to the rest of the city. Things really improved for me as I called into one of the city's 3 breweries Spital, the large garden was closed but the charming old school ambiance and service inside helped elevate my spirits for the return to the city centre.
Highlight after highlight surprised me on my return to Regensburg proper. I wasn't expecting to find the Old Town so charming, after being a little underwhelmed earlier on, the winding streets punctuated with tower houses, charming little squares and two rather impressive churches. The crazy rococo decoration in the Alte Kapelle was rather impressive (once I fathomed how to get inside) however my particular favourite was the wonderful Romanesque Scottish Portal at St Jakob's church, this was also next another of the city's breweries where another plate of local sausages and delicious sweet mustard helped cement my new found admiration for the city.
[Site 7: Experience 8]
---
I visited Regensburg in June 2013, just after the terrible Danube floods in Passau. The water level was still high when I visited the river bank opposite the cathedral was completely flooded as were the nearby gardens. Some of the houses and restaurants still had sacks of silt in front of their doors! Luckily there were no major damages in Regensburg. I really enjoyed the view from the stone bridge and found a quiet spot in the shade just opposite the cathedral were I could enjoy the view. Most of the buildings are restored and are beautifully painted in different colours. It reminded me a bit of Prague or Budapest in a way but much smaller and quieter.
---
1.50 The Netherlands - 28-May-10 -
Regensburg's nomination dossier seems to document every single structure in town. This will make great historical material in a few hundred years! ICOMOS however was not amused and complained that it's not about the number of sites but about the themes they represent.
I made good use of the lists of structures from all ages and plotted the most interesting sounding ones on a map of Regensburg. I visited the town on a day trip from Bamberg. A good place to start is the historical museum, which holds a large exhibition on the local Roman history. It shows how the Roman military camp developed into a town. All are very well displayed, although signs are in German only. The entrance fee is 2,20 EUR.
I then checked out two of the most prominent tower-houses, something that I never expected to see here. Most of the buildings here look very new, they have been restored extensively in the 1990s. They all have signs telling their historical value. Some sites I couldn't link to the description in the nomination file however, for example I noticed no wood at all at "the oldest completely preserved wooden building in Germany" (Keplerstrasse 12).
Back on my way to the train station I had a quick look at the Monastery of St. Emmeram. It still has very old frescoes on its facade. In all, I spent about 3.5 hours in town and I had to rush at the end to catch my train.
---
I went to Regensburg and nearby Nuremberg at the same day. I must confess my impression that the latter completely overshadowed the former. Both are mediaeval cities but while Nuremberg was erased during WWII and completely reconstructed afterwards Regensburg still preserves its original buildings. Is this a reason enough for its inscription? Dresden is a good counter-example.
Well regardless of Nuremberg, I can say that Regensburg is a relatively dull town unlike many other colourful mediaeval towns in Germany (or even in Bavaria). Still there are two highlights: the stained glass at the local cathedral and the interior of the town hall, which I would really recommend visiting. It features the largest undomed hall for its time without supporting columns, which was a major engineering achievement.
---
I agree with the other reviewers here - Regensburg is really a beautiful town with a fascinating history. The old town is very compact and wonderfully preserved, luckily having escaped any destruction during WW II. In the Middle Ages, many Imperial Diets (Reichstage) were held there, largely because of its strategic position on the Danube. From the end of the Thirty Years' War until the end of the Empire in 1806, the Permanent Imperial Diet had its seat in Regensburg's Town Hall. Now there is a really interesting museum there, with many original rooms.
There are also several beautiful religious buildings, especially the Cathedral of St. Peter and the Monastery of St. Emmeram, as well as the historic Stone Bridge leading across the Danube to the district of Stadtamhof, which used to be an independent city. The famous aristocratic family of Thurn and Taxis, which introduced the first postal service in Central Europe, also has its palace in Regensburg, and there are interesting guided tours. The only problem there, for people visiting Regensburg in December, is that you actually have to pay an entrance fee for the Christmas Market in the palace courtyard...
---
Alison
We lived in Regensburg, in Stadtamhof on the main street, for 4 years. It was an amazing town full of charm and character. Parts of the old Roman wall still exist and the Steinere Brucke is over 800 years old. You can take tours of the city...highly recommended. Christmas is a wonderful time to visit as there is a Christkindlmarkt in many of the squares.
---
Site Info
Full Name

Old town of Regensburg with Stadtamhof

Unesco ID

Country

Inscribed

Type

Cultural

Criteria

2

3

4

Categories

Link
Site Links
Unesco Website
Official Website
Related
Visitors
350 Community Members have visited.