Kremlin and Red Square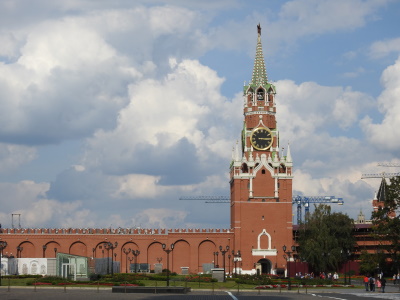 The Kremlin and Red Square, Moscow are associated with all major events in Russian history, and its monuments are great examples of Russian architecture. Both the Red Square and the seat of government Kremlin are located at the heart of Moscow.
The city of Moscow was founded in 1156 as a seat for the czars. The current Kremlin dates from the 19th century. It consists of several buildings: churches, palaces and places in political use. A red brick wall surrounds the complex.
The Red Square is a city square from which the major streets of Moscow radiate in all directions. Buildings surrounding the square include:
- Lenin's Mausoleum
- the brightly-domed Saint Basil's Cathedral
- GUM department store
- Kazan Cathedral
- State Historical Museum
- Iberian Gate and Chapel
The only sculptured monument on the square is a bronze statue of Kuzma Minin and Dmitry Pozharsky, who helped to clear Moscow from the Polish invaders in 1612.
Map of Kremlin and Red Square
Legend
Visit July 1990
A visit to the Lenin-mausoleum here is of course a must. Procedures for visitors to the body / mummy are strict: lots of security at the entrance, no talking inside or standing still to take a closer look.
Moscow nowadays probably looks much different from when I was there, in the Gorbatshov-era. It still was quite communist then (boring, strict, cold). Everything looked the same. One evening, I roamed the streets for hours (after several trips with the subway), looking for my hotel that seemed to be 100% identical to all the other buildings.
Community Reviews
---
---
---
---
---
---
---
---
---
---
---
Community Rating
Community Rating 4.32. Based on 22 votes.
Site Info
Full name: Kremlin and Red Square, Moscow
Unesco ID: 545
Inscribed: 1990
Type: Cultural
Criteria: 1 2 4 6
Site Links
Unesco Website
Official Website
In the News
Connections
The site has 54 connections. Show all
Visitors
277 community members have visited Kremlin and Red Square. Show all