Trier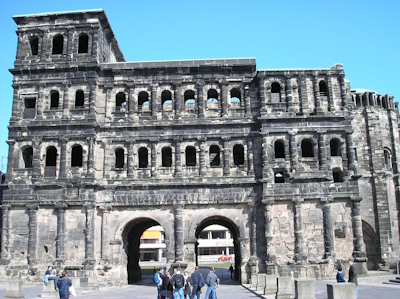 The Roman Monuments, Cathedral of St. Peter and Church of Our Lady in Trier are the testimonies of a Roman colony and its recognition of Christianity.
Even before the Romans came there was a settlement in this valley. It belonged to the Gallo-Celtic tribe Treveri. Upon their culture, from which remains still can be seen in the regional museum, stumbled Julius Caesar when he conquered this territory in 57 BC.
With Caesar the 500 year long Roman history of Trier began. The city became a cross-roads and a commercial link between major towns in France and along the Rhine.
Trier has a classic rectangular layout, with the Forum (including the most important buildings) in the center. There were also several Roman Baths in town. The oldest preserved building is the Amphitheatre, dating from 100 AD.
During the reign of Constantine the Great (306-337), Trier became an even more splendid city. He built the Dome/Cathedral, the Imperial Baths, the Basilica and several more Christian places of worship (as this was the empire's new religion).
Visit February 2003
Trier is a small city in southwest Germany, very close to Luxemburg. It has an excellent location along the Moselle River. At first sight it looks like a 'normal' German town, but you don't have to walk far to come eye to eye to Trier's Roman heritage. There's even so much of it that you get the impression that by accident you've stranded in a German town in Italy.
There's a lot to see here, so I'll name some of the highlights. The large Dome of course, and the baths. And, somewhat out of the center of town, the huge Amphitheatre.
Really interesting also is the regional museum. One room there exhibits large mosaics in good condition that have been found in Trier. At the heart of the museum an ornamented light blue grave monument is the center piece of attraction. How beautiful the streets of Trier must have looked like in Roman Times!
Community Reviews
---
---
---
---
---
---
---
---
Community Rating
Community Rating 3.42. Based on 31 votes.
Site Info
Full name: Roman Monuments, Cathedral of St. Peter and Church of Our Lady in Trier
Unesco ID: 367
Inscribed: 1986
Type: Cultural
Criteria: 1 3 4 6
Site History
2000 - Name change

From "Roman Monuments, Cathedral and Liebfrauen-Church in Trier" to "Roman Monuments, Cathedral of St. Peter and Church of our Lady in Trier"

1986 - Inscribed
Site Links
Unesco Website
Official Website
Related
Locations
The site has 9 locations.
Connections
The site has 25 connections. Show all
Visitors
293 community members have visited Trier. Show all