Vilnius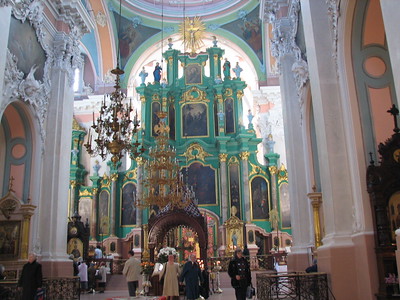 The Vilnius Historic Centre represents a diverse and well-preserved medieval trading town.
The capital city flourished during a time that the Grand Duchy of Lithuania stretched from the Baltic Sea to the Black Sea. It attracted people from within the duchy with different cultures and religions, such as Jews and Crimean Karaites. Its circular town plan is dominated by three castles. The historic buildings are built in the Gothic, Renaissance, Baroque and Classical styles, which influenced developments in Eastern Europe over the next centuries.
Community Perspective: not spectacular in terms of individual sights (although the brick-gothic Church of St.Anne comes recommended), but a great atmosphere and wandering aimlessly around the old town's cobbled streets is rewarding.
Community Reviews
---
4.50 Netherlands - 27-Jan-23 -
My first WHS trip in 2023 was to the historic centre of Vilnius, the capital of Lithuania, which happened to be celebrating its 700th anniversary on the 25th of January (more on that later). Visiting Lithuania has always been a dream of mine. When interested in history from a young age, children usually grow up to choose a certain specific area or period of interest: dinosaurs, Romans and Greek, ancient Egypt, the Vikings, etc. Personally, I "chose" medieval Eastern Europe and don't ask me why. I just find that specific period in that area immensely interesting. So what destination could be better than Lithuania, which was the last pagan country in Europe to be christianised and which was a vital part of one of medieval Europe's largest empires, the Polish-Lithuanian commonwealth.

My trip to Lithuania lasted 4 days. I flew from Eindhoven (in the Netherlands) to Vilnius, a short (about 2 hours) and cheap (€60 return trip) flight with Ryanair. Accommodation in Vilnius was also really affordable. We stayed in an apartment in the historic centre for about €20 per person per night. Mind you, we chose the more expensive option with a 9.8 rating by previous guests. Vilnius also offers even cheaper accommodation options. Exiting Vilnius Airport (Oro uostas), we were able to take a bus to the city centre. The buses are directly in front of the airport. Options to the city centre are bus 88 and 3G. We paid €1 in cash per person directly to the driver and the ride took us about 25 minutes.
Vilnius is a very walkable city. Almost all of the city's highlights are located within a short distance from each other. There are other public transport options (like the Vilnius card, which you have to purchase and transfer money to), but since we were only in Vilnius for 4 days and since everything is very close to each other, we opted to just pay the €1 per trip.
Vilnius is a very nice city. It reminded me a lot of Krakow in Poland. Even though there are no really outstanding individual attractions/sights, the atmosphere is very nice, much like in other Eastern (Central) European cities. The highlight for me was Gediminas' Castle Tower, situated on top of a hill, and the surrounding buildings. At the foot of the hill you can find the Cathedral and Bell Tower, the Palace of the Grand Dukes, the National Museum, the very nice archaeological museum and much more. From the Castle Tower, you have a panoramic view of the historic centre, including sights such as the Presidential Palace, the university (one of the oldest in Eastern/Central Europe), the Hill of Three Crosses, and much more. I would advise any traveller to start their visit here and make their way down to the Gate of Dawn through Pilies Street and the University building. We covered the historic centre in one day.
The city celebrates its 700th anniversary this year (2023) and festivities started on the 25 of January, Vilnius' birthday. We thoroughly enjoyed the musical performance which kicked off the festivities. The square near the cathedral and the castle tower hill was completely packed with people, mostly students and young families. The musical performance was accompanied by a light show (see photo), which created a very nice atmosphere. We enjoyed some hot drinks, Lithuanian snacks and listened to the music. It really was a big deal and as it was our last evening in Vilnius, we thought it was the perfect ending.
All in all, I would definitely recommend visiting Vilnius. It might not be spectacular in terms of individual sights, but it is a very nice city. Furthermore, I agree with the criteria on which Vilnius was inscribed. They may sound a bit vague, gut it is hard not to appreciate the historic value of the city, especially regarding its influence on this part of Europe.
---
August 2017- we arrived in Vilnius around noon and where quite astonished. At first glance you can already recognize the different influences in this city. For Poland it is a very important place, and you can recognize the deep catholic code of this city. Also thea heart of Jozef Pilsudski is buried here.
However there are many facettes of Vilnius. It has some medieval architecture, a lot from Barock, some modern, and even a small Hippi Republic within the city and lots of streetart.
We enjoyed the many churches, in the evening it became a vivid place with people Dancing on the streets and the Illumination of the buildings was just awesome. It is very different from Riga and Tallin.
---
Even though it doesn't have any standout attractions, Vilnius is a very pretty and clean city with a well-preserved old town and a large number of historic buildings. The many Renaissance and Baroque buildings and Catholic churches make it seem like a classic Central European city similar to Krakow, rather than a Nordic, Protestant city like Tallinn. The best-known landmark is the tower of Gediminas Castle on a hill in the Old Town, followed by a cathedral that looks like a Greek temple, and the beautiful St. Anne's Church. I also enjoyed a visit to the interesting National Museum, housed in the Palace of the Grand Dukes of Lithuania.
---
I visited this WHS in August 2016. Unfortunately there were no convenient flights to Lithuania before Saturday evening so I missed the first day of the WH Travellers Get-together. However the following day, first thing in the morning I headed towards the Gediminis monument and surely enough I finally met Els and other WH travellers in person :) It was very humbling to visit Vilnius with travellers who visited more than double the amount of WHS I visited. The highlights of the walking tour of Vilnius, apart from meeting fellow WH travellers of course, were walking through what seemed like private garage doors leading to residential courtyards to take in the 'real' Vilnius on not only the fully painted and 'touristy' parts of the city, as well as the panoramic Subacius viewpoint. I also enjoyed visiting the Uzupis Republic and the gothic brick church of St Anne (picture) before ending our tour at the Presidential Palace. After the tour I visited the
Holy Spirit Orthodox Church with the peculiar green altar (free entrance). The UNESCO plaque is just next to the town hall columns. All in all I spent 3 days in Vilnius (including half day trips to Kernave and Trakai Castle) and having visited all 3 Baltic capitals, I would say Vilnius is the least interesting of the three and in my opinion the only Baltic capital which is not the true highlight of the country. Still it's a pleasant city for a cheap weekend trip.
---
4.00 The Netherlands - 28-Aug-16 -
Vilnius is a great find. 'The new Prague', some say. The ICOMOS report mentions Cracow. Having visited them all by now, I do believe that Vilnius is in the same league as Prague and Cracow - the quintessential Central European towns.
Our best memory was visiting the Russian Orthodox Church of the Holy Spirit early in the morning, and watching 50 – 60 people go about their rituals. The all-brick St. Anne's church gets the votes for the most impressive exterior.
Another benefit of the town is that, despite having about 600.000 inhabitants, it still is very pleasant: clean, easy to be explored on foot, many restaurants, parks, places to sit, most buildings are in good repair. Almost everything looks new - restorations have almost finished, in time for early 2009 when Vilnius will be the new Cultural Capital of Europe.
The 'Why' isn't explained very well in the ICOMOS report that got Vilnius the WHS status. A visiting professor highlighted its 'rich collection of buildings from different ages and full of everyday life'. This may not sound very special but does justice to the combination of a rather unique religious atmosphere and variety in building styles in this town. A visit is well recommended, you'll need at least two days (preferably more).
---
Bojana Bartol
The Vilnius old town gives the impression of a small town somewhere far in the province, and I find that as no disadvantage. The whole district is quiet but offers a lot of beautiful religious buildings of all architectural styles. If you feel fatigue and hunger, you can find very easily a place with cheap and tasty local specialties to try.
---
A big thumbs up from me for Vilnius. Whilst the main sights are nice they are not astounding however the city has a great atmosphere and wandering aimlessly around the old town's cobbled streets was an exceptionally rewarding way to spend a weekend.
I spent three days in Vilnius in February 2010 using it as a base to explore south-eastern Lithuania and it was great. It reminded me an awful lot of the Czech city of Olomouc, where I studied a few years previously, and for me that is a big complement. I really enjoyed just walking through the winding lanes discovering bars, cafes and quite a number of churches. It was also good to see the University was a core part of the old town and the students sauntering to and from classes brought a relaxed air to the place. They also made the nightlife very enjoyable Cozy, Prie Universiteto and Bûsi Treèias were the drinking establishments I enjoyed most. Whilst walking between bars I also got to hear some of the incredible folk singing that the Baltic States are so famous for. It was very different to the sort of post-pub singing you hear in Britain, four part harmonies instead of a drawl about a favourite football team.
The main sights of the city were nice, especially St Anne's church and the Gates of Dawn. The two big squares, by the town hall and the cathedral felt a little too open and ordinary in comparison to the surrounding streets. However the view from the Higher Castle and the Artillery Bastion were particularly pleasant. It does all manage to squeeze in a Micronation in the shape of the Uþupis Republic).).
Vilnius was a really charming city with enough to merit a few slow days of exploration. It has a real central European feel and is one of Eastern Europe's largest preserved Old Towns and a worthwhile inscription on the World Heritage List
---
For some reason there is something in Vilnius that reminds me of Copenhagen. It might be the relaxed atmosphere or the obvious resemblance between the bohemian district of Uzipio and its Danish cousin Christiania. A slow walk around Vilnius Old Town and you will constantly bump into a mix of churches, monasteries, old Jewish areas, restaurants, cafés, hotels and small houses on the verge of collapse. On my first visit to Vilnius in 2002, I was amazed by the number of excellent restaurants I found and on my return, four years later, there seems to be even more of them around. In difference to its two Baltic capital cousins, Tallinn and Riga, Vilnius is the town of unlimited "bon vivant", something that's for sure been discovered by an increasing stream of summer tourists.
But in my opinion, Vilnius can be even better on a chilly autumn day when walking almost alone in the lovely parks that surround Gediminas Hill. On the hill once stood two 14th century defence castle but today there is only one castle of them left together with a tower. But just below the hill, the Lithuanians are rebuilding their main castle that was burnt to the ground in the late 18th century. They are likely the only nation in the world to be building a fully-fledged castle in the absolute centre of their capital – five points for that!
One of the absolute-must-places to visit in Vilnius is the 16th century Church of St.Anne, a gothic brick-construction that once Napoleon, invading his way into Russia, was absolutely flabbergasted by. And if you for some reason get tiered of Vilnius, why not hop on one of the many excursions tours to the town and castle of Trakai. It's just 40 km south-west of the city and you suddenly you find yourself in the midst of a nature park with lovely lakes and a brilliant brick castle that easily could have been taken out of a movie.
---
A.J. Kuolas
My three favorite European cities are Tallinn, Krakow, and Vilnius. Like the other two, Vilnius has a picturesque old town that's not too commercial and touristy like Prague, yet isn't sleepy like Toledo. These three are just right--bustling little city-towns that haven't sold out their cultural identities. All three beg you to simply wander the cobblestone streets in an attempt to get lost. Though choosing one is a toss-up in terms of UNESCO criteria and prices, I give a slight edge to Vilnius for its nightlife and its location. In one direction, the insular castle of Trakai is 20 km away, as is the geographic center of Europe in another. Within an overnight train-trip or less, you can reach numerous World Heritage Sites in Lithuania, Poland, Russia, Belarus, Latvia, and Estonia. Another advantage Vilnius holds: it has a strong sense of its various historical periods. The hilltop castle has watched over the city for centuries; the genocide museum remembers the decades watched over by the KGB. Visit the church Napolean wanted to take home with him, or touch the cement blocks that protected democracy-minded Parliamentarians from Soviet tanks on the night thirteen citizens were massacred in 1991. The longer you stay, the more you'll discover.
---
Site Info
Full Name

Vilnius Historic Centre

Unesco ID

Country

Inscribed

Type

Cultural

Criteria

2

4

Categories

Link
Site History
1990

Referred

Info on town planning schemes required + ICOMOS review
Site Links
Unesco Website
Official Website
Related
In the News
Visitors
425 Community Members have visited.