Frank Lloyd Wright Buildings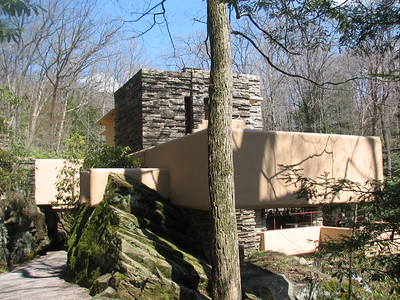 The 20th Century Architecture of Frank Lloyd Wright illustrates Wright's innovative approach to architecture designed for an American context.
The site comprises 8 buildings designed by this American architect. The buildings range from a modest home to a church and a museum. They show different aspects of his work, which was geared to the American social, economic and natural conditions. Wright's ideas also influenced Europe's Modern Movement in architecture.
Community Perspective: even when you're not a fan of modern architecture, you will be impressed by these works. Kyle has visited them all and his review is the best place to start. Others covered include Fallingwater (Els), Unity Temple (Ian), Guggenheim Museum (Ian, Frederik, Clyde), Taliesin West (Boj) and Robie House (Ilya).

Map of Frank Lloyd Wright Buildings
Load map
Community Reviews
---
I found an opportunity to visit Frederic C. Robie House in Chicago recently, which was my third visited building for this property. True to the inscription, the house exhibits discernible elements of "organic architecture" and a number of techniques and solutions that mark Frank Lloyd Wright as one of the foremost innovators of the 20th century in his field. And yet it is somewhat underwhelming once you step inside. There are lovely partially stained-glass windows throughout, notable built-in features doubling as decorative elements, and examples of impressive masonry echoing the exterior, but the relative emptiness of the house mutes the impression quite a bit.
Enthusiastic students of architecture - especially of its modern history - will certainly get significant value out of visiting Robie House. The guide provides a lot of context, historical nuggets, and rationale behind architectural decisions to make it worthwhile. Visually, Guggenheim and Fallingwater are degrees of magnitude more impressive. Even Kentuck Knob, which is not part of the WH inscription, retains a bigger visual impression in my memory a good decade after my trip there.
Robie House can be reached from the Chicago Loop area in under an hour by public transport – or in about 15 minutes by car. Guided tours run throughout the day, starting every half hour and lasting about 45 minutes. Advanced reservations are required these days.
When it comes to Guggenheim, it is my "hometown" sight - I have visited it many times over the years, most recently a couple of months ago. The striking white spiral of the museum is practically unmissable for any New York visitor - you will surely find yourself on the Museum Mile, either on foot or in a double-decker tourist bus at some point during your stay in New York City. During the most popular exhibitions, at peak times there may be lines to enter the building, but if you manage to walk in, you can admire the interior from the ground floor entirely for free, since the tickets are checked only at the foot of the spiraling ramp - and you don't have to walk up the ramp to get a good appreciation of the structure. (Coincidentally, I happen to think that Guggenheim rarely delivers reasonable value for money when it comes to its changing exhibitions - being a corporate member with free access definitely helps me in this regard; for a short-time visit to the city, I would not recommend making Guggenheim one of your art-museum-going targets).
I also visited Fallingwater in rural Pennsylvania several years ago. The house is just stunning in its design and the way it takes advantage of its natural setting. It is also colorfully furnished and appears very livable. You can only enter with a guided tour at predefined times, so plan well in advance. (Not listed on this inscription Kentuck Knob is close enough that you can combine the two visits into a single half-day, if you are so inclined.)
On my limited evidence, Wright Buildings compare favorably to the works of Horta or Le Corbusier. Wright's innovative impact is probably enough to justify OUV of this property, and certainly at least some of the included buildings are true masterpieces.
Read more from Ilya Burlak here.
---
5.00 United States - 16-Nov-20 -
I loved understanding the mind of this artist. I learned that he was more of an artist than a structural engineer. Truly fascinating.
---
I visited only one location of this WHS in October 2010. Even though I'm not a fan of modern architecture, I was positively impressed by some of the iconic buildings in New York City. It felt like being in a movie, as many of those buildings featured in many films I had seen.
I remember seeing the Solomon R. Guggenheim Museum for the first time after an enjoyable NBA match at Madison Square Garden and a stroll in Central Park. Its unique architecture and white colour make it stand out among the regular vertical high rise buildings, without being an eyesore or too much of a contrast, which I personally find is the main problem of most modern architecture (such as for example the other Guggenheim in Bilbao).
Solomon R. Guggenheim Museum's interior is equally as impressive as its exterior, not for its eccentric art on display but for its architecture. The spiralling ramp in the cylindrical part of the building was my personal highlight and in a way it reminded me of the Musei Vaticani's famous spiral staircase designed by Giuseppe Momo in 1932.
I really hope to visit Fallingwater, the waterfall house described as Frank Lloyd Wright's "most beautiful job" to be able to take in this site's OUV on a much smaller scale, especially after the negative experience I recently had in the Tugendhat Villa in Brno, Czechia.
---
4.00 Netherlands - 21-Jun-15 -
It seems very strange to me that many reviewers have been to the famous Solomon R. Guggenheim Museum in New York but did not write any review on this stunning piece of architecture, since I visited this museum last month on the special day that the museum was very quiet and almost empty by the change of the whole exhibition, allowing a big chance to admire its architecture detail with almost no restriction to take photo. Located on the famous Fifth Avenue next to the beautiful Central Park, the museum exterior was really stunning with unique design that some people said toilet-liked building, but for me, its pure white colour really reminded me a spinning top, a really contrast to its surrounding of luxury apartments.
Inside, the famous spiral atrium was truly amazing, very futuristic and really beautiful piece of art by itself. The natural light in the atrium from the glass roof was quite a genius as not only bright the atrium hall, but also gave the feeling of warm and soft atmosphere to the whole place. I took an elevator to the top floor; the elevator itself was also quite unique with semi-circular or actually half oval shaped. From the top floor I walked on the ramp to the lower floor. Since there was no exhibition, I really questioned how the museum displays the art, especially painting with slope floor and little bend out wall. I continued to other exhibition halls and other small atrium. The small almost circle shaped atrium, while not grand like the main one, but still lovely to see for its nice design that plays with light. Another beautiful and stylish piece of architecture is the triangular shaped staircase, which was used as an alternative way to go up and down instead of the ramp of the main atrium. I also found out that the shape of toilet rooms are also in half oval shaped, a really nice design to use leftover space, but the unusual shaped also made toilet too big and load of unused space.
I really enjoyed my time in the Solomon R. Guggenheim Museum, and really admired Frank Lloyd Wright's creativity for his unique design in the atrium and staircase, maybe too futuristic but unbelievably provided the sense of softness and touchable in the same time. Too bad that this is just my second times to admire Frank Lloyd Wright's works, another one is Hollyhock House in Los Angeles, and each site gave me the totally different experiences on this famous architect and made me a little bit confusing in his styles and overall idea. Anyway in my opinion I totally agreed that this nomination by USA to World Heritage Site programme is truly justified its place on the list.
---
I will be among one of the many who will happily cheer when Frank Lloyd Wright's buildings get listed as World Heritage in 2016. I was able to visit two nominated sites in May 2015 - the Guggenheim Museum in New York, and Taliesin West in Arizona.
Taliesin West is indeed a masterpiece; a building that is alive and blends well with its environment. Wright's concept of organic architecture is beautifully manifested in the construction materials (stones with desert varnish). From the inside, the arrangement of windows and passageways naturally "frame" the desert landscape outside. The nearby hill is also enhanced by the house's slanted rooflines. Simply put: architecture as poetry!
---
Kim Valentine
Why isn't the Bradley House in Kankakee Illinois (USA) included? It is a beautiful Frank Lloyd Wright home that is often forgotten. While in High School I worked there as a hostess for the Yesteryear Restaurant. There is a stream flowing beneath the home and it displays beautiful architecture.
---
4.50 California - United States of America - 25-Jul-12 -
Frank Lloyd Wright is considered one of the great architects of the 20th century, with a far-reaching influence and legacy of design that we encounter frequently in our own homes and communities. In this review, I will attempt to briefly include impressions and relevant information for each building.
Hollyhock House is a real gem in Los Angeles. Barnsdall park is the location of this unique residence. Located in a central location in East Hollywood, this park has wonderful views of Griffith Park and another FLW masterpiece (Google "textile block houses"). Numerous events are held here including wine-tasting, film screenings in the lawn (front of house), and art exhibitions in the adjacent gallery. Robie House, located within the University of Chicago campus in Hyde Park is easy to visit, there is plentiful free parking, and several tours are conducted daily. Furnishings are sparse, but there are some authentic FLW designed chairs on display. The story of how Frank Lloyd Wright Right showed up on the street outside Robie House well into his 80's, cane in hand, to save the house from demolition is worth a listen from your tour guide. Taliesin (East) is a product of at least 3 different rebuilding periods and is a property Wright tinkered with for decades. The property is sublimely situated within a hilly landscape (not on), with surrounding 360 degree views. Significant works of Chinese and Japanese art are found throughout the home. Tours go from a 'highlights' visit to an in-depth exploration of all components of the site. Taliesin West is just outside Scottsdale/Phoenix and the tour(s) require some consideration about what interests you most and the time you have. The property is large, the location is within a desert landscape. The building complex is expansive, eclectic, and often remarkable in its creativity as well as adaptation to the environment. East Asian artwork once again features prominently inside and outside the home. The Herbert and Katherine Jacobs House remains private, and access to the property is restricted to the sidewalk. One highlight is the wall of windows in the back of the property, which can be seen from the nearby sidewalk that wraps around the block. However interesting, I would not recommend spending time and money to reach Madison only to see a bit of the exterior for 10 minutes. Your time would be better spent heading to Spring Green, Wisconsin to tour Taliesin or by heading south to Chicago, which is filled with Frank Lloyd Wright buildings. Which leads me to Unity Temple in Oak Park (worth exploring by foot). Unity Temple went through a recent and considerable restoration effort, which I am curious to see since my visit was years ago. Through a self-guided tour, I was able to explore this early design by Wright, which is well over 100 years old. I vividly remember the natural light which came from above despite a rather cold and drab afternoon. The Guggenheim Museum in New York City can be paired well with exploring Central Park. Admission is quite expensive ($25). The exhibitions are certainly fun to explore as you circle Wright's rotunda design, which the museum curators use to great effect. The final property I visited is perhaps FLW's most iconic work, Fallingwater. I will simply state you must book the 1 hour tour to see the property fully. In each space, Wright's 'Organic Architecture' is fully realized.
I visited all 8 sites components of this world heritage site (year is by completion date)
- 1909 Unity Temple (Oak Park - Chicago IL)
- 1910 Robie House (Hyde Park - Chicago, IL)
- 1911 Taliesin (Spring Green, WI)
- 1921 Hollyhock House (East Hollywood - Los Angeles, CA)
- 1937 Herbert and Katherine Jacobs House (Madison, WI)
- 1938 Taliesin West (Scottsdale, AZ)
- 1939 Fallingwater (Mill Run, PA)
- 1959 The Guggenheim Museum (Central Park - New York City, NY)
Read more from Kyle Magnuson here.
---
Adam DeMura
Frank Lloyd Wright was a pioneer of not just "American" architecture, but architecture in general. I have visited Fallingwater (my favorite piece of architecture) and it does not disappoint. I'm not going to waste my time trying to describe it to you... so i suggest you schedule a tour and JUST GO. You'll be glad you did.
One thing that really sets Wright apart from the rest is that he was willing to create more than just a building (a mere shell) to live/work in. Rather, he created a living space that catered to whomever inhabited it. In fact, it seems as though his buildings "nurtured" their inhabitants. His organic architecture compliments our lives AND nature. He was a very, very forward-thinking man and was way beyond his time.
All there is left for me to do is to own a FLW home... (wish me luck)
---
I will be very surprised if these buildings do not make it onto the World Heritage List as they are exceptional testaments to one of the most important architects of the 20th century.
A few years back I was lucky enough to have a week or so in Chicago and was able to tour the Architectural delights of the city. The buildings of Frank Lloyd Wright were certainly one of the highlights. The western suburb of Oak Park is littered with buildings he designed though only Unity Temple is nominated this is a great place to start getting an understanding of the architects' work especially if you visit his house and studio.
The effect of the Prairie school that he pioneered can be seen in houses across the wealthier outskirts of the city; however the finest building of his that I saw, the Robie House, is located in the less salubrious South side of Chicago. It is next to the leafy Chicago University campus (worth a visit for the excellent Oriental Institute Museum) and it is an exceptional feat of domestic architecture. The use of space and horizontal lines is incredible and I was surprised by how impressed I was by the building as I had not guessed it would be so good from the pictures I had seen.
A few years later I was able to visit one of his most renowned works, the Guggenheim Museum in New York. This again was a highly impressive and unique building made all the better by the long stroll across Central Park that led to it. There are additions to the Museum to Wright's original plans that make it look strangely like a toilet, however the aesthetic joy of the spiralling gallery is great both internally and externally. Though it has to be said it is not really that great a space for displaying works of art.
I hope to continue viewing more of Wrights work as I travel around with Fallingwater and the Johnson Factory topping my wish-list.
These buildings would be an excellent addition to the World Heritage List and it would also signify a slight shift in the focus of the US's approach to it, hopefully for the better as there are so many modern architectural marvels that could be added in the future.
---
Tish
I grew up across the street from the Darwin Martin House. When I was little it was wooded; an architect lived there. His daughter had her own skating rink. We played in the perglola. There were three buildings. At present it is almost completely restored. The feeling inside a Frank Lloyd Wright prairie house is both airy and warm - he really liked natural light. Windows through windows, skylighting - in 1904! The room they rebuilt in the Metropolitan Museum in NY has high ceilings but still feels roomy and very cosy at the same time. I wonder what it would be like to cook in a Frank Lloyd Wright kitchen.
---
3.50 The Netherlands - 06-Apr-09 -
There are 8 buildings by Frank Lloyd Wright included in this nomination. One of these, arguably the most prominent one, is Fallingwater in Pennsylvania. I visited it on a bright sunny weekday in April.
Fallingwater is located about half an hour from the highway, amidst forests and green hills. The scenery reminded me of Germany or Slovakia. There are many beautiful traditional wooden houses here. It is so remote that I am beginning to think that perhaps I will be the only visitor to tour the house.
But when I approach the parking lot I find more than 40 cars already there! Now it becomes clear why you must book weeks in advance.
As I'm an hour early for my tour, I first have something to eat at the café and have a look around the museum shop. Both are well-stocked.
With a group of about 15 people, I then am allowed to visit the house. It is only visible when you come very near, you get there via a bridge. From the bridge, there's already a great view of the characteristic terraces, like swimming pool diving boards. They are on one side supported by beams and the rest is suspended.
Fallingwater was designed by Frank Lloyd Wright, and built between 1936 and 1938 as a country house for the Kaufmann family (for a price of 155,000 dollars). Its name comes from the waterfall in the Bear Run river which was incorporated into the design of the house.
A guide gives us a tour of the interior. Materials used are walnut wood, reinforced concrete, natural stone slabs and steel. Also, natural elements are reused, such as a large boulder. Almost all rooms have a fireplace, the central focus of the house. There are also sliding glass doors to terraces at different levels. It all looks very comfortable to live in.
In addition to the home of the Kaufmann family, there is also a guesthouse. The guests were taken care of just as well as the owners. The family had five staff to serve and for the maintenance of buildings and terrain.
My general conclusion about this site is that it's very much worth a detour when you're in Pennsylvania or Ohio.
---
Site Info
Full Name

The 20th Century Architecture of Frank Lloyd Wright

Unesco ID

Country

Inscribed

Type

Cultural

Criteria

2

Categories

Link
Site History
2008

Revision

Former TWHS "Taliesin West" and "Frank Lloyd Wright Home and Studio" (both from 1990 T List) merged into this site
1991

Referred

As Taliesin and Taliesin West: Bureau -deferred the examination of this nomination pending the results of a topic-by-topic study of contemporary architecture.
Site Links
Unesco Website
Official Website
In the News
Visitors
337 Community Members have visited.