Lübeck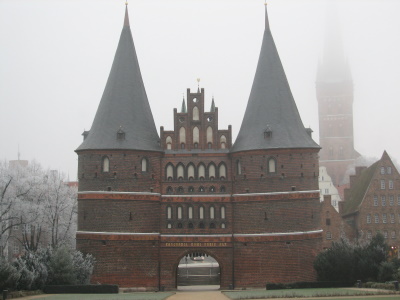 The Hanseatic City of Lübeck was leading among this league of merchant cities which held a monopoly over the trade of the Baltic Sea and the North Sea.
The functioning of the Hanseatic League is not only proof of early economic co-operation in Europe, but it also founded a social and cultural community which has left its mark throughout the region, particularly in the self-contained architectural world of brick Gothic.
Parts of the medieval city of Lübeck were severely destroyed during the Second World War. Its nomination for the World Heritage List was limited to three specific areas:
1. the Burgkloster, Koberg and sections between the Glockengiesserstrasse and the Aegidienstrasse.
2. the patrician residences between the Petrikirche and the Dom, the salt storehouses and the Holstentor.
3. the heart of the city, with the Marienkirche, the Rathaus and the Marktplatz.
Visit December 2007
Lübeck was only reluctantly admitted to the World Heritage List. Its nomination was deferred the first time in 1983 because of the loss of authenticity the city suffered from reconstruction after World War II. The ICOMOS advice at the second attempt (in 1987) also holds more warnings than admiring words. The site is also similar to the nearby Hanseatic cities of Stralsund & Wismar, and a serial nomination was recommended.
I visited Lübeck on a very cold Saturday in December. The picturesque Holstentor is the gate to the city center, with the salt storehouses right next to it. The gate now houses the municipal museum, where one can see how Lübeck looked like before WWII.
Wandering around the city's old quarter I'm afraid I have to agree with the sceptic ICOMOS-people: the fabulous remaining monuments are almost hidden from sight by ugly modern constructions, parked cars, cheap shops and eateries and (at this time of year) Christmas stalls. Lübeck's monuments are heavy on a style called "Brick Gothic", originating in countries in which there was a lack of natural stone.
Community Reviews
---
---
---
---
---
---
---
Community Rating
Community Rating 3.05. Based on 22 votes.
Site Info
Full name: Hanseatic City of Lübeck
Unesco ID: 272
Inscribed: 1987
Type: Cultural
Criteria: 4
Site History
1987 - Inscribed

1983 - Requested by State Party to not be examined
Site Links
Unesco Website
Official Website
Related
Locations
The site has 3 locations.
Connections
The site has 38 connections. Show all
Visitors
245 community members have visited Lübeck. Show all