Fortifications of Vauban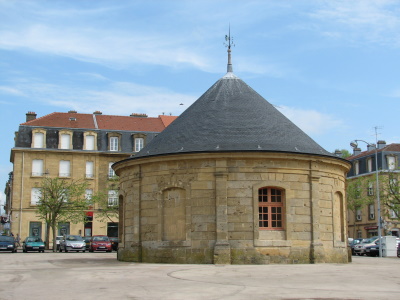 The Fortifications of Vauban are twelve groups of fortified buildings that form a defensive ring around France.
They were constructed by Sébastien Le Prestre de Vauban (1633-1707), military engineer of King Louis XIV and influential far beyond the French borders. The remaining sites include both fortifications and various kinds of military buildings.
The 12 sites selected to be part of the World Heritage are:
Arras: citadel
Besançon: citadel, city walls and Fort Griffon
Blaye-Cussac-Fort-Médoc: citadel of Blaye, city walls, Fort Paté and Fort Médoc
Briançon: city walls, Redoute des Salettes, Fort des Trois-Têtes, Fort du Randouillet, ouvrage de la communication Y and the Asfeld Bridge
Camaret-sur-Mer: Tour dorée (lit. "Golden Tower") aka. Tour Vauban
Longwy: ville neuve
Mont-Dauphin: place forte
Mont-Louis: citadel and city walls
Neuf-Brisach: ville neuve/Breisach (Germany): gateway of the Rhine
Saint-Martin-de-Ré: city walls and citadel
Saint-Vaast-la-Hougue/Tatihou: watchtowers
Villefranche-de-Conflent: city walls, Fort Libéria and Cova Bastera
Map of Fortifications of Vauban
Load map
---
---
---
---
---
---
---
---
---
---
---
---
---
---
---
---
---
---
Site Info
Site History
2008

Revision

Includes former TWHS Ligne fortifiée du Nord de la France sous le Ancien Regime: frontière commune avec la Belgique (1995), which included the former TWHS Besancon (1984).
Site Links
Unesco Website
Official Website
Related
In the News
Visitors
317 Community Members have visited.