Fortifications of Vauban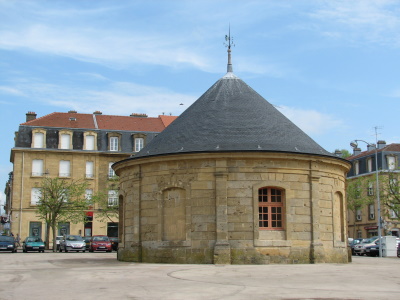 The Fortifications of Vauban are twelve groups of fortified buildings that form a defensive ring around France.
They were constructed by Sébastien Le Prestre de Vauban (1633-1707), military engineer of King Louis XIV and influential far beyond the French borders. The remaining sites include both fortifications and various kinds of military buildings.
The 12 sites selected to be part of the World Heritage are:
Arras: citadel
Besançon: citadel, city walls and Fort Griffon
Blaye-Cussac-Fort-Médoc: citadel of Blaye, city walls, Fort Paté and Fort Médoc
Briançon: city walls, Redoute des Salettes, Fort des Trois-Têtes, Fort du Randouillet, ouvrage de la communication Y and the Asfeld Bridge
Camaret-sur-Mer: Tour dorée (lit. "Golden Tower") aka. Tour Vauban
Longwy: ville neuve
Mont-Dauphin: place forte
Mont-Louis: citadel and city walls
Neuf-Brisach: ville neuve/Breisach (Germany): gateway of the Rhine
Saint-Martin-de-Ré: city walls and citadel
Saint-Vaast-la-Hougue/Tatihou: watchtowers
Villefranche-de-Conflent: city walls, Fort Libéria and Cova Bastera
Map of Fortifications of Vauban
Load map
Visit May 2009
3.0
Longwy is situated at a strategic location near the French borders with Belgium and Luxemburg. And that's exactly why Vauban was put to work on it. Longwy is one of the four 'new towns' among the Vauban sites on the World Heritage List. After annexation of this region (Lorraine) by France in 1679, a new town for military purposes was built from scratch.
The town consists of an upper and a lower part. This region has been hit hard in the past by the closure of its steel industry, and it doesn't look to have recovered too well from that yet. Especially the lower town is quite gloomy.
The 18th century Vauban fortifications are in Longwy-Haut. It's a small town, and I could easily park my car at its central square. That's where you'll find two of the landmark sights: the Saint-Dagobert Church and one of the five wells designed by Vauban. The wells were hidden under little bulletproof buildings with a conical roof. They were to supply the military and the civilians with fresh water during a siege. And sieges there were many here, until the town was severely damaged in 1914 during WWI.
Leaving the town center via the pretty Porte de France, it's possible to walk along 50% of the fortified walls (the other half was destroyed). It's a fine half hour walk on a sunny day. The ramparts are two layers thick and have many sharp edges (like points of a spear). The whole system was hexagonal in shape. It might not look extremely interesting to the casual visitor, but I suggest that you read the over 3,000 pages long nomination dossier that was supplied by France to get a real feel for the scale of Vauban's works.
---
---
---
---
---
---
---
---
---
---
---
---
---
---
---
---
---
---
Site Info
Site History
2008

Revision

Includes former TWHS Ligne fortifiée du Nord de la France sous le Ancien Regime: frontière commune avec la Belgique (1995), which included the former TWHS Besancon (1984).
Site Links
Unesco Website
Official Website
Related
In the News
Visitors
297 Community Members have visited.