Berlin Modernism Housing Estates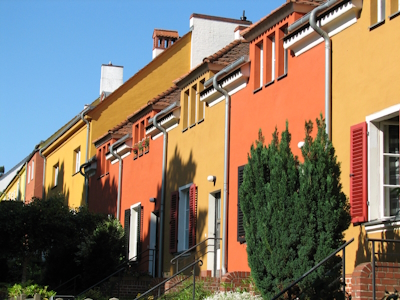 The "Berlin Modernism Housing Estates" represent low income housing architecture from the early 20th century.
Bruno Taut, Martin Wagner and Walter Gropius were among the leading architects of these projects which exercised considerable influence on the development of housing around the world.
The six included estates are:
- Tuschkastensiedlung Falkenberg, 1913-16, by Bruno Taut
- Wohnstadt Carl Legien in Prenzlauer Berg, 1928-30, by Bruno Taut
- Ringsiedlung in Siemensstadt,1929-34, by Hans Scharoun and Martin Wagner
- Hufeisensiedlung Britz, 1925-30, by Bruno Taut
- Siedlung Schillerpark im Wedding, 1924-30, by Bruno Taut
- Weiße Stadt in Reinickendorf, 1929-31, by Otto Rudolf Salivsberg and Martin Wagner
Map of Berlin Modernism Housing Estates
Legend
Visit May 2009
My drive back from Poland, where I had visited Wroclaw and the Churches of Peace, brought me on the Berlin Ring Road. I knew that one of the Housing Estates is located close to the Schönefeld Airport, so I looked up its exact location and decided to just stop by. This site is the Gartenstadt Falkenberg, the earliest of the modernist estates (1913). It is nicknamed Tuschkastensiedlung ("Paintbox Estate").
Like the reviewers below have stated about other parts of this serial nomination, this also is 'just' a residential area with ordinary people going about their daily business. The main street is the Gartenstadtweg. Here several types of housing can be seen, all in full colour: apartment blocks, free standing villas and rows of town houses. All have their own gardens to grow vegetables and flowers. The streets are lined with trees. I'm not sure which of the houses in this street are original, but there are 93 of them according to the nomination dossier.
A sign at the side of the road advertised 'Do you want to live in a Unesco World Heritage Site? Now for rent: apartments in the 2003 extension of the Gartenstadt. Only 639 EUR per month!' Obviously not the real thing, but the area in general has a very peaceful feel to it due to the abundance of greenery. I wouldn't mind living there… (maybe ought to look up the local crime rate first).
Community Reviews
---
---
---
---
---
---
---
---
---
---
---
Community Rating
Community Rating 1.84. Based on 31 votes.
Site Info
Full name: Berlin Modernism Housing Estates
Unesco ID: 1239
Inscribed: 2008
Type: Cultural
Criteria: 2 4
Site History
2008 - Revision

Includes former TWHS Hufeisensiedlung (1981)

2008 - Inscribed
Site Links
Unesco Website
Official Website
Related
In the News
From the Forum
Locations
The site has 6 locations.
Connections
The site has 17 connections. Show all
Visitors
228 community members have visited Berlin Modernism Housing Estates. Show all