Santa Maria delle Grazie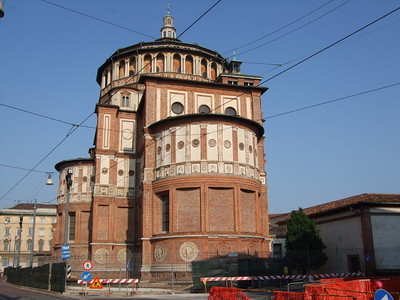 The Church and Dominican Convent of Santa Maria delle Grazie with "The Last Supper" by Leonardo da Vinci is a Renaissance ensemble in Milan.
It was built by Guiniforte Solari between 1466 and 1490 on a commission by Dominican monks. Later modifications include work by Donato Bramante in 1492‑1497.
The church is famous for the mural of the Last Supper by Leonardo da Vinci. The painting measures 450 - 870 centimeters and covers the back wall of the dining hall at the monastery. The Last Supper specifically portrays the reaction given by each apostle when Jesus said one of them would betray him. It was painted between 1495 and 1498.
Map of Santa Maria delle Grazie
Legend
Visit August 2010
This is one of these WHS where you really have to make an effort to get in. I already set out 3 months beforehand to book tickets online, and still only a time slot at 8.45 am on Sunday morning was available. The entrance fee is only 6.5 EUR for adults, and free for children and over 65's. I also got a simple audio guide for 3.50.
The painting (it's not a fresco) is located in the refectory, accessible at the back of the church via a separate entrance. Every 15 minutes groups of 25 people are let in. You go through a series of electronic doors, opened up one by one to heighten the anticipation. It made me think of the same spectacle at the Altamira Cave. However that is only a replica, while this is the real thing.
My mother and I were the first to enter the huge dining hall. It has the Last Supper covering the complete wall on your right hand, and a Crucifixion fresco by Giovanni Donato da Montorfano doing the same on the left.
There are benches to sit on from where you can quietly take it all in. The painting is unbelievably bright, it has been restored many times as the paint will not hold very long on the dry wall. Unfortunately they haven't been able to "brush away" the large door opening in the center that hides Jesus' feet.
After our scheduled 15 minutes gazing at the paintings was over, we visited the Church & Convent next door. It has a spectacular dome by Donato Bramante, and is quite odd shaped in general. The interior is made out of marble and terra cotta. There is also a lovely cloister.
Community Reviews
---
---
---
---
---
---
---
Community Rating
Community Rating 3.29. Based on 26 votes.
Site Info
Full name: Church and Dominican Convent of Santa Maria delle Grazie with "The Last Supper" by Leonardo da Vinci
Unesco ID: 93
Inscribed: 1980
Type: Cultural
Criteria: 1 2
Site History
1980 - Inscribed

1979 - Deferred

As "Wallpainting of Last Supper". Bureau - Is it "Movable property" and hence not valid?
Site Links
Unesco Website
Official Website
Connections
The site has 13 connections. Show all
Visitors
231 community members have visited Santa Maria delle Grazie. Show all