Santa Maria delle Grazie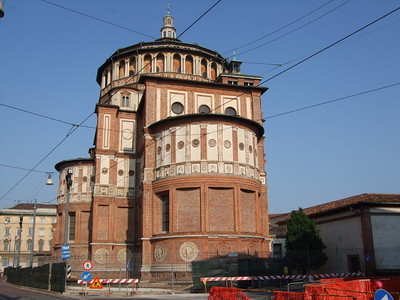 The Church and Dominican Convent of Santa Maria delle Grazie with "The Last Supper" by Leonardo da Vinci is a Renaissance ensemble in Milan.
It was built by Guiniforte Solari between 1466 and 1490 on a commission by Dominican monks. Later modifications include work by Donato Bramante in 1492‑1497.
The church is famous for the mural of the Last Supper by Leonardo da Vinci. The painting measures 450 - 870 centimeters and covers the back wall of the dining hall at the monastery. The Last Supper specifically portrays the reaction given by each apostle when Jesus said one of them would betray him. It was painted between 1495 and 1498.
Map of Santa Maria delle Grazie
Load map
Community Reviews
---
Curious: the name of this site implies that the main sight is the church, which just so happens to include Da Vinci's version of the Last Supper. This might be historically true, as Leonardo was commissioned to do a painting in the Dominicans' refectory: an important piece, but still for private contemplation by the monks only, and in a sense, however important, a decorative element of a bigger church. But then, the Artist set in and decided that this would not have been your ordinary painting. And so, if there once was a painting as part of a convent complex, now we rather have a convent complex and church functioning as the frame for one of the most famous paintings in the world.
Visit technicalities and suggestions
The visit is very simple and straightforward, almost minimalistic, once you have a ticket. The gist of it has been expounded by other reviewers and seems to be well known: there is only one official site and seller from where you can buy the ticket (standard price currently, summer 2021, at 15€... 1€ per minute of visit!) after having registered, and, normally, as access is extremely limited, you have to plan that with ample advance (months), even if there always is a small chance for last-minute tickets (try calling them directly; calling for information is always a good idea anyway). Normally; but in the last year, due to the pandemic, since the museum finally reopened, the number of visitors has dropped so much that until recently it was possible to book a visit at a decent hour (for example, I'm not considering 8:30 of a Sunday morning a decent hour) with minimal advance (few days). Things have changed yet again and right now bookings are opened each Saturday for the following week only, but this should still leave time to get a ticket until at least Wednesday. I wonder how this trend will evolve in the future: I can foresee that it will remain easy to book a visit for quite a long time, and who knows if this weekly model will be appreciated in the long run. Respect the protocol (e.g. presenting yourself 15 minutes earlier), because they are strict with respect to that.
Anyway, doing a research, you will find lots of other offers which include wider guided tours and at much higher (i.e. overflated) prices: my heartfelt suggestion is to ignore them as much as you can. Most of it is just speculation and not worth it. My other suggestion is to ignore even official guided tours: take those precious 15 minutes all for your personal contemplation, without anyone talking over it. If you like so, download the audioguide, but anyway, there's ample information about the painting that you can comfortably refer to before or after your visit (and conversely, just very essential information on place).
Santa Maria delle Grazie is most easily reached by any means of transportation but by car (hey, one would be crazy to drive inside Milan's center!!!), as it is quite central. I have a fondness for trams, so I can just recommend, especially from Duomo, to take tram no. 16 (which is the same tram which will bring you to San Siro for a good AC Milan match afterwards!); also no. 19 works.
The Last Supper: finally in front of it!
Yes! But: remember to turn your back and give some attention also to the wonderful Crucifixion by Montorfano on the opposite wall of the refectory! Truly a colourful masterpiece, too, and definitely part of this WHS!, so different from but overshadowed by its much more famous neighbour. I would say that a split of your precious time of 10 minutes for the Last Supper and 5 for the Crucifixion could be a good compromise. There are very few written lines of explanations in the refectory: no more are needed.
Both paintings have survived the hardships of WW2 nearly by miracle (you will see pictures of those times in the hall before entering) and are substantially the only things of notice left of this part of the convent. This, coupled with the soft lighting and the magnetic perspective of the "main" painting, has as a result a mostly bare room with a total focus on both masterpieces, delivering a great experience. The Cenacolo in particular is living a new life after its last, ultimate, legendary, ventennial restoration works directed by Pinin Brambilla Barcilon from 1977 to '99, which saved it from critical deterioration. Unfortunately, damage and decay were so extensive that its once again bright and light colours (heavily criticised by some art historians when they were revealed in '99) and the whole composition come to us noticeably obfuscated through the veil of time. But I suspect that this, together with the fact that the very first cause of decay is the unusual technique attempted by the meticulous Leonardo himself (who did not like the fresco technique because it forced him to paint too quick), just greatly contributes to the fascination that the Last Supper has exerted through the centuries.
I would like to leave for musing one of many interpretations of this not really so aenigmatic painting, maybe a lesser known one, an astrological one. The twelve Apostles are depicted in four groups of three: if Jesus is the Sun, then they can be seen as the zodiacal signs grouped according to their elements (fire, earth, water, air), and in particular each Apostle represents a sign with its qualities; these qualities themselves might be emobodied by each Apostle's behaviour and physiognomy, according to a long tradition of iatroastrological studies. Leonardo surely knew something about that, as the XVth and XVIth centuries were frenzied by the rebirth of astrology in Europe. So is there something true about this interpretation? Who knows!
Universal value?
As this is an artistic masterpiece with such a particular and troubled story with a happy ending, I cannot but rate it high. But is it really worthy of WHS status? Here I am more skeptical and I think that some Western bias played in its favour. If one reads the official UNESCO description (inscription dating back to 1980), it seems that its inclusion was deemed to be just obvious: everybody knows the Last Supper, it is perfect, so obviously it needs to be there. But, maybe we Europeans are overestimating its scope: I believe most of the fame of the Cenacolo comes from the fact that it represents such a pivotal episode of the Christian narration, which is itself so deeply entrenched into (Western) European culture; the rest of its fame comes from the capricious character and choices of its creator and this latter's unquestionable artistic prowess. All fiction and wacky interpretations about the Last Supper eventually revolve around occult and religious concepts tied to Christianity and possessing an everlasting allure, not around the painting itself. The Last Supper alone may not say anything at all to the rest of the world. Beyond that, the Renaissance church Santa Maria delle Grazie, though one of the most beautiful in Milan and Italy, is not WHS-worthy by itself, in my opinion less so than the nearby Basilica of Sant'Ambrogio.
So, the Last Supper may be the most beautiful (?) and interesting existing depiction of this scene, but apart from this probably subjective evaluation, its contribution to art history may lie more in the last restoration works than in its original (botched!) technique! I admit I might be speaking out of ignorance and playing the "role of the belittler" here, and that such reasonings might horrify some people, but, in the end, I would not object to the Last Supper being pruned from The List. As I would not object to it continuing to stay there. But its supposed unicity actually boils down to a whim of history, not to a true merit in its creation. Some statements from the official description like "it is one of the first classic paintings that focuses on a precise and very short moment of time, instead of a long one" and "[it] is considered to have heralded a new phase in the history of art" sound extremely stretched to me.
Anyway, leaving the previous discussion as food for thought, let me clarify that the Last Supper is definitely an extremely valid reason to come visit Milan!
Beyond the Cenacolo
As mentioned, Santa Maria delle Grazie, despite the co-nomination, could be considered a separate site. It is a splendid church and it surely deserves a visit - much easier to get in than the Cenacolo, don't miss it! It is very harmonious, both outside and inside, well-kept (it was very recently restored) and more than the beautiful pieces of art it contains, it strikes for its serene atmosphere and light. The left side of the church was destroyed during the bombardments of WW2, as most of the convent, and later reconstructed, but overall the church is in a good pristine shape. There is an adorable cloister (the chiostro delle rane 'frogs' cloister') that, if not accessible, you can glimpse from via Caradosso, behind the church.
This is one of the most interesting (also just for walking in the alleys) and historically pregnant neighbourhoods of Milan: not far you have the Triennale (design and art museum) in Parco Sempione, the Castello Sforzesco, the Basilica di Sant'Ambrogio, the Archaeological museum with remnants of the Roman circus and walls, the wonderfully painted San Maurizio, the huge national Science & Technology museum... Some of these places, the legend goes, were connected by secret subterranean tunnels used by Leonardo himself to reach his works at any hour of day and night. In front of the church, there is also a much promoted "Leonardo's Vineyard", which, well, nice it is nice, but it actually has nearly nothing to do with Da Vinci (it s a Renaissance/modern house with garden) and is too pricey, if you don't somehow have a discount.
But what I would describe as surprisingly the best companion to a visit to the Last Supper and passionately suggest, is a visit to the Leonardo3 Museum, in the Galleria, at a corner of Piazza della Scala. The ushers and banners at the entrance may make it look like a tourist trap, but, as I very serendipitously learnt, it is all the contrary! It is a vibrant and original museum chock-full of working models and reconstructions of Leonardo's inventions and interactive panels in a wonderful location. Some things can also be played with. There's so much that you can get lost, plan all the time you need for it!! Anyway, with regard to the Last Supper, the most relevant thing is an entire, dedicated room with 3D virtual models, explanations and demonstrations of the current and reconstructed original appearance of the painting and of the myriad details and interpretations it contains. Greatly recommended, as long as it stays there!
PHOTO: Piazza Santa Maria delle Grazie in autumn.
---
We visited the Santa Maria delle Grazie church with Leonardo da Vinci's "Last Supper" mid February 2019 and can add / confirm the following to the below reviews:
Unless you are very lucky you won't get in without a reservation and the reservation process is still 'hit and miss'. Unless you are on a (expensive) tour which includes a visit to the Last Supper, tickets have to be booked through the Vivaticket website (https://www.vivaticket.it/eng/event/cenacolo-vinciano/26482).
The website mentions on which date tickets for the following months are released, e.g. in our case the tickets for February and March 2019 were released on December 11, 2018. Be ready to order as soon as possible on these release dates (and register in advance) since in a couple of minutes all tickets for popular days (i.e. Saturday and Sunday) will be sold out. In our case, only a timeslot including a guided tour in Italian was still available. This adds another EUR 3.5 to the EUR 12 ticket price and has to be booked separately.
When visiting the church, you first have to swap your online confirmation for a paper ticket in the ticket office. Since we booked a guided tour, we expected a guide but strangely enough this was not the case. However, we (and everyone with the same timeslot) did receive an audioguide which – since we don't speak Italian – was a better option than a guided tour in Italian.
It is now permitted to take pictures but only without flash. As mentioned, the visit lasts for 15 minutes which we felt is enough to admire the painting but a bit short if you want to listen to the full audioguide commentary.
The church is best reached by getting off at metro station Conciliazione (red line). From there it is a 5 minute walk and signs are available as from the metro station.
---
The church of Santa Maria delle Grazie is a curious specimen on the World Heritage list. It is not altogether unremarkable, but also not in any sense surpassing to warrant special recognition. And although its name is fully spelled out in the WH property title, the inscription is entirely devoted to the famous painting that adorns one of the walls of the adjoining convent's refectory. I first stopped by the church more than five years ago but that visit did not include viewing of Leonardo's The Last Supper. That was too significant an omission to be able to count the site as visited. In November of 2018 I made an extra effort to see the painting.
It is not a trivial exercise. Access to the painting is allowed at 15-minute intervals for groups of 30 people. Demand is always significant, so it is practically impossible to just show up and get in. Prior reservations are essential. I made ours full 3 month in advance.
The access procedure is a bit grotesquely over-secure. Large bags need to be placed in lockers at the ticket office and you have to go through a metal detector at the visitor entrance, which nowadays is par for the course at many important museums. But then you and your group of visitors are ushered through a series of automatic glass doors, which only open once the previous ones have closed behind you and the way forward is deemed clear by an invisible dispatcher. The last set of doors is to the refectory itself; until the previous group completely clears the space and the exit doors are closed behind them, you are not granted entrance.
Before entering, you are warned that taking pictures is not allowed, "because of the copyright". The staff did not speak sufficiently fluent English to be able to explain who has the copyright and why. The bottom line is that I do not have any shots of my own of the famous painting.
You end up with roughly those 15 minutes to admire The Last Supper (and one other Leonardo's work on the opposite wall). For a true connoisseur, the time is clearly inadequate. For a layman admirer, it feels about right, but raises an obvious question whether the time and effort spent was worth of, in effect, one single painting, however remarkable.
Logistics: The church of Santa Maria delle Grazie is either within walking distance or a few stops of the tram away from any location in central Milan. The church itself is free to enter.
To see Cenacolo Vinciano, you can make a reservation for a specific day and time over a phone (the ticketing website proved to be largely useless); if the day of your visit is not flexible from your point of view, you should plan to make this call around 3 months in advance. If calling from the US, get up around 3:30am to ensure that you can get through to the reservation line near the start of the business day European time; none of my attempts to call when it was already afternoon in Italy were successful.
You can also buy tickets to one of the multitude of Milan walking tours that include the viewing of the painting on itineraries; such tours apparently buy viewing slots wholesale and may have remaining availability much closer to your desired date; the cost, of course, will be significantly higher, but if you are interested in a group walking tour anyway, it might be just an option for you. The tours release their unused tickets back to the general ticket office, which affords a final option for those who do not plan much ahead: either check the last-minute availability by phone (or on the ticketing website – the only time it is useful is for these final-availability purchases) or simply stop by the ticket office and see if anything is available during your stay in Milan – you may get lucky for later the same day or one of the following days if you have time and flexibility of schedule.
Read more from Ilya Burlak here.
---
Once you have figured out how the booking system works (you have to order tickets around 3 months in advance), and if you are a bit flexible about the date and time of your visit, it works quite smoothly and you can leisurely walk to the counter in the building next to the church (past the rows of tourists who have not made a booking and are told by the staff that they are full for the next weeks) to pick up your tickets (an alternative option seems to be available - book a guided tour of Milan with one of several agencies, and many of these include the church; this can apparently be done on shorter notice). At the appointed time, you walk into the church and then are left alone for about 15 minutes (audioguides are available) to admire one of the great masterpieces of the Renaissance, done by one of humanity's great geniuses - Leonardo's "The Last Supper". I found the visit very pleasant and enlightening, and well worth the effort to book a ticket. The complex of Santa Maria delle Grazie is in the centre of Milan, only a relatively short walk from the Duomo (which would be a WH site in any other country).
---
Unfortunately nearly everything about our visit to Cenacolo Vinciano to view "The Last Supper" turned out to be unsatisfactory - from the booking procedure to the actual visit itself. I know that Milan Museums face tremendous pressure from numbers of people wanting to see it, but things can be "done" better - a few days earlier we had a far superior experience when visiting the Scrovegni Chapel in Padova.
Planning several months in advance, I registered with Vivaticket - the agent which seems to have the prime "rights" to sell tickets. (They have also "cornered" the market for the Scrovegni, but we didn't use them and, on arrival, obtained a late evening ticket for 4 hours later). This was a bit bureaucratic with the need to create an account with password and to activate it from an e-mailed link (Congratulations - you can now book for rock concerts and soccer matches across Italy!). Confusingly they only open bookings every few months for a variable number of months in advance! So in 2016, on Sep 7 they open sales for Nov/Dec but on 8 Oct they only open up Jan sales! I had registered in July and in early August, duly went to the site on the appointed opening day to book my late Sept ticket - but already everything was said to be sold!! Now there are of course other agents selling tickets as part of expensive wider guided tours of Milan and I wonder if they get "First pick". On 31 August I decided to try again "just in case" and found that some tickets had "come free" and indeed there were now a few available at 9.30 on our preferred day only 28 days hence!
The Web site stated that the 9.30 tour would be guided in English. Even though there was no choice not to have the guided tour we were required to book first the entrance tickets and then the tour as separate "Bookings"! (Total cost 15.50 Euro per person - 12 for the ticket and 3.50 for the guide each. Unlike at the Scrovegni there are no reductions for EU citizens aged over 65!). The Web site also sold tickets for rented "Audioguides" but, since no one on our tour had one of these, I can only assume that some tours are "unguided" in any language and that, on these, you have the choice as to whether to rent an audio guide or not. IF that is the case and you can get tickets for a "Non guided tour" I would strongly recommend that you do so.
The reason why this should be the case quickly became evident once we had exchanged our reservation for the 4 (!!) paper tickets and were ushered into the climate controlled waiting room. The guide's English just wasn't up to the job! Now, as someone who speaks virtually no Italian all, I don't criticise that - but I do criticise it in someone who is acting as a guide in "English". Once we were inside the room containing the painting, this, plus the echo effect, meant that, for the entire 15 minutes, we just couldn't escape the guide's almost unintelligible droning (there was no problem with the number of visitors - now set at 30). There was absolutely no chance quietly to contemplate and appreciate the object we had come to see! The situation was made worse by guards trying to prevent flash and video photography - an impossible job of course with phones and cameras being used by people who don't know how to turn off the flash! Quite why video should be banned isn't clear since, unlike flash, it doesn't have any potential deleterious effect on the painting and copyright can hardly be an issue in the circumstances. But I managed to incur the wrath of one of these guards by taking a "panorama" still shot (without flash of course)! He had been shouting unsuccessfully for several minutes to prevent unwanted flash and took the movement of my camera to be that of taking "Video" (totally ignoring several others who were really taking video on their mobile phones!!). He clearly considered that my "video" required greater action on his part and he muscled his way aggressively through the group shouting "No Video" and confronted me in an "unpleasant fashion". The explanation that it wasn't video at all only brought forth the face saving assertion that "Panorama" wasn't allowed either!
At the Scrovegni, the visit is preceded by a 15 minute video in a climate controlled room next to the chapel which also uses the time required to equalise the climate before the main door into the chapel is opened. A "top quality" explanation is given with English and German subtitles pointing out the main aspects to be looked for and the actual visit takes place in conditions akin to those in an art gallery. In the circumstances we encountered I personally found little "added value" from my visit to the Last Supper other than to "understand" its location and size in relation to the room (Photo). OK, I am no "art expert" and many of those who are assert that, despite the numerous renovations which the painting has undergone during its "life", what we are seeing is still "real Leonardo". Wiki however references others who disagree – "This restoration took 21 years and, on 28 May 1999, the painting was returned to display. Intending visitors were required to book ahead and could only stay for 15 minutes. When it was unveiled, considerable controversy was aroused by the dramatic changes in colors, tones, and even some facial shapes. James Beck, professor of art history at Columbia University and founder of Artwatch International had been a particularly strong critic. Michael Daley, director of ArtWatch UK, has also complained about the restored version of the painting. He has been critical of Christ's right arm in the image which has been altered from a draped sleeve to what Daley calls "muff-like drapery". Many of the compositional aspects can of course be studied and appreciated from media without actually seeing the real thing. However, maybe it is true that the painting's subtle "light" and use of perspective can only be appreciated "in situ" - I am trying to convince myself that this was the case and that the entire exercise was indeed "worthwhile"!
---
I visited this WHS in June 2007. You have to book well in advance to see The Last Supper by Leonardo da Vinci. I was bewildered to learn that this famous masterpiece was for some time a mere stable decoration!!! Unbelievable!
---
3.00 The Netherlands - 04-Aug-10 -
This is one of these WHS where you really have to make an effort to get in. I already set out 3 months beforehand to book tickets online, and still, only a time slot at 8.45 am on Sunday morning was available. The entrance fee is only 6.5 EUR for adults, and free for children and over-65's. I also got a simple audio guide for 3.50.
The painting (it's not a fresco) is located in the refectory, accessible at the back of the church via a separate entrance. Every 15 minutes groups of 25 people are let in. You go through a series of electronic doors, opened up one by one to heighten the anticipation. It made me think of the same spectacle at the Altamira Cave. However, that is only a replica, while this is the real thing.
My mother and I were the first to enter the huge dining hall. It has the Last Supper covering the complete wall on your right hand, and a Crucifixion fresco by Giovanni Donato da Montorfano doing the same on the left.
There are benches to sit on from where you can quietly take it all in. The painting is unbelievably bright, it has been restored many times as the paint will not hold very long on the drywall. Unfortunately, they haven't been able to "brush away" the large door opening in the center that hides Jesus' feet.
After our scheduled 15 minutes gazing at the paintings was over, we visited the Church & Convent next door. It has a spectacular dome by Donato Bramante, and is quite odd-shaped in general. The interior is made out of marble and terra cotta. There is also a lovely cloister.
---
The church is beautiful and the town of Milan too. Most of the guidebooks says Milan is nothing special, but i enjoyed the 2 days there much (one more day would be better). There are many places which are worth to see.
As mentioned below - it is quite difficult to see The Last supper, because of the plenty of tourists who want to see it. For the last moment travellers i can mention www.zaniviaggi.it who has tickets - of course for a higher price as part of a guided tour. This is the way how i got in and i can recommend the tour.
The church is very nice, i enjoyed the stay inside as there was a mass and it was quite magical. The painting itself is not in church but in refectory and in the same room is another master piece - Crucifixation.
I hope i will have a chance to get to Milan once again
---
3.50 Italy / Czech Republic - 07-Mar-06 -
I have been many times in Milan and visited the stunning Gothic and Renaissance complex of Santa Maria delle Grazie built from 1463 to 1490 by Guiniforte Solari, reworked by Donato Bramante from 1492 and restored by Luca Beltrami in 1895, after its transformation in barracks and the begin of the demolition. The façade of the church has a nice portal and the apse, projected by Bramante, has a cubic block of base with lateral apses and the apse of the presbytery in form of a parallelepiped; the dome has sixteen sides, with a gallery of double columns that supports the roof that is supported inside the church by four arches and pendetives. In the interior, projected by Solari, there are three Gothic naves with two rows of columns, ogival vaulting and a double row of lateral chapels. The vaults have nice frescos, discovered after being hid in the 16th century, the pillars of the lateral naves are decorated with frescos of saints painted by Bernardino Butinone and some frescos in the lateral chapels are by Gaudenzio Ferrari. There is also a nice tomb sculpted by Francesco Cazzaniga and a painting by Paris Bordone. The chapel of Madonna delle Grazie, reconstructed after the Second World War, contains a painting revered during a pestilence that gives name to the complex. The presbytery has a cap vault and some oculus and contains two rows of wooden choir inlayed stalls. The convent, seat from 1552 to 1778 of the Inquisition of Milan, has a beautiful small choir and a sacristy, constructed in 1499 and restored in 1982, that contains the remains of frescos and inlayed and painted cupboards. In the refectory there is the stunning Last Supper by Leonardo da Vinci, that represents the moment when Jesus says to the apostles that somebody of them will betray him. It has big conservative problems because is painted with a particular technique unstable on the plaster. The humidity of the local, the settlings of the wall, that have caused breaks in the support of the painting, are also problems. It was restored many times, the last time from 1977 to 1995.
This church is one of the most beautiful places I have ever seen because of the beauty and the perfection of its architecture, but I am disappointed by the fact that I haven't seen yet the Last Supper, that can be viseted only on booking long time before you go there. It's absolutely worth to be visited and justifies the inscription also because the Last Supper is the most famous wall painting in the world, even if the castle and some other churches in Milan (like Duomo, St. Ambrogio, St. Lawrence the Major and St. Eustorgio) could be inscribed alone or with this one.
---
The Last Supper (Canacolo) is such a famous image and I have seen versions of it at many other UNESCO sites made from many materials (salt and iron stand out in my memory) so there is no doubt about the validity of its inclusion on the list. The fresco sits in the refecroy of the convent and is in a reasonably poor state of repair due to restoration attempts, the odd technique that da Vinci employed to apply it and the idea of the Dominicans to enlarge the doorway thus cutting off Christ's legs. The already famous image has also seen an upsurge in interest due to the international bestseller 'The da Vinci Code'. It is a very impressive piece of work overall and well worth the hassle of getting tickets and going through several de-humidifying chambers.
The church itself is simple with some nice frescos, however the apse (pictured) and cloister designed by Bramante are very impressive and twined with the Cenacolo reflect a large change in artistic style.
I am surprised that I am the first person to write a review of this site as it is so famous. The church is in Milan and very easy to reach, the real problems start with being able to get a ticket to see it. You will have to RESERVE well in advance. The link that Els has given above is the official ticket office, and is the best place to get tickets from as they are the cheapest, however when I tried this it was booked up almost entirely for the next 3 months! So look as early as possible. In the end I had to unfortunately go through other channels to get my tickets, an internet search should give you plenty of options the cheapest I found was the confusingly titled www.weekendafirenze.com, in the end it cost me €12,50 per ticket including the audio guide (which I would highly recommend!).
Milan itself was a nice city, more functional than touristy, however the Duomo is hugely impressive I am sure if it was in another country it would be a WHS. This site was worth the effort to get to see, it is one of the most famous pieces of art in Western culture and fully deserving of its place on the list.
---
Site Info
Site History
1979

Deferred

As "Wallpainting of Last Supper". Bureau - Is it "Movable property" and hence not valid?
Site Links
Unesco Website
Official Website
Visitors
342 Community Members have visited.