Loire Valley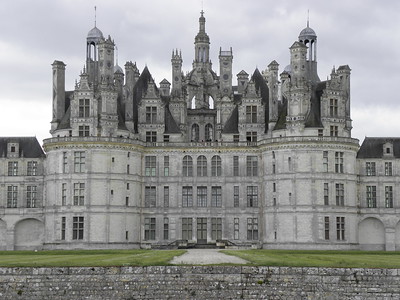 The Loire Valley between Sully-sur-Loire and Chalonnes is a cultural landscape symbolic of human interaction with the river Loire. It comprises historic towns and villages, great castles and cultivated lands, mainly tracing back to the Renaissance and the Age of the Enlightenment.
The designated area covers a 200km long, thin stretch of land along the river. It includes the towns of Blois, Chinon, Orléans, Saumur and Tours.
The site is an extension to the Castle of Chambord, which was already a separate WHS since 1981. This is one of the most recognizable châteaux in the world because of its very distinct French Renaissance architecture.
Map of Loire Valley
Legend
Visit April 2012
I had been in doubt about doing a proper visit to the Loire Valley, or a quick one so I could take in another WHS (Bourges Cathedral) on the same day. Fortunately I choose quality over quantity, and made the trek from Paris all the way to Chambord, which takes up almost all day by public transport on a Sunday. There is exactly one train-train-bus combination, which got me at Chambord at 11.50 a.m. There are two buses back in the afternoon, plus trains once an hour.
Chambord was the original nominated site in 1981, and is the must visit castle in this area. My bus from Blois drove along the Loire for the first 10 minutes, the first and last look that I would get on that river. It is wide, and its banks are dotted with stately homes and churches. It reminded me of the Upper Middle Rhine Valley, although there the river is less straight and its sides have more cliffs.
Arriving at Chambord, the castle almost looks small compared to the surrounding forest. The weather wasn't that good, so I focused on getting inside the castle. There was quite a long and slow line, not very efficiently run by a site that must see thousands of visitors every day of the year. But after paying 9.5 EUR and picking up an audio guide (5 EUR), I got in and wasn't bothered by crowds anymore from then on.
The Castle's interior came as a big surprise to me, as I was expecting something like Fontainebleau: a richly decorated palace. Chambord however is almost barren. One enters via a small door, and comes directly face to face with the famous double helix stairway. The whole construction is made out of a light coloured sandstone, which is pretty from the outside but gives it an unfinished look at the inside. The stairway is ingenious of course, and I directly walked up all the way to the roof. There the second main feature of this castle can be found: its numerous turrets. To me this was the most marvellous part of the building.
After visiting the other floors and the chapel, I went back to the bus and to Blois. There I had over an hour before my train back to Paris would leave. So I added a quick visit to the town of Blois and its castle. I just walked around, but was able to admire at least some of the colourful decoration of Blois Castle.
Click
here
to see more of my photos of Loire Valley
Community Reviews
---
---
---
---
---
---
---
---
---
Community Rating
Community Rating 4.37. Based on 26 votes.
Site Info
Full name: The Loire Valley between Sully-sur-Loire and Chalonnes
Unesco ID: 933
Inscribed: 2000
Type: Cultural
Criteria: 1 2 4
Site History
2017 - Boundary change

To include the Estate of Chenonceau as minory boundary modification

2017 - Revision

Incorporated former TWHS Chateau de Chenonceaux (1981-1994)

2000 - Revision

Includes former TWHS Abbaye de Fontevrault; Saint-Benoit-sur-Loire; Chateau et domaine de Chambord; Chateau de Blois (1981)

2000 - Inscribed

1999 - Deferred

Deferred due "to the disturbing presence of the nuclear power plant"; 12 out of 19 WHC members voted to inscribe the site, where a 2/3 majority (13) was necessary

1981 - Revision

Inscribed as "Chambord". Later replaced by Loire Valley.
Site Links
Unesco Website
Official Website
Related
In the News
Connections
The site has 44 connections. Show all
Visitors
305 community members have visited Loire Valley. Show all