Summer Palace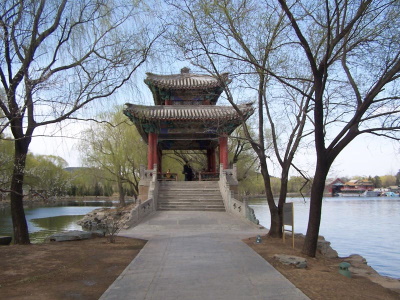 The Summer Palace, an Imperial Garden in Beijing, is a masterpiece of Chinese landscape garden design that is noted for its harmony and large scale.
It is also known as the "New Summer Palace", to distinguish it from the remains of an older one. The palace is mainly dominated by Longevity Hill (60 meters high) and the Kunming Lake. It covers an expanse of 2.9 square kilometers, three quarters of which is water. The front of the hill is rich in splendid halls and pavilions, while the back hill, in sharp contrast, is quiet with natural beauty.
The imperial gardens date from 1750. The complex suffered two major attacks during the Anglo-French allied invasion of 1860, and during the Boxer Rebellion, in an attack by the eight allied powers in 1900. The garden survived and was rebuilt in 1886 and 1902.
Map of Summer Palace
Legend
Visit April 2004
This involves a nice bustrip (costing 0,15 euro) to the outskirts of Beijing passing its university. The 'new' Summer Palace is awesome. It's a group of buildings scattered on a hill and along the lakeside. I just couldn't stop taking pictures of the Temple of Wisdom. I think I've fallen in love with yellow and green tiles here in Beijing. And this temple has them all over, together with innumerable little Buddha statues (the ones closest to the ground missing their heads).
When I finally wanted a break after gazing at all the temples, pagodas, halls and so on, I stopped for lunch at the Palace's restaurant. After almost one week in Beijing I encountered them here for the first time: can't-be-bothered waitresses huddled together in a corner, hissing mei you when you order something not too spectacular. Enjoy the old-communist ways at the Tingliguan restaurant, with its yellow chairs, plastic table clothes, darkened windows (no lights switched on). It was fun to see all western tourists peeking around the door, and immediately back off, while I enjoyed my shredded pork with green peppers.
The next day I went to the Old Summer Palace, which is now in ruins. It's like visiting ancient sites in Greece or Italy, though the Summer Palace is quite new compared to them. At most of the sites they placed a model to show how the buildings must have looked while they were still standing. They all look like reproductions of European palaces, amazing to see this here.
Community Reviews
---
---
---
---
---
---
---
---
---
Community Rating
Community Rating 3.83. Based on 24 votes.
Site Info
Full name: Summer Palace, an Imperial Garden in Beijing
Unesco ID: 880
Inscribed: 1998
Type: Cultural
Criteria: 1 2 3
Site Links
Unesco Website
Official Website
In the News
From the Forum
Connections
The site has 21 connections. Show all
Visitors
363 community members have visited Summer Palace. Show all