Residences of the Royal House of Savoy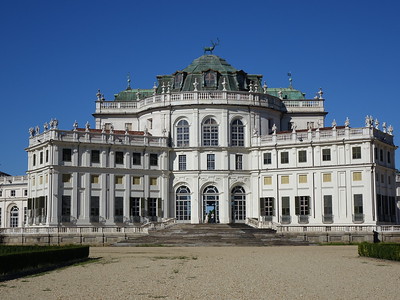 Palazzo Reale
The Residences of the Royal House of Savoy represent the 17th and 18th century building programme of this dynasty of absolute monarchs.
The group of 22 buildings is located in Turin (the "Command Area") and in its province Piedmont (pleasure and hunting residences).
The Dukes of Savoy moved their court to Turin in 1562. Using their family wealth, successive dukes initiated construction and expansion programmes with an eye for town planning and overall cohesion.
Inscribed buildings in Turin:
- Palazzo Reale
- Palazzo Chiablese
- Royal Armory - Royal Library
- Palazzo della Prefettura (former State Secretariats)
- State Archives (former Court Archives)
- Former Military Academy
- Riding School with stables
- Mint [Regia Zecca]
- Façade of the Royal Theatre
- Palazzo Madama
- Palazzo Carignano
- Castello del Valentino
- Villa della Regina
In Piedmont:
- Castello di Rivoli
- Castello di Moncalieri
- Castello di Venaria
- Castello della Mandria
- Palazzina di Stupinigi
- Castello di Agliè
- Castello di Racconigi
- Pollenzo Estate
- Castello di Govone
Map of Residences of the Royal House of Savoy
Legend
Visit February 2013
My trek along Turin's palaces started badly. I arrived at the Palazzo Reale at its opening hour of 8.30 a.m., but was not able to enter because the ticket office could not give me change back. A 50 EUR note proved to be too large to pay a 10 EUR entrance fee. They don't accept debit or credit cards either, so I was sent away to try and change at the coffee shop. Which also would not let me. After that I was fed up with the unfriendly welcome, and decided to boycot the place. If you see a foreign tourist coming in through thick snow, can´t you just make it work somehow?
Things brightened up considerably when I entered the hallway of the nearby Palazzo Madama. It has a fabulous staircase, which is free to enter. It gave me the first (and last) wow!-moment of this WHS. A bit further south lies the Palazzo Carignano. This has a full brick façade, pretty remarkable. The main courtyard is totally made out of brick too.
Finally I entered the Palazzo Madama, where the entrance costs another 10 EUR. Exhibitions cover 4 floors of this historical building, which is an extension to a medieval castle. Most of the interior is pretty plain, especially compared to the magnificent Juvarra staircase downstairs. The walls are covered by art from late medieval times to renaissance and baroque. Captions are in Italian only, though it is not very hard to understand the omnipresent ´Madonna col bambino´.
The palaces of Turin were entered in the WH list because they are as representative of the Ancien Regime as those in France and Germany. The Savoy dynasty also had strong relations with courts all over Europe. So it´s no wonder I got the feeling that I had seen it all before. Wurzburg Residence for example is quite similar.
Turin in general is not one of Italy's great historic cities, although it was its first capital and it has always been quite prosperous. Probably due to the cold, it looked quite rough around the edges with many homeless people hiding under the city's arcaded walkways. The city center has a "consistent baroque architecture", which I found quite boring and grey. It is worth visiting though for its museums: I very much enjoyed the Egyptian Museum, with a collection of Egyptian objects both in quantity and quality that I had never encountered before. The nearby Cinema Museum is said to be good too.
Click
here
to see more of my photos of Residences of the Royal House of Savoy
Community Reviews
---
---
---
---
---
---
---
---
Share your experiences!
Have you been to Residences of the Royal House of Savoy? Add your own review!
Community Rating
Community Rating 2.68. Based on 17 votes.
Site Info
Full name: Residences of the Royal House of Savoy
Unesco ID: 823
Inscribed: 1997
Type: Cultural
Criteria: 1 2 4 5
Site History
1997 - Revision

Extended from former TWHS Torino - le dimore sabaude (1984) (which in itself includes the two former TWHS from 1982 Venaria reale and parts of Turin historic centre), and includes former TWHS of Stupingi

1997 - Inscribed
Site Links
Unesco Website
Official Website
In the News
Locations
The site has 12 locations. Show all
The # of serial sites is unclear, but the WHS covers 22 palaces.
Connections
The site has 32 connections. Show all
Visitors
136 community members have visited Residences of the Royal House of Savoy. Show all