Vineyard Landscape of Piedmont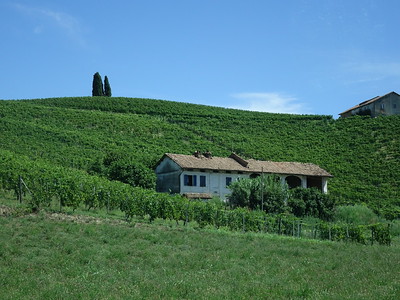 The Vineyard Landscape of Piedmont: Langhe-Roero and Monferrato is a harmonious landscape of cultivated hillsides, hilltop villages and other built elements.
It is one of the most ancient wine-producing regions in the world. The earliest traces date back to the 5th century BCE. It developed further during the Roman period. Since the 19th century, it has become one of the main centers of the international wine trade, producing well-known wines such as Barolo, Barbaresco, Barbera, Asti Spumante and Canelli Spumante.
This is a serial nomination of 6 separate locations: 5 winegrowing areas plus the Castle of Cavour (belonging to the Count of Cavour, the driving force behind modern winegrowing in Piedmont).
Map of Vineyard Landscape of Piedmont
Load map
Community Reviews
---
I visited this WHS in July 2019. I spent 4-5 days in a lovely agriturismo in the middle of the rolling hills of the Barolo vineyards in Serralunga d'Alba and used it as my base for basically half of the 6 locations of this WHS (Langa of Barolo, Castle of Grinzane Cavour and Hills of Barbaresco). Going to and from Milan, I spent another 2 day trips covering the other 3 locations of Nizza Monferrato, Canelli and Asti and the Infernot. After covering all the locations in quite some detail, I returned to Barolo for the yearly agri-rock festival/concert (together with the Giro d'Italia, this is something to keep in mind as all of Barolo is closed down and almost impossible to visit just before, during and just after the concert).
I must confess that although this WHS is the home of some of my favourite Italian wines, I was a bit skeptical to allow such a 'long' visit to 'yet another vineyard WHS'. However, now that I visited I can only urge you to try to allow much more time to this beautiful WHS than a mere day or two. First of all, the Langa of Barolo, Castle of Grinzane Cavour and Hills of Barbaresco are on one side, while Nizza Monferrato, Canelli and Asti, and the Infernot are on another and it takes a lot of time to cover them all. Those of you who rely on public transport may want to think twice here as it really isn't reliable here and will only take you to the main roads of Nizza Monferrato and Alba. The scenery here is definitely not the best with road infrastructure, industrial estates, petrol stations and modern buildings. Another thing worth considering is that of all the 6 locations, Nizza Monferrato to me really seems to be the odd one out, with nothing that special to mention. If you were to decide to still rely on public transport and want to get a better experience and overview of this WHS, I'd recommend opting for a stay in Alba instead. I'll definitely return here some day to experience the white truffle season in October-November and the auction which takes place in the Castle of Grinzane Cavour.
The best way to cover this WHS in my opinion is to take the secondary winding roads by rental car or bike from one vineyard town to the next, aiming at early morning starts (before the agriturismo breakfasts) and late afternoon drives at sunset. The Langa of Barolo (bottom right photo) is literally littered with pretty towns, castles, towers and wineries, all set in scenic vineyards on rolling hills. The best viewpoints are around Serralunga d'Alba and Castelletto, La Morra (here they also produce a great hazelnut liquor called Nocciolino Langhe), Monforte d'Alba and Novello, and Barolo itself. The castle in Barolo was a bit of a let down and a bit too overrestored for my liking; I preferred the ones in Serralunga d'Alba, Castelletto, and of course the inscribed Grinzane Cavour (closed on Tuesdays! - bottom left photo). Apart from the fully stocked winery from practically all the winegrowers of Piedmont, I really enjoyed the signposted Passeggiata Vigne Cavour at the Grinzane Cavour castle. Some of the bigger wine-growers worth mentioning for wine-tasting tours are the Antiche Cantine Marchesi di Barolo in Barolo itself and Fontanafredda (with an excellent Michelin star restaurant open for dinner only). Do visit the small wine-growers too which will gladly welcome you to their homes and vineyards in high season for a small tour and wine-tasting - I'd definitely recommend visiting Gabutti Boasso's vineyards just outside Serralunga d'Alba (they also make a great Nebbiolo jam called Cugna).
The Hills of Barbaresco are a real treat and my personal favourite for some of the best wineries, the small town atmosphere, the vineyards scenery just next to the Tanaro river, and the excellent subzones of vineyards producing great wines (additional geographic mentions - a similar concept to the crus in Burgundy). Of the several subzones, my personal favourite for wine quality and panoramic viewpoints were Rabajà, Treiso and Neive (top left photo). A lovely place to do some wine-tasting is the Enoteca Regionale del Barbaresco, in the deconsecrated chapel of San Donato in Barbaresco itself, just opposite the famous tower (with the ugly metal lift).
After exploring these three locations, the day trips I spent around Nizza Monferrato (bottom middle photo) as well as Canelli and Asti paled in comparison. While the first three locations are strictly controlled to have from 50% up to 80% of their land dedicated to vineyards and wine production, the inscribed areas near Nizza Monferrato, Canelli and Asti have much less vineyards and are characterised by the presence of a lot of fruit trees and nut trees in the soft hills and vast plains, making the vineyard panorama less scenic and less evident. Although there are many towns and a few castles, none are as picturesque as the other three locations and more modern buildings are present. The best viewpoint is near San Marzano Oliveto looking towards Monviso. When compared to Alba, Nizza Monferrato has much less to offer, and unlike the Langhe and Roero, not all the towns and vineyards are inscribed. In fact, Nizza Monferrato really can be skipped if you're short on time. If you prefer white wines and sparkling wines instead of red wines, then Canelli and Asti should be your places of choice in this WHS. Canelli is worth visiting for its setting but its highlight are undoubtedly the 'underground cathedrals' of Bosca (top right photo), Coppa, Contratto and Gancia. Bosca's cellar tour is not only free of charge but also has an interesting light and music show which was launched in 2015 to celebrate with UNESCO the International Year of Light. It's better to book in advance to make sure which of the 4 cellars are open and to book a slot for the available tours.
Last but not least, the Infernot (the final t is pronounced not like in French - top middle photo) were the true highlight of my visit and a true gem. They are the farthest to reach by car but well worth the extra effort to get there. Do call ahead to make sure that the really friendly guide at the Ecomuseo della Pietra da Cantoni in Cella Monte is around so that you can visit at least one of the infernot. The more elaborate infernot are privately owned and are only open to the public on special occasions. These underground spaces are like old cool bars manually hewn out of soft sandstone and pietra da cantoni (full of marine fossils!) and shed light on the social and rural way of life of wine-growers in this part of Piedmont. As Salvador Dalì once said "He who knows how to taste does not drink wine but savours secrets", and the infernot are truly great examples of such great secrets intertwined with the tradition of wine-growing in Piedmont.
Not only are the wines in this part of Piedmont divine, and well worth the road trip alone to stock up my cellar at home, but also the food, the people, the culture, every other alley in the small inscribed towns and villages full of history (and relatively untouched by globalisation) and stories or local myths waiting to be told by the warm and welcoming local elderly people, make this WHS another outstanding site in Italy for those who are willing to spend enough time to take it all in. This WHS was also Italy's 50th WHS to be inscribed and several information boards especially in Canelli proudly displayed this. Moreover, the local communes are actively raising awareness among locals to look after this WHS after inscription through the initiative "Dopo l'Unesco, Agisco!" (Taking action, doesn't stop after inscription!) which is really commendable. There are UNESCO signs marking all the inscribed towns and properties, UNESCO plaques in Barolo next to the castle and before La Morra next to touristy Cappella del Barolo, and a series of 6 rose gold/copper looking UNESCO inscription plaques with detailed descriptions of the 6 locations which can be found in front of the town hall (Barbaresco, Barolo, Canelli), in the main square (Nizza Monferrato and Cella Monte) or just next to the castle entrance (Grinzane Cavour).
The cherry on the cake which really made my visit extra special was meeting the actual people who put forward the nomination file first in St Petersburg in 2012 and then in Qatar in 2014. They were so impressed that I had visited all of Italy's WHS and that I could remember them all in quite some detail that they decided to give me the actual nomination file hardback with photos (not for sale) as a present! This heavy book was given to the 6 inscribed locations to commemorate their first 5 year anniversary on the WH list.
---
Having arrived in Nizza Monferrato by bus from Alessandria I made my way into the old town to the central square. I had expected yet another of the pretty old towns that you find all over Italy, this one with a bit of wine focus. Instead I found a fairly mundane modern town with some old buildings in between and I was left wondering: Why is this on the list?
Ahead of my visit I had studied the reviews on this site and wasn't expecting much. If even Els can't find many - let alone nice - things to say you know this probably isn't one of the greats. But still, I had expected something and the "old" town of Nizza Monferrato just had very little of anything to show. If this is WHS material, every second town in Italy would deserve the honors.
To get a bit deeper into the vineyards, I decided to hike North West into the hills. As soon as I climbed the hills I got some nice views of the vineyards. The Bricco de Monferrato (picture) itself is a nice photo opportunity. As a practical recommendation, it's worthwhile to take a proper look at the 60MB large site map before visiting. It kind of messes up your data plan when you do that in the hills of Nizza Monferrato looking frantically for OUV and those fabled vineyards.
Frankly, I am hard pressed to make out anything resembling OUV. In a site like St Emilion you have a rock hewn church and a nice old town as a highlight. Also Burgundy has Dijon and Beaune to show. For this site it's really down to the vineyards that look more or less like vineyards look everywhere. The German vineyards along the Moselle and the Rhine are more impressive than what I got to see in Piedmont. As a consequence I awarded the lowest rating (0.5).
Getting There
If you are visiting by public transport your options are limited. The area is fairly rural and access by public transport not very frequent. The next largest towns are Alessandria and Asti.
My recommendation would be to hike between Nizza Monferrato and Castelnuovo Calcea. Castalnuovo Calcea is on the west end of the Nizza Monferrato vineyards location and is served by a few busses a day running between Asti and Nizza Monferrato. Nizza Monferrato meanwhile is on the South Eastern tip of the core zone, so you can traverse the full core zone in a 2h walk taking in the scenery. In Nizza Monferrato you can connect by more frequent busses with Alessandria from where you can connect easily by regular train to Turin and Milan.
In my case I started and returned to Alessandria in an afternoon. I stayed a few hours in Nizza Monferrato from where I ventured into the vineyards to the North West. Follow the Strada Bricco de Monferrato up into the hills and you will have nice views of the Piedmont vineyards plus the fairly picturesque Bricco chapel.
While Google maps has the proper schedules, it does not have the correct bus stop for Alessandria. If you are exiting the train station go the road, do not cross the road, turn right and follow the main road, till the parking lot in front of the train station ends. There you should find the post office The (blue) bus should start from there, but better ask the bus drivers of the blue (regional) busses. The bus stop in Nizza Monferrato is infront of the train station bar. In each case tickets are sold on the bus.
---
My favourite place in Italy besides Rome is not Venice, Florence or Tuscany but the relatively obscure wine producing region of Barolo in Piedmont. This seems to run counter to most of the comments here, but Piedmont is the only region that has successfully grown and produced wine from Nebbiolo. 
The scenery is also beautiful and the wine some of the most complex in the world, but most importantly here you can meet some of the most hospitable people who work in the wine trade.
---
1.50 The Netherlands - 04-Aug-16 -
I'm down to 3 in my quest to 'complete' Italy: Mt. Etna on Sicily and Su Nuraxi di Barumini on Sardinia are still beckoning. Interesting sites, but a bit too far away for a weekend trip. So (with a little reluctance) I settled for the 3rd remaining WHS: the Vineyard Landscape of Piedmont. This is a serial nomination of 6 sites in Northern Italy, situated east and south of Turin. Within this group, I focused on the wine-growing area of Nizza Monferrato.
Nizza Monferrato is the namesake of Nice in the Provence (called Nizza or Nizza Marittima in Italian): both once belonged to Duchy of Savoy and got their suffixes to distinguish between the two. I travelled to the Italian Nizza by a combination of train and bus from Turin. The trip takes about 1.5 hours, and a transfer is needed in Asti. From that point on the flat surroundings of the northern industrial cities are replaced by a landscape of cultivated hills. That's where the WH area begins.
The bus travels via one or two interesting hillside villages such as Mongiardina. I expected Nizza Monferrato to be something similar, but this is a fairly large town of over 10,000 inhabitants. In the nomination dossier, it is highlighted as the best example of a vilanova: a medieval settlement with a main, arch-lined street and a market square for the sale of local products.
So there I was, in the city center. But what's to see? I had noted down a few sights that are named in the nomination dossier: there should be a market, 19th century 'devanture displays' like a bottle resting on a wine glass, a Museum of Taste and an Ethnographical Museum. On my first round of the center however, I only encountered locals enjoying their first coffee of the day and chatting with their neighbours. Signs to city attractions are seriously lacking, and I only had a basic map. I eventually found my way to the Palazzo Crova. This 18th-century villa nowadays houses a wine bar & shop, plus the Museum of Taste. No one was around though and the doors to the Museum were closed.
I was similarly unlucky with the Museo Bersano, the ethnographical museum. This lies just across the street from the train station. They have an outdoor exhibition of tools used in the wine industry. It sounded like the most interesting thing to see in Nizza Monferrato, but I encountered another closed door. The museum is only open between 9 and 11 on weekdays! This must be a recent change, as the hours advertised on the internet are much longer and include weekends. I had to console myself by looking at some of the exhibits through the closed iron gates.
Rather desperate now I tried to find another mysterious sight described in the nomination dossier: "a multi-storey residential building, from the early twentieth century, richly decorated with graffiti representing bunches of grapes placed in vertical ornamental stringcourse". Could this be the one? By 'graffiti' they probably meant 'sgraffito' and not the spray paint type. My expectations of this WHS weren't already high beforehand, but this visit was totally underwhelming. And although vineyard landscapes aren't among my favourite kind of WHS, I have spent some pleasant days in Lavaux, St. Emillion and Champagne. This part of the Piedmont though is very built-up and winemaking is big business.
---
I spent some time touring Asti, Alba and Nizza Manfrotto in Piedmont in search of the OUV of this site, but it eluded me. I had previously visited the vinyards of St Emilion and Lavaux, both of which seemed outstanding. So I hope that the new WHSs of Champagne and Burgundy offer more in terms of OUV.
Producing good wine does not to my mind create OUV. We have superior wines produced in New Zealand, but I doubt that the vinyards here would claim any OUV.
---
2.50 Netherlands - 30-Jun-14 -
Today vineyard and more vineyards tomorrow, the groaning words from my cousin that I heard almost every day when we had to join our parents wine trip in France, Switzerland and Northern Italy, from Champagne to Barolo, the ultimate trip for wine lovers! I have to admit that in that time I was not happy, but at the end at least two vineyards from that trip have become World Heritage Sites and many still waiting to be listed, and that make me quite happy at least I don't have to revisit those vineyards again.
As I mentioned Barolo was one of our destinations, after long trip in French vineyards, I entered Italy with high expectation for some change to cure my overdose on French wine. The hilly vineyard landscape of Piedmont is really beautiful and so contrast with much lower hill of Burgundy and Champagne. The villages are really pretty and there even has castles on the top of the hill, a beautiful place indeed. Apart from geography and architectures, I could not see much difference from other famous vineyard in France. And I have to admit that I did not have time to appreciate the place, most of the time was spent on wine testing and wine shopping. Apart from the vineyard, we went to Barolo castle, to see old wine and olive oil pressing machine and other many small villages including the famous and beautiful La Morra and Barbaresco. Strangely I don't know why we skipped Asti, another famous area for Italian sparkling wine and Monferrato for Ruche. Anyway the Barolo and Barbaresco wines are unquestionably good and pair perfectly with northern Italian cuisine.
We continued our wine trip to Lavaux, another wine region in Switzerland and World Heritage Site via beautiful alpine vineyard of Morgex in Valle d'Aosta. One of the things I tried to tell myself during that trip was that each vineyard is different; there is no similarity in the landscape, the soil, the grapes, the winemaking process, the products, and the wine price. The differences that need time and love to understand the uniqueness of each vineyard, but for me, after Champagne, Burgundy, Arbois and Rhone, vineyards finally become just another vineyard, and amazing that eight years after, I still suffer from that trip and don't want to visit anymore vineyard.
---
Site Info
Full Name

The Vineyard Landscape of Piedmont: Langhe-Roero and Monferrato

Unesco ID

Country

Inscribed

Type

Cultural

Criteria

3

5

Categories

Link
Site History
2012

Deferred

Components, boundaries, buffer zones
Site Links
Unesco Website
Official Website
Visitors
174 Community Members have visited.