Kinderdijk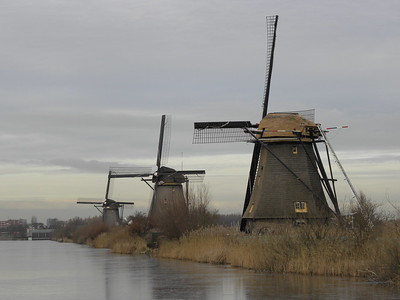 The Mill Network at Kinderdijk-Elshout is a construction set up for draining and protecting an area by the development and application of hydraulic technology.
Kinderdijk is a small town near Rotterdam, situated in an area called the Alblasserwaard. This part of the Netherlands lies below sea-level, and has a history of floods.
The 19 windmills of Kinderdijk were built around 1740. Their purpose was to pump the excess water into a reservoir until the level of the river had reached a level that pumping the water into the river (called the Lek) was possible again. Since 1927 a diesel pumping station does the real job. The windmills were used for the last time during the second World War, when the mechanical pumps could not be used any more due to fuel shortages.
During the summer months, the mills are put back in operation again to please the tourists. In one of the windmills a small museum is established with an exhibition about how miller-families lived. You can also walk or cycle along the canals and river to take a closer look at the mills and enjoy the landscape.
Visit October 2000, December 2010
At my first visit, everything was quiet on that Sunday morning. The locals locked up in church, the (foreign) tourists back home again. That made the site the least tourist one that I have visited so far. And no entrance fee!
The landscape resembles a classical Dutch painting. Winter in Holland, or something like that. But do not try to look behind this postcard-like picture, because then the industrial areas come in sight again.
My second visit was on a weekday in December. It was freezing cold, but I like the stroll on this path along the mills. There were a couple of other people around, some joggers, some people taking photos. At my way out I encountered a Japanese tour group that only had a quick look at the first couple of windmills and then went back to their bus which had kept its engine running.
The walk to the last mill, at the end of the second row that stretches out to the left, takes about half an hour. Usually there are a lot of water birds here, but the only noise I heard now was the rustling of the reeds (at first I thought there were mice!). The windmills are divided into 2 groups by their way of construction, and there's an odd one out (a water mill). Simple signboards tell their story.
Community Reviews
---
---
---
---
---
---
---
---
---
---
---
Community Rating
Community Rating 3.50. Based on 28 votes.
Site Info
Full name: Mill Network at Kinderdijk-Elshout
Unesco ID: 818
Inscribed: 1997
Type: Cultural
Criteria: 1 2 4
Site Links
Unesco Website
Official Website
In the News
Locations
The site has 1 locations.
Directly via bus #90 to Kinderdijk Molenkade, leaving from either Rotterdam Zuidplein Station or Utrecht Central Station.
Connections
The site has 17 connections. Show all
Visitors
266 community members have visited Kinderdijk. Show all