Melaka and George Town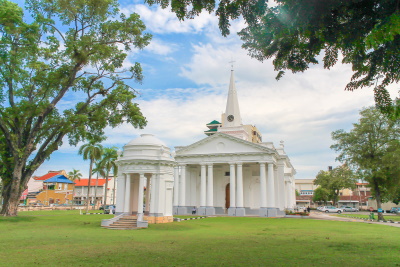 Melaka and George Town, historic cities of the Straits of Malacca, are renowned for their multicultural heritage.
These ports were located at a strategic position for the 15th-to-18th-century trade between Europe and Asia. Their culture and townscapes evolved after being colonized by the Portuguese, Dutch, and British, and Malay, Chinese, and Indian cultures became incorporated. The cities include a great variety of religious buildings of different faiths, ethnic quarters, shophouses and townhouses.
Community Perspective: Another often-visited but under-reviewed Malaysian WHS. This may be because people find the monuments lacking in appeal – but, as Frederik states, it is not the old town or its history, but the unity of different cultures and colorful people that make this a place to remember. Bernard provides a good comparison between Melaka and George Town.
Community Reviews
---
3.00 The Netherlands - 01-Mar-23 -
This site hasn't been reviewed in 10 years, so it can use a refreshment. Not that I think that it has changed much over the past years. I visited Melaka already in 2009 but left it til 2023 to add George Town. After having just arrived from bustling Thailand, George Town seemed to be in a post-Covid tourism dip and there wasn't a lot going on (it also was a Malaysian school holiday period). Still, it grew on me and it is worth a day or two.
I stayed in the heart of Little India – it might as well be called 'Very India', for the numerous shabby-looking (but excellently tasting) Indian restaurants, the sari- and gold bangle shops. My hotel – the Ren I Tang Heritage Inn – was a wonderful 19th-century townhouse in the "Early Straits Eclectic Style", and a former Chinese Medical Hall.
My explorations (all done on foot) brought me first to the monuments from the British colonial period. This still seems to be the business and political center of the city. Several historic buildings remain, most of them stark white in colour. 'Around the corner' there are the remains of the British East India Company's Fort Cornwallis; I didn't go in as I found the entrance fee of 40 ringgit too high.
I then followed the coastline, with good views of the Penang Strait and the city of Butterworth, at which I had arrived by train on my way down from Thailand. At the waterfront, there is also a block of monumental offices of European trading firms from the 19th century.
An explicit part of the WHS are the Chinese 'Jetties' – settlements of stilt houses, built along a pier. The Chew Jetty welcomes visitors during specific daytime opening hours. It dates from 1888 and is controlled by the Chew Clan, still a close-knit community with its own Taoist temple.
George Town's Chinese community has done well in turning its heritage into tourist income. The very ornate Cheah Kongsi Temple for example. 'Kongsi' were clans of people from the same place of origin who helped each other out after immigration (it still is a word used (mostly negatively) in Dutch by the way, as a 'community of interest'!). The Pinang Perakan Mansion also lies in the city center and maybe is its most popular attraction. It's a very eclectic, luxury villa "incorporating Chinese carved-wood panels and English floor tiles and Scottish ironworks".
There are dozens more small monuments and temples, mostly from the Chinese and Indian communities, that you will encounter while just walking around.
Read more from Els Slots here.
---
3.00 The Philippines - 28-Jun-13 -
As much as there isn't much noise being made about George Town, and that unanimous praises are given to Melaka, I was surprised to find out that the former component would be the highlight of this inscription. The character of George Town is more presentable, in my opinion. I visited the two historic cities last May to finish off the list of current Malaysian WHS.
Melaka has a rich history, its role in regional trade cannot be underestimated. Sadly, I think that its current condition, however, does not live up to it anymore. Without knowing its past, the town simply looks like any other Chinese-Malay town (can be akin to Hat Yai, in fact). The city's important monuments - representing various cultures and periods in its colonial era - can easily be explored in a day, on foot. We started off in the residential/commercial portion of the inscribed site, across the bridge over Melaka River, and nothing really stood out. The Street of Harmony is nice, but is not as spectacular compared to that of George Town. Jonker Street was a bit sober and empty then as it was post-election time and most shops were closed, in protest against the recent results. The spirit of Jonker Street, nevertheless, went to life when I visited some of the shop houses, learning some few things from store-keepers about the items that they sell - that made me feel that I was truly in a multi-cultural trading town.
The Red Square is small, and this happens to be the most extensively used area in Melaka advertisements and promotions. I have to agree that it is picturesque, but pretty much that's only it. The red color in the city is often seen as cute, but I'm not really sure if I share the same assessment.
The better part of Melaka is the A' Famosa - St. Paul's Hill. I felt that these are the only parts where one can really have a feel of its past. The St. Paul ruins also offers a commanding view of the city and the straits.
George Town, on the other hand, was a real surprise. I think that the multi-cultural aspect of the inscription is better seen and felt here. I enjoyed going around the city on a bike. Aside from major WHS monuments hopping, there are other things to do here like checking out the street arts -- which has become a craze after a Lithuanian artist did some wonderful works in the city --, and surveying the famous Penang dishes. Food tripping is one thing that any traveler should not miss in George Town -- I did the gastronomic tour with 2 (Indonesian and American) dorm-mates in the hostel I stayed at, and all of us were really amazed.
There are more monuments in George Town, and they are more grand, more colorful, and better maintained than those in Melaka. Key British legacies include the impressive city and town halls, the bit worn-out and empty Fort Cornwallis, the two churches, and the colonial-era buildings along Lebuh Pantai. Looking at old photos of George Town, there happened to be more British colonial buildings that stood in the city before, creating a real "Little Europe" atmosphere back in its prime days. Furthermore, I enjoyed this city a lot as local colours are pretty much alive here - its Little India, for example, is one of the more authentic Indian quarters I've seen so far in Southeast Asia. In fact, in experiencing the Straits Chinese-Malay culture, I recommend the Pinang Peranakan Mansion in George Town to be better than the Baba Nyonya Museum in Melaka.
My favorite parts of the city would be the Kapitan Keling Mosque, the City Hall, Khoo Kongsi and the Teochew temples, and its humble backpacker's district.
Key to a better appreciation of these sites is to see each holistically, understanding the diverse nature that each has to offer - its all about the complex cultural melting pot that they are. As with any Southeast Asian trading town, I think that the biggest threats at present to these two cities are urban developmental pressures - buffer zones on both are obviously weak in some parts.
---
Ziyang
I visited Penang this March. My best impression actually is about two Buddhist temples within the urban area but probably even outside the buffer zone -- the Burmese and Thai Buddhist temples just facing each other across a narrow street. They especially endear me because their presence in Penang add significant claims to this place being a crossroad, not just for the main ethnic groups in today's Malaysia and the country's former colonial rulers, but show Penang as the meeting point of continental and archipelago South East Asia, as where the majority Buddhist and majority Islam zones touch.
---
3.00 The Netherlands - 16-Oct-09 -
Melaka has been compared to Macao, Hoi An and Galle. But I would like to throw in another comparison: Ping Yao. Melaka's contemporary feel is very Chinese. And the hundreds of shops, residences and temples did remind me of the Chinese WH town. It also seems to attract a lot of Chinese tourists (though they might be native to Malaysia or Singapore).
The best-known view of Melaka however is that of "Dutch Square", with its Town Hall (Stadthuys), Clock Tower and Church. They don't look very Dutch to me, probably because they (the Brits, the Malaysians) have repainted them with red paint. No sober Dutch would ever do that.
A couple more Dutch remnants can be found a little uphill, at St. Paul's Church. They are mostly tombstones of 17th-century Dutch citizens.
So what's the verdict on Melaka? In general, it's nice enough. But there's no real highlight here. During my 1.5-day stay, I strolled through town a couple of times and spent half a day on a recommended bike tour to the surrounding countryside.
---
Melaka historic centre is basically a very small area covering with many redish buildings in one part before crossing the bridge, and more 'historic - old' buildings on the other side of the bridge.
The combination of west vs east culture is very pronounce. And some holy places from different believes standing side by side tells us even more on how rich the combined culture is...
---
3.00 Netherlands - 12-Oct-08 -
The first cultural world heritage site of Malaysia is the historic areas of two port cities in the famous straits of Malacca, Melaka and George Town, in my opinion, these two cities are the true examples of global cities influenced by almost every great maritime country in the history; Malay, Indian, Portuguese, Dutch, Chinese and English. I only visited George Town, the capital city of the State of Penang, in October 2008 as a day trip from Kuala Lumpur by plane. At first glance, Penang Island was very busy island with lots of traffic, high rise buildings which was a typical image of normal large Asian city, but in the historic quarter, the atmosphere was totally different.
The old area of George Town can easily be divided into two parts, the small colonial district and the very large shop houses area that include china town and little India districts. For the colonial area, there are some nice British colonial buildings, but to be honest, these buildings can not be considered to be outstanding especially if you compared with Singapore's colonial area or other beautiful colonial building of French Hanoi or Thai-adopt colonial style in Bangkok. The real major draw card for George Town is the shop house area; the shop house buildings can be considered a unique style of architecture in Southern China and Southeast Asia with interesting mix of Portuguese and Chinese and using typical European and Malay arts as decorative motif. For me this is not my first time to encounter this mix and match building style, I have seen such buildings in other Asian cities, so to consider George Town as a unique city is totally impossible.
Interestingly that in ICOMOS document, Singapore and Phuket are used for comparative study since they are both important port cities in the Malacca Straits, and from my experience, the shop houses in those cities are much nicer, more colorful and in good shape than the buildings I saw in George Town. The fact that George Town is able to preserve its very large historic area quite intact making George Town to jump out the pages from others in this particular region. However, the old quarter of George Town can not be regarded as being a nice old city, restoration is urgently required and the traffic and sanitary standard need to be reorganized especially for the road and pavements in china town area. The harmonious of old city is also a big problem, there always have modern building that located in the middle of old shop houses row, I hardly find an area that is pure 100% of old buildings, and you will notice this problem easily when you watch the old city from observation deck of the KOMTAR building.
All in all, George Town is a good example of quite well preserve of bygone colonial era in Asia and need to be visited by all tourists to understand the result of cultural exchange via maritime trade. The real treasure of George Town is not the old town or its history, but it is the unity of different culture and colorful people that make this city a place to remember and do not try to forget tasting the famous Tam Bun Biscuit, a local delicious delicacy, before you say good bye to George Town.
---
YS Chee
I'm born around this new World Heritage Site, GeorgeTown, Penang, Malaysia. This place is full our cultural sites, being Chinese, Indian or Malay. We have side by side Chinese & Malay place of worship and had live peacefully for ages. There are historical stroll or trails which is helpful and well plan for vistors. I'm not ashame to let you know that even though we are born around the site there are plenty of places still not explore my me. I love to take photos around this hitorical & cultural site and had being doing it most weekend, just to show you how much to see inj GeogeTown ( we called it Old GeorgeTown )
---
Site Info
Site History
2008

Advisory Body overruled

Referral by ICOMOS (later overruled by the Committee) for management issues, the co-ordinated management of the two cities
Site Links
Unesco Website
Official Website
In the News
Visitors
349 Community Members have visited.