Machu Picchu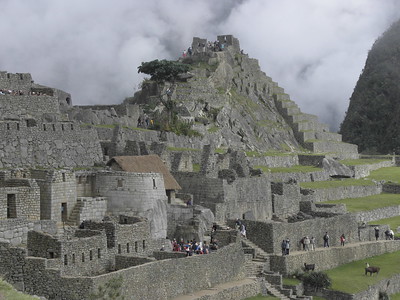 The History Sanctuary of Machu Picchu is the most renowned archeological site from the Inca Period.
It dates from the middle of the 15th century. The complex is located 2,430 meters above sea level, on a mountain ridge above the Urubamba Valley. The city sits in a saddle between the two mountains Machu Picchu and Huayna Picchu. This is considered to be scenically the most attractive part of the Peruvian Andes, for which the site earned inscription on natural criteria as well.
Machu Picchu (a Quechua word for: Old Mountain) was unknown to the Spanish invaders and was only rediscovered in 1911. Its function is still under debate. Theories are that Machu Picchu was built as an estate for the Inca emperor Pachacuti and/or was a sacred religious site.
The Inca artistically "sculpted" the mountain. The sanctuary was built in the classical Inca style, with polished dry-stone walls. Features of Inca archtecture that can be seen are platforms, ramps, stairways, trapezoidal windows and doors.
At inscription it was suggested to extend the WHS to the Sacred Valley, including Pisac and Ollantaytambo for example. To date this has not happened.
Map of Machu Picchu
Legend
Visit May 2011
Machu Picchu's iconic image is a pretty good representation of the site in general: high green mountain peaks surrounding a completely intact city structure made out of stone. The site is unbelievably photogenic – I took no less than 460 photos here on a half-day visit, the most ever at a WHS. Afterwards you find out that you've taken dozens of the same shots, but well, fortunately we have digital cameras now.
I walked the full circuit in about 3 hours, and then settled down for a while in the residential part of the complex near the agricultural terraces. This is were the common people lived: they enjoyed great views over the valley and the terraces. This is a fine spot to enjoy Machu Picchu's characteristic play between sun and clouds. It was mostly clouded until about 10 a.m., and then the sun slowly started to take over, shining its light on different parts of the ruins as if putting it into a spotlight.
The site's forte is what is called "man's interaction with nature". The Inca had found a wonderful part of the Andes, and just started to shape one top into a city and religious complex. A gigantic task of course, all done by manpower alone.
The terraces I found especially impressive. No other structures or objects really stand out: the Inca were not big on decoration, and the few landmarks where the guided tour groups are lead to are often difficult to interpretate. There's a spot called The Condor where a guide was pointing it out to her group, and a wonderfully honest little girl was calling over and over "But I don't see it!".
Most of the visitors here seem to come in groups, many of them are outfitted with matching T-shirts and hiking gear. Seeing the body size of some of the people leads me to suspect that they did not all come here on foot, or even have walked for more than an hour over the last 20 years. The site also attracts what I would call a "fly in and get out" kind of tourist – on a 7 day tour of Peru, probably flown in directly to Cuzco, see Machu Picchu and possibly the Nazca Lines and then back home.
It is surprisingly difficult to get correct practical advice to visit the site: there's a lot of misinformation and outdated info around. Machu Picchu has no official website for example (at least I have not found it). It also suffers from an overemphasis on the negative aspects, which affects Peru as a whole – I generally do not worry much when travelling, but if your guidebook has an extensive "Dangers and Annoyances"-section for every city, you cannot ignore it totally. It has taken me a week or so to feel very comfortable here, and now I take taxi's and collectivos anywhere like I would do in any other country. The fact is that Peru's security situation has improved a lot over the last decade, and that its economy has grown significantly to produce a pretty well-functioning public system and a comfortable middle class.
I visited Machu Picchu from Ollantaytambo. This seems to be the favourite way of access for daytripping Peruvians. I was on the first train (6.10 a.m.), which gets you in Aguas Calientes at 7.40. We actually arrived a few minutes earlier. I made sure I was the first person to get off the train, walked into the town center to get my ticket and then to the bus stop for the shuttlebus up to the site. I was in the bus before 8 a.m., even had to wait a couple of minutes for the bus to fill up. We were delivered at the entrance to Machu Picchu at 8.20. So no queues at all!
Visitors seem to arrive at the complex in 3 batches: the early batch at about 6 a.m. (those on the Inca-trail or staying overnight in Aguas Calientes), the second batch arriving by trains from Ollantaytambo and arriving from 8 a.m., and the last and probably biggest batch from Cuzco (ca. 10 – 11 a.m.). So at ca. 11 a.m. the site is at its peak number of visitors as all 3 groups are (still) there. By then I had already done about ¾ of the full circuit of the site. It did not feel too crowded anywhere. Sure, there will always be other people around, but I could roam around freely and take plenty of photos without human beings on it. As most people seem to travel here in groups, they tend to huddle together at specific spots. There were even tickets left for the climb to Huaynu Picchu, of which only 400 are given away each day (I decided against taking it because of the clouds).
The cost nowadays is 126 soles (32 EUR) for entrance to the site, 45 soles for a round-trip in the shuttlebus and I paid 80 US dollar for my train tickets. There are cheaper tickets available, but not at the departure times that I wanted. Buying the train tickets is very easy via the Perurail website. I did so about a week before and there still were plenty of seats available.
So do not let horror stories about the crowdedness or cost deter you to visit this magnificent site. I have experienced annoying crowds in Florence, Prague and Venice – Machu Picchu on a weekday in the off-season is far less busy than that. That there is access only on foot or by train actually regulates the number of visitors (it would be much worse if there was a road up there). And what to think of the Chinese WHS, which can be unbelievably full of people. My worst experience ever was at Huangshan National Park where I had to queue for about 1,5 hours to get in and then you could only shuffle along with the other visitors on a single track.
Click
here
to see more of my photos of Machu Picchu
Community Reviews
---
---
---
---
---
---
Community Rating
Community Rating 4.97. Based on 19 votes.
Site Info
Full name: Historic Sanctuary of Machu Picchu
Unesco ID: 274
Inscribed: 1983
Type: Mixed
Criteria: 1 3 7 9
Site History
2008 - Reinforced Monitoring

Deforestation, the risk of landslides and unchecked urban development.

1983 - Inscribed
Site Links
Unesco Website
Official Website
Related
In the News
Connections
The site has 38 connections. Show all
Visitors
258 community members have visited Machu Picchu. Show all