Machu Picchu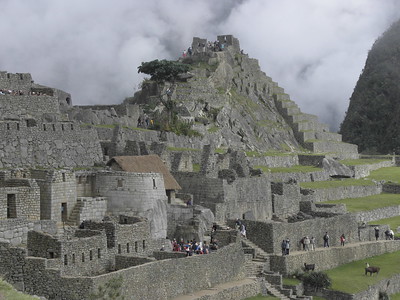 The History Sanctuary of Machu Picchu is the most renowned archeological site from the Inca Period.
It dates from the middle of the 15th century. The complex is located 2,430 meters above sea level, on a mountain ridge above the Urubamba Valley. The city sits in a saddle between the two mountains Machu Picchu and Huayna Picchu. This is considered to be scenically the most attractive part of the Peruvian Andes, for which the site earned inscription on natural criteria as well.
The Inca artistically "sculpted" the mountain. The sanctuary was built in the classical Inca style, with polished dry-stone walls. Features of Inca archtecture that can be seen are platforms, ramps, stairways, trapezoidal windows and doors.

Community Reviews
---
There's a good reason Machu Picchu remains one of the highest rated World Heritage Sites -- this Inca city is spectacularly and photogenically set atop a mountain ridge in the Andes northwest of Cusco. Machu Picchu symbolizes adventure and discovery of the unknown, and it has become a mecca for intrepid travelers from around the world.
I arrived at Machu Picchu in the fall of 2018 at the end of a four day hike along the Inca Trail. Not only is hiking the Inca Trail a great introduction to the network of Inca fortresses and settlements remaining in the Andes, but it also makes Machu Picchu that much more memorable when first viewed from the Temple of the Sun at the end of a trek. And what a sight it is from the temple -- the emerald lawns, the terraced buildings, and the backdrop of Huayna Picchu's peak are absolutely stunning. If your afternoon is clear and sunny like ours was, this is where you can find some iconic views of Machu Picchu. Hiking the Inca Trail with a tour company provided the advantage that we were able to walk through Machu Picchu to the exit as the culmination of our trek, and then return the next day with our ticketed time to see the site again at a more leisurely pace.
On my return the next morning, my group wandered with a guide through the buildings, learning about Inca astronomy, agriculture, and architecture. We also hiked up Huayna Picchu for another perspective of the city. Machu Picchu is in the transition zone between the Andes and the Amazon Basin, and its setting in this locale with flora and fauna such as orchids and the Cock-of-the-rock contribute to Machu Picchu's World Heritage Site inscription as a mixed site. Because of the moist climate of the transition zone, the morning was an amazing way to see another iconic image of Machu Picchu -- the stone ruins and mountain peaks ethereally shrouded in mist as clouds rose from the valley below. Machu Picchu truly is unforgettable and well worth the visit.
Logistics: Tour companies can arrange treks along the Inca Trail, but daily admission to the site is ticketed and must be purchased in advance; at the time I visited in 2018, the tickets were for morning and afternoon entry, for approximately four hours. Passports were required, and there was an extra fee to hike Huayna Picchu.
---
I visited this WHS in June 2019. When visiting World Wonders or top WHS, I like to allow more time to visit and possibly revisit. Undoubtedly, Machu Picchu is Peru's most iconic and famous WHS, even though I must say that most of the other WHS I visited in Peru were top notch too.
As things stood till my visit, the confusion and difficulty of actually getting hold of the right entrance tickets, of organising your way to get there, and the general misinformation on the internet, all contribute to lowering the number of visitors, which in itself isn't a bad idea. Most visitors seem to opt for the Inca Trail while the others rely on the Peru Railway System with different levels of comfort (normal Peru Rail train, Voyager or Vistadome) and different points of departure/arrival (Cusco, Ollantaytambo or Aguas Calientes). I really hope that the international airport project underway in the Inca Sacred Valley never materialises. As it is, Peruvian authorities are already struggling to lower the number of visitors, but at least other areas with Inca sites of significant importance in the Sacred Valley benefit from tourism. The already expensive entrance tickets to Machu Picchu are now only valid for a maximum of 6 hours even though nobody was really checking; however, if you get hungry or need to use the toilets re-entry is NOT allowed!
For that reason I decided to pay for 2 entrance tickets, a morning one valid from 8am with a Huayna Picchu climb start from 10am-11am and another one valid from noon. Moreover, I opted to stay for 2 nights in Aguas Calientes, arriving with the last train from Ollantaytambo late in the afternoon just before my visit and a return train in the afternoon to allow for another visit had I got unlucky with the weather. As Els rightly pointed out in her review, the site seems to be mostly crowded around 11am and in my case too, the first sun rays shone bright on Machu Picchu as of 9:30am. So as soon as I arrived, I explored the ruins first, then I headed towards the agricultural terraces and panoramic viewpoints. Facing Huayna Picchu, the ones to the right, closest to the exit, are great for morning photography, while the ones to the left, towards the 'Inca bridge' are great for afternoon photography.
Since there is no single iconic structure that stands out, and most visitors come in groups, it was always relatively easy to find quiet spots or else stop for a while and wait for the groups to head towards the shaded areas. At around 10:15am, I was happy enough with the countless photos I took and had explored the ruins before the crowds early in the morning, so I headed towards the ruins once again to start my Huayna Picchu climb. It's really great that only 400 are allowed to climb every day at 2 different slots, 7am when in my opinion you risk clouds or fog obstructing the view and 10-11am. The climb is relatively easy if you're in shape and only moderately difficult because of the lack of railings or steel rope at times. The only place were I met other people was obviously on the top but you can easily enjoy the same view just a few metres below the boulders at the top. If you're claustrophobic or not too good with heights, I'd suggest heading back down from the same way (just next to the top Inca structure) - that way you'll avoid the last narrow and steep steps (which are worse going downwards) as well as the dark 'cave'. The view is worth the effort but same as from the Machu Picchu entrance, the 'combination' of man-made structures and nature is what makes this WHS so special and unique.
After the climb, since I had paid for a second entrance ticket, I could go outside to use the toilets as well as have lunch at the expensive Sanctuary Lodge. The buffet lunch was very good but they offer a la carte too if you want. Already from the restaurant, I could notice that in the afternoon there were significantly more buses going down than buses coming up. By 14:30, most of the groups who skip staying in Aguas Calientes, have to catch the train back so Machu Picchu was not so crowded anymore and after another hike towards the 'Inca bridge' trail, I found a very quiet spot where I was practically alone most of the time with gorgeous views and excellent light. The grazing llamas and alpacas apparently noticed that there were less people in the afternoon and ventured more towards Huayna Picchu and the ruins.
On my way back to Cusco, I followed Nan's advice to catch a cab and visit Moray, Maras and I added Chinchero were it was nice to meet with rural communities with old women still wearing tall white hats in the countryside. The archaeological sites, the rural atmosphere and the mountain views were indeed spectacular.
Without the excellent natural surroundings, I wouldn't have given Machu Picchu 5 stars. In fact, I must say that I enjoyed the archaeological sites of Pisac and Sacsayhuaman more as an ensemble of sites or as a single cultural site. But when you look at Macchu Picchu and the surrrounding natural scenery for the first time (and all the countless other times after that!), you can't but feel amazed at such a true world wonder!
---
It was nighttime in Cusco, the day before I would travel to Aguas Calientes via Ollantaytambo, when it dawned on me: A childhood dream was about to come true. I am not sure when I first saw a picture of the site but ever since I wanted to visit.
The next day I travelled to Ollantaytambo from where I took the afternoon train to Aguas Calientes. Slowly the mountains grew higher around us while the signs of human settlement receded. We were following the river down and what in Ollantaytambo had mostly been barren mountains became covered by trees with the ridge growing ever narrower. It was here where I understood why Machu Picchu is a mixed natural and cultural site.
Thanks to a strong case of jetlag with some altitude sickness mixed in, I got up at 4:00h and queued at the bus stop in the city center at 4:30h. By then the line was already huge and it only kept growing while everyone waited for the busses to run and to take them up. Eventually I boarded the bus and we made our way up to the mountain top. The first views I got were from the valley. And then I had made my way past the ticket control and stood in the site. Finally.
This is truly one of the great sites of mankind and should feature prominently on any WHS travellers bucket list.
Getting a Ticket
During my visit in should season (October to November) I met several travellers who had bought their tickets less than a week before their visit. The only caveat was that they had to be a bit flexible on the dates. This will probably not work in peak season (June to September). Seeing that it would be a real pity to travel this far, without seeing this stellar site, I would strongly recommend doing the reservation in any case several months ahead.
You basically have two options. You can do it on your own or hire a travel agency to do it. The advantage of the travel agency is that they will give you a complete ticket covering the train rides, hotel stay, the bus rides and the entry ticket. Otherwise you are stuck to do it on your own.
The official website is terrible. Apart from web design that was already dated in the 90s it requires flash and is only viewable in IE. On top they implemented a really weird purchase process. Essentially, you have to log in the web site three times:
Get a temporary reservation.
Pay for the temporary reservation using the reservation code provided in the limited available time frame (I think a few hours).
Get the ticket and print it. You will not get a hardcopy.
It's not impossible but tricky. I had a full week where the site would not work in even the oldest IE. I probably would have given up had it not been for this useful guide on how to buy Machu Picchu tickets.
When you buy your ticket you are presented with several options:
You can come in the morning shift (6:00h to 12:00h) or the afternoon shift (12:00h-17:30h). As of now the morning shift is not kicked out, so if you plan to spend the full day, this would be the best option.
At additional cost you have the option to also reserve a hike up Wayna Picchu or Montana Machu Picchu. I hiked up Wayna Picchu. While the overall site is limited to 2500 visitors a day, the hikes are limited to 800 in total.
Afterwards you can buy your train ticket. Again, these may run out, so I would buy this as soon as you have your Machu Picchu ticket. The two providers are PeruRail and Inka Rail. More below.
Agua Calientes
Most travelers heading to Machu Picchu will pass through Agua Calientes, the exception being hikers. There are very few kind words I can find for the place. It's overpriced and the quality of both restaurants and hotels sucks. They know that nobody is coming back or staying for more than a night anyhow, so why bother? It's a pity, as I could envision staying in this magical landscape longer if they upped the ante a bit, i.e. improve the service quality and add a few more trails, e.g. along the river or into some other mountain range.
As it stands, I think I would recommend Els' approach. Stay in Ollantaytambo and take the first train into town and the last out.
Getting to Agua Calientes
Agua Calientes is only accessible via train. There are two lines, one from Ollantaytambo and one from Santa Teresa. The total amount of visitors that can be ferried in and out is thereby physically limited. This helps managing the crowds a lot.
You can reserve the train tickets online with PeruRail or InkaRail. Bear in mind that due to hikers ending their trails in Machu Picchu the return trains are fuller. Be sure to schedule at least one train ride during day time to take in the spectacular mountain gorge.
For the main line between Cusco, Ollantaytambo and Agua Calientes, my recommendation would be to connect in Ollantaytambo. I see little value added traveling by train from/to Cusco if you can just take a cab (80-100 Soles) or collectivo (10-20 Soles) to Ollantaytambo. Continuing by train on to Cusco is significantly more expensive than a cab ride would be, especially if you can share the costs. And in most cases the train only continues to Poroy, so you still need to pay for a cab ride (40 Soles).
The side line from Santa Teresa is primarily for locals. There seem to be busses running to Santa Teresa that some travel agencies use. I also met a few travellers who mentioned hiking along the tracks as budget option to get to Aguas Calientes. I would not recommend such an approach. 
Getting Into the Site
From Agua Calientes you can either walk the 8km up the mountain or take a bus (24 USD return). Walking has the benefit that you can be at the gate the very second it opens and potentially have the site for a few seconds for yourself. But this may be a fool's errant. The busses operate quite efficiently with the first arrivals scheduled before the park opens. Even I who stood in line since 4:30h (aim for 3:30h if you really want to be on the first bus) and got on the 10th bus or so made it up around 6:00h.
Personally, I would take the bus up and then check if I want to walk down or not. The site is large and you will be walking a lot in any case, so why spend your energy already on the ascent? If you don't want to walk down and still would like to take in some of the magical scenery, you can also just walk from the city to the bridge given you a few nice views along the way.
One more practical remark: The return ticket is not cheaper than two singles, so you can just buy the single. In any case get the ticket up (single, return) the evening before, so you can directly enter the bus queue.
Amenities
While I appreciate a site that is kept pure, i.e. no markets and souvenir shops everywhere (thinking of you, Chichen-Itza), Machu Picchu takes the idea too far. There aren't any restrooms within the site. There is no cafe and no shop selling water. So come prepared, empty your bladder before entering and hope and pray that this suffices. As a guy, you can also try to find a quiet corner ...
Lonely Planet also claimed that bottled water, walking sticks and large backpacks are banned on site. This was not enforced, so ignore it for the time being. If they start enforcing the luggage rules, you can deposit it at the entry (in and outside). In my case I listened and got pretty thirsty from all the hiking in the site.
Safety
Again, I appreciate a site that is kept pure. But to put in some safety measures would be appreciated. The trails have limited rails and most edges have non. So mind your step. Fortunately, the level of deadly incidents seems fairly limited.
Wayna Picchu 
The hike up Wayna Picchu was spectacular. It took me 30min and you get great views (see picture) of Machu Picchu. Admittedly, the trail could use some rails and some proper safety measures. But unless you are really afraid of heights, you should manage the climb.
While You are There
Connecting from Cusco to Ollantaytambo provides ample opportunity to see some sites of the Sacred Valley. My recommendation would be to negotiate with a cab driver to take you to the sites of Maras and Moroy on your way to Ollantaytambo. Ollantaytambo itself is very interesting, spefically the fortification. From what I have seen here, I feel that the area has loads of WHS potential.
---
5.00 California - United States of America - 13-Nov-12 -
One of the greatest world heritage sites, Machu Picchu is one of the true manmade wonders. The location is stunning, and the ruins are in excellent condition. However, like the review below there is cause for concern. Part of the problem is Peru is full of incredible Inca and pre-Inca cultural sites. Yet the majority of these sites are relatively unknown, this contributes to Machu Picchu being viewed as the only must-see site in Peru.
Peru has had little success within the world heritage program recently only gaining 3 inscriptions in the last 20 years. For a country that is extremely rich in cultural and natural heritage this is suprising. Raising the price for visitors to Machu Picchu seemingly has not managed tourist numbers, nor has the remote nature of the site. Beyond establishing reservations to the site itself, limiting the number of visitors (which may still be required), the only solution to me seems to be promoting exciting alternatives. Promotion of Peru's various pre-Inca cultures is something you just don't see. Qhapac Nan could be a great alternative to the traditional visitor experience in Peru. I look forward to its inclusion on the world heritage list.
Nevertheless, Machu Picchu is probably not in as much danger as it may seem. First, the site is indeed huge, even with a large amount of tourists I never felt crowded. Secondly, the site is well maintained, and the buildings are entirely built from quarried stone, or built on natural rock. This makes the site largely immune to the large tourist flow.
Read more from Kyle Magnuson here.
---
5.00 The Netherlands - 12-May-11 -
Machu Picchu's iconic image is a pretty good representation of the site in general: high green mountain peaks surrounding a completely intact city structure made out of stone. The site is unbelievably photogenic – I took no less than 460 photos here on a half-day visit, the most ever at a WHS. Afterward you find out that you've taken dozens of the same shots, but well, fortunately, we have digital cameras now.
I walked the full circuit in about 3 hours and then settled down for a while in the residential part of the complex near the agricultural terraces. This is where the common people lived: they enjoyed great views over the valley and the terraces. This is a fine spot to enjoy Machu Picchu's characteristic play between the sun and clouds. It was mostly clouded until about 10 a.m., and then the sun slowly started to take over, shining its light on different parts of the ruins as if putting it into a spotlight.
The site's forte is what is called "man's interaction with nature". The Inca had found a wonderful part of the Andes and just started to shape one top into a city and religious complex. A gigantic task of course, all done by manpower alone.
The terraces tp me were especially impressive. No other structures or objects really stand out: the Inca were not big on decoration, and the few landmarks where the guided tour groups are led to are often difficult to interpret. There's a spot called The Condor where a guide was pointing it out to her group, and a wonderfully honest little girl was calling over and over "But I don't see it!".
Most of the visitors here seem to come in groups, many of them are outfitted with matching T-shirts and hiking gear. Seeing the body size of some of the people leads me to suspect that they did not all come here on foot, or even have walked for more than an hour over the last 20 years. The site also attracts what I would call a "fly in and get out" kind of tourist – on a 7-day tour of Peru, probably flown in directly to Cuzco, see Machu Picchu and possibly the Nazca Lines and then back home.
It is surprisingly difficult to get correct practical advice to visit the site: there's a lot of misinformation and outdated info around. Machu Picchu has no official website for example (at least I have not found it). It also suffers from an overemphasis on the negative aspects, which affects Peru as a whole – I generally do not worry much when travelling, but if your guidebook has an extensive "Dangers and Annoyances"-section for every city, you cannot ignore it totally. It has taken me a week or so to feel very comfortable here, and now I take taxis and collectivos anywhere like I would do in any other country. The fact is that Peru's security situation has improved a lot over the last decade and its economy has grown significantly to produce a pretty well-functioning public system and a comfortable middle class.
I visited Machu Picchu from Ollantaytambo. This seems to be the favourite way of access for day-tripping Peruvians. I was on the first train (6.10 a.m.), which gets you to Aguas Calientes at 7.40. We actually arrived a few minutes earlier. I made sure I was the first person to get off the train, walked into the town center to get my ticket and then to the bus stop for the shuttle bus up to the site. I was in the bus before 8 a.m., and even had to wait a couple of minutes for the bus to fill up. We were delivered to the entrance to Machu Picchu at 8.20. So no queues at all!
Visitors seem to arrive at the complex in 3 batches: the early batch at about 6 a.m. (those on the Inca-trail or staying overnight in Aguas Calientes), the second batch arriving by trains from Ollantaytambo and arriving from 8 a.m., and the last and probably biggest batch from Cuzco (ca. 10 – 11 a.m.). So at ca. 11 a.m. the site is at its peak number of visitors as all 3 groups are (still) there. By then I had already done about ¾ of the full circuit of the site. It did not feel too crowded anywhere. Sure, there will always be other people around, but I could roam around freely and take plenty of photos without human beings on it. As most people seem to travel here in groups, they tend to huddle together at specific spots. There were even tickets left for the climb to Huaynu Picchu, of which only 400 are given away each day (I decided against taking it because of the clouds).
The cost nowadays is 126 soles (32 EUR) for entrance to the site, 45 soles for a round-trip on the shuttle bus and I paid 80 US dollars for my train tickets. There are cheaper tickets available, but not at the departure times that I wanted. Buying train tickets is very easy via the Perurail website. I did so about a week before and there still were plenty of seats available.
So do not let horror stories about the crowdedness or cost deter you to visit this magnificent site. I have experienced annoying crowds in Florence, Prague and Venice – Machu Picchu on a weekday in the off-season is far less busy than that. That there is access only on foot or by train actually regulates the number of visitors (it would be much worse if there was a road up there). And what to think of the Chinese WHS, which can be unbelievably full of people. My worst experience ever was at Huangshan National Park where I had to queue for about 1,5 hours to get in and then I could only shuffle along with the other visitors on a single track.
Read more from Els Slots here.
---
This is certainly a wonderful place, however I have grave misgivings about ever visiting again.
I don't need to describe the majesty of the place, many have done that before me so I want to outline a few problems and issues.
Firstly, the cost. M.P. has become an out-of-control money making scheme. The return train ride costs a minimum of $60. The bus from Aguas Calinetes a ridiculous $15, and the site itself an incredible $40!
Secondly, the site is under grave threat from tourism. Because of the vast amounts of money being made from visitors to the site there is not control over numbers. I arrived at about 7am, and the place was relatively empty, but by 10am it was totally overwhelmed. There must have been thousands of people there, and sadly not all respected the place properly. I saw several people climbing over the ruins, which just astounded me. At this rate the place will fall apart in 10 years.
Thirdly and finally, Aguas Calinetes has no development plan and is out-of-control. The worst part of it is the fact that the town's waste is all dumped in the Urubamba River.
So, yes M.P. is a fabulous place, but think hard before visiting.
---
Site Info
Full Name

Historic Sanctuary of Machu Picchu

Unesco ID

Country

Inscribed

Type

Mixed

Criteria

1

3

7

9

Categories

Link
Site History
2008

Reinforced Monitoring

Deforestation, the risk of landslides and unchecked urban development.
Visitors
431 Community Members have visited.