Cuzco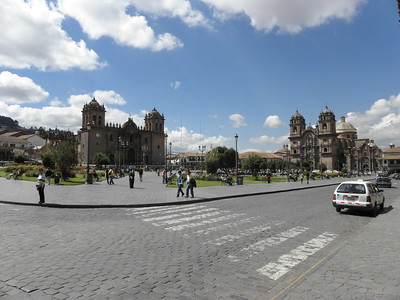 The City of Cuzco is the combination of the Inca capital and a Spanish colonial city.
The Incas developed the city in the late 15th century, during the reigns of Pachacutec and Tupac Yupanqui. They aimed to create an ideal town, with administrative and religious functions in the center and agriculture and industrial production in the outlying areas.
The first Spaniards arrived in the city in 1533. They constructed their own buildings (catholic churches, mansions) on the demolished walls of the Inca buildings, but left the city layout intact. These buildings are of Spanish influence with a mix of Inca architecture.
Visit May 2011
I first arrived in Cuzco from Arequipa after the bustrip-from-hell: 17,5 hours, driving over mountain passes at night in the snow. Cuzco then appeared to me as a dusty and chaotic large city. I ended up spending 4 nights there in total, before and after my trips to Machu Picchu and Manu National Park. The city nowadays essentially is a transportation hub for the region. It certainly has its merits but I did not like it that much.
In an hour or two you can visit the main sights of the historical center - the bling bling Cathedral, the disappointing Coricancha temple and the original streets. What is left of the Inca times are merely some walls and sometimes the street pattern. Maybe the impression would have lasted more if I had seen Cuzco before Machu Picchu and Ollantaytambo.
Probably not included in the WHS are the Inca ruins of Sacsayhuamán. This is a walled complex on the northern outskirts of the city. It was used as a military fortress and had ritual functions as well. Its main defensive wall has an elaborate zigzag shape. It's a nice hike to get there from the city center, and the construction has been done as perfect as the Incas knew how to do it.
Click
here
to see more of my photos of Cuzco
Community Reviews
---
---
---
---
---
Community Rating
Community Rating 3.69. Based on 18 votes.
Site Info
Full name: City of Cuzco
Unesco ID: 273
Inscribed: 1983
Type: Cultural
Criteria: 3 4
Site Links
Unesco Website
Official Website
Related
In the News
Connections
The site has 29 connections. Show all
Visitors
261 community members have visited Cuzco. Show all