Villa Adriana (Tivoli)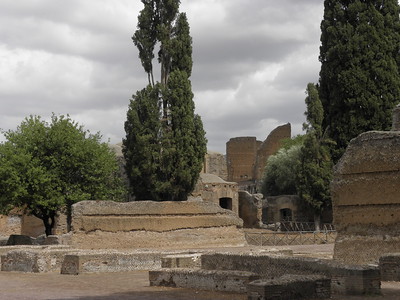 The Villa Adriana was the retreat of the Roman emperor Hadrian, and the remains of its monuments are great examples of classical architecture.
The villa was created in the 2nd century A.D. in the cooler hillside town of Tivoli, about 30 kilometers outside Rome.
The Villa shows echoes of many different architectural orders, mostly Greek and Egyptian. Hadrian was a very well travelled emperor and borrowed these designs.
Map of Villa Adriana (Tivoli)
Legend
Visit September 2012
Villa Adriana is advocated as the most complete and well-preserved of Roman ruins. Despite of that, it is not very well known by the general public. In Tivoli it has to compete with the Renaissance Villa d'Este, which attracts most of the visitors to this town east of Rome. The Villa Adriana lies some 5km away, outside of the city center. A local bus (no. 4) will get you there, and the bus to Rome doesn't stop far away either. Entrance costs 11 EUR.
I did not know what to expect – somehow it sounds similar to the Villa Romana del Casale on Sicily. But in reality it is much different. The Villa Adriana covers and enormous area, 120ha. It was built as an 'ideal city', planned by Emperor Hadrian to entertain himself and his guests. 900 servants lived on the premises. In addition to its size, it is also remarkable how much of it still stands. Or stands again, as several buildings display clear signs of concrete or brick reconstruction.
In the middle of summer this will be an excruciating hot site to visit – it's all open land without shade, dusty, and the main monuments need quite a hike to get there. Signage is scarce, and there's nowhere to buy a drink. During my visit in early September it was cloudy but still about 25 degrees. I did my best to find all interesting sights, but must admit that it was exhausting. The problem with the site is that there are no clear highlights: there are some mosaics, a few marble columns, plus the remains of many Roman structures built to enjoy and relax. None of them really stand out however, there's almost no decoration left and I found it all very bland.
Community Reviews
---
---
---
---
---
---
Community Rating
Community Rating 3.25. Based on 22 votes.
Site Info
Full name: Villa Adriana (Tivoli)
Unesco ID: 907
Inscribed: 1999
Type: Cultural
Criteria: 1 2 3
Site Links
Unesco Website
Official Website
Related
In the News
Connections
The site has 21 connections. Show all
Visitors
206 community members have visited Villa Adriana (Tivoli). Show all