Qutb Minar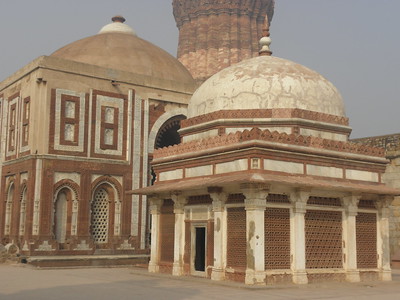 Qutb Minar and its monuments is a group of religious and funerary buildings that display the architectural and artistic achievements of early Islamic India. They are located in South Delhi.
The complex includes:
- Quwwatu'l-Islam mosque, the earliest extant mosque in northern India.
- Qutb Minar, a red sandstone tower, 72.5 m high. Its construction was started around 1202 by Qutbu'd-Din Aibak, the first Muslim Sultan of Delhi. It has five storeys, and is the highest stone tower in India.
- Iron Pillar, built during the Gupta Empire in the 4th century AD. It is made of such pure iron that it has never rusted, a standing testimony to the metallurgical skill of ancient Indians.
- Tomb of Iltutmish
- Alai Darwaza (southern entrance)
- Alai Minar, the base of a second, unfinished minaret
Visit February 2011
This was the first stop on my full-day tour of Delhi sights. The complex has a serene atmosphere, enhanced a little by the famous Delhi morning fog. You can sit on park benches and take in the views to these old constructions. There were about 20 other western visitors around, more than I had seen at any sight outside of Delhi.
Focal point of the complex obviously is the enormous minaret. You only really feel how broad and tall it is when you're standing next to it. A magnificent piece of work.
And then there's the enigmatic Iron Pillar. It looks so out of place here, in this whole complex full of brick and sandstone buildings. It's a very thin pillar, surrounded by a fence to protect it. It looks like if it was placed here only recently, as the start of a modern construction.
Another monument that I enjoyed here was the Tomb of Iltutmish. It's a bulky structure when looked at from the outside and it is missing its roof. The interior however has lots of fine carvings, both in red sandstone and in white marble.
Community Reviews
---
---
---
---
---
---
---
---
Community Rating
Community Rating 3.53. Based on 18 votes.
Site Info
Full name: Qutb Minar and its Monuments, Delhi
Unesco ID: 233
Inscribed: 1993
Type: Cultural
Criteria: 4
Site Links
Unesco Website
Official Website
Related
In the News
Connections
The site has 23 connections. Show all
Visitors
206 community members have visited Qutb Minar. Show all