Gwynedd Castles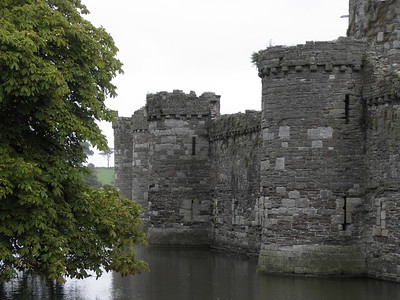 Beaumaris
The Castles and Town Walls of King Edward in Gwynedd are four groups of late 13th-century and early 14th-century militairy fortifications.
They were built or rebuilt by the English King Edward I when in 1283 he expanded his domain into north-west Wales. He set out on an ambitious project, to build an "Iron Ring" of castles and new towns to house English settlers. All were built by the same man, James de Saint George from the Savoy, the king's chief architect in Wales.
The included structures are:
• Harlech Castle (1283) – a concentric castle, constructed atop a cliff close to the Irish Sea.
• Castle of Beaumaris (begun in 1295, but never completed because finances and material ran out) - the last and largest of the castles to be built by King Edward, also a concentric castle
• Coastal town of Caernarfon (from 1283) – has a deliberate link with Caernarfon's Roman past, and with its banded coloured stone the castle's walls are reminiscent of the Walls of Constantinople.
• Castle and town walls of Conwy (1283-1289) - no concentric 'walls within walls' here because of its strategic position on a rock; it still has a full circuit of town walls.
Map of Gwynedd Castles
Legend
Visit August 2011
Probably the most exciting thing is getting there, especially to Beaumaris Castle which is located on the island of Anglesey at the northwestern tip of Wales. The motorway follows the coast, and takes you through a series of tunnels. After each tunnel the clouds became darker, the wind stronger and the rain more persistent. It feels if you're approaching the end of the world.
I finally arrived at Beaumaris via the modern bridge and some narrow, winding roads. It is a small town, with the castle prominently located in the center. My visit was a bit hurried because of the rain pouring down, and because I had not paid for the parking as I had no coins left. Actually all parking spots I have had over this weekend had to be paid in small change, strangely there was no other way to pay.
Beaumaris Castle has all the usual features of a medieval castle. What is left is the complete outer ring, surrounded by water. Inside there's not a lot to see - about as much as you can expect during a half an hour visit and for a 3.80 pound entry fee.
I then drove on eastwards again, to Conwy, via the Menai-bridge (another Industrial Revolution-design by Thomas Telford). Conwy has a very different set of fortifications from Beaumaris. They are located higher up on a rock, and the castle is adorned with lean turrets. It's an impressive piece of work from a distance, more palace-like in features than Beaumaris. It also has two elaborate suspension bridges from later date that complete the view.
Conwy not only comprises a castle, also the old town is enclosed within walls built by James I. A visit here is a popular outing on a Sunday afternoon: there were hundreds, probably thousands of tourists around. Conwy is close enough to Liverpool for example for an easy day trip. I started with lunch, and tried the local mussels which very tasty indeed. Then I went into the castle. Like the one in Beaumaris it is mainly the walls that are still standing. The design of the towers makes it more picturesque. I climbed some of them to enjoy the views.
In all I wasn't completely taken over by these castles. They're said to be a kind of prototypes of all medieval castles in Europe (or at least among the oldest surviving ones from that period), so it's more their age we should appreciate than their visual uniqueness.
Community Reviews
---
---
---
---
---
---
---
Community Rating
Community Rating 3.47. Based on 18 votes.
Site Info
Full name: Castles and Town Walls of King Edward in Gwynedd
Unesco ID: 374
Inscribed: 1986
Type: Cultural
Criteria: 1 3 4
Site Links
Unesco Website
Official Website
Related
In the News
Locations
The site has 4 locations.
Connections
The site has 17 connections. Show all
Visitors
170 community members have visited Gwynedd Castles. Show all