Gwynedd Castles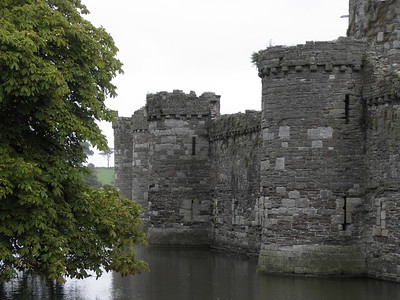 The Castles and Town Walls of King Edward in Gwynedd are the well-preserved remains of late 13th-century and early 14th-century military fortifications.
They were built or rebuilt on the orders of the English King Edward I when in 1283 he expanded his domain into north-west Wales. He set out on an ambitious project, to build an "Iron Ring" of castles and new towns to house English settlers. The castles are stylistically similar, all being double-walled concentric structures, and were designed by the same military architect.
Community Perspective: The site lies in a beautiful part of North Wales and includes the castles of Beaumaris, Conwy, Caernarfon, and Harlech. Along the way, you can take a look at the historic Menai Bridge. Nan has provided tips on visiting the castles by public transport.
Community Reviews
---
We picked our way through the low dunes to a suitable spot on the sand where we could spread out our picnic blanket. Keeping a wary eye on the ever-circling gulls we unwrapped our fish and chips, an impulse purchase after a long sunny day. The heat had died down slightly and the Conwy river flowed swiftly out through its wide estuary before us, sailboats straining at their anchor ropes. Thickly wooded hills rose beyond the estuary and the sun danced off water, mast and tower. For the walls and towers of Conwy stood opposite, the very picture of a classic movie castle. The view before me was deeply romantic – and yet also a symbol of oppression.
When imagining the high middle ages I find it helps to view the period through the lens of gangster movies. There is inevitably a complex web of family alliances and feuds, sealed by marriage or just temporary expediency, punctuated by sudden outbursts of bloody conflict, with just a handful of literal kingpins at the top striving for supremacy. For the purposes of this metaphor King Edward I of England is the Don. He came to the throne in 1272 aged 33 having lived through the chaos of a major baronial uprising against his father's rule. His first acts as king were devoted to reforming the administration of his kingdom. Wales was not a priority for him. Much of the south and east of what is now Wales was ruled by 'Marcher Lords' – powerful and trusted nobles with their own military forces but who owed their positions to the King of England. Think of them as heads of crime families theoretically subservient to Edward but constantly jockeying for advancement. The extreme north west of Wales stretching east to the River Dee near Chester and south to the River Dyfi at Machynlleth was recognised by England as the separate Principality of Gwynedd under Llewelyn ap Gruffudd. In return for being left to run his turf as he saw fit Llewelyn was required to pay fealty to the King of England – to call Edward 'Godfather' if you will. In 1275 Llewelyn refused to do this, partially because Edwards Marcher lieutenants were encroaching further on his lands and partially because his own scheming brother Dafydd (very much the 'Fredo' of this story) had allied himself with the English in opposition to Llewelyn. Edward acted as any good mob boss would do – he marched his soldiers into Wales, slapped down Llewelyn, and forced a revised agreement upon him. The new treaty divvied up the south and east of the Principality between the King himself, his trusted Marcher lords and Dafydd. A suitably chastened Llewelyn was left with a truncated holding corresponding more-or-less to the current borders of Gwynedd and Ynys Môn (the Isle of Anglesey). And then five years later Dafydd rebelled once more – this time against Edward. Llewelyn joined his brother and was killed in battle. Dafydd finally inherited the Principality of Wales he had long schemed for. He held the title for a mere ten months before he was hung, drawn and quartered as a traitor by the English king in 1283. He was the last independent ruler of Wales.
The Don had removed an annoying rival, rewarded those who served him loyally and expanded his turf (he later attempted the same more deliberately – and less successfully – with Scotland). The Principality was legally "annexed and united" to the English crown, to be bestowed upon the monarch's heir (Edward's son, the future Edward II, was the first heir appointed 'Prince of Wales' in 1301). Governing it would be trickier. Gwynedd is wild and mountainous. Edward focused instead on the coastal regions with a twin-track strategy of building castles as military strongpoints from whence his forces could sally out to subdue any insurrections and settling loyal English colonists in walled towns to stimulate the local economy. Coastal locations made easier marching for armies and easier resupply by sea if things really got bad. Each was a day's march from the next. From the stronghold city of Chester it was a day to Flint and another to Rhuddlan (slightly earlier castles with many similarities but not part of this site). One more day to Conwy, one more to Caernarfon, one more to Harlech, and after a sixth day of marching you were in territory held by the Marchers. Construction of Harlech, Conwy and Caernarfon Castles started immediately in 1282-83 respectively. Beaumaris was planned at the same time but construction delayed until 1295. The Harlech and Conwy were completed by 1289; work at Caernarfon and Beaumaris dragged on until 1330. As such they provide a snapshot of military planning from the very end of the 13th century. The man in charge was Master James of Saint George, an architect from Savoy.
There are several clear similarities in Master James's castles. They were largely built around a design of concentric defences so that if the outer line was breached defenders could fall back to the next. As stated, in isolated outbreaks of unrest they could be supported by the next castles in the chain within a matter of days. In the event of serious insurrections supply could still take place by sea – Conwy Castle sits on a river estuary, Beaumaris and Caernarfon are on the coast itself (with the mouth of the Seiont river providing another layer of defence to one side of Caernarfon). Harlech was located on a coastal cliff, with access to the water provided by a long flight of steps down the rockface, though the sea has now receded beyond a golf course, sand dunes and beach. In some ways it is a shame Rhuddlan Castle isn't included as there a stretch of river was canalised and straightened to enable ships to sail inland to supply the fort. As well as a pure military function they also had a civil one – as a guide said to me at Harlech, "This is one of the most impressive tax offices in the world". Colonies of English settlers were imported to stimulate the local economies and were protected by the walls that still remain at Conwy and Caernarfon.
There are one or two differences too. Conwy and Harlech fit themselves to the topography whereas Beaumaris was built on a barren marshy plain, meaning that Master James could indulge himself fully there to create his 'perfect' castle. But the biggest oddity is Caernarfon. Compared to the round towers of the other castles Caernarfon's towers are octagonal. And the stonework features eye-catching banding. Why so? The answer lies in a dream – that of Magnus Maximus (or Macsen Wledig in Welsh). He was a 4th century Roman general who was proclaimed Emperor by troops in Britain. In mythology he dreamt of a mighty castle and a beautiful woman, both discovered in northwest Wales. The Princes of Gwynedd – and Edward – laid claim to this myth of being descended from the emperors of Rome. The nearby remains of the Roman fort of Segontium proved that the Romans were here. And the octagonal towers and banded stonework were a deliberate reference to the walls of Constantinople itself.
A stay in Blaenau Ffestiniog (the 'Slate Capital of the World') gave me the opportunity to visit Harlech Castle, the only one of the four inscribed properties that I had never previously visited. Harlech is a congested hilltop town, its castle standing proud and majestic and visible from quite some distance away. There are payable car parks around the town, including one just in front of the castle itself hidden down the narrow approach. There is also free parking on street. Harlech is also accessible by train, but the station is down where the sea once was, leaving you with a steep climb uphill (indeed Harlech is in a fierce battle with New Zealand's Dunedin over which has the steepest driveable street in the world). You approach over the moat and can walk around the narrow outer bailey before entering through the deep gatehouse which had no less than three sets of portcullises (photo). The upper floors of the keep are long gone, but you can climb the towers to walk around the top of the walls.
This summer we also paid a fleeting visit to Caernarfon, walking around the walls and pausing on the gatehouse steps to eat a takeaway. There is a paid carpark on the Slate Quay right below the castle, or it is reachable by bus from Bangor. As mentioned above we also had a view of Conwy Castle across the estuary while eating yet another takeaway a few months earlier (there's definitely a theme emerging here…). Conwy is located directly on the north Wales mainline from Chester and even London with the station located inside the city walls – thank heavens for the surprisingly considerate Victorian developers who created a gothic fantasy bridge over the river and a sympathetic entry through the walls for the rail line. As it is easy to reach, the nearest to the big cities of northwest England and just a lovely day out Conwy is very popular with day-trippers. It's an awfully long time since I visited Beaumaris but I think you'll need your own transport to reach it.
Overall I really like these castles. While I wouldn't be opposed to the site being extended at some point to include Master James's earlier castles at Flint and Rhuddlan this grouping is a selection of the best the UK has to offer. They are a harmonious collection of military strongholds from a precise moment in time and hilltop Harlech, riverside Conwy and majestic Caernarfon tick all the boxes for 'fantasy medieval castles'. They may not be as large or phenomenally awe-inspiring as Crac des Chevaliers in Syria but they represent a later period of military construction and are a darn sight easier to get to.
Entry to Harlech Castle is currently £6.90 for an adult, £4.85 for a child; the same prices are charged for Beaumaris. Conwy and Caernarfon Castles are £9.25 / £6.60 each. All four castles are run by the Welsh heritage organisation CADW so if you intend to visit all of them it makes financial sense to actually pay for a year's membership for £21. As of July 2021 there is still a request to pre-book tickets via the CADW website.
World Heritage-iness: 3
Our Experience: 3
(Visited July 2021)
---
It seems kind of strange that the first World Heritage Site in Wales should be a symbol of subjugation by the English, but that's what the Castles and Town Walls of King Edward I in Gwynedd, a former principality in northwest Wales, represent. I thoroughly enjoyed my visit to three of the four inscribed castles over two days in the spring of 2005, so I suppose I should thank the Welsh for their independent nature which led King Edward I to construct these fortresses. From my base in Betws-y-Coed, I first made my way to Conwy, where a 13th century castle sits above the wall-enclosed town. The views of the countryside and town from the walls were spectacular, and I enjoyed exploring the castle. Beaumaris, on the nearby island of Anglesey, was slightly less impressive, though I did appreciate its symmetry. My last stop was to Caernarfon, where the outgoing tide left a row of boats stranded in the harbor below the town's imposing fortress. This castle is perhaps best known for serving as the site for the investiture of the Prince of Wales, and it may once again receive the spotlight when the ceremony is next held. I've seen many European castles since this trip, which has perhaps influenced my recollections, but even if these aren't the most spectacular castles I have ever seen, I found these to be well worth a visit.
Logistics: Some of the castles of northwest Wales are accessible by various means of public transport, as mentioned below; I found it quicker to navigate via a rental car. Incidentally, if visiting Conwy, I highly recommend a stop to nearby Bodnant Garden, which is spectacular in the spring.
---
March 2018 - We visited just two of the 4 castles. We spent the night in Caernarfon,
A bulwark of a city and the castle could be from a fairy tale, home of a brave knight. The next morning we could see the whole beauty of this town with snow covered hill in the back. We had breakfast in Bangor which I do not recommend visiting, the close by Penrhyn castle however is amazing and definitely worth a visit. We were hoping to see Beaumarais from there, but except the outlines there was nothing to see. After that, we still visited Conwy Castles. Way more tourists here, but we bought a nice wool blanket here, made a few miles south in Tweedmill.
---
After a series of two industrial WHS, it was nice to see a more traditional WHS in the form of the Gwynedd Castles. These are 13th century castles built over a relatively short time period. Their purpose was to pacify the area after the recent English conquest by King Edward I.
Of the castles I managed to see two: Beaumaris and Conwy. Conwy as pointed out by previous reviewers is a walled city with a castle towering the town. Beaumaris meanwhile is the last one in the series of castles. It was never finished. Personally, I preferred the seaside charm and the larger scale of Beaumaris castle over Conwy town and castle. The tourist masses tended to go the other way. To me this was another advantage of Beaumaris.
On a more general note, I find it interesting, that WHS sites often tend to be sites on the periphery that fell out of fashion and were stuck in one time period. In the case of the Gwynedd castles Edward I attention wandered North as he had to deal with the Scots. He also ran out of money. While there were rebellions for the next centuries Wales has been British ever since.
Getting There and Around
I found the information on google maps for the area correct and very helpful. Please cross check before you go.
There is a direct train line from Birmingham to Holyhead with stops in Conwy and Bangor. You will actually pass right below Conwy Castle.
Via Chester you can also connect by train to Manchester and Liverpool, so you have ample options to travel on. As stated in my previous reviews, Pontcysllete Aqueduct and Ironbridge Gorge are well within reach and can be combined into a nice weekend trip.
Bangor probably is the best base to explore the area. Due to high season and many weekend guests, I had to stay in Menai Bridge as Bangor was fully booked.
Both Conwy and Caernafon have regularly served train stations. To get to Caernafon you have to change in Bangor. In Conwy it may make sense to cross over to nearby Llandudno Junction as it's served by both Arriva and Virgin trains and connections are more frequent. For travelling between Bangor and Conwy I would recommend the bus as you get nice views of the coastline and the slopes of Snowdonia. It may also be cheaper.
Beaumaris is served by bus from Bangor (bihourly on Sundays, not sure about the rest of the week). The trip to Beaumaris is fairly straightforward. The return journey, meanwhile, was marked by multiple loops all across Anglesay Island and another one in Bangor, so it took twice the time (45min).
While You Are There
Three of the four castles lie on the slopes of Snowdonia and the little I saw looked amazing. Sadly, my tight schedule wouldn't allow me to venture into the mountains.
Anglesay Island itself was also pleasant and scenic, especially at low tide. There are also boat rides to Puffin Island from Beaumaris and Conwy. If you are into those cute little suckers, but who wouldn't be?.
Note on Hotels
I am generally a late hotel booker (previous night, same day). While my strategy generally works (and sometimes fails miserably), a weekend trip in high season to Bangor is not the proper area to apply it. This is a popular British weekend getaway, very deservedly so, so book in advance.
---
I visited this WHS in June 2016. I drove to this beautiful part of North Wales and I visited all four sites. I stayed for one night in Harlech and shared the moments of joy with Welsh fans as Wales advanced to the quarter final of Euro 2016. The scenic countryside alone (arriving from Pontcysyllte) was worth the visit. After a very wet day, the dark black sky opened up just a bit to let the reddish sunset rays on Harlech castle (picture). Harlech castle was my favourite from the series as it had less visitors, felt more authentic, and the Morfa Harlech National Nature Reserve (and golf course) just opposite was worth visiting. I'm no golf fan but I would have loved to play in such a serene environment. Thanks to Wales' historic performance at the Euro 2016, free entrance was granted to everyone visiting the Gwynedd castles so I was extremely lucky not to pay for any entrance ticket. Next, I visited Caernarfon which is set very close to the sea and has city wall remains which are worth visiting (you cannot walk on the walls here like in Conwy). The personnel employed in the Caernarfon castle were overjoyed to welcome a WH traveller from Malta and the 'manager' was very attentive to anything related to the UNESCO WH list. We had a lovely chat and he pointed out that he had personally asked for the UNESCO plaques to be removed as the Gwynedd castles inscription took place in 1986 not 1987. Next, I visited Beaumaris after crossing the Menai bridge. There are many seabirds here and a short cruise to the nearby Puffin Island and Menai Strait (departures just opposite the castle) will fit in perfectly if you're into birdwatching. All the castles have pretty much nothing left inside and their interior is mostly visited by visitors with children. Beaumaris castle is perhaps the best example of the series (both interior and exterior) and the moat surrounding the castle enhances its symmetry. I enjoyed the short video shown inside the castle and it helped me appreciate certain aspects which I wouldn't have noticed otherwise. Last but not least, I visited Conwy which is the most touristy and visited castle of the series, being very close to Liverpool. The walk on the surrounding walls offers beautiful views of the castle and it would have been enough the appreciate the castle (since it was free though I had to take a quick look inside at least). I enjoyed my second visit in Wales and I'm very happy I've seen all the Welsh WHS.
---
I visited Conwy & Caenarfon in March 2015 and Harlech & Beaumaris in May 2016. Entry to the castles is now £6 each.
In Conwy and Caenarfon only English people lived within the walls of the town, which acted as a centre for the administration of the local area. Of the four, I think Conwy has been most spoilt by modernity due to the ugly road and rail bridges that jut out across the river right next to the castle
Caernarfon felt less spoilt. We drank at a historic pub, the Black Boy Inn, which, being within the city walls of a World Heritage Site, was just my cup of tea. The following morning my brother and I toured the castle in the rain.
Harlech was probably my favourite of the four, and has a newly refurbished café and visitor centre to boot. From the turrets you get a great view of the sea and coastline – the latter of which is now significantly further from the castle's walls than it was in Edward's time.
Beaumaris castle is located at the other end of the Menai Strait to Harlech, sitting at its northern mouth. Beaumaris is a schoolboy's idea of what a castle should look like. Surrounded by a moat, it follows a classic concentric design – consisting of an outer wall and an inner wall. UNESCO calls it one of "the finest examples of late 13th century and early 14th century military architecture in Europe". These days it seems to belong to the seagulls, dozens of which were nesting up in the ramparts when we walked around.
After the castle we returned to the mainland via the Menai Suspension Bridge. I had assumed it was newer than the 1864 Clifton Suspension Bridge near where I live, but it was in fact completed in 1828, making it the oldest major suspension bridge in the world, if I'm not mistaken.
Read more from Tom Livesey here.
---
3.00 The Netherlands - 30-Aug-11 -
Probably the most exciting thing is getting there, especially to Beaumaris Castle which is located on the island of Anglesey at the northwestern tip of Wales. The motorway follows the coast and takes you through a series of tunnels. After each tunnel the clouds became darker, the wind stronger and the rain more persistent. It feels as if you're approaching the end of the world.
I finally arrived at Beaumaris via the modern bridge and some narrow, winding roads. It is a small town, with the castle prominently located in the center. My visit was a bit hurried because of the rain pouring down, and because I had not paid for the parking as I had no coins left. Actually, all parking spots I have had over this weekend had to be paid in small change, strangely there was no other way to pay.
Beaumaris Castle has all the usual features of a medieval castle. What is left is the complete outer ring, surrounded by water. Inside there's not a lot to see - about as much as you can expect during a half an hour visit and for a 3.80-pound entry fee.
I then drove on eastwards again, to Conwy, via the Menai-bridge (another Industrial Revolution design by Thomas Telford). Conwy has a very different set of fortifications from Beaumaris. They are located higher up on a rock, and the castle is adorned with lean turrets. It's an impressive piece of work from a distance, more palace-like in features than Beaumaris. It also has two elaborate suspension bridges from a later date that complete the view.
Conwy not only comprises a castle, but also the old town is enclosed by walls built by James I. A visit here is a popular outing on a Sunday afternoon: there were hundreds, probably thousands of tourists around. Conwy is close enough to Liverpool for example for an easy day trip. I started with lunch and tried the local mussels which were very tasty indeed. Then I went into the castle. Like the one in Beaumaris it is mainly the walls that are still standing. The design of the towers makes them more picturesque. I climbed some of them to enjoy the views.
In all, I wasn't completely taken over by these castles. They're said to be a kind of prototype of all medieval castles in Europe (or at least among the oldest surviving ones from that period), so it's more their age we should appreciate than their visual uniqueness.
---
These have to rank as some of the best places I have visited in Britain. At the start of November 2006 we visited the Castle at Beaumaris and spent a night in Conwy, and it was fantastic.
The castle at Beaumaris is situated on the Island of Anglesey at the end of this quaint town that overlooks the treacherous Menai Straits. This castle was the most technically progressive of King Edward's 'Ring of Iron'. It is quite easy to see how the main defences work; they provide a barrier to invaders, if that is breached you are then in a kind of void where it would be easy for the defenders to pick you off. All in all there are about four separate lines of defence, with masses of other small details that would help to protect the castle from invasion. There is plenty for you to explore inside the castle, and the view from the wall walk is great as you look out across the Straits to the Snowdonia Mountains. If you have an interest in Bridges this is also a great place to visit, the two Bridges across the Menai are some of the finest pieces of engineering from the Industrial Revolution.
We then carried on to Conwy, which is completely surrounded by impressive Town Walls, and the walk along the top of them was perhaps the highlight of the trip for me (picture). The town itself is lovely, and the castle in the corner of the walls is very impressive, with small versions of the two Menai Bridges leading away from it. It was a great place to spend a night in a traditional Welsh B&B. The backdrop to the Town as with all of these castles is the magnificent Snowdonia National Park and if you wanted to spend longer here then it is really good for hiking.
A year after my first visit, we went back to spend another night in Conwy, and also visit Caernafon. Conwy was as nice as we remembered it, and Caernafon was very interesting to walk around. The castle is perhaps the most historically significant, and has a strong role in Welsh history and identity. It was also great to walk around the town and here that Welsh was the first language of most people there.
The city of Bangor is the best connected in the area for transport to the castles. All the timetables are integrated at the traveline site. The area would be good to explore from the WHS of Liverpool or on the way to/from the ferry for Dublin.
This was one of the best WHS I have seen in Britain and I would have no problem in going back to Harlec castle and spend another quiet night within the city walls of Conwy, great if you want to see a different side of Britain.
[Site 8: Experience 8]
---
Basing myself in Bangor, itself a pleasant enough town, I was able to visit each of the royal castles:
Conwy - by train or bus from Bangor
Harlech - by bus from Bangor or train from Shrewsbury,then a steep climb up to the castle
Caernarfon - by bus or train from Harlech to Porthmadog then by bus to Caernarfon
Beaumaris - by bus from Bangor
Harlech castle was spectacular for its location and great views.
---
Site Info
Full Name

Castles and Town Walls of King Edward in Gwynedd

Unesco ID

Country

Inscribed

Type

Cultural

Criteria

1

3

4

Categories

Link
Site Links
Unesco Website
Official Website
In the News
Visitors
274 Community Members have visited.