Botanical Garden, Padua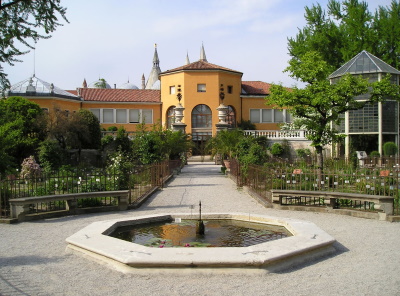 The Orto Botanico of Padua is the oldest Botanical Garden in the world that has been in continuous use. It was established in 1545 by the University of Padua (and designed by Daniele Barbaro), and has been a great influence on other botanical gardens around the world.
The garden at first was geared to the growth of medicinal plants. Over the years it was enriched with plants from all over the world, brought in by the Venetian Empire. Later additions are the greenhouses, the four wrought-iron gates, an arboretum and an English garden.
The Orto Botanico is also home to an impressive scientific library of more than 50.000 volumes.
Map of Botanical Garden, Padua
Legend
Visit April 2007
I visited Padua on the same day as Vicenza. They're only about an half hour apart by train, but you'll have to make an early start and plan your trip well. I had pre-booked a visit to Padua's most renowned sight, the Cappella degli Scrovegni (on Italy's Tentative List), but arrived way too late to make the allocated time-slot.
So I just walked on to the Botanical Garden. It is located on the other side of town from the railway station. The station area is rather scruffy, and the center of town also lacks atmosphere. The Garden however is a real oasis, pleasing to the senses and to my feet where all the walking was taking its toll. After paying a 4 EUR entrance fee you're free to drop down on one of the benches in the garden. There were quite a number of other visitors around, even a bored-looking Belgian school class.
After giving my feet a rest, I roamed around the garden for an hour or so, trying to capture the few blossoming flowers on camera. The oldest plant around is the so-called Goethe palm, which dates from 1585. It was visited by Goethe in 1786, who got inspired by it to write about evolution. The palm nowadays is covered by a glass house.
The area is quite small, and the idea that everything has been here for such a long time is more interesting than the site itself. The nearby Basilica del Santo is worth a look when you've visited the garden.
Community Reviews
---
---
---
---
---
---
---
---
---
Community Rating
Community Rating 2.58. Based on 26 votes.
Site Info
Full name: Botanical Garden (Orto Botanico), Padua
Unesco ID: 824
Inscribed: 1997
Type: Cultural
Criteria: 2 3
Site Links
Unesco Website
Official Website
Related
Connections
The site has 10 connections.
Visitors
180 community members have visited Botanical Garden, Padua. Show all