Wartburg Castle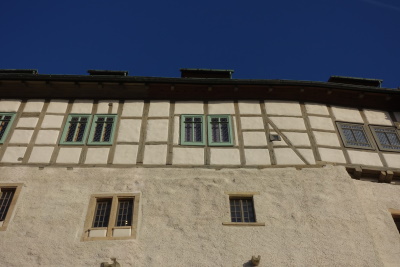 Wartburg Castle has been put on the WH List because it is seen as a "outstanding monument of the feudal period in central Europe".
The origins of Wartburg Castle date back to 1067. In that year a watching tower was constructed here by Ludwig der Springer.
Its current imposing shape started to develop with the construction of the Palas (the main body) in 1155. The Landgraves of Thuringia owned and expanded the castle from that time until the 15th century.
The castle's history has been coloured with theological and artistic highlights rather than for military reasons.
During 1521 and 1522 for example, Martin Luther lived here in exile. He made good use of his time by translating the New Testament into German.
Map of Wartburg Castle
Legend
Visit March 2005
A surprise visit this one was. After spending the Easter weekend in Weimar, I noticed I had to pass Eisenach to drive back to Holland. And my way-too-big-to-be-handy Germany road map showed "Wartburg Castle" next to Eisenach and the motorway. So I just had to take the chance. I always enjoy the anticipation that is involved in visiting sites unprepared. Will I be able to find it? I hope it isn't closed today! What's the story behind this site anyway?
The castle is well-signposted in Eisenach, even in Japanese! As castles go (and monasteries), Wartburg is located strategically on the top of a hill. According to reports I've read, the view from here on the surrounding countryside must be marvellous. However the weather was so misty that morning that I didn't see the castle until I arrived at its bridge.
The castle has a quite unusual shape, a bit bulky. With a guided tour I visited its interior (I even had to queue to gain entrance, this is a really popular sight). In some rooms only the Romanesque design can be admired (the 12th and 13th century ones), others are brilliantly decorated (the ones that date from the 19th and 20th century). I finished my well-spent morning with a local Thüringer Bratwurst, providing more than enough calories to burn during the six hour drive home.
Community Reviews
---
---
---
---
---
---
---
---
---
---
---
Community Rating
Community Rating 3.31. Based on 21 votes.
Site Info
Full name: Wartburg Castle
Unesco ID: 897
Inscribed: 1999
Type: Cultural
Criteria: 3 6
Site Links
Unesco Website
Official Website
Related
In the News
Connections
The site has 13 connections. Show all
Visitors
156 community members have visited Wartburg Castle. Show all