Mausoleum of the First Qin Emperor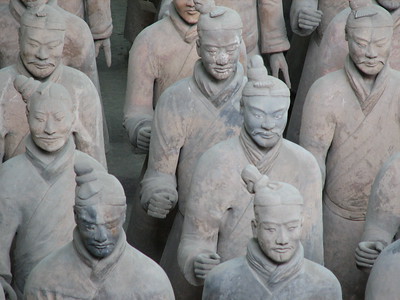 The Mausoleum of the First Qin Emperor is known for its life-size terracotta statues of warriors.
They are seen as major works in the history of Chinese sculpture and valuable for the insight they provide in the social and military history of the period.
This monumental archeological site was discovered by chance in 1974 by farmers. Three pits have been uncovered so far, containing over 8000 figures of warriors and horses.
Qin Shi Huang, the first Emperor of China and a man fond of grand projects (the Great Wall of China also was his idea), arranged for this burial site himself. The Terracotta Army that was to be buried with him was to help him rule another empire in the afterlife. 700.000 men reportedly worked on the construction of the mausoleum for 38 years. The statues were made factory-like at the construction site. After completion, the terracotta figures were placed in the pits in precise military formation according to rank and duty.
Shi Huang died in 210 B.C. and was subsequently buried here. His tomb presently remains unopened.
Map of Mausoleum of the First Qin Emperor
Legend
Visit October 2007
Xian's Terracotta Army belongs to the 10 or 20 most iconic sites that have been placed on the World Heritage List. Most people will have seen images of it. One can even come across some of these terracotta warriors outside of China: currently (2007-2008) a number of them are on display in a large exhibition at the British Museum in London. I saw a few myself last year in the Art Museum in Bonn, Germany. So what they look like is no surprise. To see them in their original surroundings, as the statues are left in situ, is another story.
Although I had been in Xian already for a couple of days, I had deliberately chosen early Monday morning as the time of my visit: the most quiet time of the week that I could think of. And I proved to be right as I had plenty of freedom to look around and take pictures. I've read somewhere that the site can see 50.000 visitors on a busy day. For me personally, after weeks of visiting Chinese WHS as one of the few foreigners, it was remarkable to notice that western visitors almost outnumber the Chinese here.
After watching the elementary explanation video, I started my round at Pit 3. This is believed to have been the army headquarters. It has only a few statues but all the features including horses. Wandering here I realized that these statues weren't found intact, a lot of them were (and are) just bits and pieces. The warriors also used to have weapons (believed to have been stolen early on) and colouring. Pit number 2 is mostly covered. At the rear there are examples of the various military ranks, like a high-ranking official, a cavalry man and a standing archer.
Pit number 1 is the largest and earliest one, and that's where you can see the warriors stand in battle formation like they do in the most well-known photos. Even this pit isn't fully excavated. I loved to watch the different facial expressions of the warriors here. There are so many details to look at. The concept does resemble the Buddhist arhat hall, where statues of monks are brought together also each with their own personal expression.
I ended my tour at the museum near the exit, where the two famous bronze chariots are displayed that were also found nearby. All in all a great site that has to feature on everybody's travel wish list.
Community Reviews
---
---
---
---
---
---
Community Rating
Community Rating 4.45. Based on 20 votes.
Site Info
Full name: Mausoleum of the First Qin Emperor
Unesco ID: 441
Inscribed: 1987
Type: Cultural
Criteria: 1 3 4 6
Site Links
Unesco Website
Official Website
Related
In the News
Connections
The site has 17 connections. Show all
Visitors
238 community members have visited Mausoleum of the First Qin Emperor. Show all