Humayun's Tomb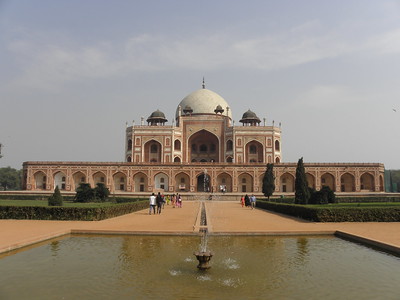 Humayun's Tomb, Delhi is a monumental Mughal garden-tomb complex.
This dynastic mausoleum was built in 1570 for Humayun, the second Mughal Emperor of India, and now contains about 150 graves of ruling family members. It uses mainly red sandstone, with white and black marble inlays. It is a landmark in the development of Mughal architecture, as it introduced a Persian/Central Asian style Charbagh garden with pools joined by channels to the funerary monument.
Community Perspective: "The contrast between the city and the peaceful garden and the monument was truly stunning".
Community Reviews
---
Kai Chongloi
This monument is the best site to see in Delhi. I went there in 2010 and was surprised to see that it was totally different from other sites in Delhi. The surrounding was clean, calm and peaceful. No hawkers, conmen, scammers etc. And the monument was magnificient. I highly recommend this site to anyone visiting Delhi.
---
I visited this WHS in January 2012. This site is unique as it was the stepping stone to build the Taj Mahal. The architectural symmetry of the tomb and its gardens can be clearly seen also in this site.
---
3.50 The Netherlands - 20-Jan-11 -
Humayun's Tomb was the last of Delhi's WHS that I visited. It is undoubtedly the most picturesque of all of the sites, with its perfect shapes. It is easy to see how it has influenced the Taj Mahal. But I have not become a big fan of Mughal architecture here in Delhi: the buildings were constructed to impress, but lack fine details (or maybe these have disappeared during the ages, the glazed tiles are very few now).
My visit to the site lasted a mere 45 minutes, and I cannot see how I could have spent more time here (although part of the complex is fenced off at the moment). The "park" could use some more water, to make the lawns look green and fresh, and also to fill up the little canals and pools that surround the Tomb.
However, as Rob Wilson already stated below, the state of the site has improved a lot over the last few years. There's an exhibition on site where you can see "before" and "after" photos.
---
Bustling and busy Dehli can prove to be quite a challenge for the first time visitor so entering the gates of Humayun's Tomb felt like quite a nice relief from persistent rickshaw-drivers, touts, beggars, snake charmers and other annoying elements you are confronted with. It's a cultural shock that any European have to go through but after some weeks of travel on the Indian continent I promise that you will see them as part of a wonderful and massively colourful society that draws you back for another visit.
Humayum's Tomb was built by the grief-stricken wife of emperor Humayun in 1565. It took nine years to complete the tomb and it is said to be a landmark in the evolution of early Mughal architecture and legend tells that it's been a model for the mighty Taj Mahal in Agra.
I visited Humayum's Tomb on an early December morning when only a few visitors had entered the site and the contrast between the city and the peaceful garden and the monument was truly stunning. With several adjacent palaces and tombs, make sure you take at least some 2-3 hours to fully enjoy this wonderful place.
---
Siddharth Dasgupta
Haunting. Mesmerizing. Unforgettable. The mythical aura surrounding Humayun's Tomb became a part of my soul the moment I laid my eyes on it, in January of 2005. That beautiful foggy winter morning in New Delhi is indelibly entrenched in my heart... as the day I came across perfection.
---
I have visited the tomb twice. Once in 2002 when it was a fairly horrific state of repair. I returned last summer and am pleased to say that the ASI have done a magnificent job of restoring this wonderful old tomb. It is surely one of the most evocative tombs on Earth. It provides a moments peace from the madness of Delhi and is even more interesting if you know about the extraordinary life of Humayoun himself.
---
Site Info
Visitors
294 Community Members have visited.