Yellowstone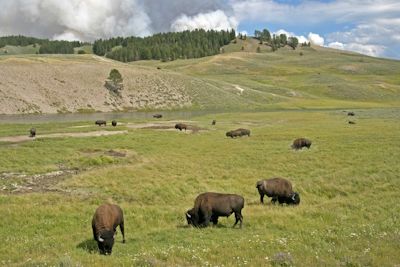 Yellowstone National Park comprises a large and intact ecosystem that shows globally unparalleled surficial geothermal activity
It holds the world's largest collection of geysers, plus hot springs and fumaroles. 150 species of fossilized plants have been discovered here. The park also has become a refuge for wildlife, including great numbers of bison and grizzly bears.
Community Perspective: reviewers only talk about in superlatives of this vast array of natural wonders. Highlights include the Grand Canyon of the Yellowstone, Grand Prismatic Spring, the travertine terraces of Mammoth Hot Springs and the presence of so many wild animals in Lamar and/or Hayden Valley. Kyle shares a set of best practices for first-time visitors.



Community Reviews
---
5.00 California - United States of America - 16-Oct-21 -
Yellowstone has survived for 150 years. Mineral exploitation, logging and poachers were the most serious threats between 1872 and 1916. In the 'The Act of Dedication' (1872), Yellowstone was "set apart as a public park or pleasuring ground for the benefit and enjoyment of the people". As of October 2021, Yellowstone has already received more than 4 million visitors. The threat to Yellowstone National Park today is primarily heavy visitor usage/footprint and Climate Change.
Best Practices
- all suggestions are meant as general advice when possible and appropriate to your trip planning and schedule
1) Book accommodations months in advance
2) Stay inside the park (splurge or suffer later)
3) Visit only during weekdays
4) Minimum 2 nights, 3 days
5) Start early 6am to 8am
6) Rest during midday
7) Enjoy heavy visitation areas at dusk
8) Don't be the cause of traffic congestion (don't stop for wildlife unless they are crossing)
9) Buy a National Park Pass ($80)
10) Be prepared (refillable water container, binoculars, high-zoom camera, etc)
Being an iconic 150 year old park will inevitably include plenty of Historic sites that should not be ignored.
"Yellowstone National Park's National Historic Landmarks include the Old Faithful Inn, Obsidian Cliff, Fort Yellowstone, Lake Hotel, the Northeast Entrance Station, and the trailside museums at Norris Geyser Basin, Fishing Bridge, and Madison." - Yellowstone Quarterly
Yellowstone fully met and exceeded my expectations during my visit between June 16th to June 19th, 2021. The National Parks in the United States (and in fact many nations) provide a special experience for those who enjoy the outdoors. One final thought, the "virgin-wilderness myth" remains pervasive to many National Park enthusiasts, despite the cultural sites and legacies that are found throughout the park system. Yellowstone is no different, this land was affected by human interaction with the landscape and wildlife for more than 10,000 years.
"In the oral traditions of the Crow, Shoshone, Blackfeet, Flathead, Bannock, Nez Perce and other tribes with ancient associations to Yellowstone, there is a rich store of material about the country they knew as "land of the geysers," "land of the burning ground," "the place of hot water," "land of vapors" or "many smoke." - The Lost History of Yellowstone
Read more from Kyle Magnuson here.
---
In 1806 when the Lewis and Clark expedition returned through what is now the state of Montana, one of its members broke off early to continue exploring, and encountered what he described as a hellscape, a place of "fire and brimstone" that is now known as Yellowstone National Park. His descriptions inspired more expeditions to survey this land of geothermal activity, where mud boiled, hot water erupted in geysers, and travertine terraces grew on hillsides. In turn, explorers and early environmentalists campaigned to the US government to purchase the land around Yellowstone, creating a national park for the "benefit and enjoyment of the people". In 1872, Yellowstone became the first national park in the United States, and arguably, the world. Almost a century later, it became one of two US sites in the inaugural World Heritage Site cohort in 1978.
I visited Yellowstone for the first time five years ago, in late summer 2015. Summer is very busy at Yellowstone, and lodging can sometimes be challenging, so a friend of mine and I ended up camping in two of the several campgrounds available throughout the park and eating at the many restaurants found in hotels and villages throughout the park. The Sturgis Motorcycle Rally in South Dakota had just finished the week before, and summer vacations were finishing up, so there were a lot of fellow visitors. Still, the park was large enough that it didn't feel too crowded once getting away from premier tourist sites such as Old Faithful geyser, which was as fun to watch as I'd read about growing up.
For folks visiting Yellowstone, the two premier aspects of the park to focus on are the geology and the wildlife. For geology, the trails around geyser fields and hot water pools, to include the Grand Prismatic Spring, are worth exploring. I also appreciated hiking around the travertine terraces of Mammoth Hot Springs, near the old Fort Yellowstone. The hike at the Grand Canyon of the Yellowstone showed off colorful hillsides and a beautiful waterfall, although the faint sulfur smells of the geothermal zone was still present there. Just outside the northern entrance to the park in Montana, which includes a stone arch dedicated by US President Theodore Roosevelt, is an opportunity to swim in the "Boiling River", where a thermal river feeds into the Gardner River.
As impressive as the geology is in the park, I don't find the park as naturally beautiful as the national park to the south in Wyoming -- the Grand Tetons, which is absolutely worth a visit. Both parks share wildlife, however, and I was able to see bears from a safe distance (there is a reason bear spray is sold in stores), as well as the ubiquitous bison that amble around the park roads. Care must be taken with the bison, since every year there are reports of bison attacks because they have been provoked. The animals I had hoped to see but did not encounter, despite spending an afternoon driving around the Lamar Valley in the northeastern portion of the park, were the grey wolves which had been reintroduced to Yellowstone twenty years earlier in 1995.
For historians or architecture lovers, I must recommend stopping by some historic buildings at Yellowstone, to include the massive wooden Old Faithful Inn, the rather southern style Lake Hotel, and the historic Fort Yellowstone. For World Heritage Site plaque hunters, the plaque can be found on the lower level of the Albright Visitor Center, part of the fort complex. Yellowstone may not be the most beautiful park I have seen in the US, but it is absolutely worth the detour to visit.
Logistics: The easiest way to get to and around Yellowstone is via private transporation. Be aware that some passes on roads entering the park may be closed during the winter and spring due to weather.
---
We traveled to Yellowstone during the height of tourist season but this did not deter us from seeing the many impressive features that the part has to offer. We also had our young children with us (ages 8 and 5) and this was a wonderful experience for them! Our first order of business was to visit the Albright Visitor Center at Mammoth Hot Springs, where we signed up the kids for the Junior Ranger program (worth it if you are traveling with kids) and where the WHS plaque is located. I suggest that you leave your car parked in the visitor center's parking lot and then walk the short distance to the Mammoth Hot Springs, which is an interesting thermal feature. There are also lots of elk roaming around the town, especially at dusk.
The diversity in animal life is fantastic. Head to the Lamar and/or Hayden Valley to see herds of bison and pronghorn. Twice we experienced a bison bull walking right beside our car. It's mating season so the bulls are on a mission and it's not uncommon to see them walking on the roads. We also saw a wolf at Lamar Valley, much to our delight! Near Mount Washburn, we spotted our only grizzly bear. Our biggest mistake was not bringing any binoculars on this trip. A very kind couple had a telescope set up on a tripod on the side of the road and allowed our family to take turns to see the bear. This was a highlight for our kids. Other animals we saw were moose and trumpeter swans.
Other areas of beauty include the Norris Geyser Basin, the Grand Canyon of Yellowstone, and my children's favorite, the Artists' Paintpots. Seeing Old Faithful erupt right at 4:26 pm was also a thrill for us. We stopped at Fairy Falls to hike to see the Grand Prismatic Spring, the rainbow colored hot spring that is so ubiquitously photographed at the park. While it was a nice jaunt, the spring is not really visible and there was no overlook to take a proper aerial view picture. We probably should have parked closer to the Midway Geyer Basin to get a closer look.
If you have time, pay the extra money when you enter the park to also visit Grand Teton National Park. Although it's not a WHS, it's beautiful in its own right and the mountains are spectacular. We did spend most of our time at Yellowstone and since we only planned for a week, we were on the go a lot. if you prefer taking it easy, you should budget for more time. It really is a huge park with so much to see and do!
---
Mai Lea
I went in 2011/12 during mid-winter. It was cold, and I thoroughly enjoyed it. The Inn was closed, due to a lack of heating, but it was beautiful to play in the deep snow banks. We sat for hours watching the geysers, and made snowmen. The information center is interesting with Bison pelts and casts of the size of Wolf feet. it truly is beautiful. We went cross country skiing, and saw many Elk, Coyotes, and Bison. I am in love with this place and will definitely visit again.
---
5.00 Netherlands - 01-Aug-13 -
I planned to make a road trip in US for quite a while, after a lot of information gathering, my travel teammates decided to go to Rocky Mountains and one of our prime destination was Yellowstone National Park. After many breathtaking views along the way from Utah, like Logan Pass, Bear Lake and Grand Teton National Park, we finally reached Yellowstone almost twilight. The first place we decided to stop was the Duck Lake to enjoy the view of last sunlight on the lake surface, and then we continued to the historic Old Faithful Inn which we booked for three nights. The inn's seven stories lobby was an incredible sight with sophisticating design of countless wooden beams. The next day we saw the famous Old Faithful geyser. The geyser was definitely one of the highlight for me, sadly that my friends already went to Iceland and New Zealand and saw the more impressive one and found Old Faithful quite tamed, not surprised that the comparison with Iceland or New Zealand were always happened in this trip!
Then we saw many hot spring pools and numerous small geysers, many pools had beautiful colors made by bacteria so it was a brilliant day for photo; the granddaddy of all pools was the Grand Prismatic Pool, this large one had many beautiful colors almost like rainbow, and its bacteria cascades was very interesting to see. The next day we visited the northern part of the park, along the way we encounter a lot of bison, elks, and a fox also many birds. We drove until we entered into Montana to see the Roosevelt Arch which was the main entrance to Yellowstone. Mammoth Hot Spring was our today target as it was looked stunning in the poster; however, we discovered that most of the hot springs was already dried, its empty cascade pools were grayish and dusty, we questioned the poster we saw and found out that the poster we saw was taken in the early 80! Fortunately Mammoth still had a small area that the springs were still run, despite its small size; the cascade was stunning with its cream colors and hundreds of small blue pool. My friend said the name Mammoth was really suited to the place as the place already extinct.
Our last day we went to the Grand Canyon of Yellowstone, I was really surprised with the stunning landscape of the canyon especially at the Artist Point, the view of the Lower Fall and the colorful tones of red and yellow in the canyon was truly breathtaking and unbelievable site. We went to every viewpoint but nowhere made me wow like Artist Point. The last place we visited was the large Yellowstone Lake where we had late lunch before continued our trip to Idaho. The vastness of unspoiled landscape in Yellowstone was a great place to visit; the natural phenomenon was beyond imaginable and really showed the greatness of Mother Nature and American World Heritage Site. Actually in my opinion the whole stunning Rocky Mountains can easily be listed as World Heritage Site if only Americans want.
---
Simply magnificent!
Natural World Heritage Sites are not really my specialty; however when one is as impressive as this it really has an effect. This was WHS number 200 for me and I couldn't have picked a better place to celebrate the milestone. Not only is the park full of a vast array of natural wonders but its designation as arguably the world's first 'national park preserved for the good of the citizens and generations to come' is what has eventually led to this list of UNESCO's that I spend so much time on.
We visited over two, very cold, days in late October. The majority of the parks amenities had closed down, this did limit our eating options a little, but it did mean that there were fewer people in and around the park, and many times it felt like we had the place to ourselves. The only time when there were crowds was for the eruption of Old Faithful, but this was to be expected.
The night before our visit we were having dinner at our friend's home and they stated that the Grand Canyon of the Yellowstone was their distinct highlight of the park. I'm really glad they did, up until then it was something that I only had earmarked as a 'maybe' however we made it the basis of our first day in the park and I was exceptionally happy we did. The two waterfalls at its western end were magnificent and being so close to them you could really feel how the power of the water could have created such an impressive canyon. The fact that there was snow swirling around as we looked out from our perch just added to it. By the time we had made it around to Artist's Point the sun was beaming and really bought out the near sulphurous colours of the rocks. So thank you Tommay and Doris for such a great recommendation, I hope you enjoy the reviews and can excuse the spelling and grammar mistakes!
Our second day focused on the geothermal features of the park a little more. The distinct highlight for me was getting enveloped in the steam at the Grand Prismatic Spring, enjoying the brief warmth it gave on a bitingly cold day, and being astonished when there was a brief clearing of fog to see the wonderful array of colours in the water. Our trip to the West Thumb Geyser Basin gave us a great view of the Lake at the heart of the park, as well as letting us get up close to some deer and a massive stag that were attracted by the heat from the pools and seemed to revel in penning in us humans by blocking off the board-walks. The presence of so many animals made the whole park more enjoyable. Previous trips to natural WHS have been distinctly underwhelming in regards to animal sightings, but here without even trying we got great views of many different birds and animals, perhaps most memorable was rounding a corner to find a bison in the road that was probably bigger than our car.
After finishing up at West Thumb we headed south out of the park through the magnificent Grand Teton National Park, reminding us that Yellowstone is very much part of the Rocky Mountains.
As with Rome and Angkor 2 days of just seeing the highlights left me wanting so much more, that is why I have no problem stating that this is one of the finest World Heritage Sites I have visited.
[Site 10: Experience 8]
---
Laura Barber
Yellowstone is an amazing park! It is unlike anything else you have ever experienced. that first look at Old Faithful going up sends chills through you. The beauty of the park lies not only in its' geological uniqueness but but its' rolling plains where you can see bison, deer, wolves, bear....The geysers are beautiful both in their silence and their explosions. Looking into some of those blue pools is like looking into eyes. I happened to experience a sunset by the Old Faithful area. It was one of the most amazing experiences. the sky was a dark orange and the smoke of the geysers intertwined with it. There is so much to do in Yellowstone and a variety of choices on where you can stay. due to its' location; we combined it with a trip to the Tetons.
---
Keith Warren
My family has been to Yellowstone twice, camping on both occasions. In addition to the stunning beauty and remarkable geology, it is simply the best place to watch animals in the United States. None of us will ever forget the morning we woke up with a very large bull bison in the campsite next to ours!
---
James Kovacs
Yellowstone Park is a true treasure. It is my favorite
national park in the USA. The combination of seeing
big game animals and geothermic activity makes for an
extremely memorable experience. The only downside
to Yellowstone is people. It gets hordes of tourists.
---
My visit coincided with the devastating forest fires of 1994, but not to worry, this is all part of the cycle. The park is so big that there was plenty of unravaged alpine beauty around. The geothermic activity provided an interesting albeit smelly change in scenery. Plus, wildlife is ever-present, especially the very large, very free-roaming buffalo.
---
George S. Eisele
I have not visited Yellowstone for the past 39 years, but the memories are vivid! No one can write an adequate review of a place like this. It makes you feel as if you're on another planet, with its bubbling hot springs and geysers, spectacular waterfalls, huge lake, rugged mountains, and array of wildlife. Moose, elk, and buffalo are fairly easy to find, and forty years ago, brown bears, or shall I say ignorant or simply stupid tourists, were a problem along the roads! You can hear coyotes in the distance in the summer evenings. This is also a bird lovers' paradise. 39 years of time gone by make it impossible for me to review accomodations, but nature promises to more than accomodate all of your thirst for all that is rugged, raw, and wild. I know I shall not have the privilege of visiting WH sites on other continents, so I know I'll miss a lot, but if you live in North America, and do not take advantage of any opportunity to visit Yellowstone before you leave the earth, you are truly a tragic person!!! :-)
---
Suranga Hettiarachchi
I visited Yellowstone National Park in Summer 2001, It is one of the most remarkable natural wonders I have ever seen. The surraounding cliffs of upper Yellowstone Water Fall is actually
Yellow, and emerald color bubbling hot water pools were scary but gushing Old Faithfull is really astonishing.The freely wondering Buffalo and other park animals and evergreen trees brings the nature so close to our hearts. Yellowstone is simply great. Glad I went there.
---
Site Info
Full Name

Yellowstone National Park

Unesco ID

Country

Inscribed

Type

Natural

Criteria

7

8

9

10

Categories

Link
Site History
2006

Name change

From "Yellowstone" to "Yellowstone National Park"
2003

Removed from Danger list
1995

In Danger

proposed mining activity adjacent to the park boundary
Site Links
Unesco Website
Official Website
Related
In the News
Visitors
413 Community Members have visited.