Medina of Fez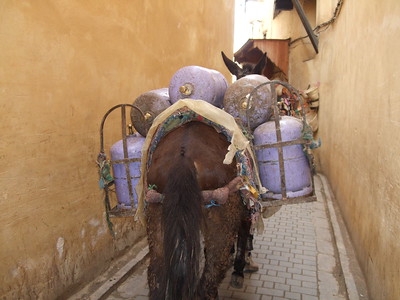 The Medina of Fez is a walled city with madrasas, fondouks, mosques and palaces dating from Marinid rule in the 13th-14th centuries. At that period, Fez replaced Marrakesh as the capital of the kingdom.
The most important monuments in the medina are:
- Bou Inania Madrasa (1351-1356)
- Al-Attarine Madrasa (1323-1325)
- University of Al-Karaouine (859)
- Zaouia Moulay Idriss II (shrine)
- Dar al-Magana, a clockhouse which holds a weight powered water clock (1357)
Map of Medina of Fez
Legend
Visit December 2009
The medina of Fez is notoriously difficult to navigate. I got stranded in a residential area at my first approach, but then developed a trick: I shadowed a small group of French with an official guide. When they stopped to hear him talk, I suddenly became very busy taking photos on the spot so that I didn't have to overtake them. They finally led me to the Bab Boujloud gate, from where I dared to go on alone (guided by the coloured signs of the designated walking routes).
It is tempting to compare this medina to the one in Marrakech. The differences are clear though: the walls of Fez are yellow instead of pinkish, the streets are even narrower in Fez and there are less tourists. On the other side: Fez lacks the single great monuments that Marrakech has, though the Bou Inania Madrasa is well worth the few dirhams entrance fee. Its splendour is hidden behind a wooden door in the middle of the souks.
My route crossed the medina from west to northeast. That way, I ended up at the leather souk with its famous tanneries. The bowls of dye, with workers up to their knees into it, are the trademark of the Fez medina. To watch them, one has to go inside one of the leathershops that have terraces. I followed another group of French inside, and could get in and leave without being hassled into buying something.
The tanneries are the most vivid example of all the crafts that once were common in this medina. They reminded me of my visit earlier this month to the dhobi ghats in Mumbai, where the laundry of thousands is done by men slaving away in water and soap. Both are relics of times that otherwise seem to have long gone.
Community Reviews
---
---
---
---
---
---
---
---
Community Rating
Community Rating 3.88. Based on 13 votes.
Site Info
Full name: Medina of Fez
Unesco ID: 170
Inscribed: 1981
Type: Cultural
Criteria: 2 5
Site Links
Unesco Website
Official Website
In the News
Connections
The site has 21 connections. Show all
Visitors
215 community members have visited Medina of Fez. Show all