Medina of Fez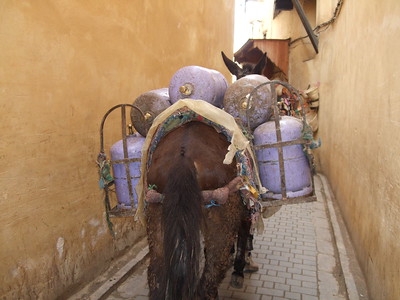 The Medina of Fez is a walled city with madrasas, fondouks, mosques and palaces dating from the 12th-15th centuries.
At that period, Fez replaced Marrakesh as the capital of the kingdom. Its architecture and town planning have been influential on other Arab-Muslim cities in the Maghreb and Sub-Sahara. Its unpaved urban street network has largely preserved its original functions.
Community Perspective: Its "working" atmosphere (don't miss the tanneries) makes it stand out among other, more sanitized medinas. There are coloured navigation routes to make sense of its confusing layout. The numerous mosques and shrines are only accessible to Muslims.
Community Reviews
---
I visited this WHS in April 2018. Although I left this medina as Morocco's last WHS to visit, it really didn't disappoint. It is truly a top WHS on par with Marrakech even though quite different. I felt Fes is more of an all-rounder, in the sense that it has a number of superb buildings and monuments but what is truly of OUV is that it still is very much alive as a medina.
Fes is the world's largest car-free urban space and it's a maze of alleys, dead ends, archways, medersas, mosques and palaces. It is also believed to have one the oldest universities in the world, the University of Al-Karaouine. The only down side (but in a way it could perhaps be a positive thing is it helps to avoid turning the places into a mere museum) is that most religious places are only accessible to Muslims.
This doesn't mean that you'll be missing out on all of Fes' highlights and you can still have a peek through the doorways of the restricted buildings. Out of the several medersas, three really stand out for the outstanding architecture and art, namely the Al Attarine Medersa, the Sahrij Medersa and the Al Bouanania Medersa (photo). Apparently, the Sahrij Medersa will no longer be open to non-Muslim visitors as it will be used to teach Islamic calligraphy as of May this year. The Al Attarine and the Al Bouanania Medresas are truly works of art even though I would choose the latter if I were forced to choose only one as it is right in the heart of the medina and stands opposite the interesting Dar Al Magana with its weight-powered water clock.
Even though the numerous mosques and shrines are only accessible to Muslims, you can still look at what some have to offer in terms of their Islamic architecture and art. Top of the list are definitely the Kairaouine Mosque and the Zaouia Moulay Idriss II shrine. Practically from any terrace or roof-top, you can spot the main mosque's minaret. Other minarets (and different neighborhoods) worth visiting are those of Al Anouar, Des Andalous, El Rcif, Boujloud and Semmarine.
Out of these minarets and mosques, the first two are worth visiting as they are situated in a very interesting neighborhood, quite away from the hustle and bustle, and have splendid zellij works. On the other hand, the latter three, are very photogenic and are close to three important gates with the same names. My riad was situated very close to Bab Boujloud (the most famous of the gates) and I used the central alley/street behind the gate as an axis to cover as much of Fes as possible (on foot) in 3 days.
Even though Fes is really a HUGE maze, part of the fun is exploring the different alleys and experiencing the crazy everyday life of Fes locals (even though I would avoid getting lost at night time; but during the daytime it's really an experience in itself!). I loved having mint tea at different cafes with terraces and every time I was impressed with the lovely panoramic view over Fes especially early in the morning.
Other minor places to visit but which can turn out to be very worthwhile are the market and gate of Kasbah Nour, the Nejjarine fountain and square, as well as the crumbling remains of the Merinides tombs (especially at sunset), offering an incredible bird's eye view over Fes's urban sprawl. From here, you will most definitely see several locals with their donkeys, bringing the dyed hides and skins from the tanneries and leaving them dry in the sun.
Last but not least, Fes is also famous for its tanneries. Over the internet, I read a lot about touts trying to 'escort' you to one of the leather shop terraces. I cannot deny this, but travelling solo and with an open mind will surely help you enjoy a view of the tanneries without too much hassles and with just a small tip to the leather shop. Just be adamant about what you want BEFORE going in any leather shop and try timing your visit after one of the larger groups so that you can spend more time at the terrace (if the smell is not too much for you to stomach). I can recommend a visit to Terrasse Sidi Moussa around noon or 1pm for optimum light conditions for photography and the best panoramic view over the Chaouwara Tanneries.
---
Wow, what can I say about Fez? This has got to be one of the most vibrant and hectic World Heritage Sites there is. It is crazy, it is smelly, it is noisy, it is confusing. And I loved it!
There are some particular historic sites which are worth seeing but, really, you can just wander around for days and soak up the atmosphere. It's really easy to get lost and so I would recommend working out a few landmarks that you know you can navigate back to your accommodation from - that way, if you get lost, you can at least ask someone to point you towards one of those sites.
It's hard to put into words how much I enjoyed just seeing life here in Fez.
Read more from Michael Turtle here.
---
P. K, Beach
I was in Fez in 1976 with a tour that started
in Malaga, and the guide spoke 7 languages for those representing at least that many countries. Fez, to me was a most memorial place. I was 37 at that time and loved every second of being there. I would never have gone without a guide or my mothers push (we did about 5 countries) my first time abroad. As we stood outside the old city, and were being given explanations and safety cautions (keep your eyes on the person in front of you, last week I found a lady that had got left there last year), etc. We were followed by little children who kept us with the group. We watched children in the streets making thread, unbaked bread carried to the ovens by very small girls, and the baked bread being carried back by equally small boys. The leather places were difficult from a smell standpoint, though we had all been furnished with sprigs of mint. I was astounded at the various lessons from the medina. The various trades going on were amazing, and some exquisite items were there for purchase so very cheap. Mother bought some of the hand made long dresses with ornate design and kept and used them for years. We were in the narrow walls for over 4 hours, and did not eat but some hand food from there of breads. I was fascinated. My biggest fear there might have been getting lost and left there. I would go again with more knowledge and perhaps buy a guide so I could spend more time at various places watching the arts in process and still not get lost. The most amazing thing to me happened before we got to the walls and while still outside by our bus. A man with three camels was riding by and stopped to offer to buy me for two camels. As he was speaking with our guide, in many word exchanges animated, the guide started looking at where he was pointing.. to me, and the guide spoke English to the group, and my mother telling her of the offer, and went on with the other six languages. Since this was my first trip abroad, I was mortified, and my well traveled mother said to thank him, but she (I) was not available. The entire group met this exchange from laughter to shock at how he would of made this offer. Initially, I thought it may have been a set up. That night at dinner, out of the medina, she said if he had offered all three camels she might have considered the offer moreseriously. :):)
Throughout my mothers life, she, several times
had said she should of taken his offer.
I would go back again, as it may have been one of my most unusual experiences of my life in having since been on all 7 continents. I was dressed in kaki pants and long sleeves and there
was less notice of me in the medina than in Spain except by the lone camel driver. Of interest too was upon arriving from the ferry, we were taken to an above the store place in which we exchanged money at a high rate. The parking lot was surrounded by Mercedes.
---
Shambo
Mine is a very specific review of my experience with Fez Medina. This is because I an asthmatic and suffer greatly from cat allergies. The confined lanes of the Medina along with pollution from people, animals of all sorts gave me a severe asthma attack. If you suffer from the same affliction, you will be better off staying outside the old city and exploring the maze of streets on your own. I made the mistake of staying in a Ryad (a wonderfully refurbished hotel) for two night. It is incredibly claustrophobic and can create health problems for you.
---
Perhaps the finest place in the world to get a feel for medieval life, Fez is a rather special place to experience; however our particular visit was marred by behaviour that was more in line with in the Middle Ages.
The medina is still a dirty, smelly twisting maze of alleys too narrow for motorised traffic, I don't mean this as a criticism, it is the kind of "authentic" atmosphere that people seek out and this experience is perhaps Fez's best quality. Whilst Fez does have some impressive buildings, it is the seemingly endless confusion of lanes filled with various shops, workshops, mosques and houses that leaves the biggest impression.
As with all the medinas I have visited it was exceptionally fun bartering for goods in the souqs or ducking down a gloomy side street to find a courtyard specialising in some hitherto unknown treat. Fondouk Kaat Smen was my favourite, past the stalls specialising in rancid butter was a wonderful little place where we tried a huge array of honeys, each with a distinct flavour imparted by the nectar on which the bees had feasted. Like most visitors, the vast tanneries left a strong impression with the sight of goods being made next to where they are sold being one of the greatest joys. Also, the stench was nowhere near as bad as I feared, but perhaps that was the bonus of being there early in the morning.
There are coloured signs set up around the medina which show four main routes through the medina, so whilst the layout does initially seem exceedingly complex, once you get your bearings on the coloured routes navigation actually becomes simpler (though of course we did still get lost quite a few times). There are a fair few sites worth hunting out: the shady Henna Souq was a nice place to shop away from escape the main thoroughfares, whilst the medrassas (Bou Inania and El Attarin) were gloriously decorated.
We decided to stay in a riad in the Medina and the exceptionally well restored surroundings in the heart of the medina were a delight. But, staying in the Medina contributed to the downside of our stay. We stayed in Fez during Ramadan and were looking forward to venturing out in the evening to enjoy some food with the locals as they celebrated breaking their fast, alas it wasn't to be. On our first foray out at dusk we only made it about 300 meters from the riad, during which time my wife was made to feel rather unwelcome by the constant stares of the local men. Things got worse when a local youth ran past and punched her. Feeling entirely unwelcome we headed back to our riad; fortunately a kid outside was there to fully round out the dreadful experience by grabbing at her. All in all we were left with an exceptionally unpleasant experience of the vile attitudes shown by some locals to foreign women. It also meant that we became isolated from interaction with locals after sunset. There were other incidents during our stay but nothing as bad as this and, needless to say, when I ventured out for supplies on another night I experienced no problems.
So our experience of Fez was rather mixed to say the least. It was very enjoyable to experience a living city functioning along the same lines as it has done for a thousand years, however the contemptible conduct of some inhabitants put up a barrier to interaction and left me with the worst experience I have had in the last decade of travelling, and I wasn't even the one receiving the brunt of their behaviour. I'm sure others will not experience this kind of "welcome" and elsewhere in Morocco and North Africa I have never encountered it. However, the immediate unease that we felt led us to believe that it wasn't just a freak occurrence in this thoroughly medieval city.
[Site 7: Experience 2 (it felt like a 0 on our first night though)]
---
4.00 The Netherlands - 15-Dec-09 -
The medina of Fez is notoriously difficult to navigate. I got stranded in a residential area at my first approach, but then developed a trick: I shadowed a small group of French with an official guide. When they stopped to hear him talk, I suddenly became very busy taking photos on the spot so that I didn't have to overtake them. They finally led me to the Bab Boujloud gate, from where I dared to go on alone (guided by the coloured signs of the designated walking routes).
It is tempting to compare this medina to the one in Marrakech. The differences are clear though: the walls of Fez are yellow instead of pinkish, the streets are even narrower in Fez and there are fewer tourists. On the other side: Fez lacks the individual great monuments that Marrakech has, though the Bou Inania Madrasa is well worth the few dirhams entrance fee. Its splendour is hidden behind a wooden door in the middle of the souks.
My route crossed the medina from west to northeast. That way, I ended up at the leather souk with its famous tanneries. The bowls of dye, with workers up to their knees in them, are the trademark of the Fez medina. To watch them, one has to go inside one of the leather shops that have terraces. I followed another group of French inside and could get in and leave without being hassled into buying something.
The tanneries are the most vivid example of all the crafts that once were common in this medina. They reminded me of my visit earlier this month to the dhobi ghats in Mumbai, where the laundry of thousands is done by men slaving away in water and soap. Both are relics of times that otherwise seem to have long gone.
---
Fez retains much of it's medieval way of life. I first visited Fez in 1985 and again in 2007. Fez 1985 was somewhat intimidating as the souk was a huge labyrinth and uncharted. Fez 2007 is much more user friendly as there are discreet colour coded directions so that visitors can have a chance of finding what they were looking for! The Medina remains fascinating and Moroccans seem to take great pride in maintaining their traditions down to every detail.
Of the monuments , in old Fez , not to be missed would be the great medieval universities which anyone can enter. The fortunate if you can find it , 'Sarija' madrassa , named after it's mystical reflecting pool , was a gem. The Moroccan people and cuisine contributes greatly to it's charm.
---
It is with a degree of shock that I calculate it to be 40 years since I visited Fez. Even now I can remember the "magic" of the labyrinthine Medina of Fes-el-Bali (the old walled city) – by then I already had souks etc in Istanbul, Damascus and Jerusalem "under my belt" but Fez did not pale by comparison so it wasn't just the "shock of the new". No doubt it will have become a great deal more touristy and "homogenised" since those days but movies and photos I see indicate that the Souk is as much of a motorised traffic-free "maze" as ever and has retained its wonderful "working" atmosphere. A particular joy were the specialised areas for e.g. Dyeing (see photo), Pottery, Tanning, Metalwork, Carpet and Tile making etc etc. Back in 1965 toursim did not really seem be the raison d'etre for their existance. They were noisy, smelly and, yes even dirty, places making things primarily for locals. I wonder if the area given over to turning old car tyres into sandals etc still operates, or perhaps such transformations only have economic justification in the markets of sub-Saharan Africa now (It was a trade still practiced in Omdurman when I was there earlier this year - 2006)! Morocco may not have achieved European levels of GDP but thankfully has made good strides economically so perhaps some of the recycling trades have been despatched to history and no doubt the shops have their full share of imported Chinese articles! Hopefully, however, the quality of workmanship on locally-produced goods hasn't been sacrificed.
Morocco, so tolerant and "unextreme" in many respects, still (as far as I know) operates a policy of non-entry to its mosques by non-muslims (An interesting cultural comparison with e.g. Syria). As a result some of the main buildings are likely to be closed to many visitors to this Web site. There are, however, some madrasas which can be visited. But Fez is not really a "city of monuments" – rather a single "monumental city" whose atmosphere is generated by countless examples of vernacular architecture and and a multitude of human activities. It size really is amazing - this is no preserved corner of a modern city. Fez does have a modern quarter but the old Medina is of "full size" in its own right.
In the, too many, years which have passed since I visited Fez I have been lucky enough to visit most of other "medieval" cities of Africa and Asia. Fez has not been surpassed in my memory. However, the old saying "Never go back" makes me reluctant to visit again. Last year I revisited Istanbul's covered market area and was gravely disappointed by the tourist-based commercialisation. I don't criticise these developments but I don't want my memory of Fez to be similarly downgraded! However, anyone who hasn't already been should definitely go – the atmosphere may (or may not?) have changed but the fabric remains largely in place (though I read of some concerns in that respect for the future) of what is one of the world's great destinations.
(PS. I have recently been criticised in several places on this site for not recognising the supposed worth of WHS which I have reviewed and of unfairly "criticising" them or damning them with "faint praise". I do not apologise and would reply that reviews should not be uncritical panegyrics and that merely having had a "good time" at a place is not (or should not be) recommendation enough. Most of us are "time poor" when travelling and the decison to visit any WHS carries an "opportunity cost" of not visiting somewhere else perhaps more significant. The "bar" for inscription is supposed to be set at a very high "world class" of its type/subject based on objective criteria - yet many sites struggle to justify this cachet in comparison with other places which those seeking truly world class sites might be better advised to spend their time and money on visiting. In fairness to people deciding whther to visit a site a "review" should identify the potential weaknesses in its justification. However, my opinion is that Fez, whatever changes its atmosphere has undergone in those years since I visited it, fully justifies its place on the list. Its size and "completeness" together with its continuation as a "living city" does not overstretch the word "unique". Indeed I am amazed that this should be its first review on this site.)
---
Site Info
Full Name

Medina of Fez

Unesco ID

Country

Inscribed

Type

Cultural

Criteria

2

5

Categories

Link
Site Links
Unesco Website
Official Website
In the News
Visitors
394 Community Members have visited.