Lake Titicaca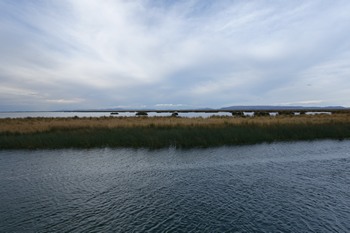 Lake Titicaca is part of the Tentative list of Peru in order to qualify for inclusion in the World Heritage List.
Lake Titicaca is the largest freshwater lake in South America and, at 3810 m, the highest in altitude among the important lakes. The lake constitutes an important cultural landscape from which several pre-Hispanic civilizations emerged, including the Incas. The most important manifestations of this cultural landscape and of the interaction between its peoples and their environment include major agricultural terraces and the floating islands built from reeds.
Map of Lake Titicaca
Load map
The coordinates shown for all tentative sites were produced as a community effort. They are not official and may change on inscription.
Community Reviews
---
I visited Lake Titicaca in April 2016, crossing from the Bolivian side into Peru one afternoon, then visiting the Uros Floating Islands the next morning before leaving. While the experience was admittedly brief, I can say that I was able to experience, and therefore compare, both sides of the lake (wrote a review on Bolivian side a while back, kinda cringe but y'all can check it to see my complete opinion anyway). While I agree that the Bolivian side, with the Islas del Sol y de la Luna, packed more of the authentic cultural-heritage-site punch, along with an overall more pristine environment, I can't really see the two sides as separate. Naturally, they form a single lake, one of the most pristine for its size, simply separated by arbitrary political boundaries. Furthermore, the short experience I enjoyed at Uros did make me realize on a deeper level how interconnected the people of the lake are with the lake and the natural blessings that abound in it, such as the tortora reeds that thrive in the shallow areas near Puno (among other areas of the lake, but these were the ones highlighted in my trip: you can see the boat paths in their midst in the attached picture); these reeds aren't just used to create the famous floating islands at Uros, but they are also the building blocks for the people's houses and boats, as well as a healthy hydrating staple food. While the islands are now very touristy, we can't deny that they have a super unique, rich, and living culture that needs to be protected. And while they can't necessarily be considered immovable or even fully tangible heritage, the way the culture is shaped so distinctively by the environment and vice versa makes for an amazingly rich cultural landscape. Thus, I fully support the further preservation and recognition of the lake as a whole, a site of outstanding cultural and natural heritage.
---
California - United States of America - 22-Jan-10 -
A huge and pristine lake, with unique islands which have their own vibrant culture. Lake Titicaca fits the criteria of a world class WHS. Seemingly, this tremendous lake would be inscribed under cultural criteria as a "cultural landscape" or mixed. Though the later might be difficult. It is somewhat baffling this site hasn't yet reached the world heritage committee.
I found the landscape to be stunning, whether from islands or boat. This will almost undoubtably be inscribed one day. I expect a joint nomination by Bolivia and Peru that includes both natural and cultural elements.
Read more from Kyle Magnuson here.
---
I can't imagine Lake Titicaca not being inscribed one day though it will be interesting to see which parts make the cut. So many culturally and historically significant areas are being altered and modernized by mass tourism that I worry it might be lowering their chances of actually getting it done.
While I generally agree that the tourist parts of the lake on the Bolivian side (Copacabana, Isla del Sol) are nicer than the touristy parts on the Peru side (Puno, Uros, etc) we were glad that after a brief debate over skipping it entirely we decided to give Peru's side ac hance. Puno is unpleasant and so many areas smelled like urine it was very offputting. Don't bother staying long and don't bother with the tours. By far the nicest area we found on the lake was in the Capachica peninsula at the village of Llachon. The is beginner's DIY. There are minibuses that go direct to Llachon from Puno (saving you from the longer boat trip that is also possible) and a handful of affordable family run guesthouses that provide food too. If you want an authentic village experience, freedom to wander and explore the hills with some excellent views this is the place. We saw a few other visitors but for the most part this is still somehow "undiscovered" by the backpacker and package tourist crowds. The only thing it was missing were the significant ruins you'd find around other parts of the lake.
---
Lake Titicaca is the highest navigable body of water at 3800m. For the natives in pre-Columbian times this was where the gods created the world. Several islands and pre-Columbian sites can be found in and around the lake. The islands have kept some of the original lifestyle and most of the islands are terraced.
I visited on a day trip from Puno. This is part of the standard tourist itinerary in Peru and the boat's passengers came from all over the world. The boat ride was relatively long and the views I got weren't that great. I like trees and there aren't many covering the shores.
OUV
At least for the Peruvian side it's a bit hard to pinpoint. The floating islands (Islas de las Uros) seem more like a intangible heritage as they need to be rebuild every 30 years. Isla Taquile is too touristy and too modern with very few original sites remaining. It would probably be nice to stay over night and have some time to explore more islands and to venture a bit off the tourist paths. Personally, I preferred the Bolivian side and would recommend a visit here.
Getting There
Puno is the main spot on the Peruvian shores of Lake Titicaca. It is well connected by bus to Arequipa, Cusco and La Paz. When travelling between La Paz and Puno you can combine this with a visit to Copacabana and Sun Island. Alternatively, some tourist agencies offer a stop in Tiwanaku. I opted for Bolivian Hop as they do not include a tour guide (appreciated) and focus on the transfer. When transferring to Cusco consider using a tourist bus so you get see some of the sites in between.
From Puno daily boat tours leave to Uros, Taquile and Amantani. To visit Amantani you have to stay overnight. There are also regular ferries, but it's hard to figure out their schedule. Booking and paying an organized tour in the hostal was way easier. For Uros note that it's nowadays more of tourist entertainment complex than a self sufficient island nation. You will get a presentation from the island settlers and be offered goods to buy. I wasn't really into that. In a way it's a bit tragic, that tourism is needed to enable this lifestyle, but that it's also destroying the traditional ways. The most obvious sign is the overweight of most settlers on the islands.
While You Are There
Puno also boasts three Qhapaq Nan locations. I didn't have to time to go there. Presumably it would be safer to go by cab as these locations are in the suburbs.
Notes
The toilet situation is fairly difficult. Bring hand sanitizer and tissues.
Do not stay in Juliaca for whatever reason. It's a terrible place and considered dangerous as soon as you leave the cab and the cab is not parked directly at the airport entrance. The underlying cause are massive smuggling operations in drugs, gasoline and further products centered in the city.
---
Site Info
Full Name

Lake Titicaca

Country

Added

Type

Mixed

Categories

Link
Site History
2005

Added to Tentative List
2003

Revision

Includes former TWHS Village of Copacabana (1987)
Visitors
77 Community Members have visited.