Amiens Cathedral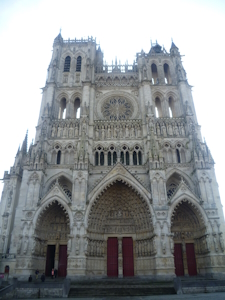 Amiens Cathedral has played an important role in the development of gothic architecture. It dates from the 13th century.
Work was started in 1220, under Bishop Evrard de Fouilloy. The architects involved were Robert de Luzarches (until 1228), Thomas de Cormont (until 1258), and his son Renaud de Cormont (until 1288).
Map of Amiens Cathedral
Legend
Visit May 2006
Amiens was an important town in the Middle Ages, but nowadays is rather inconspicuous. It has a lot of modern buildings (and a second WHS, the Belfry). The 13th century Cathedral is located in a built up area, among shopping streets. It's in good condition. The facade is its most striking point: with many fine sculptural details, especially above the doors.
The inside of the church is like a religious art museum. There's for example a fascinating sculpture of a weeping angel (which became a popular postcard for soldiers in WWI). Also remarkable is the alleged head of John the Baptist. This relic was brought from Constantinople by Wallon de Sarton as he was returning from the Fourth Crusade.
After visiting this site, I wondered how many Gothic cathedrals the List can handle. And which one is the oldest / purest / biggest / most beautiful? In his Comparative Study Of Gothic Churches, carried out for ICOMOS in 1988, the distinguished Swiss expert Professor Peter Kurmann identified no less than 15 churches elegible for a priority list (and that doesn't include the ones inscribed pre-1988, like Amiens and Chartres). So there's still more of those to come.
From his report, we also learn that the cathedrals of Seville, Milan and Cologne are the largest Gothic cathedrals in the world. I would say that Amiens' unique selling point lies in its sculptures.
Community Reviews
---
---
---
---
---
---
---
---
---
---
---
---
---
Community Rating
Community Rating 3.65. Based on 26 votes.
Site Info
Full name: Amiens Cathedral
Unesco ID: 162
Inscribed: 1981
Type: Cultural
Criteria: 1 2
Site Links
Unesco Website
Official Website
Related
Connections
The site has 17 connections. Show all
Visitors
210 community members have visited Amiens Cathedral. Show all