Stralsund and Wismar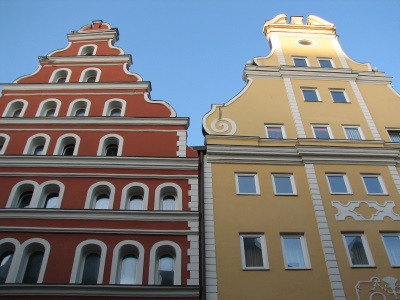 Stralsund and Wismar are two historic coastal cities in north-eastern Germany, that owe WHS status because of their role in the Hanseatic League (13th to 15th centuries) and their Swedish heritage (17th and 18th centuries).
Both towns are rich in gothic religious architecture, sharing six major 'Gothic Brick' churches between them. They also feature unaltered medieval ground plans, and city centres that survived World War II almost unscathed.
This site is considered so closely related and complementary to the Hanseatic City of Lübeck WHS, that ICOMOS recommended turning them into a serial nomination.
Community Reviews
---
There are good reasons why these two Hanseatic towns were inscribed together as one World Heritage Site. They have a lot in common: a similar medieval layout, churches in Brick Gothic architecture as their main landmarks, well-preserved gabled houses dating from the time of the Hanseatic League and traces from the period of Swedish rule.
In 2002, when Stralsund and Wismar were inscribed, the Hanseatic League was already well represented on the WH list. And even Germany had a similar WHS with Lübeck, inscribed as early as 1987. So, nothing outstanding about Stralsund and Wismar? Indeed, if you have already visited other Hanseatic towns, Riga for example, you may feel that this WHS has nothing to offer that you have not seen elsewhere, and probably even better. Lübeck has the Holstentor, but neither Stralsund nor Wismar have such a distinctive and unique building. On a positive note: the medieval townscape has largely been preserved in both cities, there are hardly any ugly modern additions. Again, Lübeck as a counterexample.
The old town of Stralsund is located on an island. From the tower of St. Mary's Church, you have a beautiful view of the historic town center, the sea and the island of Rügen.The best moment in Stralsund was a coffee in the sun on the Old Market Square with a view to the façade of the Town Hall and the towers of the St. Nikolas' Church, and the gabled houses in my back.
In Wismar there is also a St. Mary's Church with a viewing platform (actually only the tower has been preserved). You don't have to climb stairs, there is an elevator, more comfortable than in Stralsund, but the view is less impressive and I would not recommend it. In Wismar, I liked best the area around the St. Nikolas' Church (even the churches have the same name) and the Old Harbor (photo) with the Wassertor, the gate from the harbour to the town centre and the only preserved city gate in Wismar.
Cineastes will certainly remember the Wassertor as the location of a scene from the silent film Nosferatu: A Symphony of Horror by F.W. Murnau from 1922. It is perhaps the most impressive scene from the Wismar setting: The vampire Count Orlok walks through the Wassertor with his coffin, in which he sleeps during the day.
I visited Stralsund and Wismar in August 2020 and spent half a day and a night in each of the two cities, which is enough time for a proper visit of this WHS. The history of the two cities ran parallel, from the period of the Hanseatic League to the recent times of the GDR and German reunification. Therefore, they share a lot of similarities, like twins, although they are about 150 kilometers apart from each other (Lübeck is much closer to Wismar).
I really enjoyed strolling through the old streets, exploring the architecture, the cafés and shops. It can be very relaxing to visit a city without paying attention to opening times or queuing for tickets.
---
Stralsund is a town of the brick gothic, the style that I like. Well, it is quite common in Northern Europe, and I could see it already in Riga, Roskilde, Brandenburg, Stendal, Tangermunde, Brugges, even in Bavarian Landshut, etc… but the examples I found in Stralsund belong to the finest ones of the style, and Stralsund reminds me the old town of Riga.
Stralsund is perfectly preserved, so, there are 3 large brick churches (Our Lady – open for free, St Nicolas – deconsecrated museum that I refused to visit, and St Jacob – closed for renovations in time of my visit), one very representative brick Municipal Hall (a beautiful text-book structure), the brick hospital church, and numerous brick town houses, which I enjoyed maybe the most. However, my highlight was Our Lady church built in the radical gothic style that can be seen on windows on the eastern side that are virtually cut in the middle by corners, which is modern or almost timeless rather than gothic feature.
I spent a couple of days in Stralsund during my trip to Rugen Island some 5 years ago. I went by direct train from Prague, and I was not disappointed. Besides Rugen, I also went to the small island of Hiddensee by ferry, highly recommended if you are there. PHOTO – the view from the ferry towards Stralsund (St Nicola in the middle, Municipal Hall on the right, and on the left there are towers of St. Jacob and Our Lady – the higher one).
As I was satisfied by what I have seen in Stralsund, I have no urge to travel to Wismar, since I do not expect anything radically different - the brick gothic must be consumed with care to avoid an overdose...
---
4.00 Deutschland / Germany - 17-May-19 -
Wismar is one of few preserved large-scale World Heritages cities in Germany. The city is easily accessible from Berlin and Hamburg and well equipped with tourist facilities of all price categories. Spending two nights and one day there was a good decision, as I like to visit also the interior of churches and museums, and to climb church towers, which requires some fitness. Wismar can be compared with Riga and Tallinn, but it would be unfair to choose only one of them and to skip the other ones.
---
Hundreds of years after the Hanseatic League lost its influence, both Stralsund and Wismar became major administrative and defence centres when they were ruled by the Swedish kingdom in the 17th and 18th centuries. The need for protection means both city centres stayed relatively small and concentrated. That's great for visitors because it's easy to walk between the main sights and explore most significant buildings within a day.
Even if there wasn't the history and the medieval architecture, Stralsund and Wismar are interesting cities to visit. The influences of the Baltic coast means there's a recreational feel lots of great seafood and bars on offer. I buy a pickled herring sandwich from a man in Wismar who is serving them right off a boat in the harbour.
You can see the main sights of either in less than a day but an overnight stay is a great way to experience a bit more and enjoy the calmer evenings when the tourist buses leave and the sunset drinks start getting poured.
Read more from Michael Turtle here.
---
In Stralsund, I got a strong impression when I walked along the city wall of Knieperwall how big is Stralsund. There are also two beautiful gates; Kutertor and Kniepertor. The most beautiful building of Stralsund is Rathaus because of an architectural language. That identified as the Gothic of the region of Sund. This city has a lots of Swedish influence especially colors and style at houses. Building restoration is still under process in the historic center of Stralsund. The lookout from the tower of St Marien church is so beautiful ! Wismar is much smaller than Stralsund. The Bridge House, canal Grube, Furstenhof, St Mary's Church, Alter Schwede and Wasserkunst are my favorite attractions of Wismar. St Mary's Church is a landmark of Wismar because of the 80 metre high tower. The Furstenhof is the earliest important Renaissance structure in Mecklenburg. Stralsund and Wismar have both own World Heritage Information Center. The entrance to these center is free!
---
I visited this WHS in October 2014. Unfortunately I only had time to visit Wismar as I wanted to visit nearby Schwerin and also go birdwatching since hundreds of grey cranes were arriving after migration. I spent a whole day wandering around the narrow streets of Wismar, admiring the gable houses next to the red brick houses. The market square and the Wasserkunst is worth visiting as is the Bridge House and the harbour area. The main highlights of Wismar are the 3 gothic red brick churches: St Nicholas Church (worth visiting inside to view the beautiful genealogical tree fresco and the intricate triptych dating from 1430), St George's Church and St. Mary's Church (only the tower is left). Having viewed 3 out of the 6 churches I think I can safely say that I could grasp the OUV of this WHS. If ever I will have the chance to visit Stralsund, further north in Mecklenburg Vorpommern, I'll happily visit. Otherwise, I'll treasure the wonderful day I spent in Wismar.
---
Well I will give those Baltic Red-Brick Gothic architects' one thing: they can certainly build a massive church. That was the main thing that struck me after my visit to Wismar on New Year's Eve 2012/13.
My exploration took me through the affluent looking shopping streets from the heaving bulk of one massive church onto the next, and wandering through the giant remnants of St Marien Kirche. It was rather impressive. I can't say I was particularly taken by the main square, much like Frederik my main impression was one of a giant car park surrounded by a few nice buildings. On my way towards the old Harbour I stopped into the Heiligengeistkirche as residents were arriving for Mass. I was really impressed by the painted ceiling and also thankful of somewhere to warm up.
As it was New Years eve I spent a lot of my time jumping at the sound of fireworks exploding next to me, but also covered an inordinate amount of miles trying to find an open restaurant or bar, they were all reserved for private parties later in the night, but after 20 or so establishments, I managed to have a pizza down by the waterfront (In case you are wondering I'm not exaggerating, even the Irish Pub was closed!), however the harbour side was a rather charming place to while away some time before heading off to my train.
Wismar was a late addition to my itinerary, it was there in part because of a rather sadistic decision to not get any accommodation and just stay awake until my plane left Hamburg the next morning. In the end it turned out to be a good idea, I got to see a new WHS, tick off another German Länder and also see in the New Year in some style in Hamburg. Wismar was a great reminder of why I find Baltic city's so charming, combining the affluent shops of Malmo, the giant brick churches of Lübeck and the early industrial waterside of Gdansk, and I will happily head off to Stralsund in the future to see the other part of this WHS
[Site 4: Experience 5]
---
After visiting Wismar and Stralsund as well as Lubeck this year, I am pleased that Lubeck is a separate WHS. Probably as a result of having been hidden in East Germany for several decades these two towns have retained their integrity as heritage towns. Very little modern construction is apparent, in fact some WWII bomb damage is yet to be restored, eg the Marienkirche in Wismar).
Saw both towns in a day, travelling by train between.
---
2.50 The Netherlands - 28-Dec-07 -
Both Stralsund and Wismar can be visited on a day trip from any of northern Germany's big cities. I choose the more remote Stralsund, located about 200 km east of Lübeck. It's an easy Autobahn ride deep into Mecklenburg-Vorpommern and close to the German-Polish border where controls were lifted earlier this week. How the world changes. Stralsund itself used to be hidden behind the Iron Curtain too.
Anno 2007 it turns out to be a pretty and well-looked-after little town. Parking and navigation is easy in the almost deserted streets. Ugly modern construction that so dominates Lübeck fortunately is lacking here. The Hanseatic and the Swedish heritage go side-by-side, brick houses and colourful residences alternate in the streets. The most impressive sights are the red brick churches adorned with huge towers.
One of these former churches now houses the 'Meeresmuseum', a museum dedicated to the sea with bits and pieces of GDR history and an aquarium. Fun for kids and a bit quirky too.
The Stralsund harbour is where the locals are taking their Sunday stroll. I finish my stay here at a fish restaurant with lunch of jacked potato and caviar.
---
3.00 Netherlands - 06-Sep-06 -
Wismar is a small town on the Baltic coast in northern Germany which has rich heritage of Hanseatic League and Sweden. Wismar can be called a prettiest small city in northern Germany; it's full of many lovely buildings from hanseatic brick style to Swedish gable houses. Its pride is large red brick cathedral of St. Nikolai which every decorative detail made from bricks, a very unique way in this region. The city's market square is very nice with lovely renovated building and in the centre of the square is a big well covered with Dutch Renaissance style pavilion called Wasserkunst! The seafront area is also nice with lively old buildings and fish market.
The big problem of Wismar is cars, they park everywhere from main square to small streets which sometime ruins the atmosphere.
Waking in Wismar is a very nice experience; all pavements are very good in design for walking, every turns always have some surprise with amazing buildings, churches, squares and my favorite is a bridge decorated with pigs! Wismar is just great for spending your time in holiday, less crowned compared to Stralsund or Lubeck and has the feel of down to earth.
Swedish link is still active in this city; I can see Swedish flags more than German ones. You may wonder where you are now, Sweden or Germany.
---
Site Info
Site Links
Unesco Website
Official Website
Visitors
277 Community Members have visited.