Mount Etna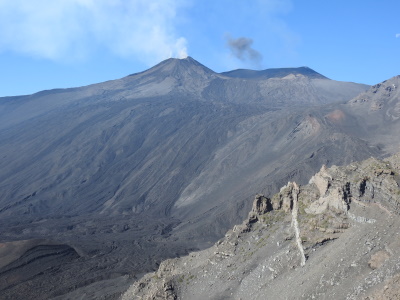 Mount Etna is one of the most active volcanoes in the world.
Its almost continuous series of eruptions has been documented since ancient times, making it an important destination for the study of volcanology. Etna consists of two volcano types: up to about 2,700 meters, Etna is a (flat) shield volcano, the top is a (conical) stratovolcano. It is 3,326m high and has four summit craters. Various volcanic phenomena such as craters, lava caves, lava flows and cinder cones are clearly visible.
Visit October 2019
3.5
Over 240 community members so far have ticked off Mount Etna as 'visited', but I wonder how many of them have just 'seen' it from a distance versus entered the core zone and witnessed its OUV. Most reviews to date indeed seem to have been in the former category. By far the best of them is Joel's video, made during terrible weather conditions. I recently spent a long weekend in the area to try to make mine into a 'good visit'. It all got off to a fitting start as my flight from Rome was delayed by an hour because air traffic to Catania was temporarily limited due to Etna's ash clouds.
The next day at 5.15 a.m., I left Taormina with my guide for the journey to the northeastern slopes of the Etna. We drove to the parking lot of Rifugio Citelli, which lies already at an altitude of over 1,700 meters. Everything was still dark and quiet, although we were able to stop underway at a bar for an Italian stand-up breakfast of cappuccino and a cornetto. The breakfast bars along the route open early (this one at 4.30!) to serve the local mushroom hunters and the maintenance staff of the park.
Having arrived at the parking lot it became clear that it would be a serious walk: I got a helmet buckled to my backpack, two hiking poles pressed into my hands and even shoes with a better profile fitted on. Also guide Davide and I each had a head light as it was still dark. We would be walking route 723, the Citelli Serracozzo. The first part of this route goes through the forest. It struck me how overgrown the volcano is, the scenery is much greener (from chestnut trees to beeches to birches to shrubs) than I had imagined. The climb is done on a technically sometimes difficult trail covered with stones, tree stumps and loose lava stones. I would never have made it without those hiking poles. On this stretch we could not see the top of the volcano, only a dark ash cloud occasionally appeared in the sky.
We made our first longer stop at what looked like a minor cave, but turned out to be a lava tube. This is why we brought the helmets! This tunnel is narrow and deep - I had been in a lava cave before (in Jeju, South Korea), but this one felt more impressive due to us being there alone like some early explorers. Above ground you only see an air hole - the tunnel is hidden beneath it.
After climbing a bit more we reached our final destination at slightly over 2,200m: a ridge just above the Valle del Bove and with the active volcanic craters in full view. Really a spectacular spot. The huge Valle del Bove was created by a landslide - nothing grows here anymore. There are currently 4 volcanic craters on the highest part of Mount Etna, all recently active again with explosive eruptions. We found a nice place to sit and watch the spectacle. You first hear a rumble and then a gray ash cloud rises.
Up to this point we did not meet any other people on our hike: of course no one sets off this early, and the northern side of Mount Etna is quieter than the southern one anyway.
Around 11 a.m. the clouds came up from the valley and our view threatened to disappear. We therefore started the descent via another route than we came, meeting a few people along the way that were just hiking uphill. The path down required a lot of concentration and therefore also took me 2 hours; over 6 hours after departure we arrived back at the parking lot. My final thoughts on the Etna: it may not the most beautiful volcano in the world, but its constant activity draws you in and keeps you mesmerized.
Click
here
to see more of my photos of Mount Etna
Community Reviews
---
The first view I got of the Etna were from Catania. The Via Etnea is aligned in such a way that you can see the volcano. Still, I couldn't count that.
To get my tick, I took a bus to Refugio Sapienza and hiked from there up the mountain. On the bus ride we had already passed several (cold) lava fields, clearly indicating that this is an active volcano. It's interesting to see how close Catania is to an active volcano.
Around the Refugio there were several cold craters waiting to be explored. From the refugio, if you want to continue up, you have the option to take a lift or hike; I hiked. But the initial hike to the upper station is mostly via lava fields that are rather terrible to hike. If it weren't for the price, I would probably recommend taking the lift. Eventually, everything was clouded in fog and snow. For a while I couldn't see much further than 10m and was questioning if it made sense to continue. Luckily, when I reached the final spot, the sky cleared briefly and I took the attached picture.
My hiking app kept proposing trails that lead into the snow fields. I decided against it and would recommend to you to do the same. It's really best to follow the road.
At the end of the road, you get a good view of the volcano and can hike along an active crater rim. From this point on, you need a mountain guide. I felt I had gone far enough and returned.
I don't think this is an especially interesting volcano, especially if you compare it to a volcano like the Teide. I would also guess that Chile has plenty similar or better volcanoes by the dozen. And even in the context of Sicily this is underwhelming. The Eolian Islands themselves are part of the same geological feature and way more interesting.
Getting There
In the morning, there is one bus running from Catania train station to Refugio Sapienza (departing around 8h, returning around 16h). You can find details on the bus connection here. While the referenced blog post states you can buy them in advance, I couldn't. Tickets were only available the same day, so I arrived early to get one. The ticket office is across the street from the train station and is marked on google maps. The bus will stop for breakfast going up the mountain, so you can pick up some provisions. The return goes directly back to Catania.
From Refugio Sapienza you can continue up the mountain via combination of funicular and busses. Alternatively, you can hike. The last ascend to the summit requires a mountain guide, though, as the paths are not well sign posted. The picture is from the start of the summit trail. A few Germans I met on the hike went on their own, but I do not recommend that.
---
March 2019 - our first journey with daughter. We decided to go to Sicily. It was on our list for ages and finally we made it.
From the plane, landing in Catania, one can see the Aetna Volcano rising above the island.
During our day in Catania, we always were looking up to the Vulcano, hoping to see some fumarols.
Day 2 we took the Circumetnea train to Bronte and back. We got some nice views at the Volcano and understood its extend.
Bronte was not as interesting as exoected, but the stunning views at the lava beds and the train ride itself, were worse it.
Next time Sicily we will definitely visit the top of Aetna, but with a 3 months baby and March with the snow, are not the best circumstences. We drove further to Palermo, than south and than back to Catania. Always in the shade of Aetna.
---
I was not planning to reach the Etna summit during my trip to Sicily in May 2014. However, it was impossible not to spot the mount Etna (always covered by cloud on the top) when travelling from Val di Notto towards Catania, and then from Nebrodi and Madonie mountains. We went via Bronte, which is famous for pistachio - it is grown almost everywhere around Bronte, and I was pretty surprised how pistachio tree really looks...
From Bronte we did short trip to Rifugio Piano Dei Grilli, which is already in the buffer zone of WHS; (photo: View from Rifugio towards Etna). However, the road from Bronte crossed the lava flow that already belonged to the core zone. From the Rifugio, there are quite a lot of marked trails going inside the national park. I felt like in gardes of Eden there, because everything was in bloom in May.
I enjoyed the trip a lot even without climbing the steep slopes of the Etna stratovolcano.
---
It's hard to even know where to start with a colossal site like Mount Etna. We decided to base ourselves in the town of Trecastagni, and as luck would have it, our Airbnb host recommended a fantastic local guide, a Sicilian named Dario Vaghi. We'd hoped to do some hiking and really explore the upper reaches of Etna, but unfortunately the day we visited there was a heavy blizzard near the top and the cable car wasn't running! No problem for Dario - he knew several other fascinating spots for us to visit and explore. As you can see from the video, we really got to explore all the different facets of Etna: its climates, ecosystems and various habitats. What a magnificent spot.
Read more from Joel Baldwin here.
---
My journey around Mount Etna was most enjoyable. I viewed the mountain from the south, west and north, and had close up experience of crossing old lava flows. All this was in the comfort of a seat of the Circumetnea train.
I travelled from Catania to Giarre on the Circumetnea, stopping for a refreshment break at Rendezzo on the way. After Rendezzo the mountain was obscured by cloud. From Giarre I returned directly to Catania on the main line.
---
Joseph Colletti
Mt. Etna is of universal value. As UNESCO notes Mt. Etna is an active volcano that yields information to scientists around the world about geological phenomena that affect millions of people, not only in Sicily but around the world. Because of Mt. Etna's activity a visit to the park can reveal different landscapes (and paths of destruction) from year to year. It has served as a proving ground for a variety of techniques to stop or divert lava flow (some successful, some not) to avoid populated areas.
The surrounding areas of the park are of a stark, stunning beauty and yes, there are some great hikes (or just walks or drives) available in the area. Many of the surrounding cities and towns are built with the volcanic rock that Etna has spewed out over the centuries.
Mt. Etna also holds a place in Western literature. In Greek and Roman mythology it's the home of Hephaestus (Vulcan in the Roman pantheon)and features prominently in Milton's Paradise Lost. It has become the background for any number of generic views of Greek theaters. (Think Woody Allen's "Mighty Aphrodite.")Possibly only second to Vesuvius in notoriety, Mt. Etna is a unique natural wonder.
---
Site Info
Full Name

Mount Etna

Unesco ID

Country

Inscribed

Type

Natural

Criteria

8

Categories

Link
Site Links
Unesco Website
Official Website
In the News
Visitors
249 Community Members have visited.