Mount Etna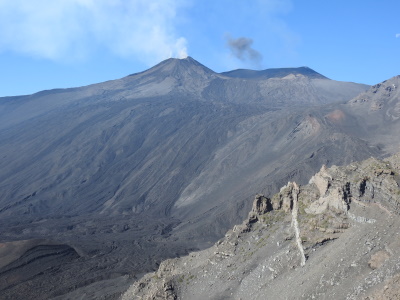 .
Mount Etna is one of the most active and best-studied volcanoes in the world.
It is 3,329m high and has four summit craters. There is frequent lava flow. It has the highest frequency of recorded eruptions in the world (193).
This stratovolcano has been studied and monitored since the 19th century. The Roman poet Virgil gave what was probably a first-hand description of an eruption in the Aeneid.
Community Reviews
---
John booth New Zealand 01-Oct-15
My journey around Mount Etna was most enjoyable. I viewed the mountain from the south, west and north, and had close up experience of crossing old lava flows. All this was in the comfort of a seat of the Circumetnea train.
I travelled from Catania to Giarre on the Circumetnea, stopping for a refreshment break at Rendezzo on the way. After Rendezzo the mountain was obscured by cloud. From Giarre I returned directly to Catania on the main line.
---
Joseph Colletti, USA 07-Oct-13
Mt. Etna is of universal value. As UNESCO notes Mt. Etna is an active volcano that yields information to scientists around the world about geological phenomena that affect millions of people, not only in Sicily but around the world. Because of Mt. Etna's activity a visit to the park can reveal different landscapes (and paths of destruction) from year to year. It has served as a proving ground for a variety of techniques to stop or divert lava flow (some successful, some not) to avoid populated areas.
The surrounding areas of the park are of a stark, stunning beauty and yes, there are some great hikes (or just walks or drives) available in the area. Many of the surrounding cities and towns are built with the volcanic rock that Etna has spewed out over the centuries.
Mt. Etna also holds a place in Western literature. In Greek and Roman mythology it's the home of Hephaestus (Vulcan in the Roman pantheon)and features prominently in Milton's Paradise Lost. It has become the background for any number of generic views of Greek theaters. (Think Woody Allen's "Mighty Aphrodite.")Possibly only second to Vesuvius in notoriety, Mt. Etna is a unique natural wonder.
---
Community Rating
Community Rating 2.89. Based on 9 votes.
Your Rating
Site Info
Full name: Mount Etna
Unesco ID: 1427
Inscribed: 2013
Type: Natural
Criteria: 8
Site Links
Unesco Website
Official Website
In the News
Connections
The site has 18 connections. Show all
Visitors
131 community members have visited Mount Etna. Show all