Orange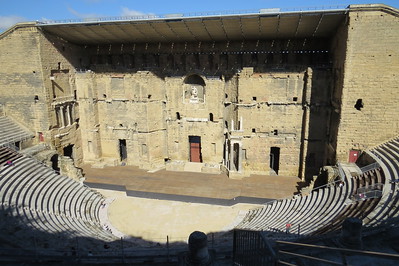 The Roman Theatre and its Surroundings and the "Triumphal Arch" of Orange comprises two of the best remaining examples of Roman theatres and arches.
The Theatre was built between 10 and 25 A.D., as one of the first Roman public buildings in this region. It owes its fame mainly because of its imposing façade or stage wall, which is 103 metres long, 1.80 metres thick and 37 metres high.
The Triumphal Arch was a commemorative urban arch acting as the gateway to the town and celebrating its Roman founders.
Roman Orange was founded in 35 BC by veterans of the Second Gallica Roman legion as Arausio (after the local Celtic water god), or Colonia Julia Firma Secundanorum Arausio. It was the capital of a wide area of northern Provence, which was parcelled up into lots for the Roman colonists.
Visit October 2013
As WHS and cities go, this isn't among the best. I visited Orange on a half day trip from Avignon. I arrived by train (the ride takes only 14 minutes) and walked to both monuments that lie about 10 minutes away. The city looks somewhat impoverished, and doesn't invite to linger after you've seen the WHS. It is run by a far right-wing mayor, and I wonder if his election was the result of the decay or that it has caused it.
First I made my way to the Triumphal Arch just a little north of the city center. There are a few signposts and the object is big enough to see from some distance. It stands in the middle of a roundabout nowadays, but there's enough empty space around it to be able to observe the arch. Its reliefs are remarkable indeed, especially the ones at the top. I was the only visitor, and there's no entrance fee or guard.
The Roman Theatre is a bit more of a tourist spectacle, though I get the impression that most of the large tour buses that whisk Japanese, Chinese and Americans around the Provence omit Orange from their journeys. An audio guide is included in the 9 EUR entrance fee, and worth listening to when you're seated on one of the benches inside the theatre. It for example points out the new (glass) stage roof, which was added in 2006 and preserves the ancient acoustics. The stage itself is massive of course, but lacks the original decoration. Only one statue has been replaced, made out of bits and pieces that were found.
Community Reviews
---
---
---
---
---
---
---
---
---
---
Community Rating
Community Rating 3.03. Based on 20 votes.
Site Info
Full name: Roman Theatre and its Surroundings and the "Triumphal Arch" of Orange
Unesco ID: 163
Inscribed: 1981
Type: Cultural
Criteria: 3 6
Site Links
Unesco Website
Official Website
Related
Locations
The site has 2 locations.
Connections
The site has 10 connections.
Visitors
207 community members have visited Orange. Show all