Göreme NP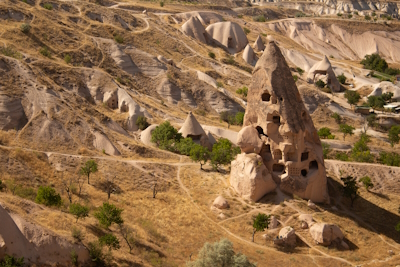 Göreme National Park and the Rock Sites of Cappadocia consists of an eroded landscape dotted with rock-hewn sanctuaries. It lies in the mid-western part of Turkey.
The extraordinary landscape was formed millions of years ago, the combined work of lava spitting vulcanoes, wind and water.
The inhabitants of the area hew rooms, chapels, even whole villages out of the rocks. Religious Byzantine paintings can be found on the walls of the churches and monasteries.
Community Reviews
---
I visited all 7 locations of this top WHS over a period of 5-6 days. I used this WHS as a central stepping stone twice in my figure of eight loop around Turkey during my Spring 2021 road trip, first coming from Bogazkale and later coming from Divrigi.
Not only is the main location of this WHS, Goreme National Park, a huge area to cover, but when including the remaining 6 locations, the inscribed areas are quite far from each other and quite a stretch to cover all of them by car without careful planning and a GPS. The subterranean cities of Kaymakli and Derinkuyu are more than an hour ride away from Nevsehir. Both are quite similar, and I would suggest going for the latter if you had to choose as it not only is the biggest of the two but it has several features which make it easier to envisage it as an underground city proper, such as a bakery, storage area, sleeping areas, communal areas and passages with round movable stone slabs through which as many as 20,000 people, mostly Christians, fled and stayed together with their livestock and food stores. It is the largest excavated underground city in Cappadocia and extends to a depth of 85 metres so keep this in mind if you're claustrophobic as entrance and exit are separate areas and it will take at least 30 minutes to find your way back outside (also keep in mind that it is cool and humid down there, which was a good respite from the afternoon heat in spring).
On another day I headed south-east from Urgup and Nevsehir and not without difficulty, I managed to visit the rock sites and troglodyte villages of Karain, Karlık, Yeşilöz and Soğanlı (the first three I wouldn't have found without the GPS coordinates and are minor sites not worth going to if you're pressed for time. Soğanlı is a pleasant detour away from most tourists and is famous from the Soğanlı doll production. There are a number of vandalised rock hewn churches with paintings full of graffiti but the paintings that are higher up towards the ceiling are in good condition. In a way it is a pity that there isn't so much security as in Goreme, on the other hand you can visit and take photos at ease. Another worthwhile area (not inscribed but worth visiting if you have an extra day to spare) which is much more worth visiting than Karain, Karlik and Yesiloz IMHO are the churches, presses and dwellings in the Ihlara Valley. We visited this area as a much need stopover on our way back from Divrigi.
Last but certainly not least, Goreme National Park covers a huge area over the region between the cities of Nevşehir, Ürgüp and Avanos. This is the best place to appreciate the geological and natural aspect of this top mixed WHS. The area is bounded on the south and east by ranges of extinct volcanoes with Erciyes Dağ (3916 metres) at one end and Hasan Dağ (3253 metres) at the other. Goreme National Park is located on the central Anatolia plateau within a volcanic landscape sculpted by erosion and forms a succession of mountain ridges, valleys and pinnacles known as "fairy chimneys" or hoodoos. The best natural places to explore on foot or for a panoramic viewpoint are Love (or Phallus) Valley, Pigeon Valley, Rainbow Valley, Rose Valley, Fairy Valley, Zelve Valley, Devrent valley (famous for its camel rock formation) and Urgup (famous for its iconic three fairy chimneys). It is still possible to reach close to most of them by car through unpaved roads so keep this in mind if you decide to venture on foot in the dark for sunrise as the roads or trails are quite narrow. The best places to visit to have a good combination of both natural and cultural aspects of this WHS are Goreme Open Air Museum and Pasabag Monks' Valley not only for the geological formations but above all for the fabulous rupestral churches.
Cappadocian monasticism was already well established in the iconoclastic period (725-842) as illustrated by the decoration of many sanctuaries which kept a strict minimum of symbols (most often sculpted or tempera painted crosses only). However, after 842 many rupestral churches were dug in Cappadocia and richly decorated with brightly coloured figurative painting. Those in the Göreme Valley include El Nazar Kilise (10th century), St. Barbara Kilise and Saklı Kilise (11th century) and Karanlık Kilise (end of the 12th – beginning of the 13th century). All can be visited and most require a separate entrance ticket. The no photography policy isn't enforced in most of these.
However, this is not the case at the Goreme Open Air Museum which was manned with a security guard at each of the main rupestral churches with the best paintings. Only chance to sneak some photos was when they went for a nature break or a cigarette break. The best wall paintings in the Goreme Open Air Museum can be found in St Basil's Chapel which also includes tombs, Elmali (Apple) Church, Yilanli (Snake) Church, Carikli (Sandal) Church and St Barbara Chapel. It was practically impossible to take photos inside the Dark Church of the Karanlik Church monastery (which requires yet another separate ticket but is one of the best preserved ones) but I only just managed to sneak some photos from the recently restored 10th century Tokalı Kilise, which is the largest church in Goreme and is just outside Goreme Open Air Museum, opposite the main entrance and also requires a separate ticket but is really a highlight not to be missed.
Other features worth viewing in Goreme National Park are the residential areas of Cavusin, Uchisar and Nevsehir which are usually used as you accomodation base and become magically enchanted every morning around sunrise with hundreds of hot air balloons with a capacity of 16, 8, 4 or 2 persons, depending on your budget, flying from one of the several valleys. Another feature worth looking out for are the many dovecotes (easily spotted at Pigeon Valley) and apiaries in the top parts of the fairy chimneys. Near most of the main components and locations of this top WHS you'll find UNESCO inscription signs. Even though it can be very touristy, especially at the sunset spots, this WHS deserves days of exploration and is one of Turkey's best WHS.
---
Göreme National Park and the Rock Sites of Cappadocia are a geologic wonderland, steeped in the history of the early Christian church. I visited Göreme National Park and the Derinkuyu underground city in the fall of 2007 as part of a two day tour of Cappadocia, in central Turkey. The town of Göreme, with its many cave hotels built into rock formations, is an excellent introduction to the region. All around the town are photogenic hoodoos, also called fairy chimneys. In the days of the early church, Christians found the soft rock of these wind-carved formations could be easily chipped away to create homes and churches. Today, some of their art can still be found inside the rock sanctuaries, though the faces of many of the saints have been scratched away. When the Arab-Byzantine wars began in the 8th century, the early Christian church in Cappadocia prepared to go underground, creating subterranean complexes such as the city of Derinkuyu, which was outfitted with stables, storage rooms, living spaces, and chapels. This was quite an amazing site to see. I hope that despite how long it has been since the last review, Göreme is still getting many visitors; it truly is a memorable landscape.
Logistics: Göreme and its national park may be reached by bus from most major cities in Turkey; the nearby city of Kayseri, east of Göreme, may also be reached by plane or train. Although there is much to see within walking distance of Göreme, private transportation makes it easier to access sites further outside the park.
---
visited in 2000 Went via bus from Egirdir.
The area is unique, with so much to see; the underground cities, the carved churches, the natural rock formations. One of the highlights of our trip to Turkey
---
Robert Peters
Cappadocia is about a five hour bus ride from the capital city of Ankara, where I currently live. Having been there a few times, I have to say that it is unique in the world, let alone in Turkey. The churches are great, but there is much more in the region than that. Underground cities, rustic village life, and a fantastic geological history make this place a must see. My personal favorite is just walking around Zelve. Enjoy!
---
Words can't really describe this moonscape of both natural and man-made sculptures of rock. Troglodyte dwellings of generations past are fun to wander through and their architectural style can best be described as early Dr. Suess. A balloon ride, though expensive is beyond worth the price as the surreal landscape will take the breath away from even the most jaded traveler. My own recommendation is to stay in a cave hotel for a unique and fun way to spend the night.
---
Steve
the cave churches in Goreme are fantastic. i visited in July 04. it's not too hot in this part of Turkey in summer. the Turks are the kindest people i've met in the world and you will feel safe and welcome wherever you travel. the WHS takes about 1/2 to do justice to. try to drive there. walking from town is a trek. it only costs about $5 to see it all. while the site has sidewalks near the rock churches, you need to climb up lots of stairs and crawl into places to really see it fully. Goreme town itself is an amazing site itself. try to stay in one of the "fairy chinney" hotels in town-- like nothing else. Also, spring for a balloon ride to see the whole valley of wonders.
---
Site Info
Full Name

Göreme National Park and the Rock Sites of Cappadocia

Unesco ID

Country

Inscribed

Type

Mixed

Criteria

1

3

5

7

Categories

Link
Site Links
Unesco Website
Official Website
Related
In the News
Visitors
293 Community Members have visited.