Nubian Monuments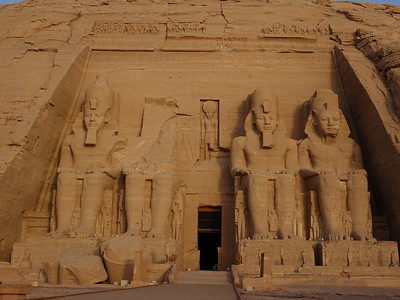 The Nubian Monuments from Abu Simbel to Philae cover a string of ancient archaeological sites in southern Egypt.
Extending from Aswan to the Sudanese border, they were built by various pharaohs from the 2nd millennium BCE onwards in their attempt to gain or retain dominance over the Nubian kingdom and its natural assets such as gold, copper and ivory. The monuments date from the New Kingdom to the Ptolemaic, Roman and early Christian periods. After an international safeguarding campaign, two of its masterpieces (the temples of Abu Simbel and the sanctuary at Philae) were moved in their entirety to a nearby location due to the creation of the Aswan High Dam and Lake Nasser.
Community Perspective: Abu Simbel is the crowd magnet, but Philae comes especially recommended for its delightful setting and detailed hieroglyphs and carvings. Els describes an overnight visit to Abu Simbel, while Nan gives practical info on getting around Aswan and Philae.
Community Reviews
---
Abu Simbel had been on my to visit list for a long time. After several community went for NYE and still being in possession of a Lufthansa 300EUR flight voucher from 2020, I decided to finally go.
Flying in from Cairo, I stayed in Aswan for 2 nights. On the first day, I visited Philae, Kom Ombo (T) and the ruins of Elephantia, ending the day drinking beer on the Nile. On my second day, I joined a way too early tour to get to Abu Simbel and then ticked of the unfinished obelisk in town proper. Due to bad planning, I missed the Islamic cemetery just across the road from the obelisk.
Both Elephantia and the Obelisk are rather normal WHS locations. It's Philae and Abu Simbel that make this a very special site. Of the components, I would rank Philae higher than Abu Simbel. The issue with Abu Simbel is that the setting feels artificial. The hill is man made. When you arrive as you have to walk around the artificial hill and it takes away from the wonder. I would assume that the original location was a scenic cliff side. While Philae was also moved, the island chosen is still an island and kept it's spirit. In addition, Abu Simbel is a 6h desert drive for a one hour visit. There is little to see apart from the two temples. ... Well, you will go anyhow.
Getting There
Luxor (and any itinerary featuring Aswan should feature Luxor), you can visit by driver, train or bus. I took the train. There are also cheap, direct flights from Cairo. The airport is way outside town and taxis are a monopoly. I would recommend pre arranging a transfer with your hotel/guesthouse.
The most touristy option is to take a Nile cruise. I only learnt during my visit that Nile cruises cannot continue to Cairo as post Luxor the bridges are too low for the cruise ships. I am not an expert at picking Nile cruises. All I can say is that the boats I saw in Luxor had very limited cruise appeal. They looked like container ships.
Getting Around
Several of the sites are in and around Aswan proper. The Obelisk and the Islamic Cemetery are in town. You can take a ferry to Elephantine Island to visit the ruins there. To get to the two sites on the Western side of the Nile, you need to take a boat. Your hotel/guesthouse can arrange a boat for you. From Elephantine Island, you should be able to get a ferry at Ibiza Beach Bar, close to the Mövenpick Hotel.
To get to Philae, you need join a tour or get a driver. Going alone is quite costly, as you have to pay for a full boat yourself. You can't join another boat, so consider joining a group tour.
To get to Abu Simbel, you can get a driver or join a tour. I don't think a driver adds much value in comparison to a group tour/van. In any case, drivers and tours leave really early, before the regular ferries operate. The reason is that Abu Simbel faces East, so morning hours are better for the light. Assuming you are staying on Elephantine Island (you should), your guest house or hotel will arrange a boat for you if you book via them. One way is 2-3h and before you can leave Aswan, you will pass through security. Expect to be back at 14:00h. I heard of people wanting to stay in the village; I would see no reason to do so as the village is rather dull.
General remark: If you are in a guest house, I would recommend to arrange all your travel needs via them (airport transfers, cabs, tours, ...). On site as a tourist, you will not get better prices (at least without major time invested) than the guest house offers anyhow.
While You are There
Between Luxor and Aswan you can visit some Pharaonic temples (T). Off the road between Aswan and Abu Simbel, several desert oasis (T) are found, but you will need to arrange a tour. On a Nile Island South of Aswan, is a spot of the Bird Migration Routes (T).
Aswan itself, has more options to explore. A botanical garden, a mausoleum, a boat trip. I really enjoyed exploring Elephantine Island with it's lush gardens and fields and simple houses. If you are looking for a beer on the Nile, the afore mentioned Ibiza Beach Bar comes highly recommended. It's the only place on Elephantine Island serving beer that is not a 5* hotel, as I remember. And the view you get is spectacular.
Sun Festival
A day after I left (22 Feb) was one of the two days on which the sun illuminates the main temple. When they moved the temple, they made sure to keep the orientation roughly in line. For a brief instance, I was wondering how to move my itinerary around, but skipped it as I really couldn't make it work. And looking back, I am not too sad. First things first, it's hard to get a good view as the place is overcrowded. The sun illuminates the cave only briefly. I Preferred my calmer visit.
---
4.00 Philippines - 31-Jan-20 -
WHS#61
Abu Simbel is the ultimate destination for a traveller in Egypt. It's so far removed from civilization, so distant from everywhere else most people visit in Egypt. Yes, the pyramids may have brought you here, but only Abu Simbel will bring you so far off the beaten track - except now, so many people visit that it has created it's own beaten track, and for good reason. This is the most unique ancient temple in Egypt, as it was built by Pharaoh Ramses II as a shrine. To himself, basically. This dude was so full of himself and his achievements that at the success of his military campaigns in Nubia, he proceeded to build what would become an amazing wonder of the world with his face all over it. I got to visit Abu Simbel and Philae on my trip to Egypt in May 2018, and man, it was hot there! Every day, we'd settle down after lunch to avoid the over 40-degree heat. Nevertheless, this Nubian experience was one of the most interesting parts of Egypt. Nubia was once an ancient power, and to this day, it's a distinct culture with its own unique traditions and language. From the ruins of Abu Simbel to the modern-day Nubian village, a trip to this part of Egypt is an immersion into the historic and present culture of Nubia.
The day after arriving Aswan was the tour to Abu Simbel. As many may already know, it's an amazing site. Overlooking Lake Nasser, the temple looks like it was never rebuilt, as the cracks between the blocks were almost invisible to me. The interior was the biggest surprise for me, with walls completely covered in inscriptions illustrating Ramses' victories in Nubia. Not much else needs to be added here, so I'll move on to Philae, which I visited the following morning. Philae is a lot like other Egyptian temples that I visited, like Karnak, Luxor, Edfu, and Kom Ombo. It follows pretty much the same format, except for some of the Roman elements like the Kiosk of Trajan. The most noticeable difference here is that Philae has a great setting on an island in the Nile, where it was rebuilt due to the submersion of its original location. This is still loyal to the original setting, though, as it was also an island. Actually, it was due to the initial flooding that some outer areas collapsed and the colors of the wall paintings were basically washed away. The waterline is even visible in some parts. Personally, I found Edfu Temple much more noteworthy than Philae, but its importance as the Sanctuary of Isis, its more extensive history, the delightful setting, and the story of its reconstruction make it quite a special place. Also, the boat captain was a young teenage boy, around 13 years old if I'm not mistaken. Unfortunately, despite my requests, I was unable to visit Elephantine Island and the Unfinished Obelisk, but I passed the former several times on felucca. The rocks are indeed quite "elephantine." The most remarkable thing about those boat rides was really how cool and clean the Nile is in this stretch, in sharp contrast with the bustling city and its tiring heat.
There's no question about the OUV of sites like Abu Simbel and Philae, but the question here is why all of these sites have been grouped together as a singe WHS. Other than being geographically close, this group that ranges from Middle Kingdom remains of Elephantine and Ramses' Abu Simbel to the completely unrelated Monastery of St. Simeon and the Islamic Cemetery. I just don't see a unifying and coherent OUV for every part of this WHS. If we're really taking up sites of Nubian history and culture, shouldn't there be traditional Nubian settlement in the mix? It seems that this was just an attempt to preserve the various historical treasures in the area that went right. Nevertheless, none of this takes from the merits of the sites themselves. These are truly important monuments and impressive masterpieces of some (Yes, multiple!) of the most influential cultures of the world.
---
In October 2018, I made a day trip from Aswan to visit Abu Simbel, two massive rock temples in Nubia, near Egypt's southern border with Sudan. The twin temples were carved out of the mountainside more than 3,000 years ago, but eventually became buried by Sahara desert sand and forgotten until 1813, when found by the same Swiss orientalist who discovered Petra just a year before. But it's Abu Simbel's recent history that's mind boggling. In the 1960s, Egypt began constructing the Aswan High Dam to control Nile flooding, provide water for irrigation and generate hydroelectricity, but whose rising waters would submerge the temples. It was decided to relocate the temples to higher ground. So, between 1964 and 1968, the temples were cut into massive blocks, dismantled, lifted and reassembled in a new location 65 meters higher and 200 meters farther from the Nile onto a purpose-built hill. In gratitude, the Egyptian government gifted temples to the main countries that took part in the relocation, which is how the Temple of Dendur came to be on display in the Metropolitan Museum of Art in New York.
---
4.00 The Netherlands - 22-Apr-17 -
The Nubian Monuments from Abu Simbel to Philae comprise 10 archaeological sites in the far south of Egypt. They were the products of the pharaonic attempts to dominate Nubia.
Many trip reports from the past about Abu Simbel start with the compulsory convoy that has to be taken to travel there from Aswan, effectively limiting arrival times to two times a day. The convoy has been discontinued however since October 2016. So after leaving my dahabiya near Aswan, I was picked up by a car and driver at 9 a.m. for the 3-hour drive south. The drive is incredibly boring, just a desert road with maybe one or two gas stations. There are road signs however to temples in the desert – two of them are Amada and Wadi es-Sebua which are also part of this WHS.
I was staying overnight to be able to visit the temples without tour groups being there, and also to get a hint of the Nubian feel of the town of Abu Simbel. My latter wish was completely satisfied by the Eskaleh Lodge, an oasis of friendliness where hypnotizing Sudanese music was played all day long. At 3 p.m. I was picked up by a driver and guide for my scheduled visit to the temples. Somehow the tour company had found it necessary to send a guide, although it isn't of much use (they are not allowed inside the temples). But well, he bought the tickets and explained the essence of the site to me while sitting outside. We just sat at the entrance to the main temple, as no one else was there!
The Abu Simbel site covers two temples next to each other. The largest one is to glorify Ramses II – the famous four huge statues at its facade all show himself at various ages! I even can't think of a modern-day dictator who would be so bold. One of the heads has fallen off (already 2000 years ago), but it still is laying at the statue's feet like a toppled moai at Easter Island. The interior of the temple is well-lit, via a similar method as they use at the Valley of the Kings. As this temple was carved into the rock, not much natural light gets in. I had to forget about the delicate carvings and symbolism of the Ptolemaic sites that I visited earlier: the temple is a brash statement of the power of Ramses II, mainly showing his accomplishments on the battlefield.
The second temple at Abu Simbel is dedicated to Nefertari, one of the wives of Ramses II who was of Nubian descent. It does show her, and him again. The interior is decorated with remarkable heads representing the goddess Hathor. I finished both temples within an hour – except for the facades with the mega statues and an occasional glance at Lake Nasser there isn't much that will keep you there longer. I tried to find the "seams" where they pasted the temples together again after the rescue effort in the 1960s. If you look closely they can be seen, but it has been done very well. Only the back side of the rock where they are now located feels manmade.
The next morning I got up at 5.20 and walked through the streets of Abu Simbel once more. The temples are especially beautiful at sunrise, as they are illuminated by the sun at that hour. I had read that sunrise tours (even from Aswan) are popular here, but again no more than a handful of other visitors were present.
After Abu Simbel, I, unfortunately, had only one afternoon left in Aswan. So there was little time to check out the other monuments included in this WHS. I decided to focus on Elephantine island, the island just in front of Aswan town center. A very short public ferry ride (costing about 2 minutes and 1 Egyptian pound) brought me there. At the southern part of the island lies the Aswan museum and the archaeological site. The museum did disappoint, I was expecting something to the level of the Luxor museum but this one is much more simple. It shows lots of small objects that were found on Elephantine island, but only the votive objects I found worth a second look. I did not do well at the rest of the site either: the temperature had risen so high that I had little energy to roam around the ruins. I made my way directly to the Nilometer – the third of its kind that I saw on this trip, and the closest one to the Nile itself.
ICOMOS had its doubts in 1979 whether such a string of sites a long distance from each other would not set an unwanted precedent: "Does this not invite all countries to define the physical boundaries of their cultural heritage too broadly?" Well – almost 30 years later such loosely coupled WHS have almost become the norm, with the Works of Le Corbusier even stretching continents.
Read more from Els Slots here.
---
The Nubian Monuments from Abu Simbel to Philae were the absolute highlight of my trip to Egypt in the fall of 2012. Over fifty years ago, the preservation and movement of these monuments became the first major cultural project undertaken by UNESCO, saving these treasures from submersion under Lake Nasser. Ever since I'd seen pictures of Egypt when I was younger, I'd wanted to see the Temple of Ramses II at Abu Simbel, and even though Egypt Air did its best to complicate my visit by rescheduling my flights, I was not disappointed. The four statues of Ramses II outside the temple were colossal, and inside the temple two rows of slightly smaller statues of Ramses II led to the inner sanctuary. The walls were covered with hieroglyphs, and the temple was remarkably well-preserved; there was little to tell it had been relocated. After flying back to Aswan, I visited the beautiful Philae Temple at night and by day. The temple is on an island, and the approach by water was both memorable and aesthetically pleasing. I loved the hieroglyphs and carvings, like those of pharoah Neos Dionysos (Ptolemy XII) offering sacrifices to Horus and Hathor, which were amazingly detailed. To anyone traveling to Egypt, I highly recommend making time to see these treasures.
Logistics: When I visited, Abu Simbel was only accessible via a plane flight from Aswan or Cairo. Philae Temple is on an island outside the city of Aswan, and there are several tour operators in the city willing to arrange a visit.
---
I visited this WHS in March 2010. The Temple of Ramses II at Abu Simbel and the Sanctuary of Isis at Philae were saved from the rising waters of the Nile and both are immensely beautiful. Abu Simbel is surely one of Egypt's top WHS.
---
Claire Nicholas
I have been lucky enough to visit Abu Simbel several times, and also managed to time one of these visits to coincide with the sunrise lighting up the statues at the back of the temple. I am as much in awe of the rescue of Abu Simbel as of its original construction. I also visited the monuments on Lake Nasser a few years ago, and plan to return in 2011.
The UNESCO campaign of the 1960's impressed me so much that I decided to base my dissertation for my MA in Egyptian Archaeology on the rescued Nubian monuments. I am using them as a case study, to measure to what extent the rescue - but subsequent removal to other countries - has enabled a wider understanding of the original culture.
As a tool to help me collect people's opinions, I have created my own website explaining my project, and including a blog. I would very much appreciate receiving your comments, and those of your readers. I also hope to publish a link to a survey soon on my website, but I need to increase readership first to make this worthwhile. The site is here www.whithernubia.co.uk
Keep up the good work!
---
Nubian Monuments: In 1988 I spent 18 days crossing the Nubian Desert of Sudan. Then I took the run down Sudanese barge crossing lake nasser ending in Aswan. The journey was on deck class with about 1000 Sudanese and took 48 hours. Remains of the other Sudanese ferry could be seen. Everyone drowned or were eaten by Nile crocodiles. Along the way was a magical glimpse of Abu Simbel in the distance. It was a timeless and powerful experience.
---
After having enjoyed the life in Cairo for a week - one of the truly most exciting cities in the world - I then took the train from the bustling Ramses station down through the Nile valley heading for Aswan in southern Egypt. Instead of catching a plane, this is a recommendable way to see some of the river landscape and rural Egypt, as the train slowly follows the river, downstream to Luxor and 14 hours later arrives in Aswan.
Aswan itself is a lush oasis and virtually the 'last stop' before Sudan and the Nubian deserts takes ove and is itself well worth a stop for a couple of days. A short, early morning flight, then took me the last 300 km down to the famous Ramses-statues in Abu Simbel, moved away from the rising water when the Aswan dam was constructed back in 1972. Once on site, you realise what a majestic project this must have been, almost more impressing than the actual statues themselves.
Later the evening, I also visited the temples of Philae, which was also moved away from the rising water and are now located on a small island not too far from the dam itself. Small boats takes you across the water and you can enjoy the beauty of the temple of Isis and Trajans Kiosk, the latter being one of the most photographed temples in Egypt, while having a tea or a drink in the small café.
---
The area between Assuan and the Sudanese border is one of the greatest (and largest) archaeological areas in the world - unfortunately, much of it is located beneath Lake Assuan. However, the greatest temples - Abu Simbel and Philae -, have survived thanks to UNESCO's help and major feats of engineering, as well as smaller sites at islands like Elephantine. Philae is a very interesting and beautiful place, but there are few words to describe the magic of Abu Simbel, the temple built by one of Egypt's greatest rulers, Pharao Ramses II. Seeing the sun rise at Abu Simbel is an unforgettable experience, even after a four-hour bus ride from Assuan leaving at 3 am. Needless to say, flying is a lot quicker and easier. Assuan itself is a relatively pleasant town with a nice bazaar, a great botanical garden at Kitchener Island, and the Nubian Museum, which I unfortunately missed. The extreme south of Egypt is one of the most interesting parts of the country and must not be missed by any serious traveller.
---
Abu Simbel is just 40 km from the Sudan and 100 km from any decent sized Egyptian city. The best way to visit is to fly there from Luxor or Aswan. Return flights are less than US$80. The temple was completely dismantled and moved to a higher site when the Aswan High Dam was constructed. If that hadn't happened, the site would be 60m underwater right now. That action was UNESCO World Heritage's first big save at an expense of US$40M in the 1960's and 70's.
Abu Simbel is massive and is perched high on a cliff at the edge of Lake Nasser. The 4 statues of Ramses II at the entrance are more than 30ft high each. The interior is covered with exceptional carvings and paintings.
Philae is at the edge of Aswan also on Lake Nasser. You have to take a quick ferry to get there. This is considered the most beautiful temple in Egypt -- (sort of their Aphrodite). ALthough the structures are less intact that most other Egyptian temples, the island site is beautiful, especially at sunset.
---
Site Info
Site Links
Unesco Website
Official Website
In the News
Visitors
301 Community Members have visited.