Nord-Pas de Calais Mining Basin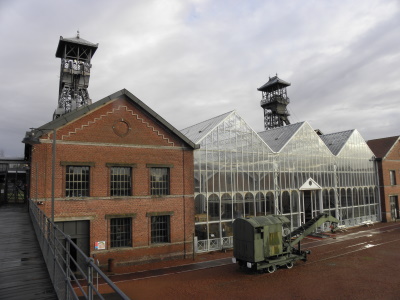 The Nord-Pas de Calais Mining Basin is a mining and industrial cultural landscape along a 120km long coal seam in the far north of France.
It was created from the 18th to the 20th centuries, mostly after France lost its access to Belgian mines in 1815. It reached its peak in the 1930s, when it became one the leading coal-production regions in Europe. It then attracted 75,000 foreign workers. The last mine in the area closed in 1990.
This is a serial site consisting of 109 parts, spread out over 13 mining company complexes. Elements include pits, slag heaps, railway stations and mining villages with schools, religious and community buildings.
Map of Nord-Pas de Calais Mining Basin
Legend
Visit December 2011
This is the French nomination for 2012: a stretch of 120km in the North of the country comprising various mining sites. When I was sent to attend a course at the Capgemini University just north of Paris, I thought it a fine opportunity to take this possible new WHS in on my way back home.
I went to visit the Historic Mining Center in Lewarde, the main museum in the area. It is surprising how little in the surroundings reminds of the mining era. Nothing like the raw industrial beauty of the Ruhrgebiet just over the border in Germany. It just looks like a quiet rural setting. Coal was mined here from the 18th century til the 1970s. The harsh working and living conditions were immortalized in Emile Zola's Germinal, which happens to be one of my favourite 19th century novels.
The mining center is pretty large and modern, though not yet well-equipped to receive visitors that do not speak French. Also, at the exhibitions I did not find anything that I had not seen before at similar sites around the world. It indeed is a big question what the OUV of this site is, and the short description at the Unesco website does not help to clarify it. What I've learned while researching it on the internet, is that this probably will be a serial nomination with single monuments scattered along the whole 1200 km2. It is marketed as an "evolved cultural landscape", as the mono-industry of coal mining has lastingly transformed the landscape and the lifestyles of the inhabitants.
Community Reviews
---
---
---
---
---
---
---
Community Rating
Community Rating 1.92. Based on 19 votes.
Site Info
Full name: Nord-Pas de Calais Mining Basin
Unesco ID: 1360
Inscribed: 2012
Type: Cultural
Criteria: 2 4 6
Site Links
Unesco Website
Official Website
Related
In the News
Locations
The site has 108 locations. Show all
Connections
The site has 21 connections. Show all
Visitors
106 community members have visited Nord-Pas de Calais Mining Basin. Show all