Mycenae and Tiryns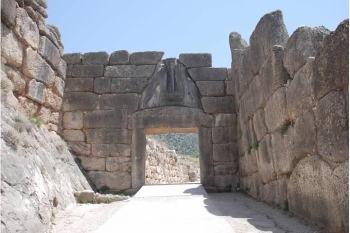 Mycenae and Tiryns were the two greatest cities of the Mycenaean civilisation.
Between 1600 and 1200 BC, its kingdom was the most powerful in Greece. Homer, in his Iliad and Odyssey, spoke of it as "rich in gold". Mycenae consisted of a fortified citadel and surrounding settlement. Its walls were 13 meters high, and 7 meters thick. The walls of the city of Tiryns are even more immense: in parts they are 20 meters thick.
The Myceneans prospered through their trade with eastern mediterranean neighbours like the Hittites and Egyptians. Around 1200 this all came to an end, and the palaces were destroyed.
Community Reviews
---
When I read the Ilias, I was always wondering about the place names. Where was Athens, where was Sparta? And why was there no king of Troy fighting in the Persian wars? The answer is that the events and locations of the Ilias predate what most of us consider ancient Greece by centuries. Athens reigned supreme between 500-400 BCE. But the Trojan War is assumed to have taken place 800 years before around 1300 BCE. In addition, the events of the Ilias squarely fall into the Bronze Age. And there is this little thing called the Bronze Age Collapse taking place around 1150 BCE. And it removed the events from the Ilias even further from view.
The Bronze Age Collapse refers to a dark age of 100-200 years where in a relatively short time period most major civilizations and empires of the eastern mediterranean fell. In Karnak, there is a relief depicting the pharaoh beating back the so called sea people. While Egypt made it through, the Bronze Age Collapse marks the end of the Mycenaean kingdoms.
One assumption is that the advent of iron meant that military weapons became more widely available. While bronze required trade to obtain both zinc and copper and was thus limited to a palace elite (palace economy), iron was easier to obtain and process.
It was up to Heinrich Schliemann to excavate this mythical site. What you can visit today at Mycenae is a fortified acropolis on a central pass. Views are great and the lion gate stunning. In addition, there is a large tomb you can enter and an onsite museum. Tiryns is the lesser of the two site. It's a massive, but rather simple fortification. Near Tiryns there is also a dam and another tomb grave you can visit.
When I visited, I got really lucky. A few hours after I left, the area around Mycenae was in flames.
Getting There
There are regular busses from Athens to Nafplio via Isthmus, Fichti, and Argos. If you get off at Fichti, it's 3.5km walk to Mycenae. Between Argos and Nafplio are local busses (every 30-60min) that stop in front of Tiryns. You can see it well from the street on your way to Nafplio. From Nafplio you can also connect to Tripoli.
They sell a combined ticket (20€) for Mycenae and Tiryns that also covers multiple museums (Byzantine Museum Argos, Archeological Museum Nafplio) and another archeological site. If you plan to visit both sites, it would make sense to get it.
While You Are There
Epidauros is nearby. Getting there by public transport is hard, so I would arrange a taxi to take you and wait for you at the site. Argos has a nice amphitheatre (T) and agora and a Frankish castle. and Nafplio has three late medieval fortifications (T). In general, Nafplio, the first capital of Greece in modern times, is quite pleasant and I would recommend using the town as base.
---
I visited Mycenae in July 2018. The city was the center of the Late Bronze Age civilization that was the main precursor to the classical Ancient Greek culture. Mycenaeans' period of domination over the Mediterranean came around 1600 BC. Little visible remains of that glorious period, though; Mycenae is mostly piles of rocks, with very few surviving discernible features, making a site like Delphi quite well-preserved by comparison (of course, Delphi is about a whole millennia younger).
In fact, the signature surviving feature of Mycenae greets the visitors at the very entrance to the city – the Lion Gate, dating from around 1250 BC. Beyond the gate, the site is mostly parts of walls, overgrown foundations, and a couple of grave circles; the city's dominating position over the Argolid Plain offers sweeping backdrops. Since there is little left to preserve on the site, very few areas are out of bounds to the visitors. This goes really well with the smaller children, who can replace the boring exercise of looking at the rocks with a much more exciting exercise of climbing on and over the rocks.
The onsite museum's collection of artifacts is simply exceptional.
Mycenae is located on Peloponnese a little over an hour and a half drive from Athens. The site itself can be seen in under an hour; the museum will require at least another hour, if not more. The tomb of the mythical king Agamemnon is a separate site a short walk away. Tiryns - the other location of this WH property - is located about 20 minutes away by car. We drove past it on the way to the seaside town of Nafplion. From the road it looked to be a smaller site and definitely much less crowded.
Read more from Ilya Burlak here.
---
I visited Mycenae in October of 2016. I went on a day tour from Athens that went to Epidaurus in the morning and Mycenae in the afternoon. I don't think this was enough time for the site, as I had to skip the museum and didn't get to see Tiryns. I would recommend giving Mycenae and Tiryns a full day if you have the time.
My favorite part of the visit was climbing to the top of the Citadel and seeing out across the countryside.
I recently did an interview with John Bennet from the British School at Athens. He works on Mycenae and has a lot of interesting information about how they choose to do future archeological digs and how it was rediscovered as an archaeological site in the 19th century. The interview is here:
Mycenae Interview with John Bennet.
Here's my visit write-up with more pictures:
UNESCO World Heritage Site #33: Archaeological Sites of Mycenae and Tiryns (Greece).
---
Mycenae is a large city, best known for its circular tombs and the Lion Gate.
Nearby Tiryns is a minature Mycenae with an acropolis and a series of tunnels beneath it.
Buses travelling between Nafplio and Argos stop here.
---
I visited this WHS in June 2014. I was expecting a pile of remains and a famous gate. Instead I found the remains of a whole citadel with fortified walls and tombs. The main highlights are the Lion Gate and the Beehive Tomb but the Archaeoligical Museum included in the price has beautiful artifacts and very good information boards. I enjoyed visiting this site in the late afternoon when all the tour groups had left and I must say that Mycenae is indeed one of my favourite WHS in Greece.
---
Douglas Scully
Doug (USA)
Unfortunately I had only a passing glimpse of Tiryns on my way to Mycenae. Mycenae is a little disappointing to visit after reading much that has been written about it. The lion gate is classic and must be seen. The megaron foundation must be visited by anyone interested in Mycenean culture because this achitectural style is mentioned so often. Take a flashlight and explore the stairway down under the walls to the spring below. Nearby are other sights that are wonderful. Visit the large Mycenean beehive tomb and the Mycenean stone bridge (oldest in the world?).
---
My Greek journey was slowly coming to its final leg and the town of Nafplion became my base for the last week. Located by the Mediterranean and actually the capital of Greece during a few years in the 19th century, Nafplion it's a beautiful blend of Venetian and Greek architecture and actually a summer resort for the Greeks themselves, being just a couple of hours drive from Athens.
Not too far away from Nafplion you find the ancient site of Mycenae and Tyrins. The first is the obviously more well-known site and the place told in the Iliad and the Odyssey by Homer. At the time of my visit, luckily Brad Pitt had just ensured that the site was completely flooded with American tourist through his unforgettable interpretation of Akilles in the re-make of the movie Troy. Somehow I doubt that Brad will stand the test of time, compared to Homer though..!
If Mykene was over-crowded, Tyrins was completely empty, though part of the same Heritage Site. Unless you are absolutely dying to see the Lions Gate at Mycenae, Tyrins is also quite a good example of a Mycenean fortification. My personal suggestion is that you visit them both. Either with a car or by bus, it's not problem visiting them both in a day.
---
2.50 The Netherlands - 27-Dec-01 -
I was in this area on St. Stephens Day, the day after Christmas. All archeological sites would be closed, but I decided to go there anyway (hoping to catch a glimpse from the outside).
The first stop is at Tiryns. Walls, very thick walls, that's what you see. I park my car at the closed entrance and decide to take some pictures from different angles. All solid rock as far as I can see. When I walk away from my car, a little barking dog appears. Those stray dogs are a frequent sight in Greece, and I am not at all happy with that. Five minutes later the little barker is joined by a bigger friend, a German shepherd. They both stand barking and growling between me and my car. No other human being within sight, I walked away to regain courage. A few minutes later I try it again, coming from a different angle. The dogs seem to have forgotten about me so I can sprint to my car. But I got my pictures!
Ancient Mycenae is an hour's drive away. Lovely surroundings this time: brown hills, green olive trees. And those walls again. But the outlaying of a city is recognizable this time. Here an old man keeps guard. A good look from the outside will have to do. The tholos-tombs can be seen from the road: there, in graves shaped like beehives, the Mycenean royalty was buried. I would have liked a closer look at Mycenae, but am not dissatisfied with what I managed to see after all.
---
Cyprian Dalli
I visited Mycenae on Saturday, 28th June 2003. A beautiful, altough hot summer afternoon.
It has been a childhood dream for me to visit this veritable cradle of civilization. I can still recall the time when, as a primary-school boy, I used to read about the civilization at Mycenae and it famous and interesting citizens, especially Agammemnon.
And there I was, after hours of drive from Athens, standing emotionally in front of the Lions Gate beside the Cyclopedian walls ! What a sensation it was to pass through that gate as many other people have done before me and where the history of Greece, indeed all Europe, was shaped in such a bygone era!
It was a dream came true on a blazing summer afternoon.
---
david key
I visited Tiryns last Saturday 14/6/03 and had looked forward to doing so for some years.The size of the citadel site was impressive but as the Olympic Games are in Athens next year and many interesting parts were closed for refurbishment such as the corbelled galleries, stairways and the complete Northern part of the site. They are building a new visitors centre to the NW of the site near the NW wall. Claims that the fortifications make up for its natural defensive deficiencies found at Mycenae seems fully justifiable. Like other Late Helladic IIIc sites the dimensions of the rooms are generally small. Both megaron are small for example. Could these really be throne rooms? Many are rooms are little more than foundations. Beware: the West wall is in shadow early morning and difficult to photograph. Its still worth a visit to relive the grandure of this civilisation. Take an Argos bus from marvellous Napflion for 90c one way for the 5 minute trip. The stop is outside the site. The entrance is a modest 3 euros. Enjoy. Mycenae, however,is still the one to visit. Try to get to see the famous C15th bc suit of armour with boar tooth helmet in the Napflion Museum from the Dhendra chamber tomb. The museum is by the Sygmata Square and entry is free. Shut Mondays of course. Happy archeology finding. David
---
Site Info
Full Name

Archaeological Sites of Mycenae and Tiryns

Unesco ID

Country

Inscribed

Type

Cultural

Criteria

1

2

3

4

6

Categories

Link
Site Links
Unesco Website
Official Website
In the News
Visitors
300 Community Members have visited.