Monticello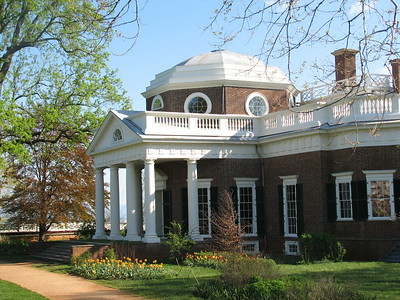 Monticello and the University of Virginia in Charlottesville are the two major works of Thomas Jefferson (president, writer, architect), and outstanding examples of neoclassical architecture.
He was inspired by Andrea Palladio's Four Books of Architecture and several trips to Europe.
Monticello (1769-1809) is an example of a neoclassic villa rustica, based on a Roman design. The estate included a plantation for growing tobacco and corn, later replaced by the more lucrative wheat. It also held living quarters for his many workers and slaves.
The Academical Village of the University of Virginia was based on Jefferson's educational ideals, "that learning is a lifelong and shared process, and that interaction between scholars and students enlivens the pursuit of knowledge." Its most famous building is The Rotunda, which sits at the north end of the Lawn.
Visit April 2009
I was already present at Monticello at 8 am, fearing that this may be a very popular attraction. And indeed, a group of schoolchildren also just arrived. Fortunately they got on their own tour and I didn't see them again. While waiting for the shuttle bus that takes you to the house, I admired the new visitor center that has just opened a few days ago. It has reserved ample room for a huge museum shop. There's also an exhibition about Jefferson as an architect, how he designed, built and where he got his ideas. Well done.
The tour takes about 30 minutes and takes you through the rooms on the ground floor. The house has period furniture in it, though not all belonging to Jefferson. He died bankrupt and much was sold after his death (including his slaves). Via the use of sky lights and high windows the rooms appear very bright.
The tour is quite superficial, and deals mostly with Jefferson as a person. After that you're free to roam the grounds on your own. That includes the underground passages and Mulberry Row, where the labourers and slaves lived.
Later I also paid a visit to the Academical Village of the University of Virginia. I didn't succeed at first (in the morning) because all parking spots in the immediate area were already taken. All those American students with cars of course! So I returned after dinner. It's really worth the effort. The students live in small rooms that hold nothing more than 2 beds and some personal stuff. As it was a warm evening, most of them had their doors opened up to the central lawn. Especially if you're over 30 you might feel a little out of place here. But you're free to have a look around. You'll be overwhelmed by its strong neoclassicist layout.
Click
here
to see more of my photos of Monticello
Community Reviews
---
---
---
---
---
---
---
---
---
---
Community Rating
Community Rating 3.15. Based on 10 votes.
Site Info
Full name: Monticello and the University of Virginia in Charlottesville
Unesco ID: 442
Inscribed: 1987
Type: Cultural
Criteria: 1 4 6
Site Links
Unesco Website
Official Website
Related
In the News
Locations
The site has 2 locations.
Connections
The site has 20 connections. Show all
Visitors
153 community members have visited Monticello. Show all