Lednice-Valtice Cultural Landscape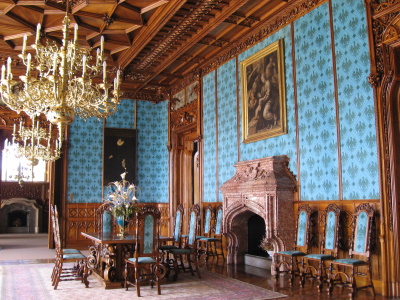 Photo provided by Eva Kisgyorgy
Lednice-Valtice Cultural Landscape is an artifical landscape that evolved during the Enlightenment under the guidance of the House of Liechtenstein.
The design started in the 17th century with the creation of avenues connecting Valtice with other parts of the estate. During the 18th century a framework of avenues and paths providing vistas and rides was developed, imposing order on nature in the manner of the Renaissance artists and architects.
In the 19th century major projects were started: the landscape became fashioned according to English romantic principles of landscape architecture under supervision landscape artist Bernhard Petri.
The landscape park has two centres:
- Valtice Castle and town
- Lednice Castle and village
These two localities are connected by Bezruè Avenue. There is also one more village in the park - Hlohovec. The surrounding area is covered with pines, ponds and holds numerous bigger or smaller pavilions scattered throughout the whole complex, often serving as hunting lodges. Baroque and Romantic elements are mingled.
Map of Lednice-Valtice Cultural Landscape
Legend
Visit October 2018
What is the 'worst' WHS? According to the ranking of most popular sites on this website, Kuk in PNG is currently rated the lowest among our community members - although it has only 1 vote and few have been there at all. Among the more frequently visited ones, Battir and Srebarna stand out negatively. Well – regarding the WHS visited by me I have just reached an all-time low: I gave Lednice-Valtice Cultural Landscape a 3 out of 10, which in my personal conversion table translates to 1 star. Even less than the little inspiring Srebarna where I was a month ago….
Last Sunday I spent an hour at the castle and garden of Valtice. I did so after having driven up from Lednice right across the cultural landscape that connects these two estates / towns, where the Liechtenstein family united baroque architecture with English landscape architecture. That it was a 'bad' WHS visit for me shows in several ways:
The number of photos: I took 23 in total of Valtice, of which 9 made it into my Flickr album which I use as a back-up for the photos that I like to keep. At Valtice there is just little that captures your eye. My personal record at the other end of the spectrum by the way is for Machu Picchu, where I took over 400 photos in a single visit!
I cannot see its OUV: Lednice-Valtice's OUV statement is full of hollow phrases, such as "bringing together in harmony cultural monuments from successive periods" and "served as a model throughout the Danube region" (seems regional to me). In the end it is a designed landscape by an aristocratic family from the 18th century. The same century already gave us the much grander Potsdam, Drottningholm and Caserta for example!
The visitor experience: a number of landscape elements that might have been of interest were closed, either for an undisclosed period of time or temporarily for the winter season. These include follies such as a grotto (no longer accessible), a frog cellar (closed with a lock), the colonnade (no access in winter season?) and the St. Hubertus Chapel (requires a 5km walk and who knows what you will find at the end of that?). Both Lednice and Valtice castles are right in the middle of a town and parking is a nightmare too. Valtice castle looks tired and the hotel in one of its wings is under scaffolding at the moment.
In its defence it must be said that Valtice was the 3rd Czech castle-garden WHS that I visited in a row, so maybe if I had seen this one first it would have been a better experience (although Litomysl for me certainly stands out because of its originality). There are also bike trails that cross the cultural landscape between Lednice and Valtice, which can be a nice way of experiencing this area. Or maybe Lednice is more interesting than Valtice….
Click
here
to see more of my photos of Lednice-Valtice Cultural Landscape
Community Reviews
---
---
---
---
---
---
---
---
Community Rating
Community Rating 2.55. Based on 19 votes.
Site Info
Full name: Lednice-Valtice Cultural Landscape
Unesco ID: 763
Inscribed: 1996
Type: Cultural
Criteria: 1 2 4
Site Links
Unesco Website
Official Website
Related
Connections
The site has 26 connections. Show all
Visitors
136 community members have visited Lednice-Valtice Cultural Landscape. Show all