Lake District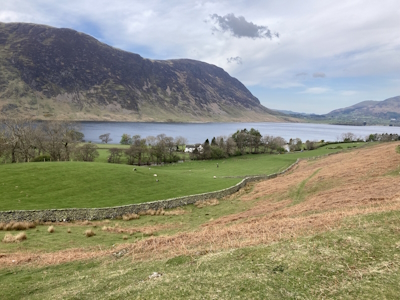 The English Lake District is a cultural landscape shaped by Ice Age glaciers where farming and sheep grazing have defined the land.
It is a mountainous area of great beauty, that has inspired painters and writers since the 18th century. It has the highest peak in England, 13 narrow valleys, 16 lakes of glacial origin and woodlands.
Community Perspective: the landscape can be lovely, but parts are "insanely touristy" (Windermere, Keswick). The quieter places are good for birding and hiking.

Community Reviews
---
3.00 United Kingdom - 04-Oct-22 -
The Lake District is a place of superlatives for England – it's biggest and most visited national park, it's tallest mountain (Scafell Pike), it's deepest lake (Wastwater), it's largest lake by surface area (Windermere), and it's wettest inhabited place (Seathwaite). The World Heritage Site, inscribed in 2017, is contiguous with the borders of the much older national park, which was established in 1951. If the phrase 'national park' gives images of untamed wilderness, think again as the Lakes have been a popular tourist destination since the 18th Century and so a significant amount of infrastructure is in place to support all these visitors. However, the number of people continues to rise ever year so in popular spots on sunny days it can become very busy and overwhelm these services. For those visiting by public transport, there are a network of bus routes that crisscross the area although some are limited to the peak period of summer. There are also regular trains to Windermere as well as occasional services along the coast on the very edge of the core zone. There is an opportunity for a double tick on the coast as the Lake District overlaps with the Frontiers of the Roman Empire at Ravenglass where there are the remains of a Roman bathhouse although a visit here would not show off the best aspects of either site.
It is difficult to give an objective assessment of the Lakes as a native Englishman. They are ingrained in our culture from childhood, growing up reading Beatrix Potter's tales of Peter Rabbit and the Flopsy Bunnies at Hill Top Farm and Arthur Ransome's adventure stories of the Swallows and Amazons sailing on the lakes. Poets like William Wordsworth and Samuel Coleridge were so enamoured with the Lakes that it inspired large parts of their Romantic movement, including Wordsworth's "I Wandered Lonely as a Cloud", arguably one of the most well-known poems in the English language. Once cultural attention had been brought to the area in the 18th Century, it has snowballed ever since and in modern times had played host to novels from Ernest Hemingway and Ian McEwan and even inspired a Taylor Swift song. This powerful cultural connection to the Lakes means that so many people now holiday there that it is causing issues such as erosion on the overused mountain footpaths, lengthy traffic congestion and lack of parking on the narrow rural roads, houses being bought up for B&Bs and second homes to the extent local people can no longer afford to live there, and all the usual littering and such that are commonplace in tourist hotspots around the world.
Just as contentious as all that is the obvious question why this landscape of natural landforms, lakes and mountains, is inscribed as a cultural site rather than mixed. This is because the current picturesque views of sheep grazing on windswept fells are anything but natural, the result of many years of humans shaping the environment to fit their livestock. Whilst these have inspired the aforementioned Romantic artists and poets, there is an argument that this is not a cultural landscape that should be preserved rather one that should be destroyed and the barren moorland returned to its pre-agricultural forest state. It would be an interesting experiment to see how much of this rewilding UNESCO would tolerate before listing the cultural landscape as being 'In Danger' by the advance of nature, raising all manner of questions of what parts of our heritage we should preserve and at what cost to the planet. There is no risk of that at present, however, as the enduring popularity of the Lakes with tourists from across the UK and beyond means the basis on which they were inscribed will likely persevere as it has for centuries regardless of what conservationists may say.
---
2.50 The Netherlands - 21-Apr-22 -
Although I have visited almost all West European WHS, two easy sites across the Channel had become virtually inaccessible during the Covid years. One of those is the English Lake District, an annoying miss as the site is visited by millions of tourists yearly and is also comfortably in the top 20% of most visited by our community. The best time to visit the Lake District is when it doesn't rain and when there are no school holidays. I was rather lucky with 2 sunny weekdays in mid-April, though I did catch the final days of the Easter holidays.
As the size of the Lake District and the lack of clear focus of the WHS is a bit intimidating, I decided to allocate 2 days to it. Fortunately, near-local Solivagant suggested two driving routes. On the first day, I drove South to West, from Ambleside to Sellafield. I actually started a bit north of Ambleside, at Rydal Water. Here you can do the Lake District in a nutshell: the easy 1.5-hour hike around the lake will deliver lake views, dry stone walls, some sheep, and bare hilltops. Rydal Hall, a large country house, features the "Quiet Garden" with reference to the Picturesque period. The area is quite touristy, and people were sunbathing at and swimming in the lake.
I then drove on to the west, using the Hardknott Pass. This is England's steepest road – and narrow it is as well. Fortunately, you can see approaching cars coming from afar. I found the drivers very accommodating: officially, the ascending cars have priority, but in practice, everybody tries to get out of the way in one of the many roadside bays. At a plateau just beyond the top of the pass lies Hardknott Fort, the impressive ruins of a Roman fortress. A couple of Herdwick sheep roamed around as well. The driving and the scenery have slight similarities to the Silk Road, but the road between Ambleside and Eskdale is only 27 km long and the top lies at just 393 meters altitude.
On the second day, I drove North to East, from Cockermouth (where I had been staying overnight) to Keswick. The overcrowding and lack of parking were more of an issue here, and a number of parking lots could only be paid for with pound coins (which I did not have).
I did enjoy my morning though, when from a small free car park at Crummock Water I hiked past fields of bluebells that were just starting to blossom (early May would be the best bet here) uphill to Rannerdale Knotts. This "fell" is one of the 214 peaks in England known as the "Wainwrights", named after an author who described all of them in cute little books in the 1950s and 1960s. The path here slowly ascends, it's a medium-level hike of about 2.5 hours / 8km return. I did only make it to the second hump of the mountain ridge: severe winds prevented me from pushing on towards the peak. The local sheep didn't seem to be bothered by the gusts.
Two topics cannot be left undiscussed regarding this WHS: the District's natural values and its OUV. In the week before my trip, I had been reading The Wild Places by Robert Macfarlane, where the author searches for "genuinely wild places" in Great Britain and Ireland. There's a short passage on the Lake District as well: he climbs the Red Pike near Buttermere in mid-winter. He describes the value of the Lake District "as though it had been loved into tameness by its millions of visitors".
I never got a grasp on the site's OUV either. It wasn't discussed at the WHC, as ICOMOS favoured inscription as a cultural landscape already since its first proposal in 1987 and the site was a shoo-in in 2017. The UK used a combination of 3 arguments to substantiate its claims, as in "the only site that has a blue roof, a red fence ánd a yellow front door". I've tried hard to summarize its apparent values in one clear sentence but failed. The site seems to have the greatest importance for the UK itself, for its artists, and for the development of its park service. What remains for others to enjoy is mostly criterion vi, the romantic associations with a pretty, manicured landscape.
---
I visited this WHS in July 2019 and spent 5 nights here; 3 based near Ulswater and 2 based near Keswick. To try to cover as much ground as possible I did a combination of driving through nerve-wrecking narrow country roads as well as a number of different hikes.
Even though it is a cultural landscape WHS, the Lake District could easily have been a mixed site. There aren't very remarkable historic sites around Lake District National Park although I must say I really enjoyed the Stone Circle of Castlerigg, Wray Castle and what's left of Pullney Bridge which was hard hit by the 2015 floods.
My favourite lakes were those of Ulswater (photo) and Wastwater. Apart from the very pleasant easy walks of Friar's Crag and Centenary Stone, my favourite hike at Ulswater was the uphill hike around Gowbarrow Fell, past the touristy Aira Force Cascades.
My favourite driving experiences and stopover points were at Honister Pass (with short hikes to lovely waterfalls) and at Kirkston Pass with a number of mandatory stopovers at the Kirkston Pass Inn, one of the highest pubs in the UK. At Buttermere, make sure to stop by the Syke Farm Tea Room for great ice creams. Of all the lakes, Windermere was by far the most busy and the least interesting and 'outstanding' in my opinion. Nonetheless, the Claife Viewing Station and Courtyard are a good spot for a panoramic photo.
Tarn Hows and Black Crag were another highlight of the Lake District NP providing excellent views over Langdale and the Coniston Fells. Apart from the loop around the tarn, I also tried out the Tom Gill cascades hike even though the best time to visit is probably in autumn for the colourful foliage season. There were almost no signs of wildlife or birds when I visited even though the red squirrels seem to be making a slow comeback.
To make up for this, as a bird watcher I went to the Esthwaite Water Site of Special Scientific Interest (SSSI) which is situated between Windermere and Coniston Water. Esthwaite is a mesotrophic lake but what brought me here was a pair of osprey that built their nest in the middle of the lake on a treetop. From the cafeteria near the lake, a webcam placed above the nest provided a very good livestream of the 2 adult ospreys and their two juvenile offspring. I also hired a self-drive boat to go closer to the nest and used my binoculars and zoom lens to watch the birds without disturbing them too much.
All in all this idyllic and scenic WHS was very pleasant to visit and I felt it possesses OUV. Even though it isn't one of the top WHS on the list, it definitely is one of the UK's most visited and rightly so. As a tip, avoid renting bigger cars to visit the Lake District as the roads are really narrow at times.
---
I spent a couple of rainy days in Lake District in June 2006. I really liked my stay in the area visiting villages such as Keswick and walking around several lakes. However, I feel an interesting paradox regarding this WHS: despite my very positive impression, I still do not understand what is OUV of this "cultural landcape". Anyway, I have left a disputation on this topic to clever scholars, and want to visit Lake District again...
---
March 2018 - it was one of our ultimate goals to visit on the trip. it was a half day drive from Liverpool, and different than the whole week before, it started raining. Very unfortunate, but when we entered the nationalpark it was foggy which added up to a mysterious experience. We drove up to Hawkshead, where we visited Beatrix Potter Gallery and made a small hike visiting sheep, sheep, and more sheep. Very nice part of the Lake district. However we wanted more mountaineous so we still drove to Keswick.
The town is a typical adventure, outdoor experience kind of town, like there are in the US NP. We found a campsite and had some more beer and dinner. The next day we took a famous hike to Pennyworth.Next to Derwent water. From the top you copuld oversee the whole area. It was beautiful in the morning, especially the lake landscape.
What i do not really understand, is why Lake district is not a mixed WHS. The Lakes and mountains were not build by men, but are a product of ice age. Anyway we enjoyed our stay here very much and will definitely come back some day.
---
What an incredible landscape. Although all of England is lush, green, and beautiful, when you arrive in Lake District National Park, the landscape changes. Hills rise higher and a bevy lakes appear around every winding road. The larger landscape was shaped by glaciers in the Ice Age, but some of the prettiest parts of walking the area is the more modern agro-pastoral system in places, where rock and wooden walls enclose large fields, holding in place the sheep that graze contentedly on every visible hilltop.
Having visited other areas of England, including the picturesque south like Devon and Cornwall, I can without a doubt say that the Lake District is unique. There's history here too, and when you take any of the dozens of recommended walks, you are seeing the landscape that inspired the likes of Beatrix Potter and William Wordsworth, among others.
The Lake District, despite being insanely touristy, is just wonderful. And the staff running the information centers are incredibly helpful at helping you select walks, hikes, and bike rides that meet your abilities. They also have information on the most scenic drives, and routes that stop in some of the tinier towns, where just a guesthouse, pub, and a few locals add color to the experience.
And no matter if you explore by foot or car, you also have to add in a boat ride on Lake Windermere, or one of the smaller lakes. Seeing the landscape rise high from the Valleys while on the water is just breathtaking.
Read more from Shannon O'Donnell here.
---
4.00 Netherlands - 07-Jun-17 -
Even though I have heard the reputation of England's Lake District for a long time, it was not in my top list of places I want to see on British Isles; however, when I visited Scotland last year autumn, it was a good opportunity to add an extra few days to go down to Cambria and to see the famous site. From Edinburgh, it was very convenient to reach Lake District by superb highway. Since I came from the north, I decided to use Keswick as my base to explore this national park. The landscape of Lake District along the Derwent Water was very lovely with beautiful mountain, pretty houses and amazing autumn foliage. I drove to the beautiful Honister Pass passing picturesque villages of Borrowdale and Rosthwaite. When I reached the Pass, the landscape changed dramatically with steep grass mountains that similar to Scottish Highland or Northern Scandinavia. The scenery of the valley became more breathtaking between the Honister Slate mine and Buttermere Lake. Then I changed to use small road to the village of Stair, the view along this route was maybe one of the most beautiful places around Keswick.
I had no doubt that Lake District I saw around Keswick was a very beautiful place; however, there was no truly outstanding that made Lake District to be unique in my opinion, so I decided to focus more on cultural sites. The most important historical site in the area was the stone circle of Castlerigg, while the value of the site was no argument, it just could not compare with its famous cousin in Southern England of Stonehenge. The next day I drove to see the beautiful village of Grasmere, the village was the joy of sight and a good place to sample many delicacies of this area from tea bread to the famous and unique gingerbread. From Grasmere to Windermere, the traffic became more chaotic with too many cars, and the landscape were not inspiring as there were too many structures for tourists, a really contrast with peaceful Derwent Water. I did not find the famous Lake Windermere to be the most picturesque place on Lake District, the lake was nice, but the overdeveloped for tourism already destroyed the landscape. I ended my day at Kendal to discover that its famous mint cake was not my cup of tea and will never be on my list of gourmet destination. My last day before I went back to Scotland I decided to revisit Grasmere, because I found its gingerbread was delightful and a perfect for souvenir gift. I luckily chose to use Kirkstone Pass route, the route was more beautiful than the Honister Pass with deeper valley, small lakes and beautiful villages. Along the road I saw a lot of sheep, horses, traditional farming that perfectly fit the image of agricultural or pastoral landscape. Another joy was there were few tourists on this area. The view from Kirkstone Pass down to Lake Windermere was really hard to believe that I was in England and not in Northern Sweden. My last spot of Lake District was Ullswater which was also lovely and had many places to stop and relax along the lakeshore.
All in all, Lake District is a very beautiful area of England and I really enjoyed my time in this corner of this country. Even though I am not really convinced for its universal outstanding value, and since I am not a great fan of English poem or classic, I am not fully comprehend its role on literature inspiration, I may recalled that there is some quote in Pride and Prejudice that refer to the lakes, but is that a real matter to the OUV! Anyway compared to another cultural landscape that I visited couples of months later in Southern France, I had to admit that Lake District is a worthy place to be World Heritage Site and worthwhile to explore for every travelers especially the area outside Windermere area. The place has everything tourists need, good transportation, great food, lovely landscape, countless lakes and mountains to discover.
---
Site Info
Full Name

The English Lake District

Unesco ID

Country

Inscribed

Type

Cultural

Criteria

2

5

6

Categories

Link
Site History
1990

Deferred

lack of appropriate criteria for the examination of cultural landscapes
1987

Deferred

As "Lake District NP"
Site Links
Unesco Website
Official Website
In the News
Visitors
357 Community Members have visited.