Ksar of Aït Ben Haddou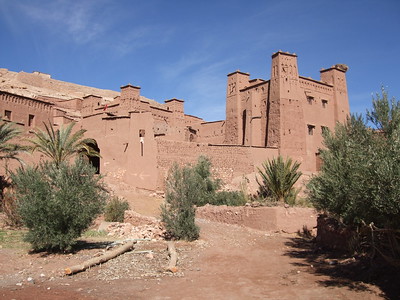 The Ksar of Aït Ben Haddou is a communal housing compound, typical of a type of construction that is traditional to the Maghreb.
The buildings lie in a strategic position against a mountain. They have angle towers and are surrounded by steep defensive walls.
The Ksar consists of larger and smaller private houses, but also communal areas like a market place and a mosque. All are made from moulded earth and clay brick. The walls and towers are often ornamented with decorative motifs.
The age of the site is unknown. The town has been protected by the Moroccan authorities since 1953.
Map of Ksar of Aït Ben Haddou
Legend
Visit December 2009
Aït Ben Haddou is a town in Southern Morocco, about four hours drive from Marrakech and close to Ouarzazate. Getting there is half of the fun, as you'll have to cross the High Atlas mountains. The pass, called Col du Tichka, is at an altitude of 2260 metres. When I visited in December, some snow could be seen on the highest tops somewhat further away.
The landscape gets more and more barren after that. There still are villages though. And women carrying fire wood and goat herds by the side of the road.
I made this trip with a minibus on an organized day tour from Marrakech. This obviously has some disadvantages: we had only one hour at the site for example. You're let off at the small modern town of Aït Ben Haddou. From there it's a short walk to the water crossing that divides the new and the old town. Floods in the past weeks had turned the stream almost into a river. Obviously to the joy of enterprising locals, who made good money ferrying tourists across on the backs of their donkeys and horses. They even seemed to have fixed their prices among each other – 20 dirham (1.80 EUR) a ride. The prospect of a shaky ride or the fee was enough to keep more than half of the tourists (who had arrived in the dozens) at the shore.
I opted for a fat donkey (my first time!) and arrived safely at the other side without getting my feet wet. As I stood right in front of the village, it became clear to me that this Ksar really must have been built as a fortress to keep outsiders out. Its high exterior walls make you feel very small.
The villagers let you in nowadays - if you pay them 10 dirham. The interior of the complex has more open air to show than the outside suggests. There are several streets, and stairs that lead you up to a view point. It doesn't appear that people still live there; there are some young guides around and several of the buildings have been turned into "art" shops. As I was put on an one hour-time limit, I had to run around quite fast. Admiring a decoration here and a view there, I couldn't help comparing this highlight of earthen architecture with the pueblos in the southern US or the similar looking sites in Timbuktu and Djenné across the Sahara in Mali.
This site is well worth a visit of a couple of hours to do it full justice.
Community Reviews
---
---
---
---
---
---
---
Community Rating
Community Rating 4.11. Based on 14 votes.
Site Info
Full name: Ksar of Aït Ben Haddou
Unesco ID: 444
Inscribed: 1987
Type: Cultural
Criteria: 4 5
Site Links
Unesco Website
Official Website
Related
Connections
The site has 13 connections. Show all
Visitors
160 community members have visited Ksar of Aït Ben Haddou. Show all