Cornwall and West Devon Mining Landscape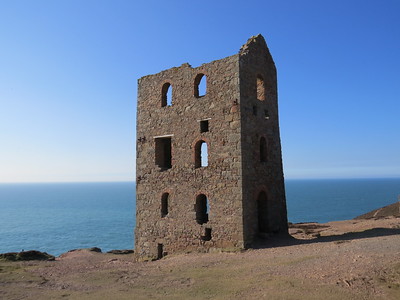 The Cornwall and West Devon Mining Landscape was transformed in the 18th and 19th centuries by industrialized copper and tin mining. Steam technology was pioneered here.
The remaining landscape is dotted with waste and spoil heaps and ruined mines, railways, canals and engine houses. Also, migrating Cornish miners have had an influence on mines all over the world.
Community Perspective: This site has a rather daunting scope and there are 10 subsites to choose from, with sights including the wonderful village of St Agnes, the unique open-air auditorium of Gwennap pit, and the photogenic St Just Mining District. It's the easiest to explore by rental car because of the distances. Nan has described his adventures getting around on public transport.
Map of Cornwall and West Devon Mining Landscape
Load map
Community Reviews
---
Japan / USA / Europe - 16-Apr-22 -
"The more mechanical you are, the freer you are." --- Robert Wilson
For this occasion to visit the UK, I decided to finish up the remaining WHSs in the UK except some islands. As such, it was my first time to travelled to the south-western England: Dorset, Devon, Cornwall and Somerset. If I am going to this part of England, I thought, I'd better go all the way to Land's End and thus chose St. Just as the place to visit among the 8 locations of this WHS.
There was an incredibly knowledgeable woman at the Penzance tourist office. She had good answers to just about everything I asked her and was passionate about the area she served. While asking her these questions, I revealed to her my plan in minute detail in the St. Just area, including the departure and arrival times of several buses I was going to take, and she was sort of excited, saying, "I have never met any tourists as organized as you are." Well, a plan doesn't always go as planned.
I stayed for one night at a YHA Land's End in St. Just, with my main reason being the price: 23 GBP for a single room. My plan was to walk from the hostel through Cape Cornwall to the Botallack / Levant Mines in the morning, catch a bus to Land's End in the afternoon, return to Penzance by bus and then to Exeter by train in the evening. But the hostel stuff advised that it was not possible to do this walk to Cape Cornwall with my convertible wheeled backpack, as only narrow dirt trails lead to it. Because I forgot to attach the detachable shoulder straps and left them in my storage in Wroclaw, Poland, I could not carry the backpack on my back. I had to give up Cape Cornwall. My detailed plan was already in disarray.
So I just resorted to walking from the hostel for some 3 km on wider dirt and paved roads to the Count House of the Botallack Mine first and explored the area. The Count House is supposed to be a museum, but it was not open, perhaps because it was too early in the morning. But then there were Crown Engine Houses of the Botallack Mine hanging onto the cliff (photo). I can safely say that this view was the highlight of this whole trip. Although this Mining Landscape is a cultural site, I have to say I enjoyed the coastal scenery of Cornwall even more than that of Dorset.
From there I walked to the Levant Mine. This mine was offering a tour for pre-booked tourists only.
Because I skipped Cape Cornwall, I had some extra time to proceed further north to Geevor Tin Mine and even had time to take a 11 am tour of the facility that included another venture into one of the underground mines. Geevor Tin Mine also has a small museum. Before taking a bus to Land's End I had lunch at a cafe at Geevor: the largest Cornish pie I have ever seen. I wondered if Cornish pie was invented for the lunch for miners during the 18th century industrial revolution. It looks pretty handy. At Iwami Ginzan in Japan they had onigiri.
For the same bag-related reason stated above, I had to also skip the hike from the Sennen Cove bus stop to the Land's End bus stop, which was in my original plan. After Land's End my plan for the day went as planned.
After this trip I have concluded that since Cotswolds is too pretty for its own sake, my favorite region of England is now Cornwall.
So with this trip I have visited all WHSs in the mainland UK (which leaves out two Scottish islands and many more oversee islands / territories). But I have also "visited" 14 out of 15 National Parks in the UK! This happened only because in the UK there is this odd practice of laying down commercial railroads through National Parks or of designating National Parks over those railroads, depending on which existed first. For 6 out of 14 I have just happened to take trains that ran through the National Parks. I don't know how common this practice is in other countries, but off the top of my head I can't think of any National Parks in the US where train runs through, except some tourist trains / steam locomotives. For sure it does not happen in any of the 9 National Parks in California. My guess is that in the UK railroad network developed early, so when they created tracks, they didn't really give much consideration to environment, which is, in a sense, understandable. In the US railroad network has never really developed.
Read more from Tsunami here.
---
Cornwall voted for Brexit. This is somewhat surprising as Cornwall receives plenty of EU funding, being one of the poorest regions in the UK and qualifying for EU regional funds as a consequence. When visiting, I ran into plenty of "Funded by the EU" signs.
One part of the answer are myths about fishing rights. But I think parts of the answer are related to this world heritage site.
I had been to Cornwall as a kid and I had very fond memories of the place: It has great beaches and the weather tends to be better than in the rest of the UK. You can even find palm trees.
We did not pay attention to the decaying industrial heritage of the region, so I had to come again. I started my visit in the St. Just mining district, coming in by bus from Penzance where I had stayed for the night. The coast line around St. Just is dotted with very scenic abandoned mines on cliffs. Simply spectacular. I walked along the coast line and took picture after picture.
From there, I went to Hayle and found myself downloading the official Unesco map to make sure I wasn't missing anything. Hayle was an important town and harbour during industrialization. During it's heyday, the town was home to two major foundries, the Cornish Copper Company and Harvey & Co. You can still see their buildings in the town center. The town is now a backwater and there isn't much to see. While I am not a fan of serial sites in general (For goodness sake, just pick the best of the bunch!), it's rarely the case that seeing more components of a site make me value a site less. Hayle was such a site.
Last but not least, I went to Charlestown (picture). Surprisingly, this was the most touristy place I visited while in Cornwall. It's a nice historic harbour with cafes and restaurants. We also had great weather and kids were jumping off the harbour walls.
The question that stuck with me after I had visited all these sites was: "What happened?" How did a region with such a strong industrial base go to a backwater that depends on tourism, agriculture and fishing for income? I think this decay is what drove Brexit. In comparison, the Ruhrgebiet was subject to the same structural changes with many companies shutting down and abandoned factories dotting the landscape. But it continues to be Germany's industrial heartland with big corporations having their headquarters in Düsseldorf, Essen or Dortmund.
Getting There
Cornwall is a long way off from anywhere, especially if you plan to travel to it's westernmost tip at St. Just. There are no short cuts; believe me, I tried.
My original plan had been to fly to Bristol and then take a train. Then the airline went broke and I had to replan. I decided to travel via London and take a plane to Newquay the next day. Newquay mostly a national airport with a few international flights (Düsseldorf). From Newquay, I arranged a airport shuttle bus aptly named Pirate Bus that took me to Penzance.
Looking back, I should have taken the train from London. I had a Britrail pass anyhow. With all the time spend getting/to from the airport I don't think I saved much time (if any) going by plane. We experienced a 2h delay at Heathrow as we were not given a start slot. National flights get lower priority than international ones. To make matters worse, we had a drunk stag party on board (Newquay is popular with those) and I got to witness my first in plane arrest, which caused additional delays and nearly resulted in me missing my shuttle bus. Luckily, the guy waited one hour for me and I was his sole customer that time of day.
Getting Around
Several sites are well along the rail line. There are also regular buses roaming Cornwall and their data is available on google maps, although some of the bus stops were incorrect placed.
St Just is best reached by bus from Penzance. I went to the final stop (Boscaswell) and then hiked back along the coast to St. Just.
Hayle is a stop on the railway line and everything is in walking distance from the train station. Everything being very little.
For Charlestown, I traveled to St Austell and walked.
While You Are There
Cornwall has gorgeous landscape, pristine beaches ... It's really a nice place and a visit here comes recommended. Frankly, while I have ticked this off, I would still like to see the St Agnes Mining District and a few more sites. You may also want to check out Dartmoor National Park or take a ferry to the Scilly Islands from Penzance.
Via Exeter you can connect to the western parts of Dorset and East Devon.
---
I visited this WHS in May 2019. Even though I was short of time, I was determined to drive on from Durdle Door to visit the rather remote mining landscape around St Agnes. I will surely be revisiting this WHS in the near future and next time I'll focus on other sites closer to St Just.
This time round I made the most of a gorgeous bright Spring day (although chilly and windy) to hike from St Agnes Beacon to Tubby's Head. Obviously my primary focus weren't the military remains along the Cornwall and West Devon Coast but the industrial remains of this rather complete and unique mining landscape.
Even though I'm certainly not a fan of industrial heritage, this WHS is one of the best examples of a huge mining landscape - where nature has been exploited and the landscape has been shaped into a once productive industrial landscape which is still aesthetically pleasing to see and discover. The surface remains around the Wheal Coates area include a boiler pond, stamp and whim engine houses, the Towan Roath shaft pumping engine house, a stack serving flues from whim engine houses and calciners, gas engine foundations, dressing floors, an exposed section of flue from a calciner which was used for roasting tin ore (the shaft is so deep that if you throw a rock down the hole, you won't hear a sound!), a double-bayed calciner, etc.
Nature is taking over once again and several sea birds, passerines and peregrine falcons can be easily spotted. Make sure not to step on an adder while walking through the coastal vegetation! The dramatic cliffs and coast line reminded me of Cabo de Roca in Portugal. I really enjoyed my short visit here and would rank it as one of the most interesting and beautiful industrial heritage sites on the WH list.
---
The scope of the Cornwall and West Devon Mining Landscape can seem rather daunting, with its multiple components, but after my visit last May, I felt I had a better understanding of its role in the Industrial Revolution. I appreciated the recommendations of other reviewers on this site to help focus my travels, and used the quaint town of Tavistock as a base for my two day tour. From Tavistock, which is well described already, I followed its canal south to the Victorian river port of Morwellham Quay. This open air museum includes a copper mine, a village with a large water wheel used to crush manganese, and a quay once famed for the amount of copper transiting through it. Similar to Morwellham was the atmospheric port of Charlestown, where fog was rolling in over tall ship replicas when I arrived. This coastal harbor in southern Cornwall was also used to transport the region's copper out to the world. Some of this copper ore was shipped north to the Welsh port of Swansea, which, thanks to its nearby coal reserves, became famous as a copper smelting city in the 18th and 19th centuries. One can easily enjoy touring Cornwall and Devon with no knowledge of this World Heritage Site, but I really appreciated learning about the region's mining history.
Logistics: I found it easiest to visit sites via a rental car, since there are so many sites spread out across the region. In addition to Tavistock, Morwellham Quay, and Charlestown, I heartily recommend the Gwennap Pit and photogenic Wheal Coates, a former tin mine in the St Agnes Mining District.
---
3.00 Switzerland - 07-Aug-18 -
This site is hard to grasp since it is so wide spread, perhaps too wide. When I was traveling SW England this summer I wanted to see a representable part of it and decided to visit the two nearest areas: The Tamar Valley and the Cartoon Mining District. The Tamar Valley has a lot to offer: The lively town of Tavistock has evolved architectonically nicely from medival origin to its peak time in the 19th century. It has a impressive church where as often in England friendly elderly people drank and offered tea! You can walk along the quite natural river Tavi and parallel along the historically important straight Tavistock Canal. Have also a short look at the neogothic Mount Kelly College and if you like English cemeteries (as I do) there is a beautiful one right south of Dolvin Road. I can recommend the B&B The Cornish Arms, also for great Dinner and Breakfast. The nearby Tamar Valley is a lovely lush river valley, taken back by nature. There is a the interesting and historically important industrial site of Morwellam Quay. Also in this area are the Calstock Aqueduct and the estate of Cotehele: This is the mansion of a family that was closely linked with the industrialization of the area and includes an old mill and an industrial site at the river. I felt that this combination of nearby sites gave me quite a good overview of this WHS but I wanted to see at least one of the iconic engine houses. Since the brilliantly situated engine houses in St. Agatha were quite fare we drove to the Minions, about half an hour further west. This is a good starting point for walks in all directions. We left the car at the minions shop and decided to walk NNW and it turned out to be a wonderful walk: You walk through a almost Scottish moor landscape with lots of fern, wind shaped trees, sheep and cattle (and lots of droppings everywhere!). You pass two ancient stone circles (Hurlers stone circles, a first for me) and get further north to an old quarry and to the strange, supposedly natural stone heaps called the Cheeswring. From there you can walk SE to the quite impressive ruins of the South Phoenix Mine, from there SW to the Minions heritage center and our starting point. I can only recommend this walk but I recommend to take a GPS and a internet map along. There are absolutely no signs at all and after the Cheesewring it is often a bit adventurous to find the path. The map we bought at the Minions shop was of little or no use. It is better to find the places on Google map before you go, to bring good shoes and enough time.
---
March 2018 - Cornwall was very high on our list. Not because of the industrial heritage, but we wanted to see the beautiful gardens and rhododendrons.
Afer spending the night in Exmoor NP, we continued our journey to Cornwall. We passed the City Tavistock, which apparently is part of the WHS. But we couldnt see anything really inetresting. We also passed St. Austell and the Wendron basin. Nothing out of the ordinary but surely important in history.
After spending the next night at Lands End, we entered the St. Just Mining Area.
That is quite impressive due to its position directly on the cliffs and the mysterious ruins. We took an 1h hike around the mines. The museums were closed that day, or at least that morning.
We still had a stop at the Port of Hayle after visiting some gardens and having Cornish Cream Tea, but again, i really didnt see the OUV.
---
My parents live in Cornwall, so I often have the opportunity to see another of the 10 subsites. To date I have visited five of them.
St Just Mining District - in the far west of Cornwall you will find this is one of the most photogenic parts, with derelict mineshaft pumping stations clinging to the rocky coast. I suggest heading to the Count House at Botallack and walking from there.
The Port of Hayle - near to St Just, much less picturesque. This was an industrial centre, and you can see the remains of a foundry and millpond.
Gwennap Mining District with Devoran and Perran and Kennall Vale - a good way to see this subsite is to cycle the 11 mile miners' track. It takes you through quarry 'valleys'.
Tregonning and Gwinear Mining Districts with Trewavas - a split subsite: the main part is to an area of hilly heathland with good views from the top. Several miles away is also inscribed the village of Rinsey, where - like at St Just - you will find picturesque cliffside mine buildings.
Tamar Valley Mining District with Tavistock - this site is in the far east of Cornwall, where it borders Devon. Again, it is a split subsite, with one part featuring Kit Hill (very windy when I visited) and the other referring to the town of Tavistock (technically in Devon). It is a handsome mining town that was prettified by the 7th Duke of Bedford.
Read more from Tom Livesey here.
---
3.00 The Netherlands - 30-Mar-15 -
The Cornwall and West Devon Mining Landscape is one of the more remote sites on the UK mainland. The closest international airport I could fly into was Bristol, still a 2-hour and 45-minute drive away from my first destination. The WHS is spread out over 10 locations, most even much further at the tip of Cornwall and totally out of reach for my weekend trip. Together they form a partly relict and partly evolving cultural landscape, the result of 18th and early 19th-century copper and tin mining.
I had been advised to start at St. Agnes Mining District. St. Agnes is a coastal village with a mining history since prehistoric times. I had brought with me a print of a 9km circular walk along the coast, taking in some of the mining ruins. After parking the rental car in the town center, I started walking immediately. The signage isn't great, but somehow I found my way to the Trevaunance Cove. From here copper ore was shipped to Wales for smelting, and coal and other goods were unloaded for use at the mines. Already on this first stretch, I saw a couple of the characteristic chimneys from the former mines. It's a very pretty landscape.
After my lunch at the Driftwood Spars (a former warehouse), I started hiking the full loop along the coast. There were numerous people about, often walking their dogs or just enjoying the sunny weather as I did. The leaflet I brought pointed out several points of interest on the way, but I found it difficult to trace them down. Most of the time my eyes were drawn to the carcasses of the mines - with some imagination they resemble Crusader castle ruins. In the distance, you can also see the remains of waste and spoil heaps, but the landscape, in general, feels quite natural. I spent some 3 hours in this area, and the scenery certainly lived up to my expectations.
The next morning I set out for Gwenapp Pit, a former hollow created by mining turned into an amphitheater. It is situated way out in the countryside, only reachable by a series of typical English narrow roads and even narrower bridges. Although I found the visitor center closed, the gate to the Pit itself was open and I had a look around. It's a funny construction, used in the late 18th century for the Methodist preachings of John Wesley. Its stepped form with turf seats dates from later remodeling.
My last stop was Tavistock, a town in West Devon clearly on the well-worn tourist path. The Tavistock Canal that crosses it is a good example of the transport network that resulted from the mining in the region. The local museum only opens from Easter, like others that I encountered over the weekend. Maybe for the better, as it prevented me from making more derogatory remarks about regional British museums! So I just roamed around in town a bit. The former Iron Works now have been turned into housing. I tracked all sites of historic interest down, from the Sir Francis Drake statue to the Wharf. I ate a cheese and bacon pasty and drove on after 1.5 hours or so.
I found it hard to really get a good grip on the value of this WHS, having to put the pieces of the puzzle together myself as the elements are so scattered. The nomination file is an interesting read, though it focuses mostly on the mining heydays of this region and less so on the resulting landscape. There's no doubt about the importance and global impact of these pioneering industries. The effect of mining I found much less visible than at the Nord Pais de Calais Mining Basin WHS for example, which peaked some 100 years later. The St. Agnes Mining District definitely was the most rewarding location of the 3 that I visited.
---
This was the site with which I finally 'completed' my home island of Britain so obviously I was always going to be happy with it, but it formed the basis of a lovely long weekend in the 'West Country'. It also enabled us to discover what "World Heritage" is in Cornish "Ertach an Bys" if you were wondering.
The idea of trotting around disused mines and remnant industrial wastelands may not instantly appeal; my wife wasn't necessarily so keen on the idea. But the reality of a trip can actually be very enjoyable, mostly due to the natural setting of the sites. This is best seen at the wonderful village of St Agnes. It sits above a quintessentially Cornish beach, where we sat and watched the coast guard rowers set off around the headland, before looking up at the looming chimney stacks of the former mine on the cliffs above, a more enjoyable way to spend a Saturday morning would be hard to find. Just outside the village are the stunningly situated industrial remains of Wheal Coates which to my eye were the highlight of the WHS, not just because of the impressive vistas, but because you can also comprehend the mines stretching out under the sea below.
Our weekend took us around every one of the inscribed locations, the other highlights were the unique open air auditorium of Gwennap pit, made famous by Methodist preacher John Wesley. The surrounding landscape was also frequented by the Heavyweights of the early industrial revolution in Britain, including Boulton and Watt plus local lad Richard Trevithick, his work on steam engines in Gwennap was later used to build the first ever locomotives, and also provide mining expertise in Peru and Costa Rica. The quaint port of Charlestown was also a lovely place to view the former mining infrastructure and see from where the goods and people were shipped around the world.
On top of these mining relics this farthest limb of southern England provides some wonderful treats. The rugged northern coast is full of sandy coves and pleasant towns and the southern coast is home to some wonderful fishing villages, Mevagissey and Looe being highlights. Even the Cornish capital of Truro proved to be a nice surprise with a nice neo-gothic cathedral. Whilst further east the charms of Dartmoor National Park provided a wonderful way to arrive in the listed areas around Tavistock.
Though perhaps it is the food and drink that is most appealing, the peninsula is unsurprisingly renowned for its seafood, but the dairy produce (especially cream) is also very impressive. Mining has even produced the food that Cornwall is most famous for, the eponymous Pasty. All this can be washed down with some fine ciders and decent ales.
We had a rather enjoyable long weekend travelling all over the peninsula using the listed areas as a way of seeing the best of it. The industrial heritage is impressive, consisting of some spectacular undersea mines and the birthplace of steam driven transport. It is also interesting to discover the human and cultural legacy of the industry. However for the casual visitor it is the spectacular locations of the industrial relics around St Agnes that really made this an enjoyable site to visit.
[Site 7: Experience 7]
---
I visited the Geevor Tin Mine in Cornwall. There is an informative website (how to get there, opening hours, etc.) at http://www.geevor.com/
I took bus no 17 from Penzance. There are a couple of buildings one can visit and a very interesting underground tour to a mine tunnel - highly recommended.
All the mines in the area were family businesses, with just 10-20 employees. The Geevor mine is about 300 years old and was just recently discovered.
If you stay in Penzance, there are lots of other great places to visit in the area: St Ives, Minack theater, Scilly island, etc.
---
Over a few days I managed to visit a number of the sites:
Hayle - port for exporting tin
Wendron mining district - the Poldark mine with its interesting museum and exhibits
Portreath harbour - port for importing coal and exporting tin; many old mine workingws in this area
St Agnes - many derilict mine wotkings
Luxulyan - a mining village and Treffrey viaduct
Tamar valley - several derilict smelters seen from the train to Gunnislake
I visited all of the above by train or bus from Truro
---
Site Info
Full Name

Cornwall and West Devon Mining Landscape

Unesco ID

Country

Inscribed

Type

Cultural

Criteria

2

3

4

Categories

Link
Site Links
Unesco Website
Official Website
Related
In the News
From the Forum
Visitors
255 Community Members have visited.