Chartres Cathedral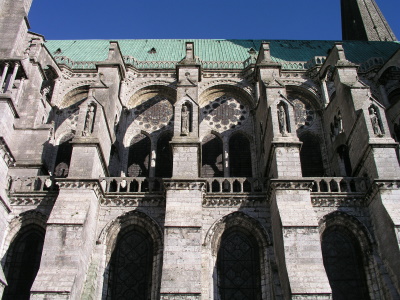 Chartres Cathedral is considered the finest example in France of the Gothic style of architecture.
The current cathedral was mostly constructed between 1193 and 1250. It is in an exceptional state of preservation. The majority of the original stained glass windows survive intact, while the architecture has seen only minor changes since the early 13th century.
The building's exterior is dominated by heavy flying buttresses. The west end holds two contrasting spires - one, a 105 metre plain pyramid dating from the 1140s, and the other a 113 metre tall early 16th century Flamboyant spire on top of an older tower. Equally notable are the three great facades, each adorned with hundreds of sculpted figures illustrating key theological themes and narratives.
Map of Chartres Cathedral
Legend
Visit December 2010
This was my 3rd WHS on the day: after having visited Provins and Fontainebleau I had a couple of hours left before it would get dark. So I drove on to Chartres to see its famous cathedral, knowing that I would not easily go there on a separate visit. I think I have seen enough Gothic cathedrals for the rest of my life.
Both Provins and Fontainebleau were almost deserted when I visited earlier this day, but that unfortunately wasn't the case for Chartres. It took me over half an hour to find a parking spot in the city center, which was overrun with Christmas shoppers.
Fortunately, the Cathedral is not hard to find. It's a big church in a city of 40,000 inhabitants. But just like Ian Cade states in his review below, I was not really impressed. It is large, but so are most of the other European cathedrals on the List. The facade is undergoing restorations at the moment, as is part of the interior.
The cathedral is best known for its stained glass windows. As it was already late in the afternoon when I visited, there was not enough light left to let these windows really shine. The rest of the cathedral is, well, .. a cathedral with cathedral things.
P.S.: Outside I noticed a sign that Chartres also is a station on the Road of St. James to Santiago de Compostela. However, it is not one of the elements of the French Route WHS (that holds so many other sites already WHS in their own rights).
Community Reviews
---
---
---
---
---
---
---
---
---
Community Rating
Community Rating 3.28. Based on 27 votes.
Site Info
Full name: Chartres Cathedral
Unesco ID: 81
Inscribed: 1979
Type: Cultural
Criteria: 1 2 4
Site Links
Unesco Website
Official Website
Connections
The site has 14 connections. Show all
Visitors
291 community members have visited Chartres Cathedral. Show all