Avila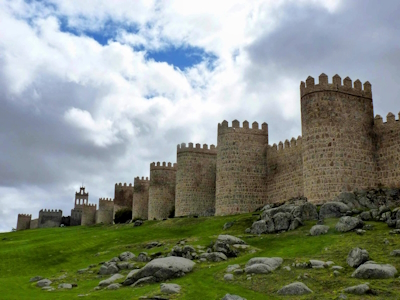 The Old Town of Avila with its Extra-Muros Churches has the best preserved medieval walls in Spain. They date from 1090, and today are 2,5 km. long with 88 towers and 6 gates.
Ávila is the Spanish provincial capital situated at the highest altitude, and on this vantage ppoint 1130 metres above sea level its medieval scenes remain in enviable health: churches and convents bred in the Romanesque period, and the Renaissance palaces and mansions of the Castillian nobility.
Visit December 2002
2.5
When I visited Ávila in December, it was freezing cold. I wished I had brought my mittens! The town is situated 1130 meters above sea level, hence the climate.
The no.1 thing to see and do here is to walk on the city walls. From here you have the most beautiful views of the medieval town.
Click
here
to see more of my photos of Avila
Community Reviews
---
I visited this WHS in June 2015. I drove from Segovia and spent a whole day here. I parked my car for free just before the city proper at a famous panoramic viewpoint called Los Cuatro Postes. From here the magnificent city walls can be seen very well and they are just a short walk downhill. While crossing the small bridge to get to the city I spotted several song birds and frogs and since it was a lovely day I decided to hike around the whole city to take in the city walls. You can also go on the city walls themselves but in my opinion the best views are from beneath the walls not on them. The church which is dedicated to St Teresa is worth visiting as are the imposing city gates and minor churches. I enjoyed my visit even though there are similar WHS on the list such as Provins and Carcassone. The city is quite touristy and it reminded me of Obidos, a non-WHS I visited recently in Portugal.
---
Its huge town walls and well-preserved medieval city centre make Àvila one of Spain's most popular destinations, and a trip there adds an element of time travel. Wandering its streets and visting its many Gothic and Romanesque churches puts one right into the 16th century, with local saints Theresa and Juan de la Cruz about to appear at any moment. I only had a couple of hours to spend in this impressive city, but I managed to fit in a visit to the cathedral (which is actually integrated into the city walls), the basilica of San Vicente, the Convent of Santa Teresa, and the Royal Monastery of Santo Tomás, with its interesting museum and 3 cloisters.
---
I think I caught Avila on a bad day. It seems that a Monday morning in November doesn't show this city in its best light.
Being a Monday in continental Europe most of the main sights were closed, however I was surprised to find out was that this also included the town walls, meaning I didn't get to stroll along one of the highlights of the town. I did however get to visit the cathedral, which was pleasant enough. The church in the convent of St Theresa was rather standard, and most of the other churches were locked. I did like the charming Romanesque church of St Vincent outside the walls though.
There was a lot of construction/ restoration going on in the town as well which again limited access; one success story of this though was the charming restored palace just inside the city walls. I also enjoyed walking around the new central market looking at the incredible selection of offal, and having a friendly greengrocer increase my Spanish vocabulary in regard to fruit and veg. On the food side, I'm afraid I can't agree with Frederik on Yemas de Santa Teresa. I found them far too sickly and they were a distinct failure in the office taste test; consigned to the lower ranks of my foreign treats alongside the likes of Korean ginseng candy and Croat spicy fig cake.
I could see that Avila could be a worthwhile destination, however strolling around its closed city centre on a grim Monday in November it didn't capture me, but then perhaps I wasn't doing it justice and a repeat visit in the summer may show it in a better light.
[Site 5: Experience 3]
---
The walls, towers and elaborately carved stone gateways to the city of Avila are indeed majestic. And while others have commented on the churches outside the walls, my favourite is the Hermitage of San Segundo, a small building nestled beside the Adaja river. From here I crossed the river and walked up to the Four Posts monument, from where there is a panoramic view of the city walls from the west. From the lookout bus #7 goes back to the station.
---
While its religious monuments are worthwhile sights, the main attraction in Avila are the walls that surround this city. My dad and I arrived from Segovia (see my review) quite late in the afternoon so I did not have time to see too much. Besides the magnificant walls, we managed to visit the interior of the San Vicente Basilica (under restoration but cheap admission and even comes with a free postcard) and the local cathedral (also under restoration but contains beautiful tombs). While walking on the walls was pleasant and a great way to see the surroundings, I have to concur with Frederik Dawson that the walls look a lot better from the ground. Avila's walls, along with their numerous churches, make this place a great WHS and one definitely worth visiting.
---
From all six world heritage sites near Madrid, Avila is my favorite site better than Toledo or Segovia in my opinion. Situated on high hills northwest of Madrid, Avila is well known for its cool climate and the holy story of Santa Teresa. Santa Teresa did not make Avila to be a pilgrimage place, that put this town on travelers map, liked Santiago de Compostela, but its city wall is the reason that put Avila on the top list of every tourist's mind. Avila's medieval wall is considered as one of the best preserved city wall in Europe, and maybe one of the most beautiful I have ever seen.
Walking around the old town to see the wall is just great activity for me especially on the eastern side. The wall is really picturesque and contains some element of mystery of medieval age that made this place so charming. I do not recommend you to walk on the wall as the feelings are so different and I personally preferred to walk on the ground which I think this way is better to make you appreciate this place. I have to say I really enjoyed the wall and seem to ignore another part of world heritage – the extramuros churches. But if you come to Avila, your eyes will directly gaze to the wall not the churches which are just next to the wall liked me. However, the churches are really nice and deservedly to get your time.
Avila is really well connected by train with Madrid and can be combining with the trip to Salamanca. When you are in Avila don't forget to try its special delicacy – Yemas de Santa Teresa (a sweet made with egg yolks and sugar) a really great plus for the visiting.
---
Francesca Moore
Avila was the most amazing place, but recently they have destroyed so much of the town and it has lost much of its charm. The new building in the Plaza Major is horrid, as is the new Plaza Major. It is very sad. I spent almost every summer of my life there and my mother lives in Avila. Our entire family is very upset at the horrible things they are doing to our once favorite place.
---
Site Info
Full Name

Old Town of Avila with its Extra-Muros Churches

Unesco ID

Country

Inscribed

Type

Cultural

Criteria

3

4

Categories

Link
Site Links
Unesco Website
Official Website
Related
Visitors
223 Community Members have visited.