Volubilis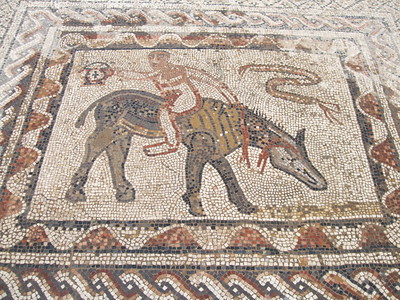 The Archaeological Site of Volubilis encompasses the remains of a Roman city that was capital of 'Mauritania Tingitana'.
It is notable for its high number of mosaic floors. Also, marble and bronze statues have been found.
The site was settled already in the 3rd century BC, before it was annexed by the Romans in about 40 AD. It has a favourable location, due to fertile grounds, for the cultivation of olives.
At its heyday, the city probably had 20.000 inhabitants. Most of its large monuments such as the triumphal arch and capitol date from the 2nd and 3rd century AD.
In 2008, the buffer zone of this WHS was extended to include the surrounding plain and mountains and the pilgrimage town of Moulay Idriss. The saint Idriss I had made Volubilis his home before founding Fez and Moulay Idriss.
Visit January 2010
Volubilis has all the works of an ancient Roman city: forum, triumphal arch, capitol, basilica, baths, private houses. Only about half of the site has been excavated. A theatre has not been found yet, but it must be somewhere. At least that is what I heard from a loudmouthed German guide that commanded his group like a visiting troop. The site is very popular with tour groups in general, but it is large enough to take them in.
The two best things about Volubilis are its setting and its mosaics. The ruins lie on a fertile plain that is still used for growing olive trees. Come to think of it - the area could have been enlisted as a cultural landscape, especially because the nomination file elaborately points out the site's history before and after the Romans ("from prehistory continuously through to the Islamic period"). The neighbouring pilgrimage town of Moulay Idriss is on the Tentative List and directly connected to Volubilis too.
Lots of the mosaics are in pretty bad repair. They are out in the open air and tormented by the elements day after day (scorching heat, heavy rains). Often they are 'just' patterns that cover the floor of a private house. Some more artistic ones display the Labours of Hercules and an athlete jumping on a horse.
Entrance to the site is 10 dirham. A visit will take about 1.5-2 hours. There's no public transport directly to Volubilis, but Grand Taxi's will find you either in Meknes (33km) or Moulay Idriss (3km).
Click
here
to see more of my photos of Volubilis
Community Reviews
---
---
---
---
---
Community Rating
Community Rating 3.32. Based on 14 votes.
Site Info
Full name: Archaeological Site of Volubilis
Unesco ID: 836
Inscribed: 1997
Type: Cultural
Criteria: 2 3 4 6
Site Links
Unesco Website
Official Website
Related
Connections
The site has 15 connections. Show all
Visitors
153 community members have visited Volubilis. Show all